Kellyanne Conway refuses Biden request for Trump appointees to leave military academy advisory boards
Former top Trump aide Kellyanne Conway on Wednesday refused President Joe Biden's request to resign from an Air Force Academy advisory board, saying the request is "petty and political, if not personal."
The administration had sent letters asking several Trump-appointed aides to resign from boards of advisers for military academies by 6 p.m. Wednesday or face termination, Military Times reported.
Conway posted a letter refusing to leave the Board of Visitors of the Air Force Academy, saying the removals would "politicize" the academies and discourage others from serving.
"News reports suggest you have made the same demand of other men and women who were duly appointed to service academy boards," she said in the letter addressed to Biden, later adding: "The result is that faithful and willing public servants will be discouraged or thwarted from service. Our service academies will risk being further politicized and polarized."
Military academies, including the U.S. Military Academy, the Air Force Academy and the Naval Academy, have nonpartisan advisory panels made up of presidential and congressional appointees who serve three-year terms. The boards give the schools nonbinding advice about matters like curriculum and student resources.
White House press secretary Jen Psaki confirmed Wednesday that Biden had asked several appointees from the previous administration, such as Conway and former press secretary Sean Spicer, to resign from their positions on various service academy boards. Spicer, who also questioned the decision in a tweet, had been appointed to the Naval Academy visitors' board.
Psaki said the move was intended "to ensure you have nominees and people serving on these boards who are qualified to serve on them and who are aligned with your values."
She added: "I will let others evaluate whether they think Kellyanne Conway and Sean Spicer and others were qualified or not political to serve on these boards. But the president's qualification requirements are not your party registration. They are whether you're qualified to serve and whether you're aligned with the values of this administration."
Other top officials whose resignations were requested include former Trump national security adviser H.R. McMaster, according to reports, and former White House budget director Russ Vought. Vought said in a tweet that he will not step down.
"No. It's a three year term," he tweeted with an image of the request from the White House.
Nigel Farage calls on UK veterans to offer security to 'every MP' following Amess murder
NIGEL FARAGE has called on veterans from the British armed forces community to step up and offer security to "every MP" following the murder of Sir David Amess on Friday.

Source link
Former President Clinton released from hospital following infection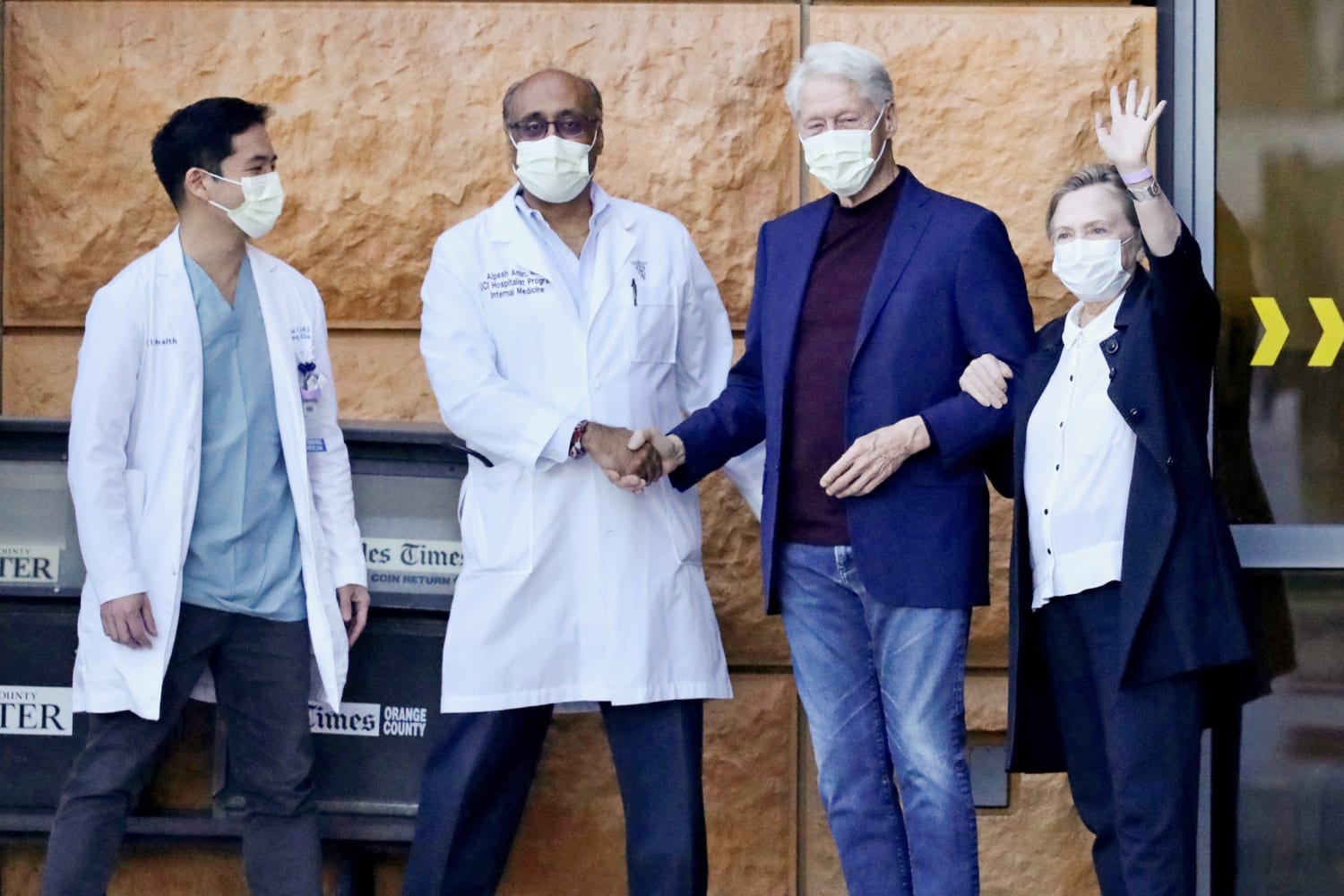 Former President Bill Clinton has been released from a Southern California hospital after battling an infection.
"His fever and white blood cells count are normalized and he will return home to New York to finish his course of antibiotics. On behalf of everyone at UC Irvine Medical Center, we were honored to have treated him and will continue to monitor his progress," said Dr. Alpesh N. Amin, Chair of the department of medicine and executive director of the Hospital Medicine at UC Irvine Health in a statement.
Clinton had been admitted on Tuesday to UC Irvine Medical Center after being diagnosed with a urological infection that had spread to his bloodstream, a source with knowledge of the situation told NBC News on Friday.
His wife, former Secretary of State Hillary Clinton, and his daughter Chelsea Clinton were both by his side at the hospital, the source said.
Clinton was reportedly up and moving during his stay at UC Irvine Medical Center.
Bill Clinton and Hillary Clinton were scheduled to attend a private Clinton Foundation event in California Thursday evening.
The cause for the extended hospitalization was that Clinton was receiving his medication intravenously, not orally, according to Angel Ureña, Clinton's spokesman. A source close to Clinton said that he had been in intensive care because the hospital needed to isolate him, not because his care required it.
"President Clinton has continued to make excellent progress over the last 24 hours," Ureña said in statement Saturday afternoon. "He will remain overnight at UC Irvine Medical Center to continue to receive IV antibiotics before an expected discharge tomorrow."
Clinton's doctors said in a statement that "after two days of treatment, his white blood cell count is trending down and he is responding to antibiotics well."
"The California-based medical team has been in constant communication with the President's New York-based medical team, including his cardiologist. We hope to have him go home soon," Drs. Alpesh Amin and Lisa Bardack said in the statement.
Clinton has had several heart surgeries in New York at New York-Presbyterian Hospital.
In 2004, Clinton underwent a quadruple bypass operation at the hospital to reroute his blood supply to circumvent four severely clogged arteries, The New York Times reported at the time. Clinton had complained of chest pains and shortness of breath. A team of surgeons then found extensive signs of heart disease, with blockages in some of Clinton's arteries at well over 90 percent, the newspaper reported.
In 2010, Clinton went back to New York-Presbyterian Hospital to undergo another heart procedure, this time to insert two stents into a coronary artery.
Putin to send over 200 delegates to UK for Cop26 despite Russia's record Covid surge
VLADIMIR PUTIN will send more than 200 delegates to Cop26 in Glasgow later this month despite Russia experiencing a record increase in Covid cases.

Source link