Beirut explosion: Protesters clash with security forces as Lebanon marks one year since blast | World News
Security forces in Lebanon have fired water cannon and tear gas at anti-government protesters calling for justice on the one-year anniversary of the Beirut explosion.
Demonstrators in the city had been throwing stones at the parliament building, with some trying to climb its gate.
Earlier, thousands of people gathered to hold a moment of silence to mark exactly one year since the blast at the city's port, which killed more than 200 people and wounded thousands.
Minute silence one year on from Beirut blast

Protesters were seen marching through the streets, waving Lebanese flags and holding pictures of victims.
Banks, businesses and government offices were closed to pay tribute to those who lost their lives on what was declared a national day of mourning.
No senior official has yet been held to account for the explosion, which was caused by a huge quantity of ammonium nitrate stored unsafely at the port for years.
"We will not forget and we will not forgive them ever," said Hiyam al Bikai, dressed in black and clutching a picture of her son, Ahmad, who was killed when masonry fell on his car.
"And if they can't bring them to account, we will by our own hands."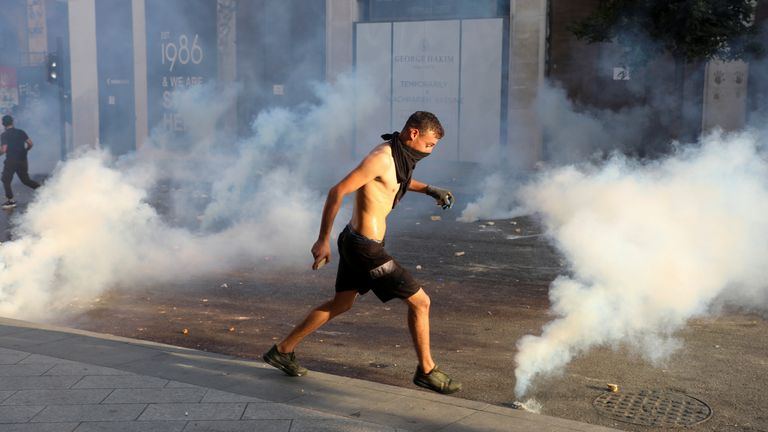 Another source of public anger is the country's crippling economy, which will receive £266m in emergency aid raised at a donor conference on Wednesday.
In his remarks at the event, French President Emmanuel Macron criticised a "failing" Lebanese political class that has been unable to form a government in the year since the blast, despite French and international pressure.
"Lebanese leaders seem to bet on a stalling strategy, which I regret and I think is a historic and moral failure," he said.
President Joe Biden said the US will give the country almost $100m (£72m) in additional humanitarian aid.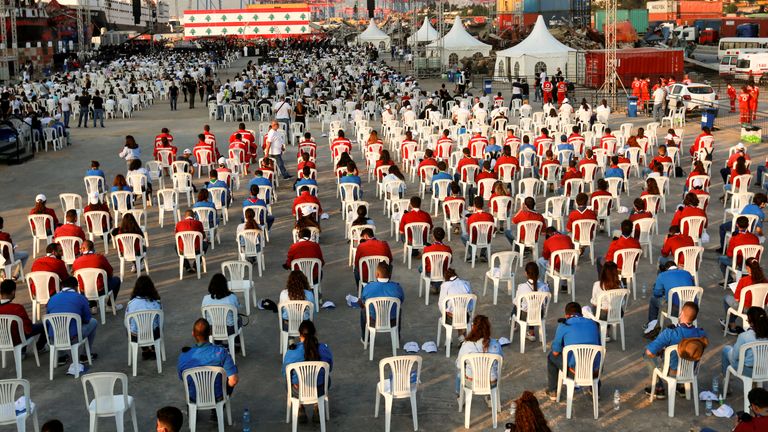 A Lebanese investigation into the explosion is at a standstill as requests have been denied for senior politicians and formal officials to lose immunity.
All those sought for questioning by the Lebanese investigators have denied responsibility.
Lebanon's most senior Christian cleric also held a mass with the families of the victims at the port, saying the Lebanese people need to know who engaged in actions that led to the blast.
Follow the Daily podcast on Apple Podcasts, Google Podcasts, Spotify, Spreaker
"Justice isn't just the demand of the families of the victims but of all Lebanese," Maronite Patriarch Bechara Boutros al Rai said.
He added: "We want to know who brought in the explosives… who allowed for their unloading… who withdrew quantities [of explosives] from it and where it was sent."
The damage from the blast is still visible across large swathes of Beirut and the port remains unrepaired.
<a href='https://www.skysports.com/tennis/live-blog/28224/12404510/us-open-womens-final-britains-emma-raducanu-takes-on-leylah-fernandez-for-a-place-in-history' target='_blank'>US Open women's final: Britain's Emma Raducanu takes on Leylah Fernandez for a place in history</a>


<a href='https://www.skysports.com/tennis/live-blog/28224/12404510/us-open-womens-final-britains-emma-raducanu-takes-on-leylah-fernandez-for-a-place-in-history' target='_blank'>US Open women's final: Britain's Emma Raducanu takes on Leylah Fernandez for a place in history</a>

Source link
9/11 anniversary: America marks 20 years since terror attacks as families remember loved ones – 'we will never forget you' | World News
Families remembered their loved ones 20 years after the 9/11 terror attacks in the US, with grieving relatives vowing to "never forget" those who lost their lives.
Six moments of silence were observed in New York City to mark the moments when four commercial planes crashed and when the the two World Trade Center towers crumbled, killing nearly 3,000 people.
The planes had been hijacked by terrorists on the morning of 11 September 2001.
Two were flown into the World Trade Center towers in New York City just before 9am local time, a third crashed into the west side of the Pentagon at 9.37am, while the fourth flight crashed in rural Shanksville, Pennsylvania, at 9.57am after passengers tried to overpower the hijackers and take control of the plane.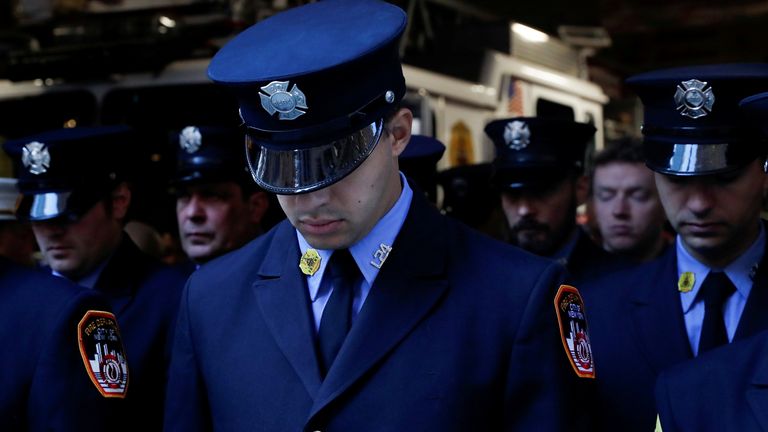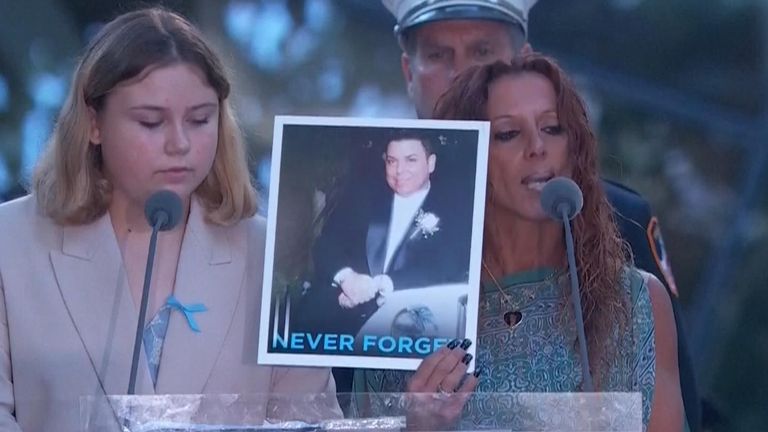 US President Joe Biden and former presidents Barack Obama and Bill Clinton were among hundreds of people who gathered at the site where the two trade centre towers fell two decades ago.
Each of them wore blue ribbons and held their hand over their heart as a procession marched a flag through the memorial. Some of those gathered at the memorial carried photos of loved ones killed in the attacks.
The names of all 2,977 victims were read out and Mr Biden, who was as senator at the time of the attacks, wiped a tear from his eye at one point, but he did not speak at the event.
Those who did speak shared heart-breaking tributes to those they lost.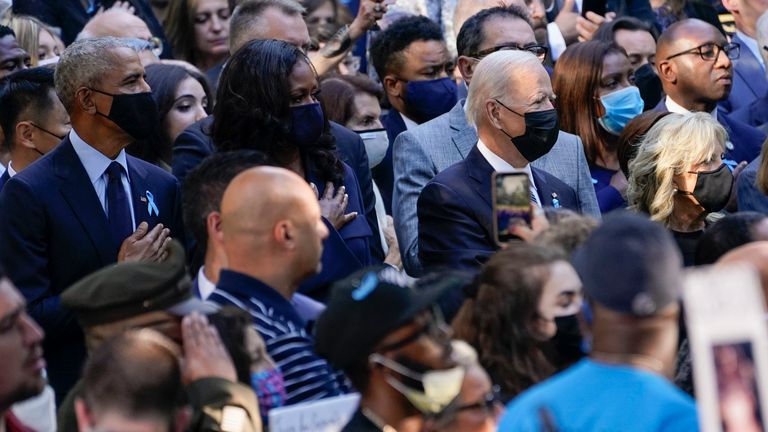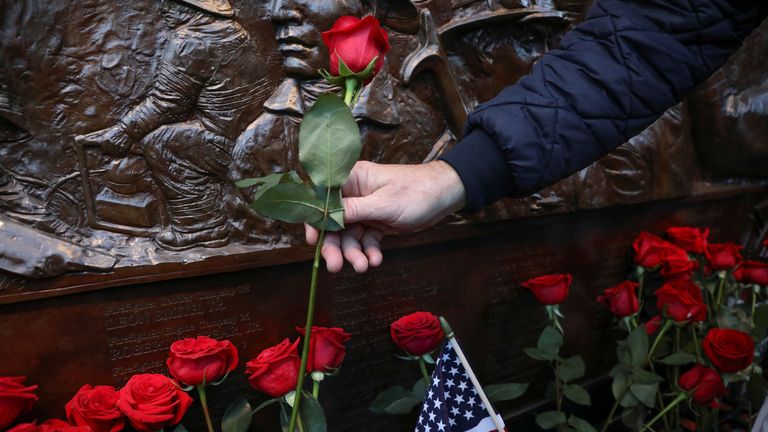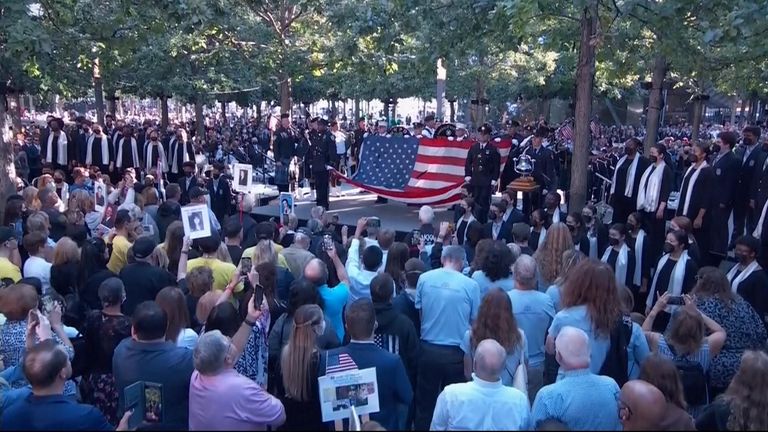 One described the "unbearable sorrow and disbelief", another remembered a "beloved sister… she had a habit of saying 'get over it' and, Cathy, I can tell you we have never gotten over it".
One man paid tribute to his brother "who we continue to love and miss every day – the world is a lesser place without him".
Another said: "I couldn't believe that you're gone – I just want to say I love you and I miss you", while one speaker remembered their father, saying: "Dad, we miss you every day".
Bruce Springsteen sang his song I'll See You In My Dreams, accompanying himself with the guitar and harmonica, his words echoing the hopes expressed by families still grieving.
"I'll see you in my dreams.
"We'll meet and live and love again.
"I'll see you in my dreams.
"Yeah, up around the river bend.
"For death is not the end.
"And I'll see you in my dreams."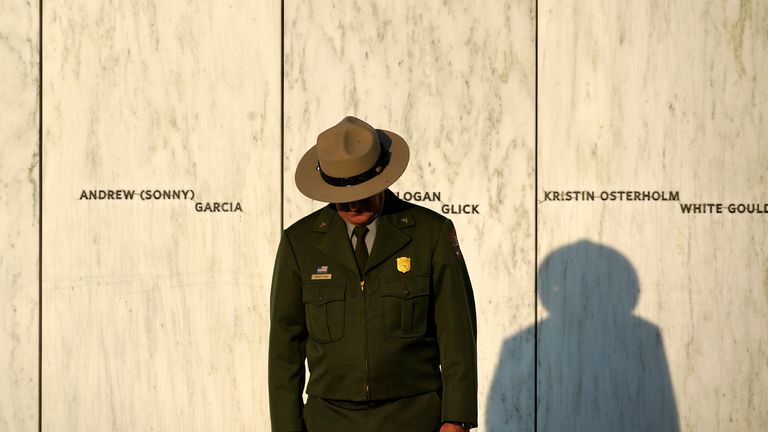 Kamala Harris honours Flight 93 passengers

Vice president Kamala Harris and George W Bush – who was president at the time of the attacks – were among those who gathered at the Flight 93 National Memorial in Pennsylvania.
Ms Harris praised the courage and resilience of Americans who united in the days following the attacks, saying: "In a time of outright terror, we turned toward each other.
"If we do the hard work of working together as Americans, if we remain united in purpose, we will be prepared for whatever comes next."
Mr Bush said: "So much of our politics have become a naked appeal to anger, fear and resentment.
"On America's day of trial and grief, I saw millions of people instinctively grab for a neighbour's hand, and rally for the cause of one another. That is the America I know."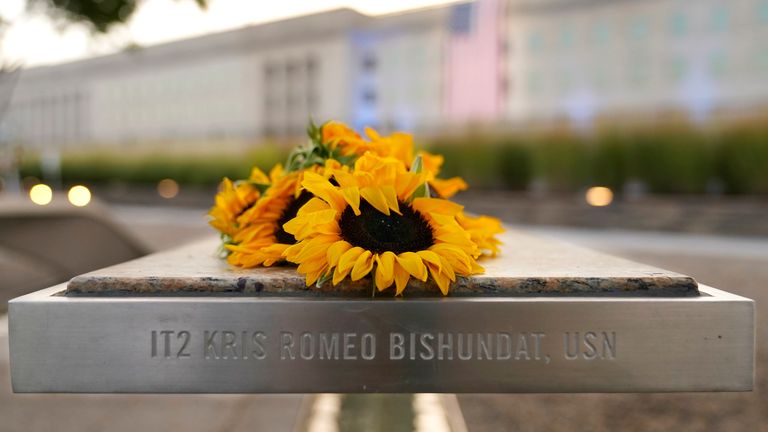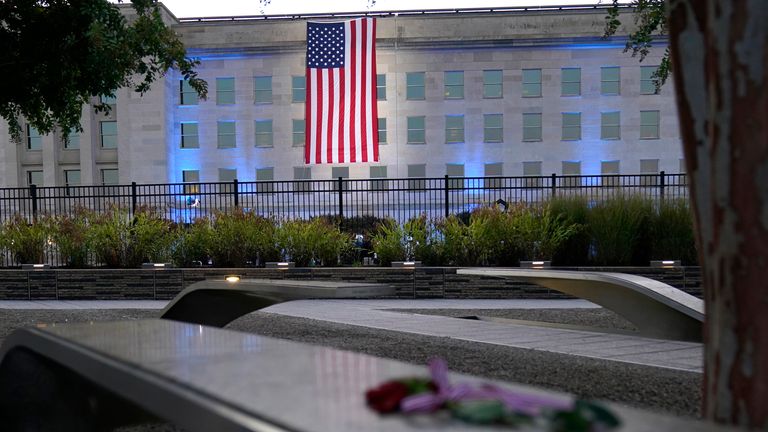 Mr Biden also visited Shanksville later on Saturday, before heading to the Pentagon.
In a video released on Friday night, Mr Biden had said: "Children have grown up without parents, and parents have suffered without children."
But he also said shared what he called the "central lesson" from the attacks: "That at our most vulnerable… unity is our greatest strength."
Bush gives speech on 9/11 anniversary

Mike Low, whose daughter who was killed in the attack on the World Trade Center, reflects 20 years after the tragedy

Earlier, former president Mr Obama reflected on the lessons that had been learned in the "20 years since that awful morning".
In a statement, he said: "That list of lessons is long and growing. But one thing that became clear on 9/11 – and has been clear ever since – is that America has always been home to heroes who run towards danger in order to do what is right.
"For Michelle and me, the enduring image of that day is not simply falling towers or smouldering wreckage. It's the firefighters running up the stairs as others were running down.
"The passengers deciding to storm a cockpit, knowing it could be their final act.
"The volunteers showing up at recruiters' offices across the country in the days that followed, willing to put their lives on the line.
"Over the last 20 years, we've seen the same courage and selflessness on display again and again."
Victims of the 9/11 attacks have been remembered at Ground Zero at a memorial in New York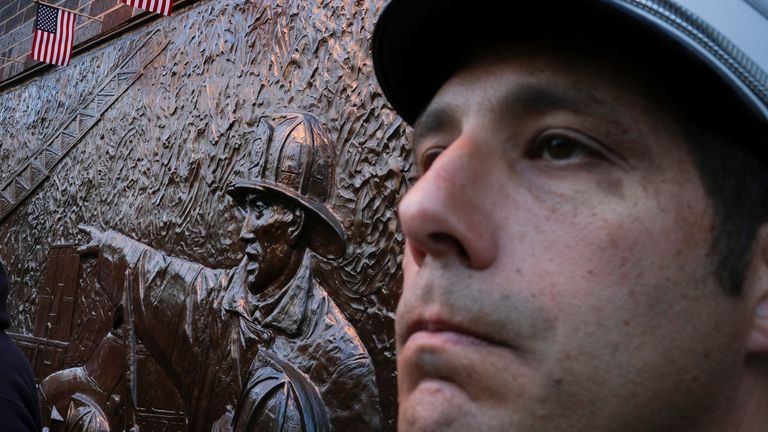 He said the US had seen the same courage today, with doctors and nurses battle through the COVID crisis and military personnel risk their lives in Afghanistan.
Mr Obama added: "9/11 reminded us how so many Americans give of themselves in extraordinary ways – not just in moments of great crisis, but every single day. Let's never forget that, and let's never take them for granted."
Former president Donald Trump was not at the anniversary ceremonies but released a video in which he spoke of the sadness of 9/11 and attacked Mr Biden over the withdrawal from Afghanistan.
Mr Trump is expected to provide commentary for a boxing match headlined by 58-year-old former heavyweight champion Evander Holyfield later on Saturday.
British Prime Minister Boris Johnson was among the world leaders to offer support to the US as people remembered the 9/11 attacks.
He said the terrorists had "failed to drive our nations apart, or cause us to abandon our values, or to live in permanent fear".
French President Emmanuel Macron added: "We will never forget. We will always fight for freedom."
Moon Jae-in, president of South Korea, said the losses of 9/11 remain a "deep wound", adding: "To President Biden and the American people I send my deepest condolences."
Israel recaptures Palestinian militants who escaped maximum-security jail through cell floor | World News
Four of six Palestinians who broke out of a maximum-security Israeli prison via a hole in their cell floor have been recaptured.
Two of the fugitives were found in the town of Umm al Ghanam, Israel police said, while the other pair were discovered in Nazareth.
According to Israeli media, residents in both locations turned them in. Four of the six are serving life sentences.
Prisoners' escape tunnel uncovered

One of those caught in Umm al Ghanam, Zakaria Zubeidi, was a militant leader during the second Palestinian uprising in the early 2000s.
Police issued a photograph of him being led away in handcuffs and with a scarf around his head.
Despite being linked with attacks on Israelis, he formed a friendship with an Israeli woman and gave numerous interviews.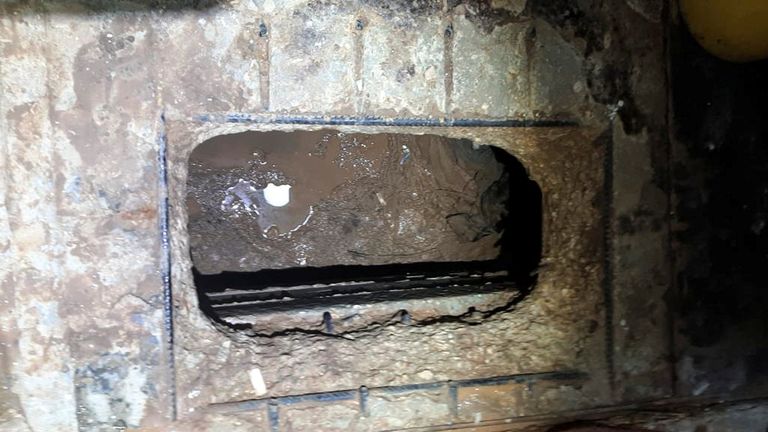 Zubeidi also took college courses and was part of a West Bank theatre movement before being re-arrested in 2019 on suspicion of being involved in attacks.
In Nazareth, video on social media showed one of the pair detained there being restrained in the back seat of a police vehicle.
Wearing jeans and a green T-shirt, he identifies himself as Yakub Kadari and says "yes" when asked whether he is one of the escapees.
He is serving two life sentences for attempted murder and planting bombs.
All of the escapees are from the city of Jenin in the West Bank.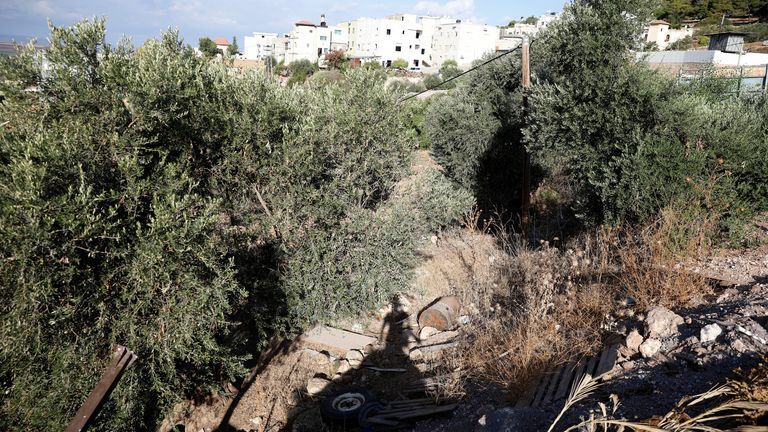 Their actions have been celebrated in both the West Bank and Gaza Strip.
Late on Friday, militants in Gaza fired a rocket into Israel in an apparent sign of solidarity, drawing Israeli airstrikes in response.
The militants' escape, through the floor of their shared cell in Gilboa prison, has been a major embarrassment for Israel.
Hamas said the escapees had "scored a victory and harmed the prestige of the Israeli security system".