NATO and European Commission condemn deadly attack on tanker near Oman | World News
Foreign Secretary Dominic Raab has welcomed both NATO and the European Commission's condemnation of the deadly attack on an oil tanker off the coast of Oman.
The UK, US and Israel have blamed Iran for the attack, which killed two people – a Briton and a Romanian.
On Tuesday, NATO called on Iran to "respect its international obligations", while the EU Commission said they oppose "any action that would be detrimental to peace and stability".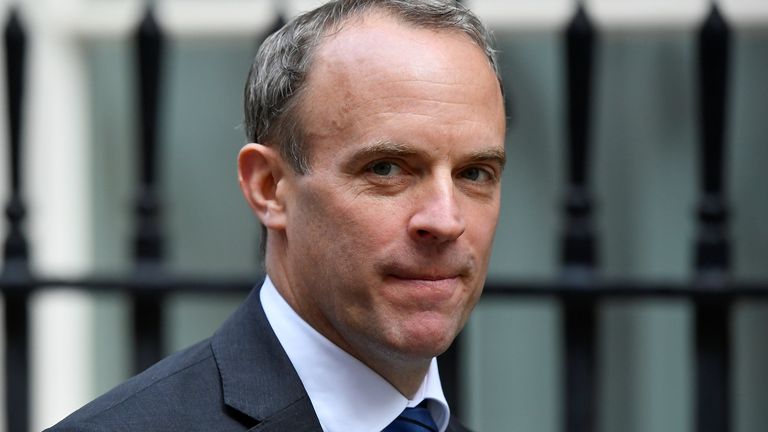 The Commission called the incident "unacceptable" but said the exact circumstances surrounding it "have to be clarified".
Posting on social media, Mr Raab said: "I welcome NATO joining the UK and international partners in condemning the unlawful attack on MV Mercer Street.
"We believe this was a deliberate, targeted attack by Iran – it must end its destabilising actions immediately."
I welcome @NATO joining the UK 🇬🇧 and international partners in condemning the unlawful attack on MV Mercer Street.

We believe this was a deliberate, targeted attack by Iran – it must end its destabilising actions immediately. https://t.co/aZGfjmgk4u

— Dominic Raab (@DominicRaab) August 3, 2021
Reports suggest explosive drones were flown into the MV Mercer Street tanker during the attack, which happened on 29 July.
According to Eikon's ship tracking, the Mercer Street was headed to Fujairah, a bunkering port and oil terminal in the United Arab Emirates, from Dar es Salaam in Tanzania.
The tanker is operated by Zodiac Maritime, which is based in London and owned by Israeli billionaire Eyal Ofer.
Releasing a statement on Tuesday, a NATO spokesperson said: "We join allies in strongly condemning the recent fatal attack on the MV Mercer Street off the coast of Oman, and express our condolences to Romania and the United Kingdom for the losses they have suffered.
"Freedom of navigation is vital for all Nato allies, and must be upheld in accordance with international law.
"The United Kingdom, the United States, and Romania have concluded that Iran is highly likely responsible for this incident. Allies remain concerned by Iran's destabilising actions in the region, and call on Tehran to respect its international obligations."
European Commission spokeswoman Nabila Massrali told reporters: "Of course we condemn the attack on the oil tanker which took place off the island of Masirah in Oman.
"A British citizen and a Romanian were killed and we would like to extend our sympathy to their friends and family.
"The exact circumstances of this attack have to be clarified and we take note of investigations carried out by the United States, the UK and Israel – this is an action that was against freedom of navigation in this area, and of course unacceptable.
"We oppose any action that would be detrimental to peace and stability in this area and the EU will continue to follow developments closely."
'Iran should face up to the consequences' – PM

On Sunday, Mr Raab accused Iran of carrying out a "deliberate, targeted" assault which constituted "a clear violation of international law".
US Secretary of State Anthony Blinken said he was considering "next steps" with the UK and other allies, with "an appropriate response… forthcoming".
Meanwhile, the head of the British armed forces, General Sir Nick Carter, held discussions with his Israeli counterpart at the weekend.
The government held a Cobra emergency meeting at the level of officials over the weekend in a sign of the serious focus on the tanker attack and how to respond, Sky News understands.
There has not yet been a Cobra attended by ministers, which is what happens in the gravest of crises.
Earlier this week, Israeli foreign minister Yair Lapid blamed "Iranian terrorism" for the attack.
Iran has not yet commented on the allegations.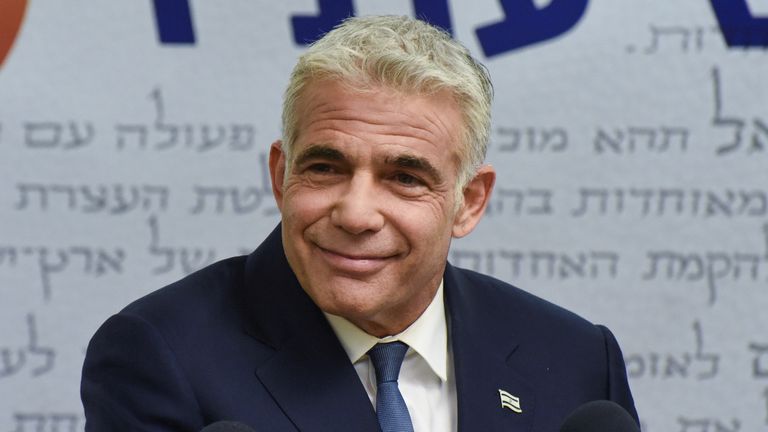 Lisa Nandy, Labour's shadow foreign secretary, said the UK government needs to take a hard line with Tehran.
She said: "The prime minister must make it clear to the incoming Iranian president that lawless actions will carry costs. This is the moment where Britain must show we are resolute in our determination to end this pattern of behaviour.
"The breakdown of a clear strategy to deal with Iran has not served the UK or our allies well in recent years. The foreign secretary must now make it a priority to pursue coordinated international efforts to tackle these actions by the Iranian government."
The incident has sparked concern that tensions are increasing in the region.
A UK source said crew members reported being targeted by "some sort of drone" on Thursday in the Arabian Sea before communications with the ship were lost.
If a drone attack is confirmed it would raise speculation about a possible link to a government or some kind of proxy group.
Iran in the past has repeatedly been accused of targeting tankers in the Gulf.
Serbians block roads in Kosovo in protest over license plate restrictions | World News
Protesters have blocked roads in northern Kosovo after authorities stopped cars with Serbian plates from entering the country.
Police in Jarinje, Kosovo are forcing drivers from Serbia to remove or hide license plates and use temporary registration details that are valid for 60 days and cost €5 (£4.30).
Serbia, which lost control of Kosovo in 1999, does not recognise Kosovo and has stopped cars with Kosovo license plates from entering the country.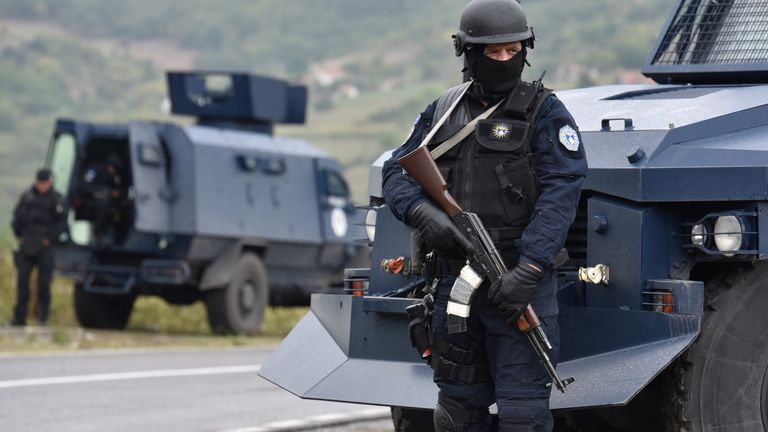 Almost 50,000 Serbs who live in the north of Kosovo and share a border with Serbia, refuse to recognise Pristina's authorities and as restrictions came into force on Monday, cars and trucks blocked roads in protest.
Police in Kosovo deployed riot gear and armoured vehicles as the blockades built up and Kosovo's Prime Minister, Albin Kurti, said the move was not taken to harm drivers but was a retaliation measure against Belgrade.
"Today there is nothing illegal or discriminatory," Mr Kurti said in parliament.
"Just as yesterday, today and tomorrow, Serb citizens will move freely and safely."
Serbian President Aleksandar Vucic said the situation is very "serious and difficult".
"When you are dealing with people who are not responsible, it is difficult to find a solution," Mr Vucic said.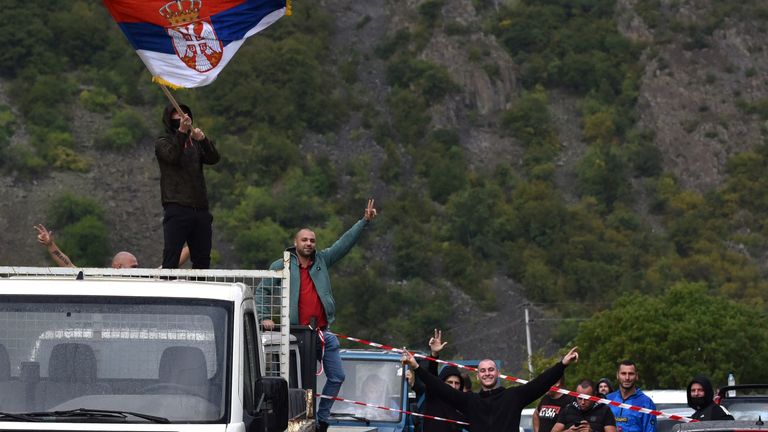 The two countries began talks in 2013, mediated by the European Union, to resolve the issues, but little progress has been made.
Kosovo is recognised by around 110 countries, including the United States, Britain and most western countries, but Russia, Serbia's traditional ally, does not recognise it.
Boris Johnson says UK's relationship with France 'indestructible' despite row over AUKUS military pact | Politics News
Boris Johnson has said the UK's relationship with France is "indestructible" despite the fallout from the new military pact with the US and Australia.
The prime minister said the "AUKUS" initiative is "not exclusionary" after France's defence minister cancelled talks with her UK counterpart over Australia pulling out of a major contract with France for submarines in favour of the pact to build nuclear-powered vessels with the UK and US.
Brokered last week, the agreement ended a £27bn deal with France signed by Australia in 2016 to build 12 diesel-powered submarines.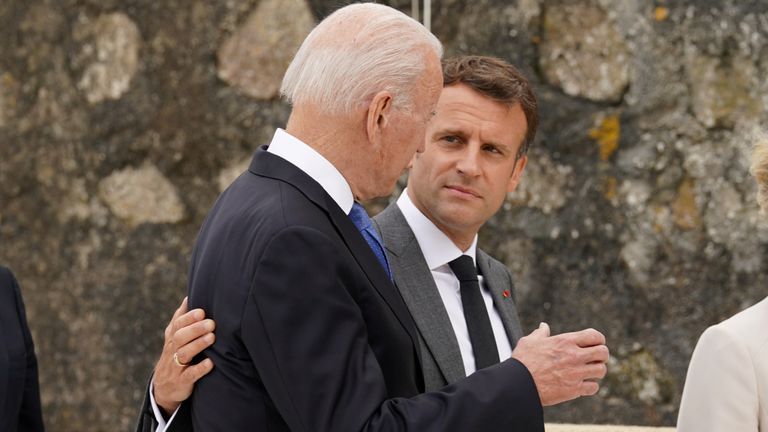 French foreign minister Jean-Yves Le Drian described it as a "stab in the back" that constitutes "unacceptable behaviour between allies and partners".
But Mr Johnson told reporters in New York: "The UK and France have a very, very important and indestructible relationship and of course we'll talk to all our friends about how to make the AUKUS pact work, that it's not exclusionary, it's not divisive and it really doesn't have to be that way.
"This is just the way of the US, the UK and Australia of sharing certain technologies because that is the sensible thing to do in the world in which we find ourselves.
"That does not in any way mean that we wish to be adversarial towards anyone else or exclusive or crowding anyone else out."
He added that the UK's relationship with France is "incredibly important, it's historic" and pointed out the two countries work together "shoulder to shoulder" fighting terrorism in the Sahel region in Africa and as part of the NATO mission in the Baltic states deterring Russian aggression.
"There is one other country in the world with whom we share a programme to do simulated nuclear testing – which country is that? It's France," he said.
'AUKUS alliance will bring us closer than ever'

Defence Secretary Ben Wallace also attempted to play down suggestions of a rift after his French counterpart Florence Parly postponed a bilateral meeting with him.
Mr Wallace told the House of Commons Australia had exercised its "right to choose" but said the US and France are "our closest allies" and said he has an "extremely close relationship" with Ms Parly and "we speak regularly".
French President Emmanuel Macron is notably absent from the UN General Assembly meeting in New York, but is due to speak to US President Joe Biden over the phone in the coming days, an official said.
France recalled its ambassadors from the US and Australia in a sign of the seriousness of the crisis, with the French foreign minister meeting with the two ambassadors on Sunday to discuss "the strategic consequences of the current crisis", the ministry said.
Australian Prime Minister Scott Morrison said France "would have had every reason to know that we have deep and grave concerns" about the capability of France's Attack class subs, which he said cannot meet Australia's strategic interests.
Mafia raids: More than 100 suspects arrested in Spain and Italy for alleged money laundering | World News

More than a hundred people have been arrested by Spanish and Italian authorities for allegedly laundering money for mafia groups.
The majority of the 106 arrests took place in the Spanish Canary Island of Tenerife and most of the suspects were Italian nationals, Europol said.
The suspects allegedly made millions through online scams and laundered money for mafia groups.
According to Italian officials, the suspects tricked victims into sending large amounts of money to Spanish bank accounts controlled by the group.
The cash was then laundered through cryptocurrency purchases or reinvested into other criminal activities such as prostitution, drugs or weapons trafficking.
The group made almost €10m (£8.6m) in profit last year, Europol said.
Spanish officials said members of the group, who often used violence to intimidate victims and extort money from businesses and individuals, infiltrated law firms and banks.
During the operation, authorities froze 118 bank accounts and seized 224 credit cards and a marijuana plantation.