Beirut explosion: Officials knew risks of storing explosive materials but failed to protect public, says rights group | World News
A year on from the massive explosion which hit Beirut, an international human rights group has said senior Lebanese officials failed to protect the public from the risks posed by highly explosive material stored at the capital's port.
In a report on the explosion, Human Rights Watch (HRW) claimed those same officials were trying to thwart an investigation into the incident.
It comes as the country prepares to mark the one year anniversary of the blast on Wednesday.
At least 214 people were killed and more than 6,000 others were injured in the explosion at Beirut's port.
Moment of explosion in Beirut

The blast was preceded by a huge fire at a warehouse after hundreds of tonnes of improperly stored ammonium nitrate, a compound used as fertiliser but which has been used to make bombs, detonated.
Protesters are expected to gather in front of the port on Wednesday to hold a moment of silence before heading to the city centre.
Lebanon's most senior Christian cleric, Maronite Patriarch Bechara Boutros al Rai, is also due to hold a mass with the families of victims at the port.
An investigation into the explosion is yet to reveal who ordered the shipment of chemicals and why officials ignored repeated internal warnings of the dangers they posed.
Inside the Beirut blast site

The chemicals arrived in the country on a ship called the Rhosus in 2013, after it made a stop while on its way from Georgia to Mozambique, in Beirut to try to earn extra money by taking on several pieces of heavy machinery.
However, the additional cargo proved too heavy for the ship and the crew refused to take it on.
It was then impounded by Lebanese authorities for failing to pay port fees, and never left the port again.
The HRW's 650-page report details documents and exchanges between Lebanese officials about the ammonium nitrates, which had been stored at the port since then.
It concluded that "the actions and omissions of Lebanese authorities created an unreasonable risk of life", adding that under international human rights law, a state's failure to act to prevent foreseeable risks to life is a violation of the right to life.
Beirut's deadly explosion explained

In addition, HRW said evidence strongly suggested some government officials foresaw the possible devastation from the nitrates' presence and tacitly accepted the risk.
"Under domestic law, this could amount to the crime of homicide with probable intent, and/or unintentional homicide," it added.
The report names senior leaders, including President Michel Aoun, prime minister at the time Hassan Diab, and several ministers among others who were informed of risks posed by the nitrates but failed to take any action.
Lebanese officials have acknowledged they knew about the chemicals and either claim they pursued the matter after learning about it, or it was not within their jurisdiction to do so.
HRW said a lack of judicial independence, constitution-imposed immunity for high-level officials, and a range of procedural and systemic flaws in the domestic investigation rendered it "incapable of credibly delivering justice".
Survivors of the blast and families of the victims have called for an international investigation to take place due to their lack faith in the Lebanese judicial system.
HRW says the case for an "international investigation has only strengthened".
Last month, Lebanon's lead investigating judge in the case, Tarek Bitar, announced he intends to pursue senior politicians and former and current security chiefs in the case, and requested permission for their prosecution.
However, those named in the probe have failed to appear at the prosecutor's office, citing either immunity as members of parliament or needing special permission from the prime minister or the interior minister to appear.
Afghanistan: UK paid out for 289 civilian deaths, analysis shows – with one family getting just £104 | World News
At least 16 children are among almost 300 civilian deaths in Afghanistan that the UK government paid out compensation for, analysis suggests.
According to a study of internal Ministry of Defence (MoD) documents, payouts were made over the deaths of 289 people in 189 incidents between 2006 and 2013 – including one family who received just £104.17.
That's less than was paid out for a lost mobile phone on a British army base.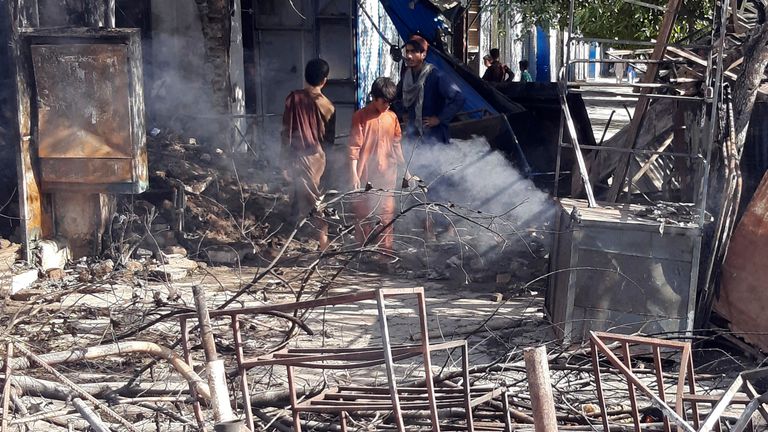 Overall, £688,000 was paid out by the British military – an average of £2,380 per fatality.
However, some of these payouts were combined with compensation for injuries and property, meaning the average is somewhat inflated, say the findings from charity Action on Armed Violence (AOAV).
One family received just £586.42 for the death of their 10-year-old son in December 2009 – less than another family was given for the death of a herd of donkeys (£662).
On several occasions, electronics and animals were valued above human life, with 106 instances in 2009-10 where property – including crops, vehicles, and building – involved a greater payout than the unnamed 10-year-old.
Key pay-outs included:
£104.17 given to a family in February 2008 for a confirmed fatality and property damage in Helmand
£873 paid for a damaged crane
£662 given for the death of six donkeys who
£240 paid out for
£110 given for a lost mobile phone in Camp Bastion
£4,223.60 given in compensation after four children were shot and killed by International Security Assistance forces in December 2009
£586.42 given to a family following the death of a 10-year-old
£527.11 given in November 2009 after a nine-year-old girl was shot in the head and survived
£607.64 given after a
£54,347 given for a single fatality in Kabul in November 2007
£7,204.97 compensation after eight family members killed in May 2009 by a bombing
According to analysis by AOAV, at least 20,390 civilians were killed or injured by international and Afghan forces between 2007 and 2020.
The amounts paid were highly inconsistent, with only a sporadic amount of detail given.
Overall, it is estimated by the Costs of War project at Brown University that around 47,245 civilians in Afghanistan died violent deaths as a result of the 20-year conflict, which ended in chaotic fashion with a hasty evacuation of international troops from Kabul airport in August.
Most of the deaths occurred in Helmand, the scene of some of the fiercest fighting involving UK forces, and were recorded in compensation payout data obtained under a Freedom of Information request.
How popular is the Taliban in Afghanistan?

The youngest recorded casualty was a three-year-old boy, killed in December 2009 by "shock from (a) controlled explosion" during an operation to clear an improvised explosive device.
The files recorded the deaths of 16 children, but the true figure could be as high as 86 by including cases that mention the terms "son", "daughter" or "nephew".
Afghanistan has a population with a median age of 18.4, so the likelihood of someone's child being a minor is high.
The MoD said the UK had always sought to minimise the risk of civilian casualties through "rigorous targeting processes".
Murray Jones, the author of the AOAV report, said: "These files do not make for easy reading. The banality of language means hundreds of tragic deaths, including dozens of children, read more like an inventory.
"Sadly, due to the way civilian casualties were recorded, these totals are likely to be just a fraction of the true number."
The amount of compensation paid is determined by common law principles, which include factors such as pain and suffering along with financial loss.
Follow the Daily podcast on Apple Podcasts, Google Podcasts, Spotify, Spreaker.
An MoD spokesman said: "Every civilian death is a tragedy and the UK always seeks to minimise the risk of civilian casualties through our rigorous targeting processes, but that risk can never be removed entirely.
"The amount of compensation paid is determined by legal principles which consider the degree of injury and both past and future losses; settlements also reflect local customs and practice."
Italy: Close associate of ex-PM Silvio Berlusconi cleared of negotiating with mafia after bombings | World News
A close associate of ex-Italian PM Silvio Berlusconi and three former police investigators have had their convictions overturned, in a case where the state was accused of colluding with the mafia during its 1990s bombing campaign.
Former senator Marcello Dell'Utri, along with Mario Mori, Antonio Subranni and Giuseppe De Donno, have now been acquitted by a judge at an appeals court in Palermo. They had all maintained their innocence.
Dell'Utri was accused of brokering a deal to stop the attacks, in return for scaling back crackdowns by authorities and loosening strict conditions for top bosses behind bars.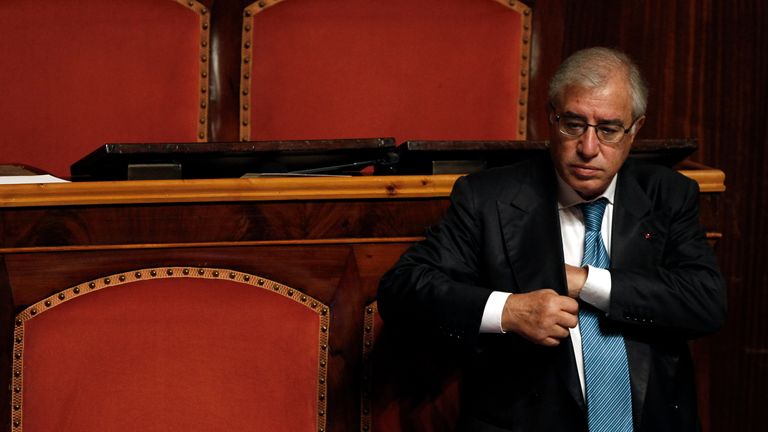 Dell'Utri, who had been a politician for Berlusconi's right-wing Forza Italia party, was convicted in 2018 of acting as a liaison between state institutions and Cosa Nostra bosses in Sicily.
He had been sentenced to 12 years behind bars for undermining the state, as were former generals Mori and Subranni, while ex-colonel De Donno received an eight-year jail term.
But the judge in Palermo, Angelo Pellino, has ruled the charges did not constitute a crime, suggesting state officials could contact mobsters if deemed necessary.
However, he upheld guilty verdicts against two mobsters, including Leoluca Bagarella, a convicted killer for the Corleone mafia family.
Dell'Utri told Italy's Adnkronos news agency: "This acquittal is a turning point, not only for me but for Italian justice. This trial was monstrous."
The prosecution case claimed state representatives had negotiated with the mob following a string of mafia bombings that killed 23 people, including prominent anti-mafia magistrates Giovanni Falcone and Paolo Borsellino.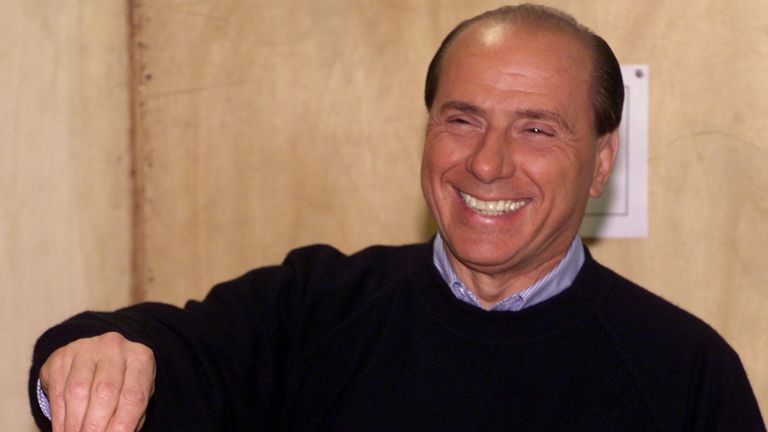 According to prosecutors, talks between the mafia and the Italian state began after judge Falcone, his wife and three bodyguards were killed by a device under a motorway in May 1992.
The state's willingness to enter negotiations after Falcone's murder encouraged further bombings, it was alleged.
The prosecution said those attacks included the one that killed Mr Borsellino two months later because he had opposed the negotiations.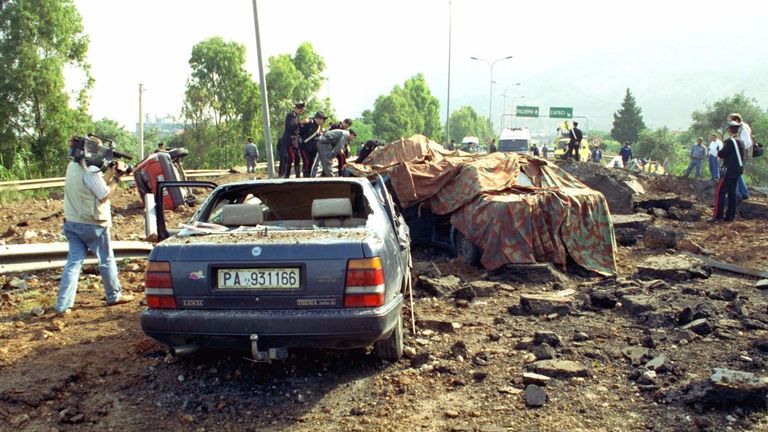 The following year, Cosa Nostra carried out unprecedented mainland attacks on cultural and church targets, including Florence's Uffizi Gallery.
Ten people were killed in Milan and Florence. After 1993, the attacks abruptly stopped.
The prosecutors said they would review Thursday's ruling to decide if they would appeal the decision to the Supreme Court.
La Palma eruption: Lava spread raises fears of more damage on Spanish island as it rises 50 feet in places | World News
The advance of lava from a volcanic eruption in Spain's Canary Islands has slowed, rising in some places up to 50 feet as it thickens.
One giant river of lava on the island of La Palma slowed to 13 feet (4m) per hour on Wednesday – on Monday, a day after the eruption, it was moving at 2,300 feet (700m) per hour.
A second stream of lava has virtually ground to a halt.
As it slows, it has raised concerns that the molten rock may fan out across the land and destroy more homes.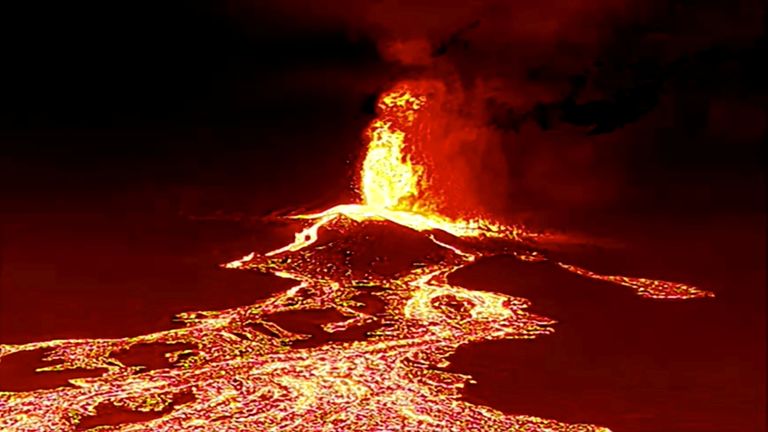 Correspondent broadcasts live as volcano erupts

It now covers 410 acres and has entombed 350 homes.
There have been no casualties reported from the eruption but damage to property, infrastructure, and farmland is expected to be extensive.
Almost 7,000 people were evacuated after scientists monitoring the volcano warned of the eruption.
The lava slowing has allowed more residents of towns in its path to grab belongings under police escort.
Officials had initially expressed fears about what would happen when the lava – with temperatures exceeding 1,000 degrees Celcius – reached the Atlantic ocean, as it could cause explosions, trigger landslides and produce clouds of toxic gas.
However, the head of the National Geographic Institute in the Canary Islands, Maria Jose Blanco, said some lava streams won't reach the ocean until the weekend, and others may never reach it at all.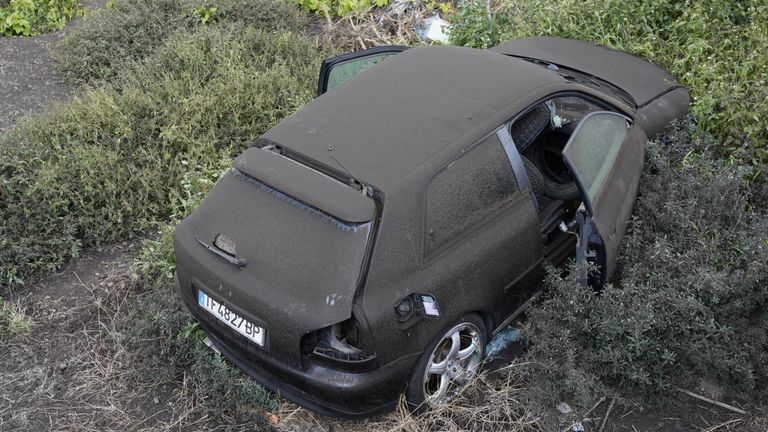 Meanwhile, molten lava, ash and smoke continue to pour from the volcano's mouth, shooting up to nearly 14,000 feet high, the Canary Islands Volcanology Institute said, raising concerns about whether airspace above the island could remain open.
Readings taken of the air found no threat to health, authorities said.
Joel Francisco, 38, said he and his elderly parents left their home with only a handful of belongings and important documents.
Now the flow appears to have slowed, he hopes to return, if police allow.
"We don't know how long we have to wait until we can return to our homes because the roads are closed," he told The Associated Press.
"Some people have it worse off, their houses are gone."
Video of La Palma eruptions burning buildings and destroying homes

The Canary Islands Volcanology Institute said the eruption and its aftermath could last for up to 84 days.
This means residents could still be at risk of earthquakes, lava flows, toxic gases, volcanic ash, and acid rain.
However, tourists visiting the island have been largely undeterred, with many continuing to land for previously planned holidays.