White House touts broadband part of new infrastructure deal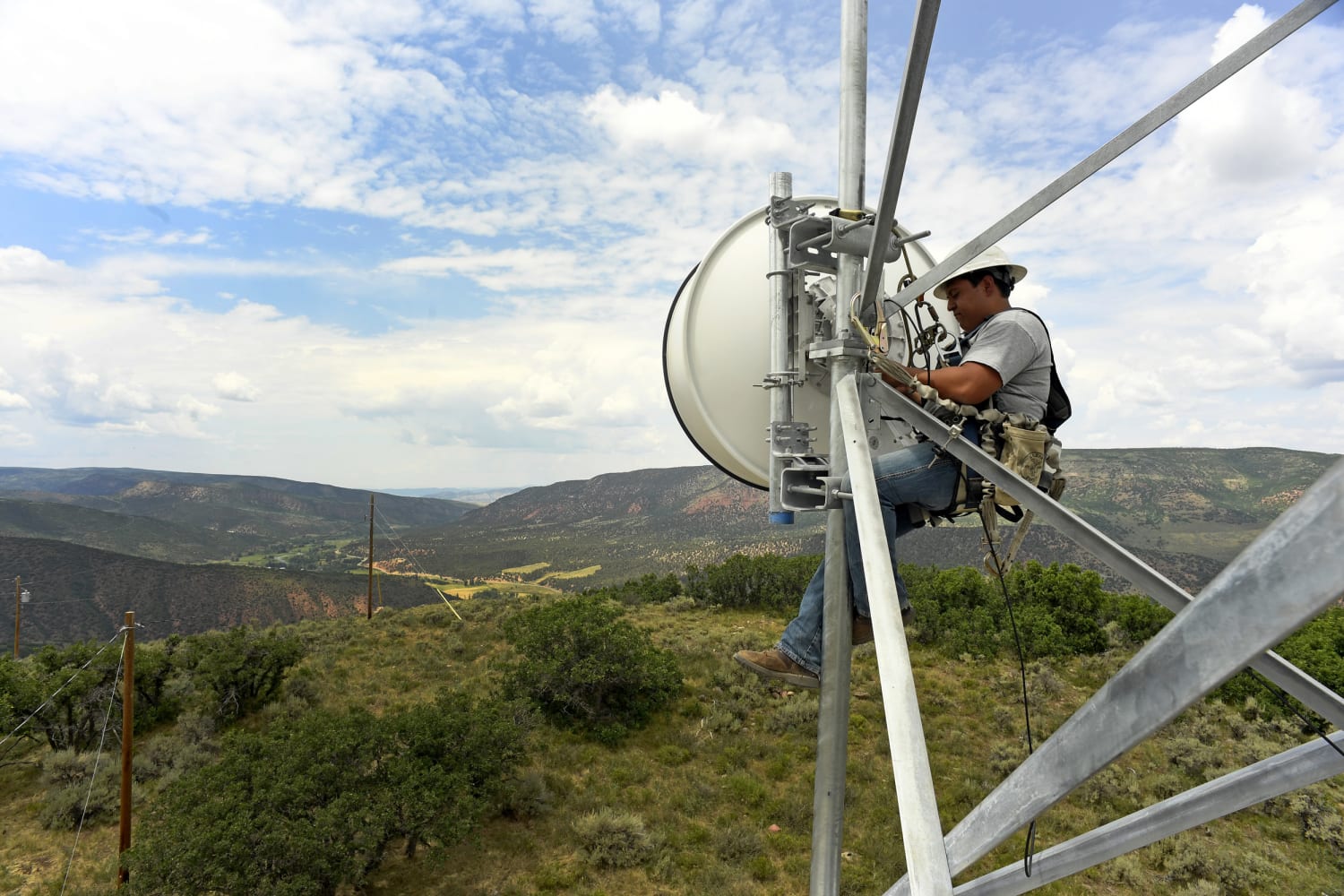 The White House announced Wednesday that its "once-in-a-generation investment in our infrastructure" would include a part dedicated to improving Americans' access to the internet.
Later, the Senate passed a critical test vote by 67-32, suggesting possible passage of the entire infrastructure bill in the coming days.
"This bipartisan deal is the most important investment in public transit in American history and the most important investment in rail since the creation of Amtrak 50 years ago," President Joe Biden said in a statement Wednesday afternoon. "It will deliver high speed internet to every American."
Neither precise details of the broadband section nor the text of the whole bill has been released yet. The White House said in a related statement that a $65 billion investment for broadband, out of $550 billion in new spending, would ensure that "every American has access to reliable high-speed internet," comparing it to the electrification of the country a century ago.
The National Telecommunications and Information Administration, part of the Commerce Department, published a comprehensive interactive online map last month. The document shows how poorer, more rural and tribal areas generally don't have affordable broadband access.
The Federal Communications Commission defines broadband as a download speed of 25 megabits per second and an upload speed of 3 Mbps. While 25 Mbps is generally sufficient for most uses, when such a connection is shared via a wireless connection and transmitted to multiple people using different devices, real-world speeds — particularly when videoconferencing is involved — are often slower and insufficient.
A draft copy of the 68-page broadband section of the infrastructure bill obtained by NBC News would establish a de facto minimum standard of 100 Mbps down and 20 Mbps up, and it would require that internet service providers have an eye toward even higher speeds, most likely through fiber optic service. In addition, it would require the federal government to establish a single website where consumers could determine whether they are eligible for low-cost broadband.
"The main takeaway for me is that it's oriented around future-proofing infrastructure, and that's a good thing," said Ernesto Falcon, a lawyer with the Electronic Frontier Foundation in San Francisco.
Vinhcent Le, a technology equity lawyer with the Greenlining Institute, an advocacy organization in Oakland, California, was part of a coalition of pro-consumer groups that lobbied the bipartisan working group in recent months.
"It doesn't rock the boat too much, but it does give things that advocates have been asking for: better mapping data and digital inclusion money, helping pay down the cost of broadband," he said. "It's going to help people get signed up."
Most major ISPs have low-cost programs, but critics have said that they aren't always widely known and that the speed floor has historically been too low.
In February, Comcast doubled the speed of its low-cost program, known as Internet Essentials, from 25 Mbps to 50 Mbps. Comcast, the country's largest internet service provider, owns NBCUniversal, the parent company of NBC News.
"We've always offered the same super fast speeds across an entire city when we build out and offer gig speeds across nearly our entire footprint of 55 million plus homes," Sena Fitzmaurice, a Comcast spokesperson, said by email. Fitzmaurice declined to comment on the White House announcement until legislative language has been released.
"We've been part of a coalition which has called for a permanent broadband program to help low-income households, and have been participating in the emergency program including allowing customers to use it to access any tier of broadband service," she said.
The White House is also pushing to pass the Digital Equity Act, a bill to create "a permanent program to help more low-income households access the internet."
NCTA, the lobbying organization for telecommunications companies, said it was generally in favor of the deal.
"Connecting every American to robust and reliable broadband infrastructure is a goal we share and our industry has spent decades building and upgrading networks that now reach 80% of U.S. homes with superfast gigabit speeds," Brian Dietz, a spokesperson for NCTA, said by email.
"While we still need to see the details of the bill, we are encouraged that the bipartisan infrastructure deal directly addresses two critical elements of reaching universal connectivity — dedicating funding first and foremost to those regions without any broadband service, and providing financial assistance to help low-income Americans subscribe to this critical service," Dietz said.
Scots 'alarmed' at SNP plans for 'wild card referendum', says former Scotland Secretary
NICOLA STURGEON's plans to hold a second independence referendum will "alarm" Scots if she does not have the legal framework.

Source link
'EU should learn from UK': German election favourite Scholz wanted to emulate UK strategy
THE EU should learn from the UK's migration strategy, German election frontrunner Olaf Scholz warned five years ago, suggesting that the fractured approaches of the trading bloc's member states were not working.

Source link
The GOP's election review in Arizona is over. Its influence is just beginning, experts say.
Arizona Republicans on Friday championed the results of their extraordinary partisan election review — which again affirmed President Joe Biden's victory in Maricopa County — and called for similar examinations around the country.
"We need to do bigger audits on every election, just to make sure that everybody's following the rules," said Senate President Karen Fann, a Republican, boasting about how many lawmakers from other states had visited the site of the ballot review.
Fann and state Sen. Warren Petersen, also a Republican, listened to hours of testimony from third-party contractors including Doug Logan, CEO of the lead contractor, Cyber Ninjas, as they cast doubt and suggested their work had turned up evidence of improprieties including illegal votes and deleted election files.
But experts and critics say the supposed findings confirm what they already knew: that the hired contractors were inexperienced and failed to use industry best practices, while misunderstanding and misconstruing the basics of election administration and Arizona election code. And with the proliferation of Arizona-inspired efforts spreading around the country, experts say there's real damage being done to trust in elections.
"They're doubling down on some of the things that have already been refuted. And just continuing to give oxygen to things that are untrue," said Tammy Patrick, a former Maricopa County elections official who is now a senior adviser at Democracy Fund, a nonpartisan foundation that aims to improve American elections.
"They're simply taking routine election administration processes and attempting to cast what they don't understand as suspicious," said Liz Howard, senior counsel of the Brennan Center for Justice at New York University School of Law.
Howard was appointed by Arizona Secretary of State Katie Hobbs, a Democrat, to monitor the review and spent weeks in Phoenix observing the Cyber Ninjas do their work.
"It's unreasonable to assume that this isn't unintentional," she added.
Both Howard and Patrick said the auditors' findings — which were circulated in a draft on Thursday night, before being presented in a livestreamed event on Friday — made it clear they didn't understand basic election administration.
For example, contractors reported that there were possibly thousands of out-of-state and out-of-county voters, as well as hundreds of dead voters who cast ballots in November, numbers they calculated by comparing voter rolls with commercial data lists.
Patrick said that such data was poorly vetted, and that political groups who had used commercial mailing lists had at times ended up sending mailers out to people's pets, because someone, for example, had once signed their cat up for a subscription to Cat Fancy magazine.
Howard agreed that commercial data was unreliable for this purpose and added that there are also valid reasons a voter would be associated with another address but still be an eligible voter in Maricopa County, like students.
Contractors also alleged that election files had been deleted, something Maricopa County tweeted they "strongly" deny, noting they have additional records but that the state Senate had never requested them.
Experts and critics say the impacts of the review, however, are just beginning.
Arizona Republican state Sen. Paul Boyer, who initially backed the review but pulled his support in February over concerns for how it was progressing, said he believes it will make legislating on elections harder.
"I think now you're going to see a hundred or two hundred election bills next year and no one is going to listen to the experts," he told NBC News on Friday.
He added that he has spoken to voters who have either left the Republican Party or stopped voting altogether because they don't have faith in the election.
Around the country, too, experts see the propagation of Arizona-style ballot reviews. Texas launched a "forensic audit" of four counties on Thursday night, just hours after former President Donald Trump called for it. Similar reviews are underway in Wisconsin and Pennsylvania.
Speaking of those legislators from other states who visited the review, Patrick said: "They're using it as justification and reasoning to promote this sort of activity in states across this country."
Asked how he'd advise lawmakers beginning a ballot review in their states now, Boyer said he'd urge them to have bipartisan, expert-informed reviews.
"Trust the professionals. They've been doing it for decades. They know what they're doing. Make sure that anybody you hire doesn't already have their mind made up. We can't actually call this an audit. This is a partisan investigation," he said of the Arizona review. "Ironically, it's going to sow even more distrust when the claim, if you can believe it, is they're trying to create more confidence."