Tokyo Olympics: The alternative medal tables | World News

Which country is more likely to win the largest number of medals at Tokyo 2020?
No points for guessing either United States or China.
In fact, the US has won more medals than any other country since the 1996 Games in Atlanta.
But what are the reasons behind that success? Data shows that the size of a country's economy is strongly linked to the number of medals it can win.
Having a large economy and population means not only can a nation pick its athletes from a large talent pool, but also fund its elite team to perform at their very best.
But not every country is as big as China or the United States.
What if a country's medal haul was adjusted for its population or wealth? Would the incumbents continue to dominate?
Under our alternative medals table, countries are ranked either by medals per gross domestic product (size of an economy) or by medals in proportion to their population size.
Based on the size of its $1.3bn economy, Grenada, a small low-income country in the Caribbean, would have won the equivalent of 94 medals.
Jamaica's 11 medals in the 2016 Games would translate to 38 when adjusted for its population of three million people.
The UK is on page five of our table. Its status as the fifth largest economy in the world works against it, shrinking the 67 medals won in Rio to just two.
But even after accounting for its small economy and population, North Korea punches far above its weight (despite not winning in boxing) on our count.
Dr Johan Rewilak, lecturer in sports economics and finance, says this is because some countries "manufacture Olympic success" to gain an outsized number of Olympic medals given their GDP and population sizes.
There are others, such as India with 1.35 billion people, that often finds themselves at the bottom of most medal tables.
Dr Rewilak explains that cultural reasons and the country's strong preference for cricket diverts talent and resources from Olympic sports.
Although every country is not destined for a medal at the Olympics, some have better odds of striking gold than others.
As the host country, Japan has a unique chance of success on the medals table.
Data shows that five out of the past six host nations outperformed their previous medal hauls.
So, does that mean Japan is likely to win more medals this time than the 41 it gained in 2016?
There are exceptions, as with the United States in 1992. The breakup of the Eastern Bloc after the fall of the Soviet Union benefited the US on the medal table.
Despite all the data, the unpredictable nature of sports and individual athletes' ability makes the final results far from certain.
The Data and Forensics team is a multi-skilled unit dedicated to providing transparent journalism from Sky News.
We gather, analyse and visualise data to tell data-driven stories. We combine traditional reporting skills with advanced analysis of satellite images, social media and other open source information. Through multimedia storytelling we aim to better explain the world while also showing how our journalism is done.
China announces complete ban on cryptocurrencies | Science & Tech News

The People's Bank of China (PBoC) has announced that all cryptocurrency-related financial activities are illegal, including transactions, providing pricing services, and launching new tokens.
According to a notice published on the central bank's website, it will be illegal for Chinese residents to purchase cryptocurrencies from overseas and even be involved in marketing or technical support relating to crypto businesses.
The authenticity of the announcement has been confirmed by Sky News' bureau in Beijing, but follows an announcement falsely claiming US retail giant Walmart would soon be accepting the cryptocurrency Litecoin, believed to have been perpetrated by people seeking to artificially inflate that cryptocurrency's value.
Sky News visited a secret Bitcoin mining farm in China earlier this year, shedding light on the world's centre for Bitcoin mining – accounting for 65% of the global total, according to researchers from the University of Cambridge.
At the time of the visit, Bitcoin mining wasn't illegal.
"Chinese miners are trying to make money quick before something happens," explained Nishant Sharma at the time.
"And that something is usually related to legalities around Bitcoin mining," added the Beijing-based founder of BlocksBridge Consulting, which specialises in mining.
Today's designation appears to finally criminalise mining.
It follows another ban announced in May in China on financial institutions and payment companies providing services related to cryptocurrencies – causing the value of Bitcoin to plummet by more than 20%.
A further slide for the infamously volatile cryptocurrency happened in June, sparked by China's central bank urging the country's largest banks and payment firms to crack down harder on trading in cryptocurrencies.
An automatic translation of the central bank's announcement said cryptocurrencies have been "disrupting economic and financial order, breeding illegal and criminal activities such as gambling, illegal fund-raising, fraud, pyramid schemes, and money laundering, [and] seriously endangering the safety of people's property".
The announcement added that the central bank had established a coordination mechanism to deal with the risks posed by cryptocurrencies alongside China's main security and regulatory bodies, and mentioned tracking transactions and mining activities.
Haitians at Texas border urged to give up amid 'inhumane' deportations by US | World News
Authorities in Mexico are urging Haitians at the Texas border trying to reach the United States to give up.
They encouraged them to instead return to Mexico's border with Guatemala and request asylum there.
Up to 14,000 people, mostly Haitians, have been camped north of the Rio Grande river this month, though hundreds have turned back to Mexico after the US began deporting planes full of people back to Haiti.
Thousands of Haitian refugees fill the banks of the Rio Grande desperately seeking asylum in America.

The Caribbean nation is reeling from the assassination of its president, natural disasters, the coronavirus pandemic and gang violence.
It follows outrage at images of a US border guard on horseback brandishing a whip against Haitian migrants near their camp.
Pressure is growing on US President Joe Biden after the US special envoy to Haiti resigned in protest at his administration's deportations.
Mr Biden's administration has used a policy enacted by Donald Trump's administration in March 2020 to restrict immigration in an attempt to prevent the spread of coronavirus.
Last week a federal judge ruled the restriction was improper and gave the government two weeks to cease, but Mr Biden's administration has appealed.
Daniel Foote, the US special envoy to Haiti, said he was resigning over the "inhumane" expulsions of Haitian migrants.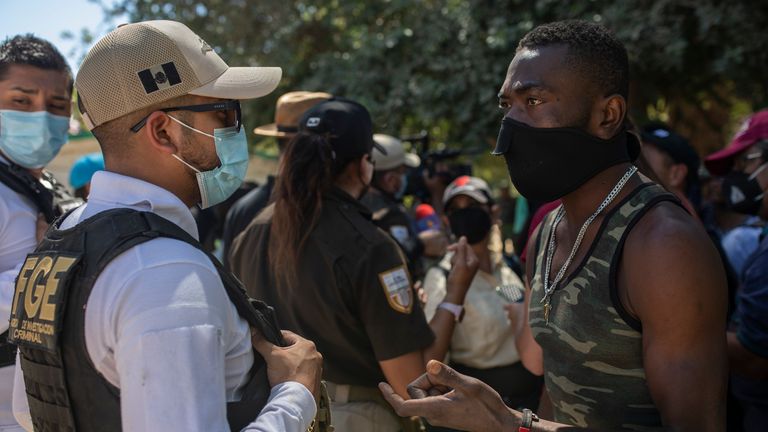 In his letter to US Secretary of State Antony Blinken, he said he was stepping down immediately "with deep disappointment and apologies to those seeking crucial changes."
"I will not be associated with the United States inhumane, counterproductive decision to deport thousands of Haitian refugees and illegal immigrants to Haiti, a country where American officials are confined to secure compounds because of the danger posed by armed gangs to daily life," he wrote.
"Our policy approach to Haiti remains deeply flawed, and my policy recommendations have been ignored and dismissed, when not edited to project a narrative different from my own."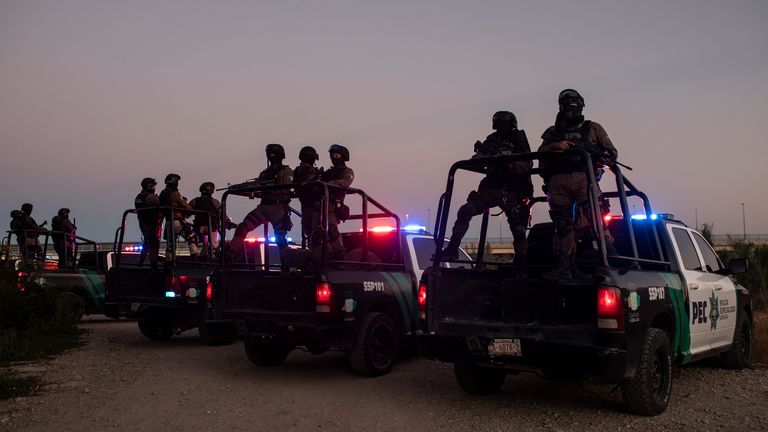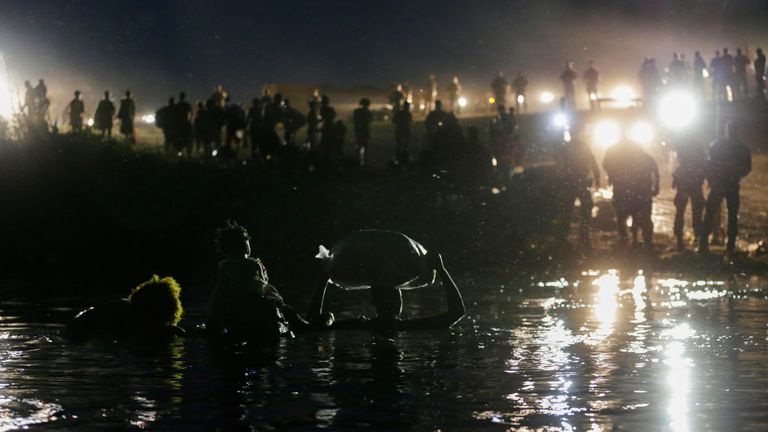 So far nearly 2,000 migrants have been returned to Haiti, while almost 4,000 people have been taken into custody, the Department of Homeland security (DHS) said on Thursday.
Some 3,000 people remain in the camp in the Del Rio area of Texas, opposite Ciudad Acuna, the DHS added.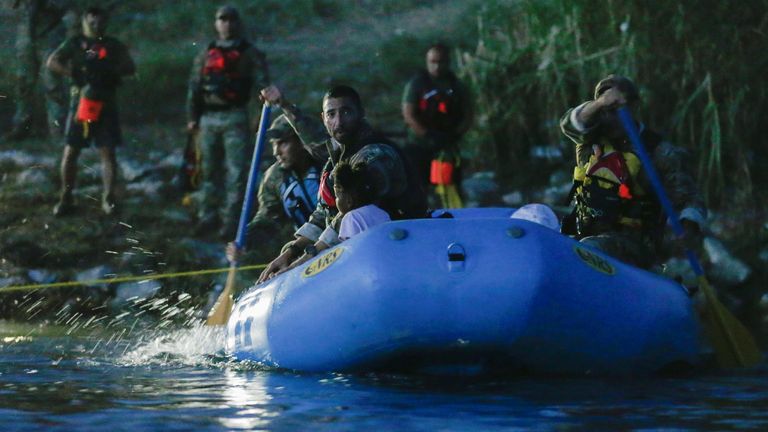 Some Haitians will be allowed to remain in the US temporarily while they seek asylum or under another claim of residency.
London retains second place behind New York in list of world's best financial hubs, latest research suggests | Business News
New York has maintained its place at the top of the Global Financial Centres Index (GFCI), while London has held on to second place as Chinese cities slipped.
The index, published by the Z/Yen Group in partnership with think-tank China Development Institute, will be a relief to London in particular after it lost access to the European Union financial market when the UK left the bloc at the end of the Brexit transition period last December.
"The relatively strong performance of New York and London suggests that the financial services sectors in these cities managed to sustain their performance despite radical changes in working practices during the last 18 months," GFCI said.
It added that in Western Europe, London continues to lead, dropping only three points in the ratings compared with the previous list published in March this year. This reflects confidence in the longer-term prospects for the centre, it said.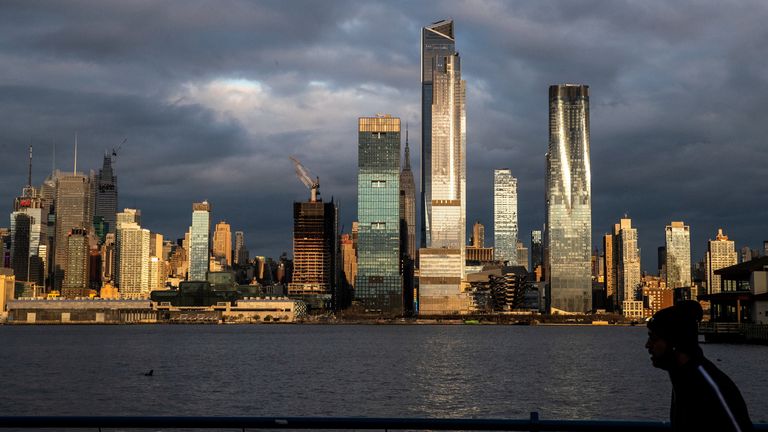 Hong Kong and Singapore, in third and fourth position, both fell 25 points in the ratings.
"We see two patterns in the results for GFCI 30 – confidence in the recovery of the North American and Western European economies following the shock of 2020; and a levelling off following the rapid rise of Asia/Pacific centres and their economic stability in the COVID-19 pandemic," said Michael Mainelli, Z/Yen executive chairman.
"Competition remains tight. Outside the top two centres, only five points on a 1,000 point scale separate the centres ranked third to eighth."
In their survey of fintech centres, New York and Shanghai retained first and second positions, with London rising two places to third place as Britain makes fintech-friendly policies a priority.
Top 20 rankings:
1. New York (1 in previous list in March)
2. London (2)
3. Hong Kong (4)
4. Singapore (5)
5. San Francisco (12)
6. Shanghai (3)
7. Los Angeles (13)
8. Beijing (6)
9. Tokyo (7)
10. Paris (25)
11. Chicago (15)
12. Boston (24)
13. Seoul (16)
14. Frankfurt (9)
15. Washington DC (14)
16. Shenzhen (8)
17. Amsterdam (28)
18. Dubai (19)
19. Toronto (29)
20. Geneva (20)