Vladimir Putin says Russian navy 'can detect any enemy' and fire 'unpreventable strike' if needed | World News
President Vladimir Putin has said the Russian navy can detect any enemy and launch an "unpreventable strike" if needed.
The leader was speaking as he attended a parade to mark the 325th anniversary of the navy in St Petersburg, which also included ships from the navies of Iran, Pakistan and India.
"We are capable of detecting any underwater, above-water, airborne enemy and, if required, carry out an unpreventable strike against it," Mr Putin said.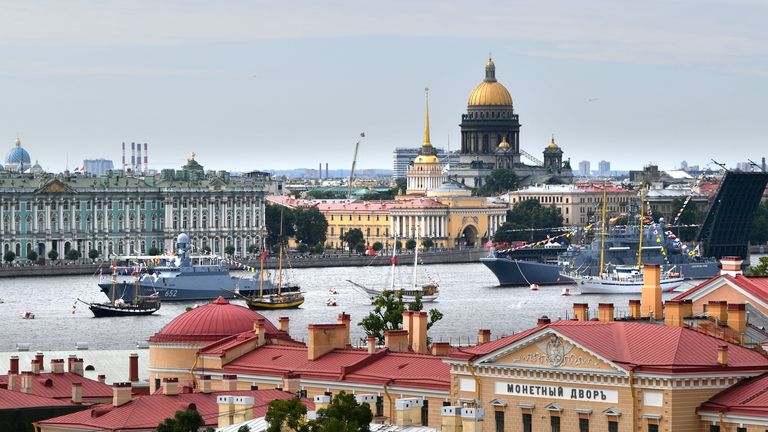 His words follow an incident in the Black Sea in June, when Russia said it had fired warning shots and dropped bombs in the path of a British warship to chase it out of Crimea waters.
Britain rejected Russia's account of the incident, saying it believed any shots fired were a pre-announced Russian "gunnery exercise", and that no bombs had been dropped.
Russia annexed Crimea from Ukraine in 2014 but Britain and most of the world recognise the Black Sea peninsula as part of Ukraine, not Russia.
Mr Putin said last month Russia could have sunk the British warship HMS Defender, which it accused of illegally entering its territorial waters, without starting World War Three and said the US played a role in the "provocation".
Russia claims this is HMS Defender 'chased out'

Sunday also saw parades take place in the Russian naval bases of Severomorsk, Caspiisk, Baltiisk, Sevastopol, Vladivostok and at the Russian naval base in Tartus, Syria.
The Iranian frigate Sahand, which sailed down the Neva River in the St Petersburg parade, and the sea-based vessel Makran attracted attention from naval observers due to their unusually long voyages to Russia.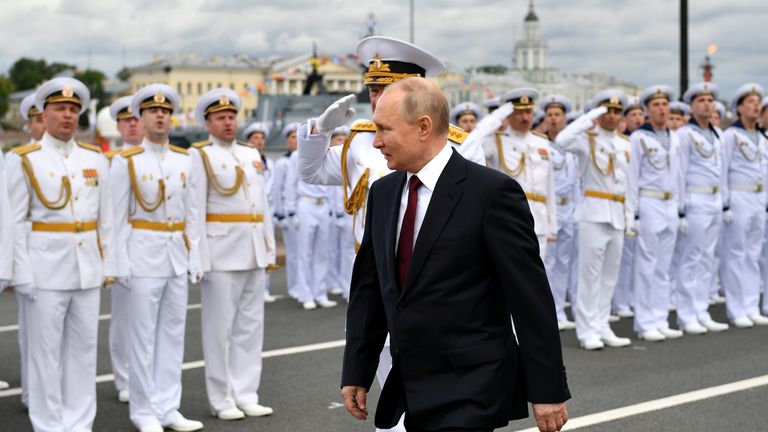 Mr Putin's comments come as US Deputy Secretary of State Wendy Sherman prepares to travel to Geneva for nuclear arms control talks with Russia.
She will be joined by Under Secretary of State for Arms Control and International Security Bonnie Jenkins, whose nomination for that role was confirmed by the US Senate this week.
"This meeting follows up on a commitment made between President Biden and Russian President Putin to have a deliberate and robust dialogue between our two nations that will seek to lay the groundwork for future arms control and risk reduction measures," the State Department said in a statement.
Faroe Islands pledges review of dolphin killing regulations after uproar over record slaughter | World News
The Faroe Islands has said it will review regulations governing its tradition of hunting dolphins after widespread uproar over the killing of more than 1,400 from a "super pod".
Campaign group Sea Shepherd released footage showing hundreds of dead animals lying on a beach, while others were herded into shallow waters by boats and jet skis.
The footage showed the water turn red as people killed the dolphins with knives for their meat and blubber.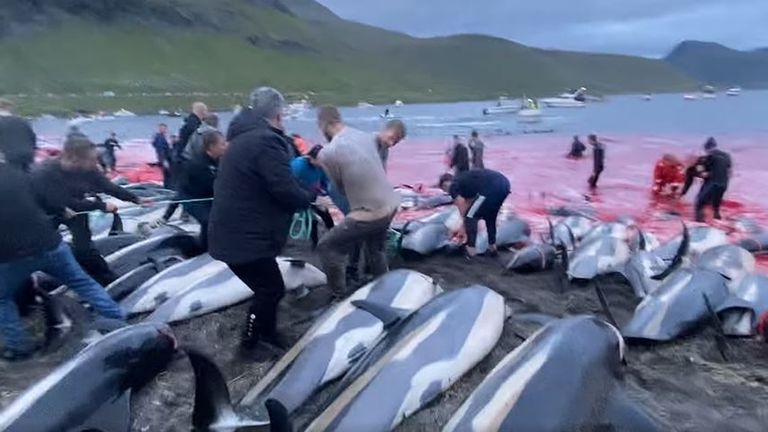 Further out to sea, the fjord boats formed a barrier to stop the Atlantic white-sided dolphins from swimming away.
Sea Shepherd, which is based in the US, described the hunt as "brutal", with the graphic footage leaving many viewers from around the world shocked and calling for action.
The Sea Shepherd Faroe Islands Campaign Facebook page wrote: "We are sharing with you 10 minutes of unedited footage. We are doing this so you can grasp the reality of what happened yesterday.
"Because while the Faroese newspapers have been busy reporting on the reactions to the hunt all through the day, there has been no proper covering of the actual illegalities and brutality of the hunt.
"What will it take for the locals to demand a shut down of all hunts of this sort?
"We believe it takes a good honest look at the truth."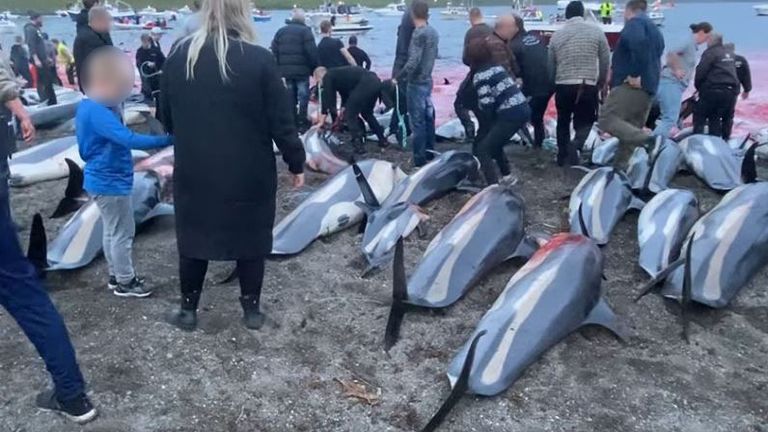 The Faroe Islands has defended its decades-long tradition of chasing dolphins or whales towards the shore and slaughtering them on beaches.
The slaughter has been a part of the archipelago's tradition since the ninth century, and the meat and blubber are shared within the community.
However, the government said the latest catch had been "extraordinary" due to the size of the pod, and it would look into regulations around the tradition.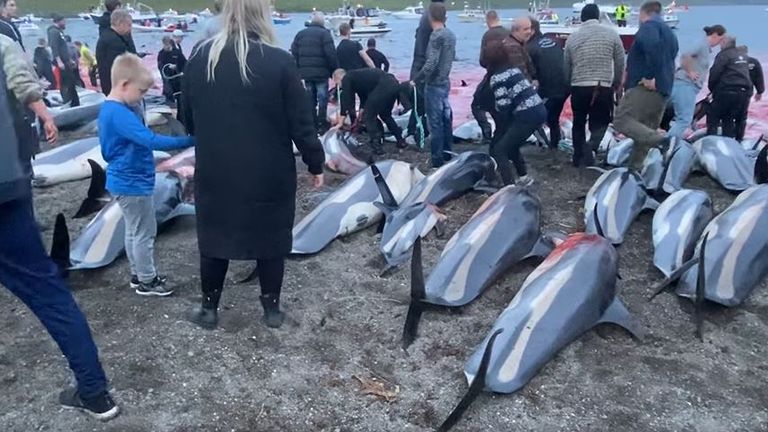 It said the catch was a record – on average around 250 dolphins and 600 pilot whales are caught each year in Faroese waters, it added.
"We take this matter very seriously. Although these hunts are considered sustainable, we will be looking closely at the dolphin hunts, and what part they should play in Faroese society," Prime Minister Bardur a Steig Nielsen said.
Regin Jacobsen, one of the Faroe Islands' largest farmed salmon exporters, condemned the slaughter as "totally unacceptable".
The Bakkefrost CEO said his firm was not involved in the hunt and none of its assets were used.
Afghanistan: Taliban replaces women's ministry with 'vice and virtue' ministry – as schools reopen for boys | World News
The Taliban has replaced Afghanistan's women's ministry with an all-male "vice and virtue ministry".
The new ministry is tasked with enforcing the group's extreme interpretation of Islam.
Officials at the ministry told the Associated Press they had not been informed whether a new women's ministry is being planned.
Afghanistan: Women in fear for their freedom

It comes as schools across Afghanistan reopened for boys from Saturday, effectively barring girls from secondary education despite the group's previous commitment.
The new Taliban ministry of education's announcement did not mention when girls may be able to return to classes, even in gender-segregated settings.
It said state and private schools at primary and secondary level, as well as official madrasa religious schools, will open from Saturday.
"All teachers and male students should attend school," the statement said.
It comes after staff from the World Bank's $100m (£72m) Women's Economic Empowerment and Rural Development Programme were escorted off the grounds of the old ministry by the Taliban in Kabul.
Sharif Akhtar, a programme member who was escorted out with his staff, said he could not say how or if the programme could continue.
'We left our family – our country is destroyed'

Most educational institutions remain closed across Afghanistan, more than a month after the Taliban seized Kabul.
Girls up to the sixth grade have managed to attend some schools and women have gone to university classes, but high schools for girls have been closed.
The Taliban has said it will not replicate the fundamentalist policies of the previous Taliban government, which banned girls from education.
Girls will be able to study as long as they do so in segregated classrooms, the group has said.
Although the Taliban's leaders have not ordered schools to close, they have said the security situation means many activities for women and girls are not yet possible.
Footballer's fears for women under the Taliban

Meanwhile, a series of explosions targeted Taliban vehicles in the capital of Nangarhar province.
The three explosions left at least three dead and 20 wounded.
While no one immediately claimed the attack in Jalalabad, the Islamic State affiliate group ISIS-K, which opposes the Taliban, has its headquarters in eastern Afghanistan.
Also on Saturday, a sticky bomb exploded in the capital, wounding two people, police said.
AUKUS: Maintaining West's unity will 'require a lot of effort', German official says, as France rages over nuclear submarine deal | World News
Maintaining unity between Western allies will "require a lot of effort" in light of an unfolding rift between France and members of a new security partnership, Germany's ambassador to the UK has said.
Andreas Michaelis was responding to France recalling its ambassadors to the US and Australia, after the latter's government ditched a multi-billion dollar deal with Paris for new nuclear submarines and decided to instead buy ones made with US technology.
The response to the cancelled agreement – resulting from something that has been dubbed the AUKUS partnership, between Australia, the UK, and US – has been described by Sky's security and defence editor Deborah Haynes as "one of the gravest rifts among allies in living memory".
The new 🇩🇪 government to be elected on 26/9 will be faced with important strategic discussions. The AUKUS debate illustrates this vividly. 🇩🇪 has always aimed for coherence&unity of the West. It became part of our DNA during the Cold War. This unity will require a lot of effort. https://t.co/nmNEwk6hYP

— Andreas Michaelis (@GermanAmbUK) September 18, 2021
It comes as Germany's long-standing chancellor, Angela Merkel, is due to be replaced next weekend by whoever wins federal elections.
Mr Michaelis, referencing Deborah Haynes' Sky News analysis, said on Twitter: "The new German government to be elected on 26/9 will be faced with important strategic discussions.
"The AUKUS debate illustrates this vividly. Germany has always aimed for coherence&unity [sic] of the West. It became part of our DNA during the Cold War. This unity will require a lot of effort."
The decision to pull out its representative in the US, outlined last night by foreign minister Jean-Yves Le Drian on the orders of President Emmanuel Macron, was the first time France has ever recalled its American ambassador.
He said the cancellation by Australia of the big contract to buy French conventional submarines in favour of nuclear-powered subs built with US technology was "unacceptable behaviour".
It means France loses a nearly $100bn Australian dollars (£47bn) deal to build diesel-electric submarines.
'AUKUS alliance will bring us closer than ever'


Australia said on Saturday morning it regretted that France was recalling its ambassador, adding that it valued the relationship with France and would keep engaging with Paris on other issues.
A US State Department spokesperson said France was a "vital ally" and the United States would be engaged in the coming days to resolve the differences.
A French foreign ministry statement did not mention the UK, but a diplomatic source said France believed Britain's joining of the deal was opportunistic.
The AUKUS partnership is part of a new strategic Indo-Pacific alliance between the US, Australia and Britain, US President Joe Biden announced last week.
Did Biden forget Australian PM's name?

French President Emmanuel Macron has so far not commented directly, but on Friday a top French diplomat spoke anonymously of a "crisis" in relations with the US.
He said that for Paris "this is a strategic question concerning the very nature of the relationship between Europe and the United States about the Indo-Pacific strategy".
He added that Australia never mentioned to France its wish to shift to nuclear-powered submarines, including during a meeting between Mr Macron and Prime Minister Scott Morrison.
The French diplomat said that Mr Macron received a letter from Mr Morrison on Wednesday morning announcing the decision to cancel the submarine deal.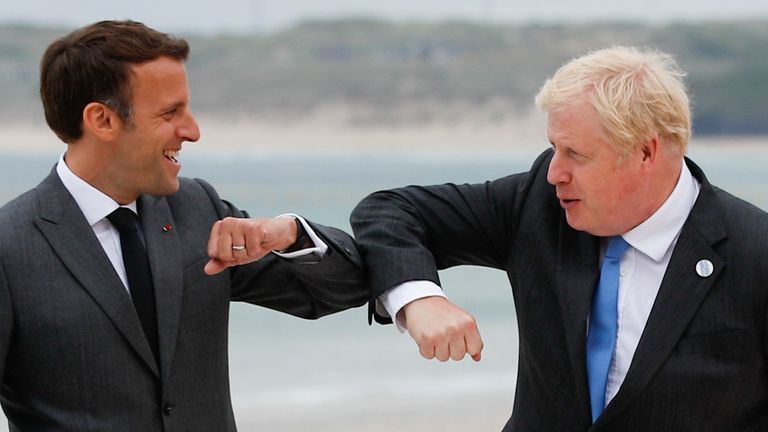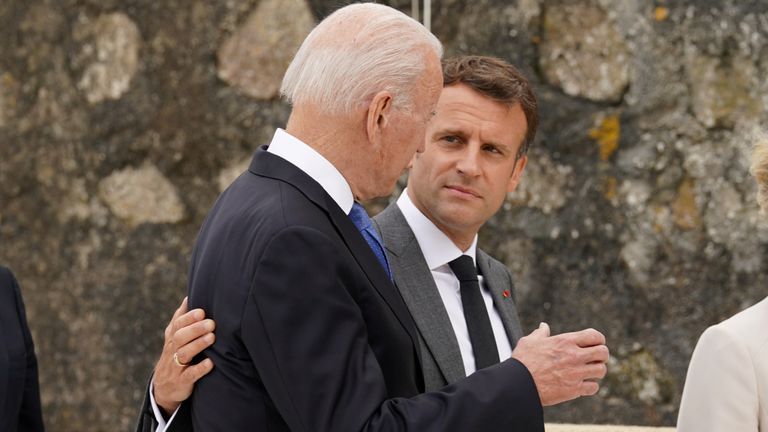 After the deal was announced, Mr Le Drian told franceinfo radio it was a "brutal, unilateral and unpredictable decision" reminiscent of the sort of actions Donald Trump would take.
He said: "I am angry and bitter. This isn't done between allies. It's a stab in the back. We created a relationship of trust with Australia, and that trust has been broken."
The "landmark" UK, US and Australia partnership aims to boost defences and share nuclear submarine secrets at a time of growing concern over China.
China has condemned the agreement, saying the Western powers' cooperation in nuclear submarines "severely damages regional peace and stability" and "jeopardises the international efforts in promoting the non-proliferation of nuclear weapons".
London, Canberra and Washington have said they will seek to collaborate in cyber, quantum technologies and artificial intelligence, as well as other underwater capabilities.