Tokyo Olympics: Opening ceremony was 'respectful, hopeful but sombre night' | World News
Olympic opening ceremonies are something of a unique art form. Playing to a global audience but with the host nation wanting to make the night their own.
Japan chose sombre. It was a respectful, hopeful but above all sombre night. They didn't want to show off when everyone has lived through such hardship – and while so many people continue to do so.
Their display using 1,824 flying drones combining like a swarm of giant worker bees to create a giant globe stood out.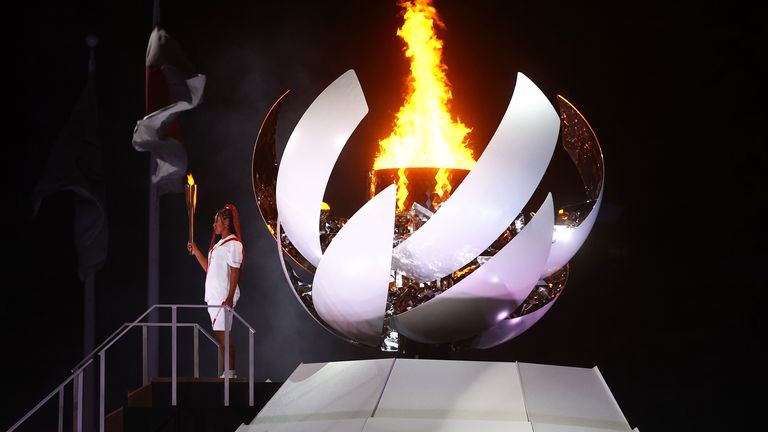 There were no Team GB fans at the 2021 summer olympic opening ceremony in Tokyo due to COVID-19 but Japan put on a stunning visual show regardless

So too Japanese tennis superstar Naomi Osaka who was given the honour of firing up the hydrogen-fuelled Olympic cauldron.
But it was their courteous bow towards the pain of the pandemic that defined the evening.
Video montages of empty cities during lockdowns, and athletes cobbling together training regimes in their back gardens – it all made for an understated opening ceremony.
Outside, the protests in the streets continued among those still vehemently against the Games taking place while Tokyo remains in a state of COVID emergency.
There were also people outside who just felt drawn to the Olympic stadium – to come and wave to the very select numbers of VIPs and media going inside. It was as close as they could get to the Games that they had waited almost a decade for.
While these Olympics will feel unusual there were reminders too of the magic they can create.
There was a towering Tongan taekwondo player who strode into the stadium with his bare oiled chest puffed out as he carried his island nation's flag like a warrior on a mission.
Protests held outside Olympic stadium

The Olympics can still produce special moments like that and there will be plenty more over the coming weeks.
There will be more COVID-19 disruption too but the Games of 2020 are finally open, just one year late.
Manny Pacquiao: Boxer to run for Philippines president | World News
Filipino boxer Manny Pacquiao has said he will run for president of the country next year.
The boxing star attacked corruption in the government and singled out President Rodrigo Duterte's relationship with China in particular.
He was nominated by his political allies during the national assembly of the faction he leads in the ruling PDP-Laban Party.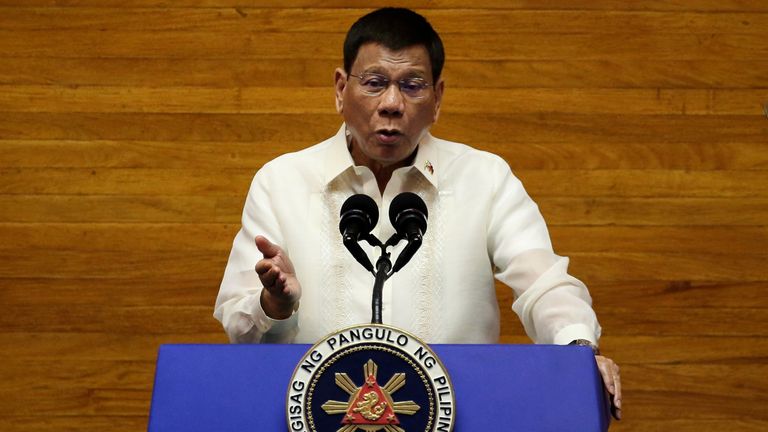 It comes days after a rival faction nominated Mr Duterte's long-time aide, Senator Christopher "Bing" Go, as its presidential candidate.
The faction also nominated Mr Duterte for vice president, which critics have called a cynical attempt for Mr Duterte to retain power.
Mr Go declined the nomination and the rift between the factions that supported Mr Pacquiao and Mr Duterte has deepened.
"I am a fighter, and I will always be a fighter inside and outside the ring," Mr Pacquiao, 42, said during a live-streamed speech during the assembly.
"I am accepting your nomination as candidate for president of the Republic of the Philippines."
His faction has not expressed support for Mr Duterte's vice-presidential bid.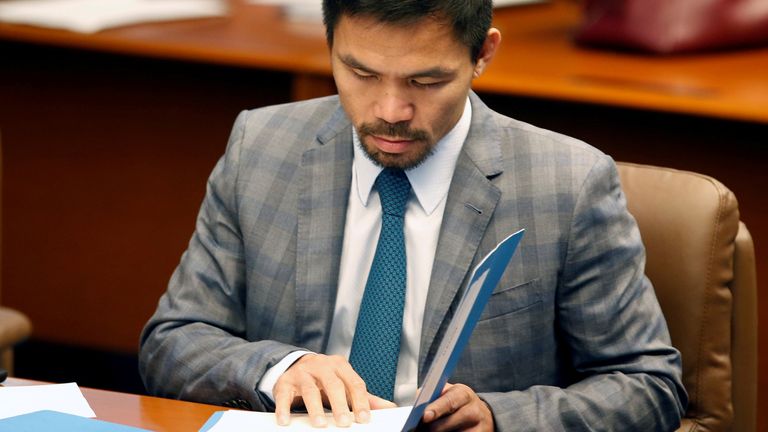 The current president is prohibited from running for a second six-year term by the country's constitution.
Mr Pacquiao is the only boxer to hold world titles in eight different divisions.
But despite his popularity, he has lagged in opinion polls which have consistently been topped by Mr Duterte's daughter, Sara Duterte-Carpio.
Mr Pacquiao was voted out as PDP-Laban leader in July after he challenged Mr Duterte about his alliance with China and record on fighting corruption.
Mr Pacquiao was once a close ally of Mr Duterte, but has said more than 10 billion pesos (£145,000) in pandemic aid intended for poor families remains unaccounted for.
He said it was just one discovery in his planned corruption investigation.
It comes as the Senate opened an investigation into alleged overpricing of medical supplies and equipment purchased by the government through its pandemic response programme.
Mr Duterte challenged Mr Pacquiao to name corrupt government officials and Mr Pacquiao responded by warning corrupt government officials would go to jail.
He said: "Your time is up!"
COP26: China's Xi Jinping yet to confirm attendance at climate change talks, admits summit president Alok Sharma | Politics News
China's Xi Jinping is yet to commit to attending this year's climate change summit in Glasgow, COP26 President Alok Sharma has admitted.
Earlier this month, Mr Sharma held two days of talks in China ahead of the international summit being hosted by the UK in November.
But, asked on Sky News' Trevor Phillips On Sunday show if Chinese president Mr Xi had committed to being in Scotland for the gathering of world leaders, Mr Sharma said: "No, not yet."
He also admitted that China would be "key" to the climate change talks, as the country is one of the world's biggest polluters.
"There is no doubt that China is going to be part of the key to all of this," Mr Sharma said.
"They are the biggest emitter in the world.
"What President Xi Jinping has said is that they are going to strictly restrict the use of coal in this next five-year period, from 2026 they are going to phase down.
"But we want to see the detail of that. That is what we are pressing them.
"They have said to me they want the COP26 to be a success. The ball is in their court.
"We want them to come forward and make it a success together with the rest of the world."
Liz Truss hails 'hard-headed' AUKUS submarine deal amid deepening row with France | Politics News
New Foreign Secretary Liz Truss has defended the UK's "hard-headed" security pact with the US and Australia, amid a deepening diplomatic row with France.
The AUKUS deal saw the UK, Australia and the US form a security pact to develop and deploy a new fleet of nuclear-powered submarines, adding to the Western military presence in the Pacific region.
Ms Truss said the agreement showed Britain's readiness to be "hard-headed in defending our interests", adding that it could result in hundreds of new jobs.
France was outraged by the deal which sees them losing out on a £30bn contract to supply conventional submarines to Australia, who opted for nuclear-powered subs provided by Britain and the US.
In response, they recalled their ambassadors to the US and Australia, although there was no similar order to return to Paris for the French envoy to London.
Writing in The Sunday Telegraph, Ms Truss made no mention of the diplomatic stand-off with the French.
British nuclear-powered subs make rare 'surface'

Earlier, however, a French minister scornfully referred to the UK as the "junior partner" in the trilateral agreement and accused it of returning to hide in the "American lap".
It comes after Gerard Araud, a former French ambassador to the US, referenced the omission of UK from the ambassador recall.
He wrote on Twitter: "You can interpret the omission of the UK as a sign of conciliation or contempt. Your choice."
In her article, Ms Truss said the agreement, widely seen as a counter to increasing Chinese military assertiveness in the region, underlined the UK's commitment to the Indo-Pacific.
She said Britain would always be a "fierce champion" of freedom and that the agreement illustrates the nation's commitment to "challenging unfair practices and malign acts".
"Freedoms need to be defended, so we are also building strong security ties around the world," she wrote.
"That is why last week the prime minister announced, alongside our friends President Biden and Prime Minister Morrison, the creation of a new security partnership called AUKUS.
"It shows our readiness to be hard-headed in defending our interests and challenging unfair practices and malign acts."
On Saturday, the president of the French National Assembly told Sky News that the bonds of friendship between France and the UK, US and Australia have been "tarnished" by the AUKUS pact.
Speaking while attending the G7 Speakers' Conference in Chorley, Lancashire, Richard Ferrand said: "I think it has somewhat tarnished the bonds of friendship that we have. Yes, it has made things more difficult in terms of trust and friendship."
'AUKUS alliance will bring us closer than ever'

Pressed on why Catherine Colonna, the top French diplomat in the UK was not recalled, Mr Ferrand said: "Obviously it was not my decision but we thought it was more important to recall the ambassadors of the two main protagonists in this thing."
Andreas Michaelis, Germany's ambassador to the UK, has suggested the AUKUS agreement threatens the "coherence and unity of the West".
In the Commons on Thursday, Boris Johnson sought to smooth over the differences, insisting relations with France remained "rock solid" while Downing Street described Paris as "a close ally and friend" of the UK.
Nevertheless, the prime minister also made clear he expected the agreement to bring "hundreds" of highly-skilled jobs to Britain – jobs which may well have otherwise gone to France.
Ms Truss said the deal could "create hundreds of new and high-skilled jobs, from the shipyards of Govan to the factories of Tyneside".
The French were reportedly given just a few hours' notice of the new agreement ahead of what is expected to be a tough election year for Mr Macron.
French foreign minister Jean-Yves Le Drian said the snub was a "stab in the back" and constituted "unacceptable behaviour between allies and partners".
The pact between the UK, US and Australia has been widely seen as an attempt to counter the growing military assertiveness of China in the Indo-Pacific region.
Beijing swiftly denounced the initiative as "extremely irresponsible" and a threat to regional peace and stability.
Mr Johnson, however, said it was not intended as an "adversarial" move against China or any other power.