COVID-19: Biden leads candlelit ceremony for COVID victims as US passes half a million deaths | US News
President Joe Biden has led a minute's silence to honour America's coronavirus victims after the country became the first to record more than half a million deaths.
As 500 lit candles lined the White House steps to commemorate the dead, a military band played Amazing Grace and the president made his emotional remarks.
"Today we mark a truly grim, heartbreaking milestone – 500,071 dead. That's more Americans who have died in one year in this pandemic than in World War One, World War Two and the Vietnam War combined," he said.
"But as we acknowledge the scale of this mass death in America, we remember each person and the life they lived. They're people we knew."
There have now been 500,201 COVID-related fatalities in the country as of 2am, and more than 28 million people have been infected, according to the Johns Hopkins coronavirus tracker.
Mr Biden was joined by First Lady Jill Biden, Vice President Kamala Harris and her husband Doug Emhoff, who bowed their heads solemnly as they observed a minute of silence.
The president also urged Americans to set aside their differences, saying: "We must end the politics and misinformation that has divided families, communities and the country, and has cost too many lives already. It's not Democrats and Republicans who are dying from the virus. It's our fellow Americans.
"We have to fight this together as one people, as the United States of America."
Mr Biden has ordered the nation's flag to be flown at half-mast at the White House, on all public buildings and grounds, and at military posts and naval stations until sunset on Friday.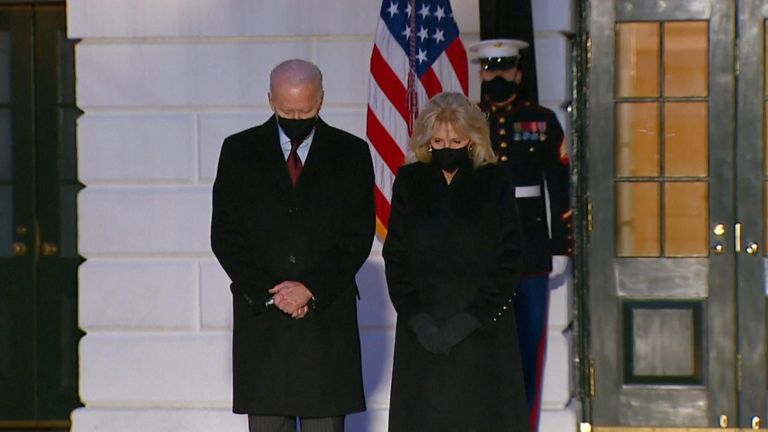 Brazil has the second-highest number of coronavirus deaths globally with about 250,000.
The fact the US leads the world in both death and infection numbers reflected poor planning by the Trump administration, President Biden has previously said.
Confirming the US had bought enough doses "to vaccinate all Americans", he accused Mr Trump of failing to manage the vaccine rollout.
"While scientists did their job in discovering vaccines in record time, my predecessor – I'll be very blunt about it – did not do his job in getting ready for the massive challenge of vaccinating hundreds of millions," he said.
:: Subscribe to the All Out Politics podcast on Apple Podcasts, Google Podcasts, Spotify, Spreaker
In December, the US's average daily deaths linked to COVID-19 touched 2,276 with one daily total exceeding the 2,977 people who lost their lives in the 9/11 terror attacks.
Indigenous Americans are the worst-affected racial group as a percentage of population, recording almost 211 deaths per 100,000 people, Statista said.
Despite Mr Biden's criticisms, there is cause for hope in the vaccine rollout, with official statistics saying about 64 million jabs had so far been given.
That puts the US on course to exceed the president's stated target of 100m doses in his government's first 100 days, though progress was hampered by the recent freezing weather.
And case numbers are also dropping – down to around 100,000 per day this month from 250,000 in January.
It is a far cry from Mr Trump's optimistic prediction last April, that, even if it did nothing, the US would lose 50,000 to 60,000 people to the virus.
Perseverance: NASA's rover takes 11 million earthling names to Mars | World News
Nearly 11 million people landed on Mars last week – even if it was just in names only.
When NASA's Perseverance rover touched down on the red planet, it did so bearing three silicon chips.
Upon these small pieces of silicon – each one no larger than a fingernail – millions of names were etched with an electron beam.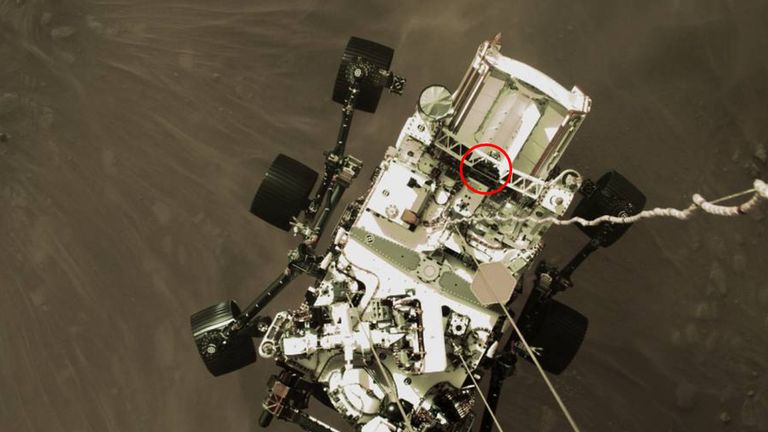 The beam allows for the writing to be less than one micron across – much less than the width of a human hair.
In total, 10,932,295 people from around 250 countries and territories had their names travel the 300 million miles through the solar system aboard the rover.
And 284,350 of those were people in the UK, with participating countries stretching from the United States to Niue as part of the "Send Your Name To Mars" project.
The silicon chips were attached to a plate on one of Perseverance's central beams, ensuring the camera on the rover could see them.
A virtual boarding pass was also sent to those who signed up for the scheme.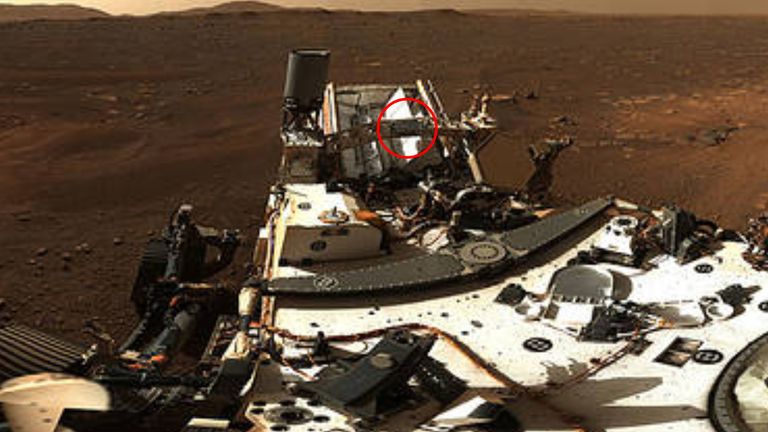 The previous NASA landing on Mars was InSight in November 2018 – this craft had 2,429,807 earthling names on it.
Meanwhile, 7,289,416 people have already signed up to have their names transported across the cosmos on the agency's next mission to the red planet.
Indonesia: Six killed and one missing after illegal gold mine collapses | UK News

Six people have been killed after an illegal gold mine in Indonesia's Sulawesi island collapsed on nearly two dozen people working inside.
One other worker is missing following the incident, officials said on Thursday.
An estimated 22 people became trapped in the rubble when the mine in Central Sulawesi province's Parigi Moutong district collapsed late on Wednesday due to unstable soil, according to Andrias Hendrik Johannes, who heads the local search and rescue agency.
The bodies of four women and two men were recovered during a gruelling search effort through the night.
Rescuers were also able to pull 15 survivors from the debris.
Police, emergency personnel, soldiers and volunteers have been trying to locate one worker who is still missing.
However, their efforts were hampered by the remote location of the mine and the unstable soil that risked further slides.
Video from the scene showed rescuers struggling to bring out a body bag from an inundated ravine.
Illegal or informal mining operations are commonplace in Indonesia, but put workers in conditions with a high risk of serious injury or death.
Landslides, flooding and collapses of tunnels are just some of the hazards putting labourers' lives at risk.
Meanwhile, much of the processing of gold ore involves use of highly toxic mercury and cyanide by workers using little or no protection.
Indonesia accounts for about 3% of the world's gold production – most of that coming from the Grasberg mine in Papua province, said to have $40bn (£28bn) in reserves and up to 20,000 workers.
German man charged with spying after 'passing parliament floor plans to Russia' | World News
A German man has been charged with espionage for allegedly passing information on properties used by the German parliament to Russian military intelligence, prosecutors have said.
Identified only as Jens F in line with German privacy rules, the suspect worked for a company that had been repeatedly contracted to check portable electrical appliances by the Bundestag – the lower house of parliament.
Federal prosecutors said he had access to PDF files with floor plans of the properties involved.
The Bundestag is based in the Reichstag building, a Berlin landmark, but also uses several other sites.
At some point before early September 2017, the suspect "decided of his own accord" to give information on the properties to Russian intelligence, the prosecutors said.
They allege he sent the PDF files to an employee of the Russian Embassy in Berlin, who was an officer with Russia's GRU military intelligence agency.
In October, the European Union imposed sanctions on two Russian officials and part of the GRU agency over a cyberattack against the German parliament in 2015.
Additionally, a Russian man accused of killing a Georgian man in downtown Berlin on Moscow's orders in 2019 is on trial in Berlin.
And last year's poisoning of Russian opposition leader Alexei Navalny, who was flown to Germany for treatment and then arrested immediately on his return to Russia, has added another layer to tensions.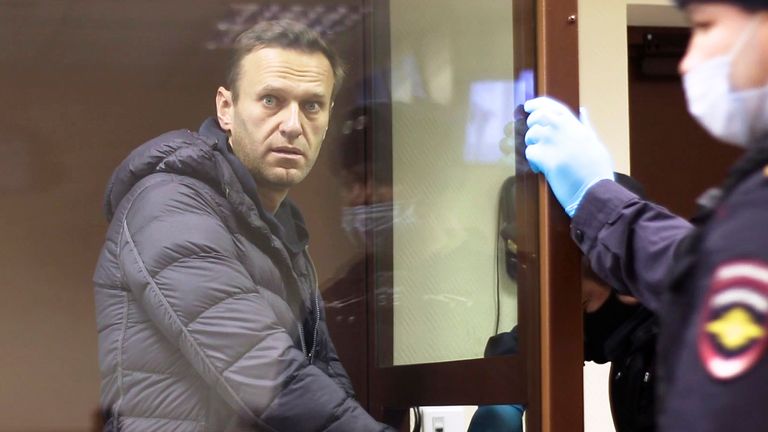 Mr Navalny became ill during a domestic flight in Russia on 20 August last year.
After tests by the Organisation for the Prohibition of Chemical Weapons confirmed the nerve agent novichok was used in the poisoning, Russian foreign minister Sergey Lavrov accused Germany of "not planning to provide any facts, despite all international and legal obligations".
Six members of the Russian government were handed EU and UK travel bans and asset freezes following the incident.