COVID-19: Japan denies claims that Olympics are going to be cancelled, as report says Tokyo may host in 2032 | World News
Japanese officials have denied claims the Tokyo Olympic Games are being cancelled because of the coronavirus pandemic.
The 2020 Games have already been delayed once, with the opening ceremony currently scheduled for 23 July this year.
But according to The Times, local officials have conceded the event cannot happen because of COVID-19.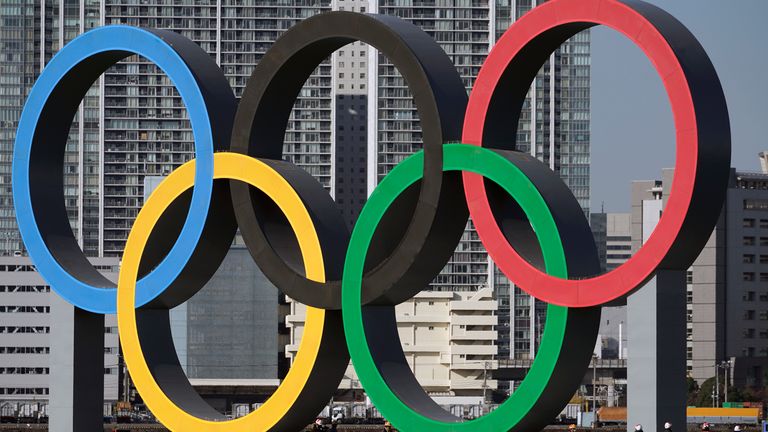 "No one wants to be the first to say so but the consensus is that it's too difficult. I don't think it's going to happen," a senior member of the ruling coalition told the newspaper.
The report claims that Japan is vying to host the Olympics in 2032 instead, with 2024 already awarded to Paris and 2028 to Los Angeles.
But in public, both the International Olympic Committee (IOC) and the board in Tokyo insist the Games will go ahead this year.
"All our delivery partners including the national government, the Tokyo Metropolitan Government, Tokyo 2020 Organising Committee, the IOC and the IPC (International Paralympic Committee) are fully focused on hosting the Games this summer," a statement said on Friday.
"We hope that daily life can return to normal as soon as possible, and we will continue to make every effort to prepare for a safe and secure Games."
IOC president Thomas Bach also told the Japanese Kyodo news agency on Thursday: "We have at this moment, no reason whatsoever to believe that the Olympic Games will not open on 23 July in the Olympic stadium in Tokyo."
There is "no plan B", he added.
Subscribe to the Daily podcast on Apple Podcasts, Google Podcasts, Spotify, Spreaker
Tokyo has already spent £18.2bn organising the Games, with most of the funds derived from the public purse.
But with a state of emergency declared in response to rising coronavirus cases in the city and surrounding areas this month, there is a chance it may all go to waste.
Public opinion has also turned against the Games, with 80% of those polled recently saying they should be postponed or cancelled.
The Games would involve 11,000 athletes, tens of thousands of coaches, as well as officials, judges and broadcasters. A decision on whether fans should attend is yet to be made.
A further 4,400 athletes are due to take part in the Paralympic Games on 24 August.
But with COVID-19 vaccines being slow to roll out in Japan, organisers would have to rely on testing, social distancing and isolation to keep the Games afloat.
Domestic abuse is the world's hidden pandemic – but victims are being left with nowhere to go | UK News
As COVID-19 spread throughout the world, another pandemic was growing – hidden in the homes where we have been ordered to stay.
International Women's Day, on Monday 8 March, is a day to celebrate the achievements of women and call for more action on gender equality.
But this year it feels there is little to celebrate. Whether you look at women in the workplace or maternity rights, the pandemic has exacerbated existing inequalities in almost all walks of life.
The pandemic's impact on domestic abuse is particularly bleak.
Across the world, there has been a marked rise in reports of domestic violence. In France, reports increased by 32% during the first week of lockdown. Ireland saw a five-fold increase in domestic violence and reports were up 8.1% in the United States after lockdown orders. In the UK, police have seen a 10% increase in reported cases of domestic abuse and calls to helplines have also risen sharply.
Domestic abuse is a vastly under-reported crime and the true picture is likely to be far worse than the official statistics show.
But the emergence of what the UN is calling a "shadow pandemic" is clear.
While for most of us, the stay at home directive has meant grappling with the stress of home schooling or hurling well-meaning articles about baking banana bread into the rubbish bin, for a significant number of people it has been altogether more sinister.
When your abuser is your partner or family member, spending time at home is to be trapped. The usual escape routes are harder to access, and the critical support from friends and loved ones shut off.
:: Subscribe to the Daily podcast on Apple Podcasts, Google Podcasts, Spotify, Spreaker
Chancellor Rishi Sunak announced in this week's budget that domestic abuse schemes in England and Wales will receive an extra £19m from the government over the next two years.
Most of the money will be going towards work with abusers to reduce reoffending, and £4m will provide 132 new bed places – or "respite rooms" – for homeless and extremely vulnerable women who have suffered domestic abuse.
The extra money has been welcomed, but charities have warned it's not enough.
Women's Aid estimates that £393m is required to support refuges and community based services in England, so there is a shortfall of more than £200m.
The charity warns that "will mean that women and children will be turned away from the lifesaving support they need".
"While funding for working with perpetrators is important, it must never come at the expense of funding lifesavings support for survivors. Women-only services deliver tried and tested support that survivors and their children continue to desperately need. They are likely to face even further pressure and demand once lockdown finally lifts," it said.
An MP's story of domestic abuse

Domestic abuse survivors need extraordinary bravery. It means hiding your passport and squirreling away money in amounts small enough not to be noticed, but big enough to fund your escape. It means scrambling together clothes and quickly bundling up the children before the abuser gets back home (and who is out of the house for long these days?).
Some refuges have closed altogether, while others are struggling with a chronic shortage of beds. Local authority spending on refuges has been cut from £31.2m in 2010 to £23.9m in 2017.
What happens if, after that stomach churning rush of fear and determination, there is nowhere to go?
We'll be exploring the issue with Claire Barnett, the executive director of UN Women UK, on Sophy Ridge on Sunday on 7 March. Other guests will include Education Secretary Gavin Williamson, the SNP's Mhairi Black and the head of Ofsted Amanda Spielman.
'I'm on the move!': NASA's Perseverance rover takes its first test drive on Mars | Science & Tech News

NASA's Perseverance rover has taken its first drive on Mars, just weeks after landing on the Red Planet.
The one-tonne robot travelled 21.3ft (6.5m) in a mobility test that the space agency said will allow the checking and calibrating of the rover's systems and instruments.
Once Perseverance really gets going, it is expected to undertake regular commutes of 656ft (200m) or more.
Anais Zarifian, Mars 2020 Perseverance rover mobility test bed engineer at NASA's Jet Propulsion Laboratory in Southern California, said: "When it comes to wheeled vehicles on other planets, there are few first-time events that measure up in significance to that of the first drive.
"This was our first chance to 'kick the tyres' and take Perseverance out for a spin."
And the news was good: Ms Zarifian said the rover's six-wheel drive "responded superbly", adding: "We are now confident our drive system is good to go, capable of taking us wherever the science leads us over the next two years."
Perseverance was moving for about 33 minutes, first driving 13ft before turning in place 150 degrees and reversing 8ft to find its new parking space.
The rover landed on Mars on 18 February to much celebration in the US and across the world, becoming the ninth spacecraft since the 1970s to achieve such a feat.
I'm on the move! Just took my first test drive on Mars, covering about 16 feet (5 meters). You're looking at the very beginning of my wheel tracks. Many more to make. pic.twitter.com/7tFIwWFfJ4

— NASA's Perseverance Mars Rover (@NASAPersevere) March 5, 2021
The landing came after a 300 million-mile journey over nearly seven months, as part of a mission to find out whether there was once life on the mysterious planet.
Scientists believe that if there ever was life on Mars, it would have been 3 billion to 4 billion years ago, when water still flowed there.
Two spacecraft from the UAE and China have also swung into orbit around Mars in recent weeks, a sign of the growing global interest.
Perseverance carries 19 cameras – more than any other interplanetary mission – and has sent 7,000 photos back to earth already.
Subscribe to the Daily podcast on Apple Podcasts, Google Podcasts, Spotify, Spreaker
The rover is also kitted out with a navigation system to help it avoid dangerous boulders and ravines, a range of scientific instruments for performing experiments, and a miniature helicopter that will become the first rotorcraft to fly on another planet.
The samples of rock and soil it collects will be sealed in tubes and left in a well-identified place on the surface for a future mission to collect.
Next up on Perseverance's diary are more tests, and the calibration of its scientific instruments and longer test drives, as well as the experimental flight test programme for the Ingenuity Mars Helicopter it is carrying.
Outrage in India over latest 'honour killing' as father beheads daughter after finding her with man | World News

Outrage over so-called honour killings in India has been reignited after a father who found his daughter in a "compromising position" with a man severed her head with an axe – and then took it to his local police station.
The man walked through the streets of Hardoi district in northern Uttar Pradesh state carrying his daughter's head, confessed to what he had done upon his arrival at the station, and was arrested, police said.
Superintendent Anurag Vats told the Thomson Reuters Foundation: "The man said he saw his daughter in a compromising position with a man and he beheaded her in a fit of rage."
Shocking images of him carrying the 17-year-old girl's head through the streets of Uttar Pradesh were shared online, reigniting urgent calls for the introduction of laws specifically dealing with so-called honour killings.
Madhu Garg, vice president of the All India Democratic Women Association's Uttar Pradesh branch, said: "The issue of the right to choice needs immediate attention and a separate law should be made for dealing with honour killing."
Human rights groups say thousands of women and girls are killed across South Asia and the Middle East each year by family members angered at perceived damage to their "honour".
Perceived offences can include eloping, fraternising with men, or any transgression of staunchly conservative values regarding women.
Last month, a woman was burnt alive by her family members over an inter-faith relationship in Uttar Pradesh, local media reported, quoting police officials.
India officially recorded 24 honour killings in 2019, but campaigners say government statistics on honour killing mask
the true scale of the crime, with women at greater risk than men.
Almost 70% of honour killings in India are women, according to Arockiya Samy Kathir, the founder of non-profit campaigning group Evidence, which has for years worked on honour killings in south India.
In 2018, the Indian government asked all states to set up special cells comprising of police and welfare officers, as well as a 24-hour helpline, to help couples facing harassment or those seeking protection.
But campaigners say compliance has been poor.
High-profile cases of violence against women in India have sparked mass protests in recent years, although many of them are not related to honour killings.