Zheng Shuang: Prada cuts ties with Chinese actress after surrogacy controversy | World News
Italian designer Prada has cut ties with a popular Chinese actress engulfed in a surrogacy scandal.
Prada announced it was parting ways with 30-year-old Zheng Shuang on Tuesday – a week after appointing her as a brand ambassador.
The company had been heavily criticised for working with Ms Zheng, whose former partner Zhang Heng has accused her of trying to abandon two children the couple had through a US-based surrogate.
"The Prada Group has terminated all cooperation with Ms Zheng Shuang," the company said on its official Weibo account, without providing further details.
The controversy began on Monday when Mr Zhang took to Chinese social media to release voice recordings of a woman, he said was Ms Zheng, lamenting that it was too late to abort the children.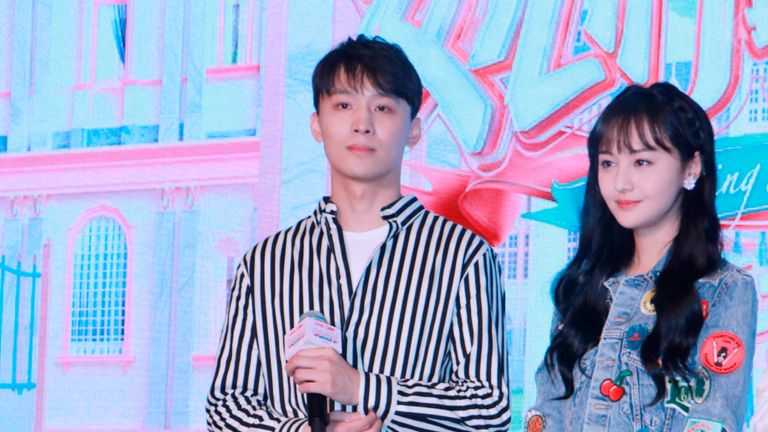 According to reports, a man thought to be Ms Zheng's father, is then heard suggesting that the children could be given up for adoption.
In a statement, Mr Zhang said he was stranded in the US taking care of the two children, who were born in 2019 and 2020, alone after Ms Zheng left following their split.
The controversy has trended on Weibo over the past three days and led to thousands of users ridiculing Prada for hiring Ms Zheng.
On Tuesday, the actress said on her Weibo account that she had not violated laws in either China or the United States but did not comment on whether any of the accusations were true.
"It's a very sad and private matter for me," she said.
Surrogacy is forbidden in China but going abroad to have surrogate children in countries such as the United States has increasingly become an option for some wealthy Chinese couples.
COVID-19 'vaccine diplomacy': China, Russia and India cherry-picking the countries they help | World News

China, Russia and India have been accused of engaging in "vaccine diplomacy" as they cherry-pick nations to give their COVID-19 vaccines to in order to bolster their influence.
Sky News analysis has found 47 countries, plus the African Union which represents 55 nations, have made or been offered vaccine deals with India, China and Russia.
In 21 countries, their sole vaccine supplies up until 19 February were from Russia, China and India.
Subscribe to the Daily podcast on Apple Podcasts, Google Podcasts, Spotify, Spreaker
In another 16 countries, half or more of the doses agreed are from those three countries, data from science analytics company Airfinity shows.
Most of those vaccines are from China and Russia but some in Africa and Asia are from India.
However, the vast majority of the world's COVID-19 vaccines are not from Russia, China and India, with just one in 10 doses from them. Their main purpose is to impose their influence, experts have said.
These are the countries that have accepted doses from Russia, India and China. But this is not just about helping allies, it is also about cherry-picking nations they can influence.
LATIN AMERICA
China and Russia quickly offered up their vaccines in South America.
"Latin America is a big prize because Russia and China don't have much influence there. It's also the US' backyard so for Russia it's also about how they can annoy the US"
Agathe Demarais, global forecasting director at the Economist Intelligence Unit
China's Sinovac jab is part of Brazil's mass vaccination plan while other South American nations are welcoming Russia's Sputnik V shot.
However, Beijing does not have good diplomatic relations with Paraguay so has not offered the Chinese vaccine but Russia has done a deal instead.
AFRICA
The continent presents an opportunity for China, especially, to expand its already considerable power in the region.
The region is highly reliant on COVAX, but the programme has yet to deliver any vaccines so China has been offering up its jabs to countries such as Egypt.
Russia has also swooped in and will provide the African Union, which represents 55 countries, with 300 million doses – 45% of the union's secured doses.
EASTERN EUROPE AND THE MIDDLE EAST
The wealthy UAE is vaccinating its citizens – with Sinopharm's jab – at the second fastest rate in the world after Israel.
"China is trying to make the UAE a logistical hub to get to the Middle East"
Ms Demarais said
Some eastern European countries have bought vaccines from both Russia and China, including Hungary who got fed up of waiting for the EU to agree a deal.
ASIA
China already holds a lot of sway over several Asian nations, such as Indonesia, Laos and Cambodia.
But the number of doses China has secured of its own vaccines is unknown. We only know 63 million doses have been administered so far in China.
India is trying to use the vaccine to bolster its presence over China.
"There's competition with China but Sri Lanka, Nepal and Bangladesh are three countries India feels are still up for grabs to try to control the neighbourhood,"
Dr Subir Sinha, a development expert from SOAS
For China, Russia and India, the COVID-19 vaccine has opened a door to countries they have not had influence over before, and to nations where they can boost their power further.
Agathe Demarais, global forecasting director at the Economist Intelligence Unit, told Sky News: "What Russia and China are trying to do is to bolster their global standing.
"They've been doing this for decades but both leaderships are seizing this opportunity to further their standing – it's a brick in the whole ground plan."
Ms Demarais, who is also a former French diplomat in Russia and the Middle East, added that it is a long-term strategy so whether they are rich or poor is not necessarily the most important issue, it is whether they can impose their influence.
"Bolstering long-term global presence will give them leverage over emerging countries, when you're receiving vaccines from Russia and China, they will have small requests that you can't say no to," she added.
"Russia and China are presenting themselves as saviours but there's a risk – they have had production issues, they're struggling to vaccinate their own populations so there's a big concern they will overpromise and underdeliver."
China and Russia are not only providing vaccines to countries but they are also providing factories to make them and workers as part of their long-term strategy in some nations.
India, which is only producing vaccines in India, is targeting neighbouring countries and is trying to beat China to them, development expert Dr Subir Sinha from The School of Oriental & African Studies, University of London said.
He belives there is another strand of vaccine diplomacy for India in that the prime minister, Narendra Modi, wants to be seen on the world stage as a man of "great generosity".
However, with the roll-out within India going slowly and some states refusing to administer the Indian-made Covivax vaccine due to efficacy concerns, there is a question over how far India's vaccine diplomacy can go.
COVAX, the initiative aimed at ensuring all countries get the vaccine fairly, does not have any deals with Russia, China or India yet, but China has said its three developers have applied to supply their vaccines to the programme and is waiting to see if they are approved.
Professor Jonathan Van-Tam, the deputy chief medical officer, will be on Sky News from 9am on Wednesday morning to answer your COVID questions.
Send the question you want answering on email or a video clip to news@sky.com and we'll put it to him.
US Capitol riot: Ex-police chief says he did not see FBI report warning of 'war' in Washington | US News
The former US Capitol Police chief says he only found out this week that his officers were warned just hours before the 6 January riot that extremists could commit "war" in Washington that day.
Steven Sund was giving evidence to Congress in the first public hearing over the last month's siege that saw dozens of Donald Trump supporters storm the Capitol building to disrupt confirmation of his presidential election defeat to Joe Biden.
The head of the FBI's office in Washington has said that once he received the 5 January warning from the Virginia office, the information was quickly shared with other law enforcement agencies through the joint terrorism taskforce, including the Capitol Police.
Mr Sund said an officer on the joint terrorism taskforce received the FBI's memo and forwarded it to a sergeant working on intelligence for the Capitol Police, but the information was not put forward to any other supervisors.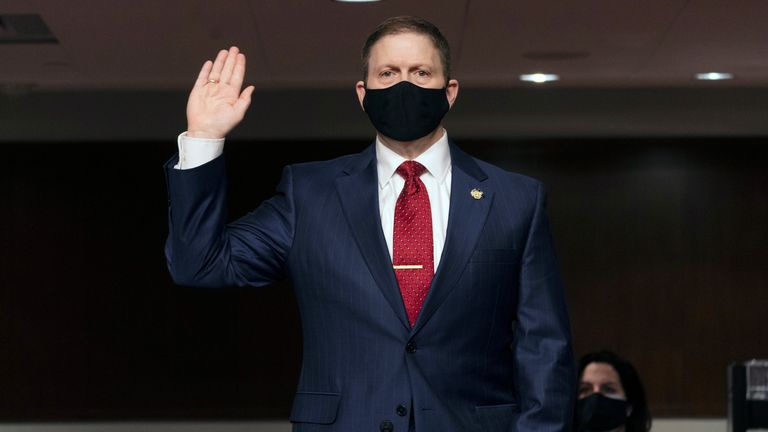 Mr Sund said he was not aware of the report, but added he did see an intelligence report created within the Capitol Police force warning that Congress could be targeted on 6 January.
That report warned extremists were likely to attend and there were calls for people to travel to Washington armed.
Also, a senior security official said he was "stunned" over the delayed response to a request for National Guard help during the mob riot at the Capitol.
Acting Metropolitan Police Chief Robert Contee III told the joint Senate hearing the former police chief was "pleading" with army officials to deploy Guard troops as the violence rapidly escalated.
The District of Columbia's Metropolitan Police officers had joined to help US Capitol Police during the attack.
Mr Contee said officers "were out there literally fighting for their lives" but the officials on the call appeared to be going through a "check the boxes" exercise.
He said there "was not an immediate response".
Mr Sund, and a number of other senior officers, resigned in the wake of the violence which prompted Mr Trump's second impeachment trial.
Tiger Woods 'lucky to be alive' after suffering 'multiple open fractures' in car crash | US News
Tiger Woods suffered "multiple open fractures" to his right leg in a serious car crash in Los Angeles, according to a surgeon at the hospital treating him.
In a statement posted on the golfer's official Twitter account by his TGR foundation, Anish Mahajan, chief medical officer at Harbor-UCLA Medical Center where the sportsman has undergone emergency surgery by orthopaedic trauma specialists, said Woods suffered "significant" injuries "to his right lower extremity".
"Comminuted open fractures affecting both the upper and lower portions of the tibia and fibula bones were stabilised by inserting a rod into the tibia," he said.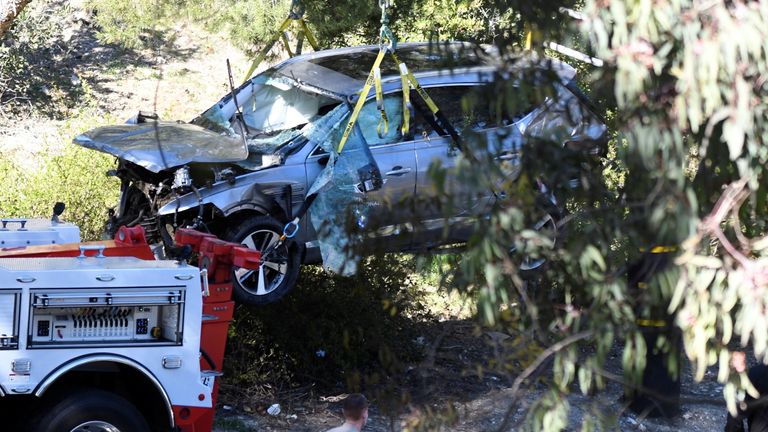 "Additional injuries to the bones of the foot and ankle were stabilised with a combination of screws and pins.
"Trauma to the muscle and soft tissue of the leg required surgical release of the covering of the muscles to relieve pressure due to swelling."
TGR added that the 45-year-old is "currently awake, responsive and recovering in his hospital room".
Earlier, authorities investigating the car crash said there was no evidence he was impaired at the time.
"I will say that it's very fortunate that Mr Woods was able to come out of this alive," said Carlos Gonzalez, the deputy from the Los Angeles County Sheriff's Department who was the first on the scene.
The crash happened on the border of Rolling Hills Estates and Rancho Palos Verdes on Tuesday morning.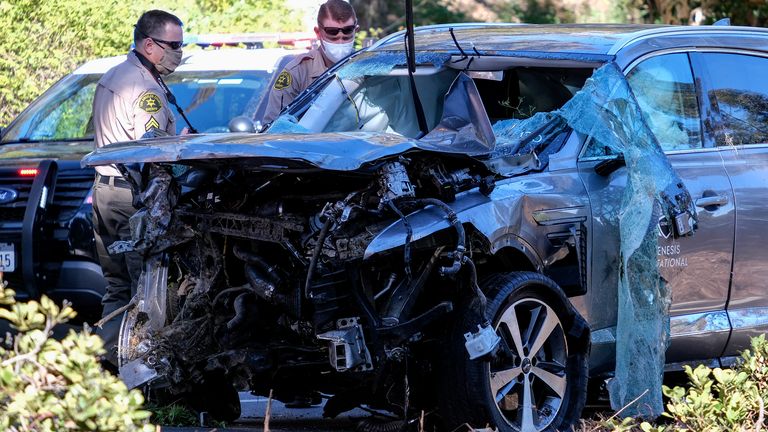 The sheriff's office said Woods was the only person in the car, and authorities later confirmed his injuries were not life-threatening but said he was in a "serious" condition.
The golfer sustained "serious injuries to both legs" during the crash, according to Los Angeles County Fire Department chief Daryl Osby.
Speaking at a news conference, Sheriff Alex Villanueva said investigators at the scene "did not see any evidence of impairment" although there were indications the car was travelling at a "relatively greater speed than normal".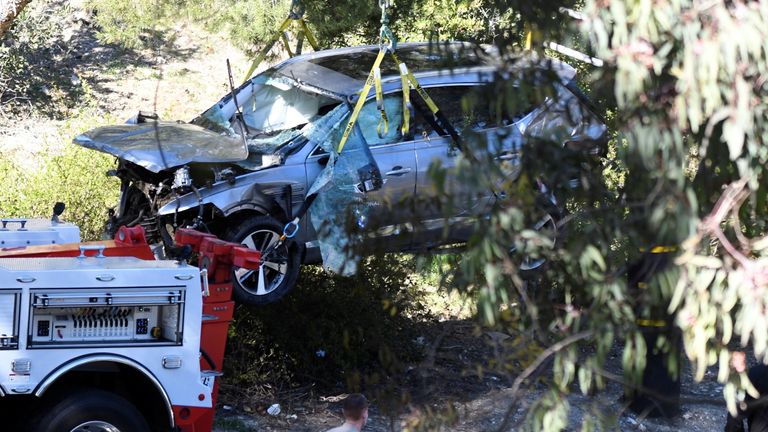 Aerial footage showed the car on its side, with its front end heavily damaged and its airbags deployed.
Despite huge damage to the 2021 Genesis SUV, the interior "remained more or less intact, giving [Woods] the cushion to survive what would have otherwise been a fatal crash", Mr Villanueva said.
It was found 213 metres (700ft) from the central divider at the intersection, having hit a kerb and then a tree before rolling several times, the sheriff added.
Woods was "alert and talking" when paramedics arrived at the scene, according to NBC News correspondent Jennifer Bjorklund.
Tiger Woods 'seemed calm and lucid' after crash

Reports suggested jaws of life were used to extricate Woods from the car, but Mr Osby clarified other equipment including an axe had been used to pry the golfer free through the vehicle's windscreen.
An investigation into the crash is likely to take "several weeks", Mr Villanueva said, adding that there are frequent accidents on the stretch of road, which has a "downward slope".
Woods's agent Mark Steinberg told Golf Digest in a statement: "Tiger Woods was in a single-car accident this morning in California where he suffered multiple leg injuries.
"He is currently in surgery and we thank you for your privacy and support."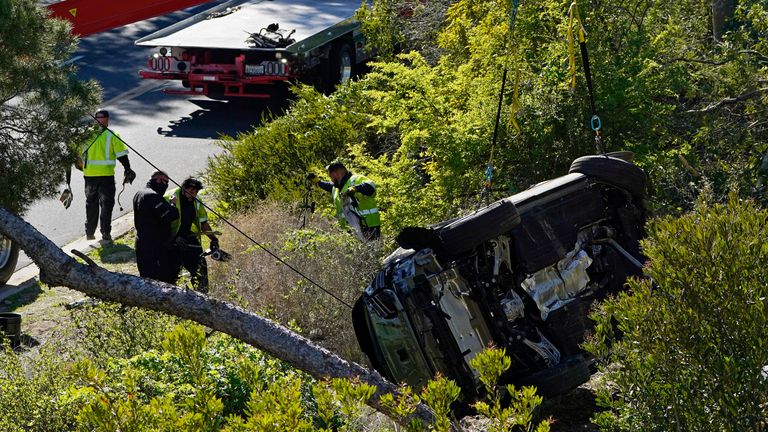 Sky News sports correspondent Martha Kelner said Woods spent Monday giving a private golf lesson to NBA legend Dwyane Wade.
He was due to be hosting a second day of celebrity lessons on Tuesday.
"As if his body hasn't endured enough," said world number two Jon Rahm from the WGC-Workday Championship in Florida.
"I just hope he can get out of the hospital after recovery and he can still play with his kids and have a normal life."
Speaking at a news conference ahead of the event, world number three Justin Thomas added: "I'm sick to my stomach.
"You know, it hurts to see one of your… now one of my closest friends get in an accident. Man, I just hope he's alright. Just worry for his kids, you know. I'm sure they're struggling."
Jack Nicklaus, whose record of 18 major titles has been one of Woods's biggest goals, wrote on Twitter: "Barbara and I just heard about Tiger's accident, and like everyone else, we are deeply concerned.
"We want to offer him our heartfelt support and prayers at this difficult time."
Former world number one Justin Rose wrote on Twitter: "@tigerwoods, just seen the awful news.
"We know how tough you are, we've seen it a hundred times. Hoping and praying you're ok my friend."
The PGA Tour said in a statement: "On behalf of the PGA Tour and our players, Tiger is in our prayers and will have our full support as he recovers."
And former US alpine ski racer Lindsey Vonn, an ex-girlfriend of Woods, tweeted: "Praying for TW right now."
The car crash is the latest setback for Woods, who at times has looked unstoppable on the golf course with his 15 major championships and record-tying 82 victories on the PGA Tour.
He has not played since December, when he took part in the PNC Championship in Orlando with his son, Charlie, who turned 12 earlier this month.
On 23 December he had his fifth back surgery and said last weekend that he was unsure whether he would be able to play in the Masters Tournament in April.