Madrid: 'Extremely loud' explosion in city centre – reports of injuries | World News

An "extremely loud" explosion has been reported in Madrid's city centre – with rescue teams, firefighters and police sent to the scene.
Spanish media reports said the explosion took place in a building near a nursing home – and videos and images shared on social media showed rubble scattered in the street.
"We didn't know where the sound came from. We all thought it was from the school. We went up the stairs to the top of our building and we could see the structure of the building and lots of grey smoke," a witness told the AP news agency.
The explosion happened in Toledo street. Video on social media showed a number of wrecked cars and debris strewn in the road.
According to TVE, several people have been hurt, while Telemadrid is reporting that at least one person is trapped.
Emergency services could not immediately confirm if there had been injuries.
A police spokeswoman said the area was being evacuated but could not confirm the cause of the explosion.
Government sources have been quoted by Spanish media as saying it may have been a gas leak.
Tesla boss Elon Musk is no longer world's richest person as share prices in car company drop | Business News
Tesla boss Elon Musk is no longer the world's richest person after shares in the electric car company fell by 8.6% this week, leaving him $15.2bn (£10.7bn) worse off.
The 49-year-old business magnate has now fallen to second place on the Bloomberg Billionaires Index of the world's 500 richest people with a net worth of $183.4bn (£129bn) – a significant drop from a peak of $210bn (£148bn) in January.
Amazon founder Jeff Bezos reclaimed the top spot, despite his own fortune dipping by $3.7bn (£2.6bn) to $186.3bn (£131bn) on Monday.
The two have been head-to-head since the beginning of the year, with Musk briefly overtaking Bezos after his rocket company SpaceX raised $850m (£599m) earlier this month, with the company being valued at $74bn (£52bn).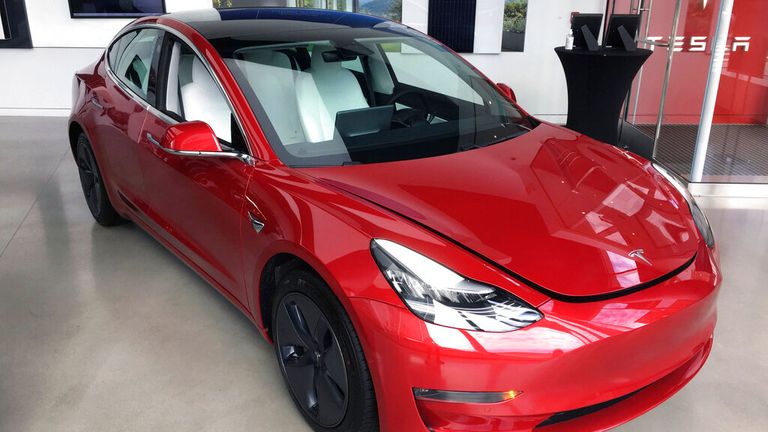 The drop in Tesla's share price on Monday was partly fuelled by Musk's comments over the weekend that the prices of Bitcoin and rival Ether "do seem high".
On Tuesday, Tesla's shares were down a further 6% in pre-market trading.
His comments came just two weeks after the company bought $1.5bn of Bitcoin, which sent the price of the cryptocurrency to new highs.
Bitcoin fell from a peak of $58,354 (£41,158) on Sunday to a low of $45,000 (£31,739) on Tuesday – and the price is still up more than 500% over the past year.
A German-based trader said he was "taking chips off the table" on Tesla as its $1.5bn (£1m) investment in the cryptocurrency could "backfire now".
Musk also tweeted on Monday that the company's Model Y Standard Range SUV would still be available "off the menu", confirming reports that the model had been removed from its online configurator.
Last week, Musk claimed he was not behind Tesla's decision to buy $1.5bn in Bitcoin, and that it was a company business move.
"Tesla's action is not directly reflective of my opinion," he tweeted.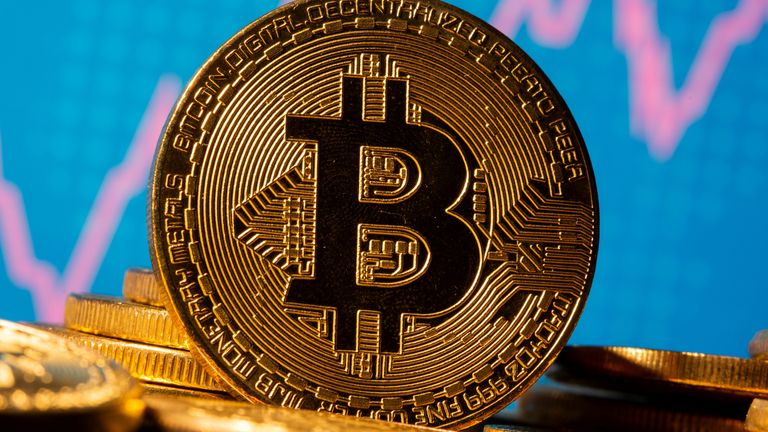 He added: "Having some bitcoin, which is simply a less dumb form of liquidity than cash, is adventurous enough for an S&P 500 company … When fiat [government-issued] currency has negative real interest, only a fool wouldn't look elsewhere. Bitcoin is almost as bs as fiat money. The key word is 'almost'."
Valentijn van Nieuwenhuijzen, chief investment officer at asset manager NN IP, told Reuters that Musk's decision to invest in Bitcoin could weigh on Tesla's ESG rating.
Musk has been criticised for lauding Bitcoin prior to Tesla's purchase of the cryptocurrency.
COVID-19 'vaccine diplomacy': China, Russia and India cherry-picking the countries they help | World News

China, Russia and India have been accused of engaging in "vaccine diplomacy" as they cherry-pick nations to give their COVID-19 vaccines to in order to bolster their influence.
Sky News analysis has found 47 countries, plus the African Union which represents 55 nations, have made or been offered vaccine deals with India, China and Russia.
In 21 countries, their sole vaccine supplies up until 19 February were from Russia, China and India.
Subscribe to the Daily podcast on Apple Podcasts, Google Podcasts, Spotify, Spreaker
In another 16 countries, half or more of the doses agreed are from those three countries, data from science analytics company Airfinity shows.
Most of those vaccines are from China and Russia but some in Africa and Asia are from India.
However, the vast majority of the world's COVID-19 vaccines are not from Russia, China and India, with just one in 10 doses from them. Their main purpose is to impose their influence, experts have said.
These are the countries that have accepted doses from Russia, India and China. But this is not just about helping allies, it is also about cherry-picking nations they can influence.
LATIN AMERICA
China and Russia quickly offered up their vaccines in South America.
"Latin America is a big prize because Russia and China don't have much influence there. It's also the US' backyard so for Russia it's also about how they can annoy the US"
Agathe Demarais, global forecasting director at the Economist Intelligence Unit
China's Sinovac jab is part of Brazil's mass vaccination plan while other South American nations are welcoming Russia's Sputnik V shot.
However, Beijing does not have good diplomatic relations with Paraguay so has not offered the Chinese vaccine but Russia has done a deal instead.
AFRICA
The continent presents an opportunity for China, especially, to expand its already considerable power in the region.
The region is highly reliant on COVAX, but the programme has yet to deliver any vaccines so China has been offering up its jabs to countries such as Egypt.
Russia has also swooped in and will provide the African Union, which represents 55 countries, with 300 million doses – 45% of the union's secured doses.
EASTERN EUROPE AND THE MIDDLE EAST
The wealthy UAE is vaccinating its citizens – with Sinopharm's jab – at the second fastest rate in the world after Israel.
"China is trying to make the UAE a logistical hub to get to the Middle East"
Ms Demarais said
Some eastern European countries have bought vaccines from both Russia and China, including Hungary who got fed up of waiting for the EU to agree a deal.
ASIA
China already holds a lot of sway over several Asian nations, such as Indonesia, Laos and Cambodia.
But the number of doses China has secured of its own vaccines is unknown. We only know 63 million doses have been administered so far in China.
India is trying to use the vaccine to bolster its presence over China.
"There's competition with China but Sri Lanka, Nepal and Bangladesh are three countries India feels are still up for grabs to try to control the neighbourhood,"
Dr Subir Sinha, a development expert from SOAS
For China, Russia and India, the COVID-19 vaccine has opened a door to countries they have not had influence over before, and to nations where they can boost their power further.
Agathe Demarais, global forecasting director at the Economist Intelligence Unit, told Sky News: "What Russia and China are trying to do is to bolster their global standing.
"They've been doing this for decades but both leaderships are seizing this opportunity to further their standing – it's a brick in the whole ground plan."
Ms Demarais, who is also a former French diplomat in Russia and the Middle East, added that it is a long-term strategy so whether they are rich or poor is not necessarily the most important issue, it is whether they can impose their influence.
"Bolstering long-term global presence will give them leverage over emerging countries, when you're receiving vaccines from Russia and China, they will have small requests that you can't say no to," she added.
"Russia and China are presenting themselves as saviours but there's a risk – they have had production issues, they're struggling to vaccinate their own populations so there's a big concern they will overpromise and underdeliver."
China and Russia are not only providing vaccines to countries but they are also providing factories to make them and workers as part of their long-term strategy in some nations.
India, which is only producing vaccines in India, is targeting neighbouring countries and is trying to beat China to them, development expert Dr Subir Sinha from The School of Oriental & African Studies, University of London said.
He belives there is another strand of vaccine diplomacy for India in that the prime minister, Narendra Modi, wants to be seen on the world stage as a man of "great generosity".
However, with the roll-out within India going slowly and some states refusing to administer the Indian-made Covivax vaccine due to efficacy concerns, there is a question over how far India's vaccine diplomacy can go.
COVAX, the initiative aimed at ensuring all countries get the vaccine fairly, does not have any deals with Russia, China or India yet, but China has said its three developers have applied to supply their vaccines to the programme and is waiting to see if they are approved.
Professor Jonathan Van-Tam, the deputy chief medical officer, will be on Sky News from 9am on Wednesday morning to answer your COVID questions.
Send the question you want answering on email or a video clip to news@sky.com and we'll put it to him.
US Capitol riot: Ex-police chief says he did not see FBI report warning of 'war' in Washington | US News
The former US Capitol Police chief says he only found out this week that his officers were warned just hours before the 6 January riot that extremists could commit "war" in Washington that day.
Steven Sund was giving evidence to Congress in the first public hearing over the last month's siege that saw dozens of Donald Trump supporters storm the Capitol building to disrupt confirmation of his presidential election defeat to Joe Biden.
The head of the FBI's office in Washington has said that once he received the 5 January warning from the Virginia office, the information was quickly shared with other law enforcement agencies through the joint terrorism taskforce, including the Capitol Police.
Mr Sund said an officer on the joint terrorism taskforce received the FBI's memo and forwarded it to a sergeant working on intelligence for the Capitol Police, but the information was not put forward to any other supervisors.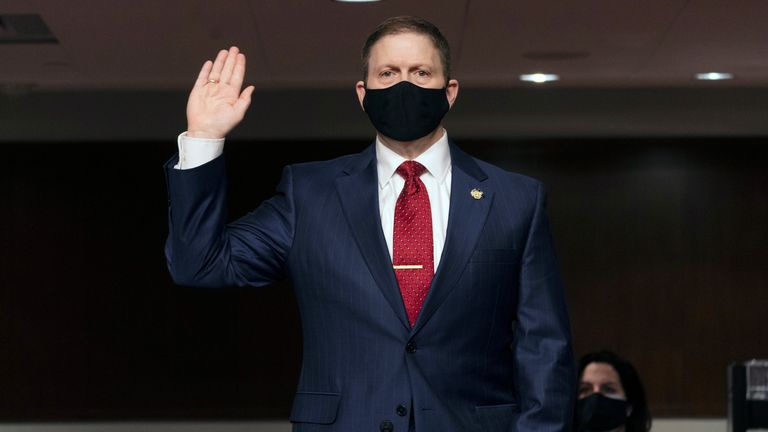 Mr Sund said he was not aware of the report, but added he did see an intelligence report created within the Capitol Police force warning that Congress could be targeted on 6 January.
That report warned extremists were likely to attend and there were calls for people to travel to Washington armed.
Also, a senior security official said he was "stunned" over the delayed response to a request for National Guard help during the mob riot at the Capitol.
Acting Metropolitan Police Chief Robert Contee III told the joint Senate hearing the former police chief was "pleading" with army officials to deploy Guard troops as the violence rapidly escalated.
The District of Columbia's Metropolitan Police officers had joined to help US Capitol Police during the attack.
Mr Contee said officers "were out there literally fighting for their lives" but the officials on the call appeared to be going through a "check the boxes" exercise.
He said there "was not an immediate response".
Mr Sund, and a number of other senior officers, resigned in the wake of the violence which prompted Mr Trump's second impeachment trial.