The 'Ndrangheta: Italy's huge mafia trial begins – here's what you need to know | World News
Italy's biggest mafia trial in decades has begun, with more than 300 defendants linked to the powerful crime group, the 'Ndrangheta, to appear amid high security.
The prosecutor overseeing the case has been called a "dead man walking" by some members of the mafia – but insists he won't be intimidated.
Here's the lowdown on who's involved and why it's so important to Italy.
Who are the 'Ndrangheta?
The group is headquartered in Calabria in southern Italy – not far from the Sicily – whose infamous mafia it has replaced as the country's most powerful crime group.
The 'Ndrangheta may be based in one of Italy's poorest regions but is now believed to be the world's richest crime syndicate.
Cocaine is the fuel that powers the organisation.
It is estimated to earn tens of billions of dollars every year from importing the drug to Europe and selling it on to other crime groups.
The 'Ndrangheta has "almost a monopoly" on European cocaine imports, according to chief prosecutor Nicola Gratteri.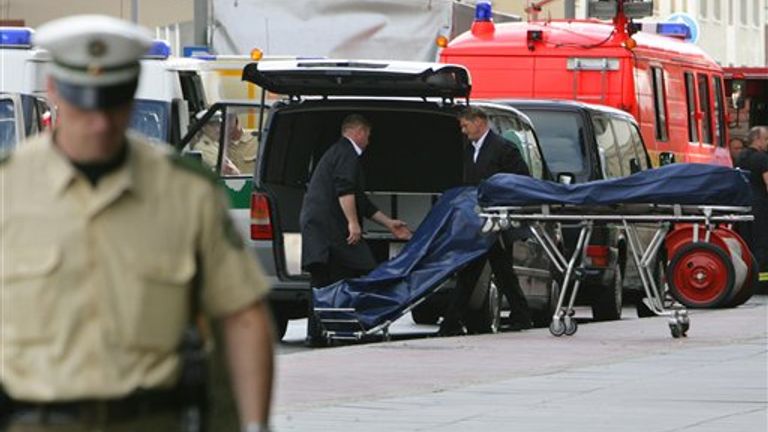 Vast sums earned from the drugs trade has allowed it to extend across Europe and into places such as North and South America.
In 2007, a feud between two clans based in the German city of Duisburg made headlines when six people were shot dead in front of an Italian restaurant.
Like many mafia groups, it's also involved in activities such as forcing businesses to pay protection money, kidnapping, political corruption, murder and counterfeiting.
Its wealth has allowed it to buy legitimate businesses across Italy in which to launder its cash.
Historically, the word 'Ndrangheta comes from Greek and means courage or loyalty.
The organisation was formed when a group of Sicilians was banished to Calabria in the 1860s, where they started small criminal groups.
Today, it has a similar structure with around 100 "families" in the region running their own piece of territory.
What's the trial about and where is being held?
The "maxi-trial" started from an investigation into a dozen clans linked to convicted 'Ndrangheta boss Luigi Mancuso – who prosecutors say was in charge of one of its most powerful families.
Crimes being prosecuted include drugs and arms smuggling, extortion, and being a member of a mafia group.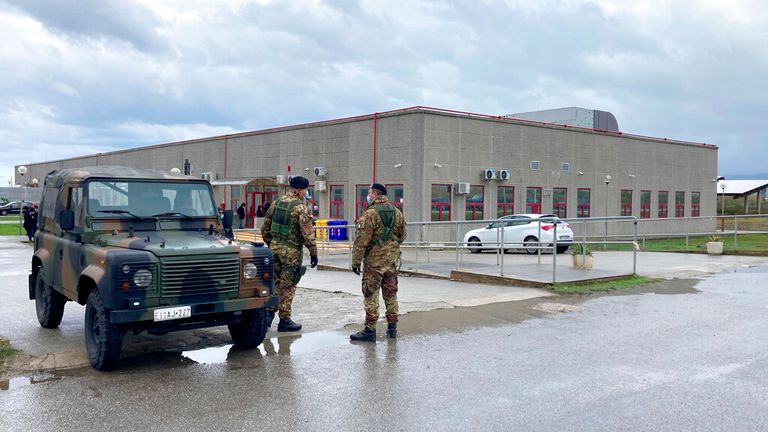 Local politicians, officials, businessmen and members of secret lodges are also charged with cooperating with the group.
Several dozen 'Ndrangheta informants have betrayed the organisation and its strict code of silence, including Mancuso's nephew, Emanuele Mancuso.
To work with police and become a "pentito" is extremely rare within the 'Ndrangheta considering the deep family blood ties that run through the organisation.
Members of the Sicilian mafia – perhaps keen to land a major blow on their rival – have also worked with authorities and could be called to testify.
Prosecutors also have thousands of wire-tapped conversations to help their case.
A "bunker" court room has been built on an industrial park in Lamezia Terme, in Calabria, to accommodate the huge number of people that will be involved.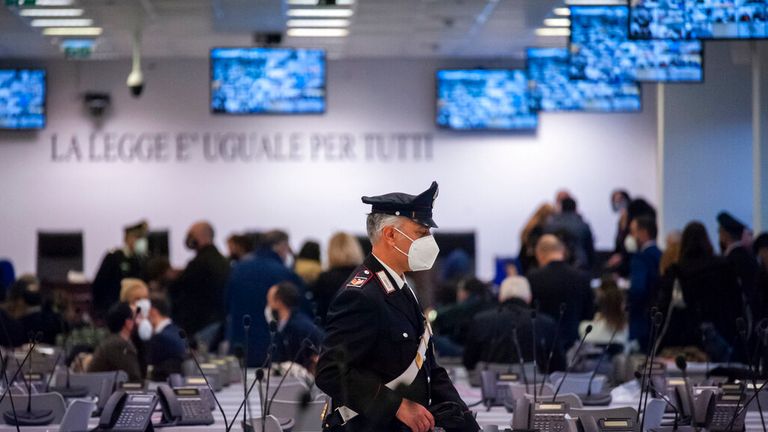 Some 350 defendants, about 700 lawyers and close to 1,000 witnesses are due to give evidence – and it could last up to two years.
The court is kitted out with cages to hold defendants, row upon row of chairs, and numerous video monitors.
Social-distancing means even more space is needed to guard against potential coronavirus spread.
'The Godfather'
The opening day of the trial took three hours to name all the defendants and lawyers, but the main man – and the closest to a 'Godfather' figure – is Luigi Mancuso.
Known as 'The Uncle', Mancuso has already spent nearly two decades in prison.
He's said to have led one of the 'Ndrangheta's key families, based in the small town of Vibo Valentia.
It's the Mancusos and their associates that the trial is focussing on – rather than taking on the whole sprawling organisation.
Other defendants in the case are said to be known by such names as "The Wolf", "Fatty", "Little Goat" and "The Wringer".
Why is the case so important to Italy?
Beside the sheer scale of the criminality involved, prosecutors hope it will deal a significant blow to the operations and morale of the 'Ndrangheta.
There's also a strong emotional pull in Italy when it comes to efforts to prosecute mafia groups.
In 1992, judges Giovanni Falcone and Paolo Borsellino were assassinated after years of trying to take down the Sicilian mafia, in a case that shocked the nation and caused outrage.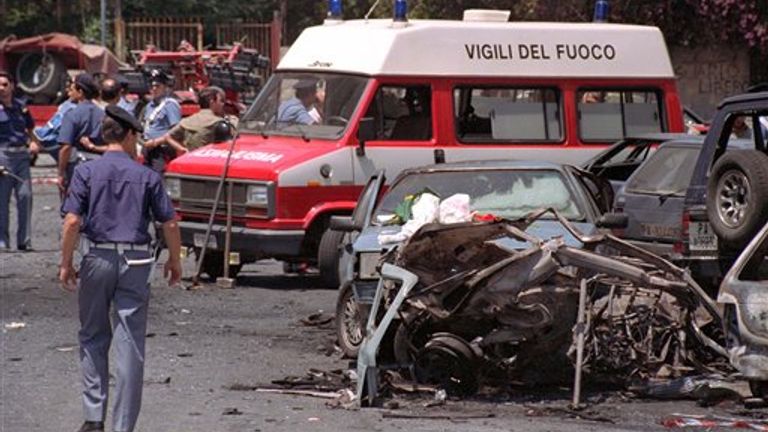 Falcone, his wife and three police officers were killed by a remote control bomb on a Sicilian highway.
Two months later, Borsellino and five police also died in a bombing on the island.
Both had helped pave the way for the high-profile 1986 "maxi-trial" in Palermo, which dealt a huge blow to the Cosa Nostra by securing more than 300 convictions, including life sentences for many of the group's top bosses.
Who's taking on the mafia this time?
Nicola Gratteri, Italy's most high-profile anti-mafia prosecutor, is overseeing the case.
He grew up in Calabria at a violent time when he says "dozens and dozens of people were killed".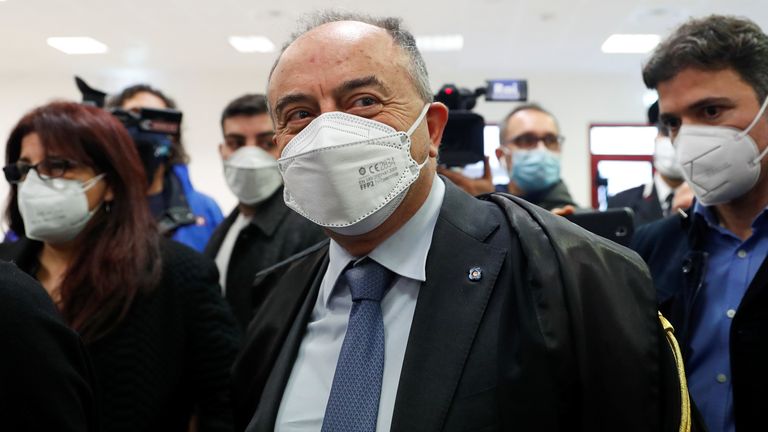 Mr Gratteri told Sky News he sometimes saw dead bodies as a child, which motivated him on to dedicate his life to fighting the group.
Taking the case has of course meant big risks – ones he is prepared to take.
"This means giving up everyday life, giving up the most trivial things, common things, any kind of freedom," said Mr Gratteri.
The 62-year-old adds: "It is always worth doing what you believe in.
"Sacrifices are made if you believe that you are on the right side and that you are doing something useful to the community."
Into The Grey Zone: Political violence 'much more likely' when facts are undermined | World News

The risk of political violence increases when people are unable to agree on facts, a leading author on disinformation has warned, as the US braces for more protests from Donald Trump supporters ahead of Joe Biden's inauguration.
Professor Thomas Rid explained how information can be used as a weapon – by hostile foreign states and domestic actors – to amplify divisions in a society, undermine the credibility of those in authority and win support.
He was speaking on Sky News' Into The Grey Zone podcast.
Episode Two, out now, explores a battle between truth, lies and every variation of distorted reality in between that is threatening democracies around the world.
"The line between truth and lie is a continuation of the line between peace and war so the stakes here are extremely high," said Professor Rid, who is a professor of strategic studies at Johns Hopkins University in the US.
"The danger is this: If we collectively undermine the authority of the factual, then we will risk losing our ability to resolve conflicts peacefully here at home in our democracies.
"We resolve conflict by definition because we can agree on certain facts: How many votes were counted in a specific precinct or what does science say about COVID? And does this vaccine work? Is the climate warming as a result of human action or not?
"Once we lose our ability to agree on facts… then we will have to ultimately go after not ideas and facts, but after the people who hold them, in other words, political violence becomes much more likely."
His warning became a reality on 6 January when supporters of President Trump stormed the US Capitol building in Washington DC, spurred on by a false belief he had won the 2020 presidential election instead of Mr Biden.
Five people died in the chaos, including a police officer.
It was the first time this beacon of US democracy had been breached since British forces invaded the site and set it on fire in 1814.
Prof Rid has written a book called 'Active Measures – the secret history of disinformation and political warfare'.
The term active measures is used to describe an entire mode of covert manipulation of information, people and events developed by the then Soviet Union almost a century ago, but used most prolifically during the Cold War.
It is part of a grey zone of harm that sits deliberately under the threshold of war.
:: Subscribe to Into The Grey Zone on Apple Podcasts, Spotify, Spreaker
Afghanistan: Gunmen kill two female Supreme Court judges in Kabul car ambush | World News
Gunmen killed two female judges from Afghanistan's Supreme Court in an early morning ambush, which also saw their driver wounded.
The attack happened as the two judges, who have not yet been named, were driving to their office in Kabul in a court vehicle on Sunday, a court official said.
It was the latest attack in the Afghan capital during peace talks between Taliban and Afghan government officials in Doha, Qatar.
No one has claimed responsibility for Sunday's attack. A spokesman for the Taliban said its fighters were not involved.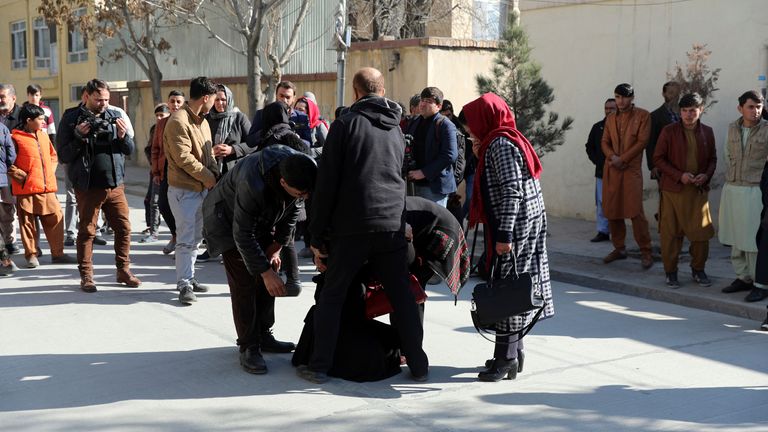 Afghan President Ashraf Ghani issued a statement on Sunday condemning attacks on civilians by the Taliban and other militant groups.
Mr Ghani said "terror, horror and crime" was not a solution to Afghanistan's problem and urged the Taliban to accept "a permanent ceasefire".
Government officials, journalists, and activists have been targeted in recent months, stoking fear particularly in Kabul.
The Taliban has denied involvement in some of the attacks, but has said its fighters would continue to "eliminate" important government figures, though not journalists or civil society members.
Rising violence has complicated US-brokered peace talks taking place in Doha as Washington withdraws troops.
Sources on both sides say negotiations are only likely to make substantive progress once US President-elect Joe Biden
takes office and makes his Afghan policy known.
The number of US troops in Afghanistan has been reduced to 2,500, the lowest level of American forces there since 2001.
COVID-19: First person in Brazil inoculated as two coronavirus vaccines approved | World News
A nurse has become the first person in Brazil to receive a coronavirus jab just hours after the country's health regulator approved two vaccines.
Monica Calazans, 54, who works on the coronavirus frontline, was vaccinated in a ceremony in Sao Paulo.
The rollout of the vaccines made by Sinovac and AstraZeneca comes after months of delay and political disputes over the immunisation programme.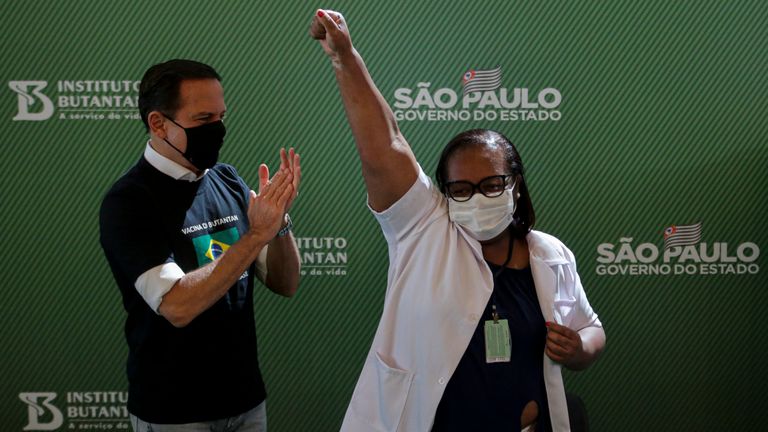 Brazil currently has six million doses of Sinovac's CoronaVac vaccine ready to distribute in the next few days, and is awaiting the arrival of another two million doses of the AstraZeneca/Oxford University jab.
"This is good news for Brazil, but six million doses are still very few," said Ethel Maciel, an epidemiologist at the Federal University of Espirito Santo.
"It will not allow the entire population at risk to be fully immunised, nor is it clear how quickly the country will obtain more vaccines."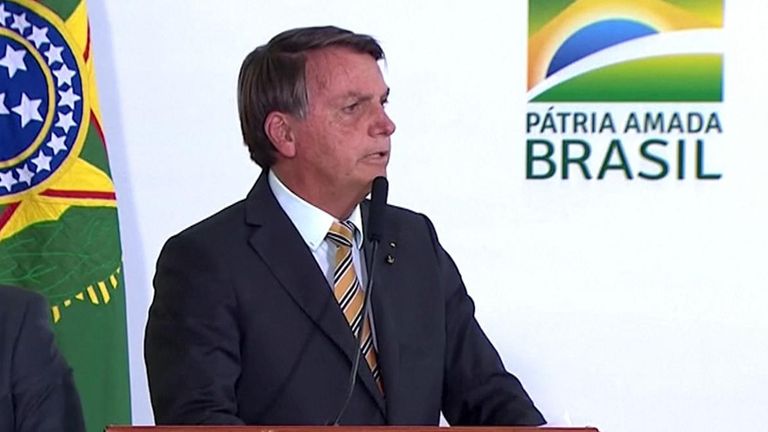 Vaccination in Brazil is beginning later than neighbours such as Argentina and Chile despite a robust public health system and decades of experience with immunisation campaigns.
The process to present and approve the COVID-19 vaccines was fraught with conflict, as allies of President Jair Bolsonaro sought to cast doubt on the efficacy of the Sinovac shot which had been backed by his political rival, Sao Paulo state's governor Joao Doria.
Health professionals on the frontline against coronavirus will be the first to receive the jabs.
It will then be extended to others including the indigenous population, people over 60 years of age and people with pre-existing conditions.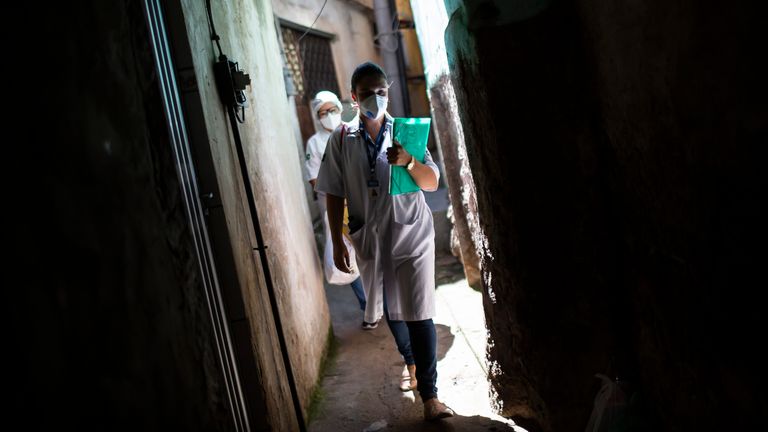 The South American country has now registered 8,455,059 cases since the pandemic began.
Its death toll has risen to 209,296 meaning only the US has suffered more fatalities, according to the Johns Hopkins University.