Jared Leto on movies, tech and the Met Gala
Get breaking news alerts and special reports. The news and stories that matter, delivered weekday mornings.
Few people in Hollywood have just one job. Jared Leto, however, has at least five.
The actor-musician, who played The Joker in "Suicide Squad" and received an Academy Award for his performance as a transgender woman in "Dallas Buyers Club," is also a filmmaker, a fashion aficionado, and a tech investor.
That is, of course, when he isn't on tour with his band, "30 Seconds to Mars."
And then there's Fandor. A year ago, Leto took on the role of chief creative officer at the streaming movie service, which specializes in independent movies and award-winning international pictures. Leto spoke with NBC News on a range of topics, including whether streaming movies should be able to compete at the Cannes Film Festival. Netflix didn't attend this year since the competition rules required new movies to debut in French cinemas first.
He's also an investor in a variety of tech companies including Uber, Spotify and Airbnb, and shares some thoughts about his next bet, whether Facebook deserves its current bad rap, and creativity at The Met Gala — which he recently attended, clad in a Gucci suit topped by a gold-colored crown. This interview has been lightly edited for clarity.
Q: The Cannes Film Festival just started. Any thoughts on whether it should admit streaming movies or how the Academy of Motion Pictures should deal with streaming movies that have a limited theatrical run?
A: I think it's probably a mistake to tell the French how to run their festival. They're doing a good job of protecting culture in France. That's something to listen to a bit before the knee-jerk reaction. Accusations, calling the French antiquated or whatever else, that may be true, but it may be interesting to talk about how to create a different solution at the film festival. Maybe they'd be open to other types of films that weren't in theaters. Maybe that's a suggestion that would make people rest a bit easier — a section of Cannes where these films can be celebrated and appreciated.
The issue is, though, what is a film? Some of the series are more like movies that you watch. When they're making eleven [sequels], virtually, it's hard even count sequels to some of these films out there. And does that make them a giant TV show?
Some of the limited series are incredibly filmic and really well done and have given a home to dramatic actors whether it's the "Handmaid's Tale," or whatever your favorite film is. Some are better than most movies.
Thank God for streaming or I wouldn't have done very many films over the past few years.
Thank God for streaming or I wouldn't have done very many films over the past few years.
There may be a few missing silos [when it comes to streaming.] I think that people will figure out they can create a film festival where there is a business, an economy. Anyone who doubts the French respect for their culture, they know what they're doing. You only have to drive to the South of France.
Thank God for streaming or I wouldn't have done very many films over the past few years. Everyone has incredibly busy lives. Time is really precious. We can stream where and when we want to — the incredible luxury. It's kind of a bit of "television killing the radio" fear. There will always be a place for the community experience of films [in cinemas]. That's a fun thing to go do. It's not like people don't want physical experiences, but more people want to watch this content in the comfort of their homes, or on the move.
Q: Let's talk about your tech investments. You own stakes in Uber, Spotify, Airbnb, or have sold out of any of those holdings?
A: It's something I've been doing quite some time now, nearly a decade. I get to work with some of the smartest people in the world. To witness some of these transformative technologies that change the way we live, work.
Slack [a workplace messaging service] is an interesting one. I've been an investor in Slack for quite some time, and the company has made our lives more cohesive and more a community and made it a bit more fun and killed our email stacks.
Robinhood [a stock trading app] is a fascinating company. I'm an early investor in Robinhood, and I've watched it become valued at $5 billion. It's a stock trading app. It has a future that is exciting, and I decided to come along for the ride.
I would put Airbnb on the list too. It's a smart company, showing us the opportunities that are right under our noses to have more inclusive experiences around the world, the act of sharing your home and being able to open up travel and hospitality in a way that was unheard of. Brian [Chesky, Airbnb CEO] has built a beautiful company.
Q: I'd like to ask you about Facebook. Social media has had a powerful effect on society, but recently Russian-backed actors invaded the platforms with fake content. How do you feel about the social media environment now and Facebook in particular?
A: Propaganda has been a tool for regimes, political parties, bad actors for, I would say, thousands of years in some form or another. That's nothing new. I'm not so shocked at it. If you can do it, someone is going to take advantage of data on Facebook to serve their cause. If I'm a bad actor, yeah, I'm going to do it. If you leave your keys in your car on the street, then someone may steal it.
I think that Facebook is going to make sure it doesn't happen again. If I was going to bet on someone, I'd bet on [Facebook chief executive] Mark Zuckerberg. It doesn't seem like he likes to f— around. He's going to get s— done.
It's absolutely insane that anyone interfered with democracy in the U.S. It's a mind-blowing concept in general. We are still in the wild west, fake news, spammers using advertising to fool people into anything and everything.
We are still in the wild west, fake news, spammers using advertising to fool people into anything and everything.
We are still in the wild west, fake news, spammers using advertising to fool people into anything and everything.
It's a digital and social revolution in the way people are able to communicate quickly and easily to spread an idea and a message. And it can be a beautiful thing like the Arab Spring, or a nasty thing like interference with the truth. I guess it's a representation of who we are. Hopefully we'll see more kindness and meaning and a little bit less of the other things.
Q: You have been chief creative officer at indie movie streaming service Fandor for a year. Can you tell us what you've been doing in that role?
A: I'm proud to be associated with people that are helping us get connected to the content we want to spend our time consuming. There is a bit of a cereal box syndrome that is happening now in the world, where we are stuck in the aisle in the supermarket; the amount of choices that you have. Fandor has done a really good job of curation and giving people that are cinephiles a home.
Q: What are your new projects at Fandor?
The next steps would be to continue to create awareness that there's this great home for film lovers. There's many times I've opened up a platform and I've been at a loss as to where to go and what to focus on. When I'm at Fandor, the issue is how to find the time to watch all of the great content.
I've been focused on the topic of how we make it more of a social experience. I always think it's incredibly important to be celebrating filmmakers, people who have taken an independent, brave path and highlighting filmmakers and giving filmmakers a chance to speak directly to audiences.
Take the idea of a playlist and push it to the forefront, I'm sure the world would love to know what Darren Aronofsky's top ten films are, or would love to hear from David Fincher what are the most underappreciated movies of the past ten years. Those are some of the things I'd love to see be brought to life.
Q: You were at the Met Gala's "Heavenly Bodies: Fashion and the Catholic Imagination" earlier this week? Did you have any favorite outfits?
A: It was good to support the cause, and to support The Met [Museum] and to work with the Gucci family. It's good to have fun with the Gucci gang, as we say. You see some of the craftsmanship that goes into what people do. Some of that gets lost by the power of celebrity and a photograph. It is a fascinating thing to be at. I talked to Chadwick Boseman, who looked great. I thought Rihanna looked fantastic. People have fun with it: it's incredible; it's fun; it's funny and it's fashion.
National Rifle Association: US gun advocacy group files for bankruptcy | US News
The National Rifle Association (NRA) has announced it has filed for bankruptcy petitions in a US court as part of a restructuring plan.
The gun rights advocacy group said it would restructure as a Texas nonprofit to exit what it described as "a corrupt political and regulatory environment in New York", where it is currently registered.
It comes four months after the New York Attorney General filed a lawsuit to dissolve the organisation over allegations of financial misconduct.
In a message issued to its members and supporters on Friday, the group said the decision to file voluntary chapter 11 petitions in the United States Bankruptcy Court was not due to financial problems.
"You know that our opponents will try to seize upon this news and distort the truth," the statement said.
"Don't believe what you read from our enemies. The NRA is not 'bankrupt' or 'going out of business'. The NRA is not insolvent. We are as financially strong as we have been in years."
The message suggested the decision had been taken as a direct result of the lawsuit in New York.
"We are leaving the state of an attorney general who, just a few months ago, vowed to put us out of business through an abuse of legal and regulatory power," it said.
"Subject to court approval, the NRA is pursuing plans to reincorporate in the State of Texas."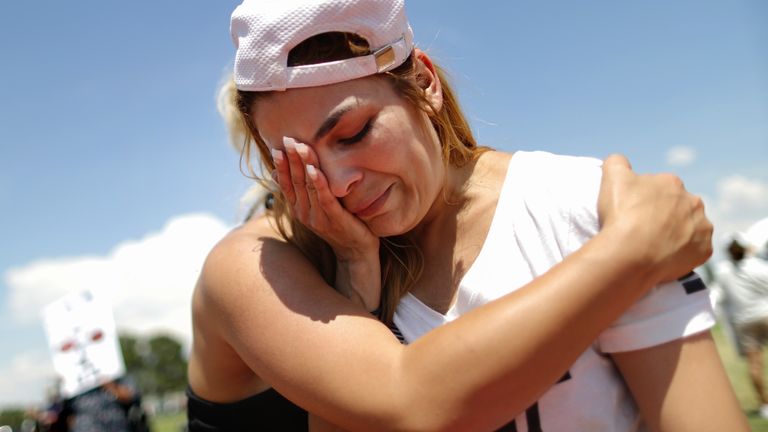 A separate statement from the organisation said the "move will enable long-term, sustainable growth and ensure the NRA's continued success as the nation's leading advocate for constitutional freedom – free from the toxic political environment of New York".
NRA chief executive Wayne LaPierre said: "Obviously, an important part of this plan is dumping New York.
"The NRA is pursuing reincorporating in a state that values the contributions of the NRA, celebrates our law-abiding members, and will join us as a partner in upholding constitutional freedom."
The NRA has previously faced allegations it wields disproportionate influence on American politics through extensive lobbying.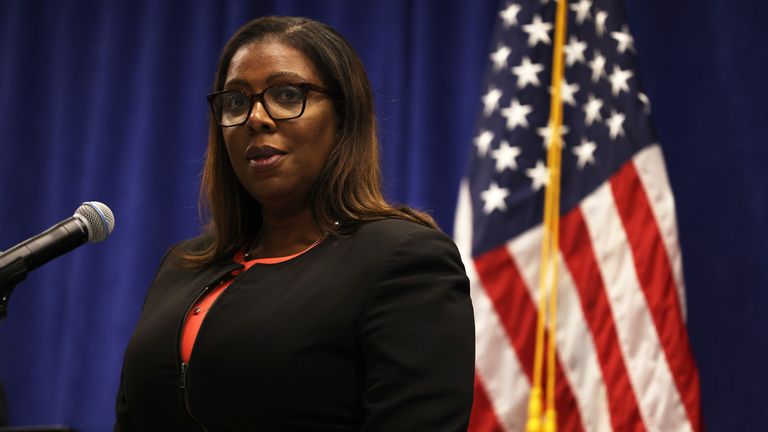 It has played a key role in preventing tighter restrictions on gun sales, despite a series of deadly mass shootings and opinion polls repeatedly showing a significant majority of Americans favour stricter controls on weapons.
Announcing her move to dissolve the group in August, New York Attorney General Letitia James accused it of siphoning millions of dollars from its charitable mission for personal use by senior figures.
"The NRA's influence has been so powerful that the organisation went unchecked for decades while top executives funnelled millions into their own pockets," she said.
"The NRA is fraught with fraud and abuse, which is why, today, we seek to dissolve the NRA, because no organisation is above the law."
US Capitol riots: Police break silence on 'brutal, medieval style combat' | US News
Police involved in protecting the Capitol building last week have spoken for the first time describing what happened as "brutal, medieval style combat".
The officers were outnumbered by hundreds of rioters, who federal prosecutors claim were intending to "capture and assassinate officials".
Officer Daniel Hodges was nearly crushed to death in the violence. Disturbing video shows him trapped by a metal door, bloodied and screaming for help.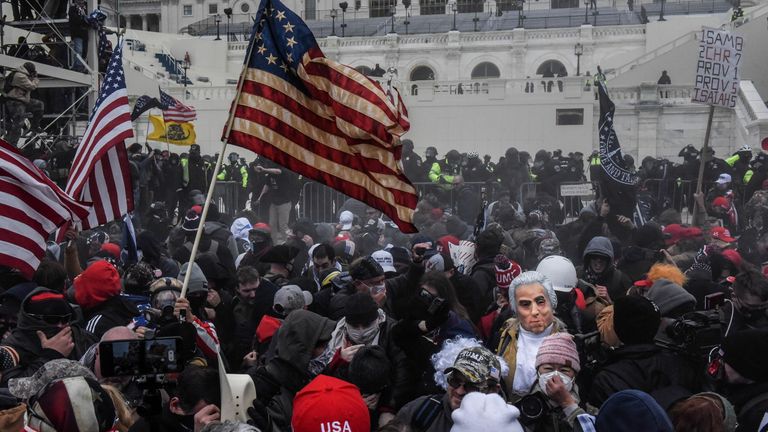 "They were calling us traitors, shouting at us, telling us to remember our oath, and eventually, they attacked us," he said.
"At that moment in the hallway where I was pinned, I was there to do my best to keep them out, obviously, and the way I was doing that was with my body."
At times, he said, he thought he wouldn't survive.
"There was chaos, someone managed to get his thumb in my eye and start gauging my eye," he said.
"That was the second time I thought it might be the end, or I might be maliciously disfigured."
The police officers' accounts of the chaos and the violence brings a chilling new understanding to what the world witnessed.
Nancy Pelosi has spoken of visiting Auschwitz – and then seeing anti-Semitic T-shirts among Capitol rioters

The footage is still being carefully studied by investigators.
In one video, police officer Michael Fanone can be seen being pulled from the building.
He was then beaten by the pro-Trump thugs on the steps of America's seat of democracy.
He said: "Guys were grabbing at my gear, I had my badges ripped off, my radio was ripped off, one of my ammunition magazines was stripped from my belt and guys were trying to grab my gun and they were chanting: 'Kill him with his own gun'.
"I thought… I could shoot them, they're trying to kill me and I'm justified, but if I did that I'd provide them with the justification they needed to kill me.
"So then I thought I could appeal to someone's humanity and I just started yelling that I have kids."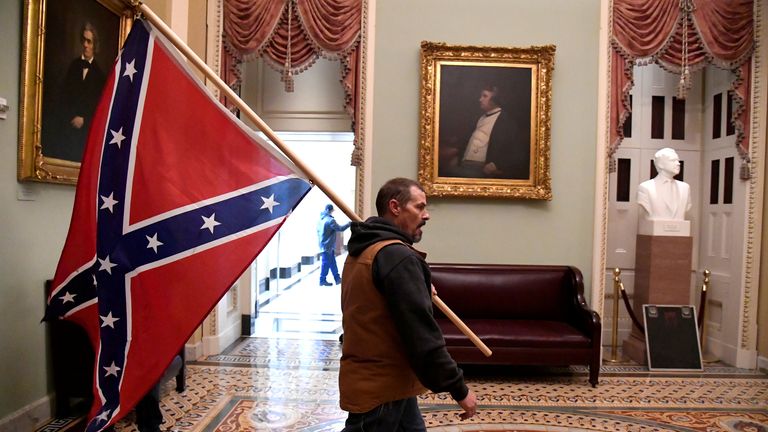 Another police officer, Eugene Goodman, has also been feted for his bravery and is now in line for the congressional gold medal.
In video that has emerged he can be seen armed with just his baton and, at great risk, diverting the insurrectionists away from the unguarded entrance to the Senate, allowing members to escape.
But as some police officers are lauded for their heroism, others are being investigated. It is thought some had a role in the chaos.
The wider investigation is beginning to gather pace and so far there have been nearly 100 arrests.
Authorities are still trying to identify more suspects, including the man wanted in connection with the murder of police officer, Brian Sicknick.
Subscribe to the Daily podcast on Apple Podcasts, Google Podcasts, Spotify, Spreaker
And it is feared there could be more attacks in the days leading up to the inauguration of President-elect Joe Biden.
Thousands of National Guard troops are fanned out across the capital, fortifying institutions.
This city now has all the hallmarks of a war zone. It is a sad reflection of the state of politics in a country which feels increasingly under siege.
COVID-19: Global coronavirus deaths pass two million – just over a year since outbreak began | World News

Global deaths linked to coronavirus have passed two million – just over a year since it was first identified in China.
The US has recorded the highest number at over 389,000 – and more than 23 million cases, according to figures from Johns Hopkins University.
Brazil – where several new variants have recently been identified – is second with over 207,000 deaths.
India and Mexico are next, with roughly 152,000 and 137,000 respectively.
The UK has recorded the fifth-highest death toll – and the highest in Europe – with more than 87,000 deaths recorded within 28 days of a confirmed positive test. Italy follows closely behind with around 80,000.
Global deaths from coronavirus hit one million on 29 September – it has taken 108 days to reach two million.
UN Secretary General Antonio Guterres said the death toll had been "made worse by the absence of a global coordinated effort" on vaccination.
"Science has succeeded, but solidarity has failed," he said.
While wealthy nations have already given millions of doses, things have barely got off the ground in poorer countries with large populations – meaning deaths from the virus are likely to remain high for a long time.
"Behind this terrible number are names and faces – the smile that will now only be a memory, the seat forever empty at the dinner table, the room that echoes with the silence of a loved one," said Mr Guterres.
It is little over a year since the World Health Organisation (WHO) put out its first bulletin on COVID-19, warning that a "pneumonia of unknown cause" had been identified in China.
At that stage, it said the country had reported 44 patients of which 11 were severely ill, and that the outbreak had been linked to a wet market in the sprawling city of Wuhan.
Thailand confirmed the first case outside China on 13 January, and France reported three cases – the first in Europe – on 24 January.
America's first case was in Washington state on 21 January – in a man who had recently been to Wuhan.
By the end of January, the WHO's emergency committee declared the outbreak a Public Health Emergency of International Concern (PHEIC).
The first UK cases were confirmed on 31 January – in two Chinese nationals at a York hotel – one of whom was a student at the city's university.