Anti-Semitic incidents provoke unease in Berlin
In the seven decades since the end of World War II, Germany has refused to gloss over its Nazi past. Holocaust education is mandatory in schools, and in the late 1980s and early ′90s the country welcomed tens of thousands of Jews from the former Soviet Union.
"For many Germans, no one in their right mind would be anti-Semitic and there is an astonishment that they have to deal with it again," said Doron Rubin, the head of Berlin's Kahal Adass Jisroel community organization.
Making such amends is also widely seen as playing into Merkel's decision to open Germany's borders to migrants in 2015, when around 1 million asylum-seekers reached the country, which had a population of 81 million. At times more than 10,000 people were arriving daily. Some migrants brought a hatred of Israel and belief in conspiracy theories involving Jews with them.
There are around 100,000 Jews in Germany, and the vast majority are relatively secular and don't outwardly display signs of their faith.
However, an Israeli Arab who wore a kippah in Berlin last month as an experiment was subjected to verbal abuse and was lashed with a belt by a teenage Syrian refugee. The incident was captured on video and quickly spread on social media.
When word of the attack spread, several cities around Germany hosted kippah marches with participants of all religions wearing the traditional head covering in solidarity.
The success of far-right populists at the ballot box has also set off alarm bells. The anti-immigration Alternative for Germany (AfD) party won more than 5.8 million votes in parliamentary elections in September — or around 13 percent of the ballots cast.
Felix Klein, the federal government's new commissioner tackling anti-Semitism, has accused the AfD of helping make such views "presentable" again by challenging a longtime consensus about how to deal with the country's fascist past.
Referring to Berlin's Holocaust memorial, one senior AfD politician last year said that "Germans are the only people in the world who plant a monument of shame in the heart of the capital."
However, Klein said that "discussion about drawing a line" under the Holocaust "is very dangerous."
While the Jewish community is closely monitoring the rise of the AfD, the views and actions of the more than 1 million migrants who arrived since 2015 is a more immediate concern for some.
"Jews live side by side with migrants more than with the right-wingers who are often in rural areas or outside big cities," said Sergey Lagodinsky, who is Jewish and a community board member in Berlin.
The number of anti-Semitic crimes in Germany increased by 2.5 percent during 2017, according to official figures. Overall crime was down by 9.6 percent last year.
Interior Minister Horst Seehofer said that while "imported anti-Semitic crimes" were rising, he pointed out that "almost 95 percent of anti-Semitic crimes in 2017 had a right-wing motive."
Either way, anti-Semitic incidents — which include those not considered criminal offenses — do appear to have been rising as a whole.
In 2017, 947 anti-Semitic incidents, including 18 attacks, were reported in Berlin to Research and Information on Anti-Semitism, an organization founded to record and publicize such events — no matter how small. The group said that represented a 60 percent year-on-year increase in reports.
They include several cases of Jewish children attending schools with large Muslim populations who transferred after classmates had taunted or mobbed them.
Liam Rueckert, 15, says he was subjected to such severe abuse at school last year — he said classmates would call him "s— Jew" or "s— Israeli" in German — that he refused to attend. He is now enrolled in a practical skills training course instead.
"It happened at least once a week," Rueckert said. "Nothing happened to them. I would never go back."
Muslim community leaders say concerns about anti-Semitism among migrants and their children is exaggerated and lets the far-right off the hook for its intolerance.
"Even if every Muslim was anti-Semitic, which would obviously be bad, they aren't the ones who rule here," said Dervis Hizarci, the head of the Kreuzberg Initiative Against Anti-Semitism, which works with young people brought up in Muslim communities in Berlin.
There are nearly 5 million Muslims in Germany, around 6.1 percent of the population, according to the Pew Research Center.
Hizarci is no stranger to intolerance himself. A former high school teacher, he was once turned away when trying to rent an apartment because of his Turkish roots.
According to Hizarci, refugees tend to easily learn tolerance because of their backgrounds in facing persecution themselves.
"Germany has difficulty accepting that it is an immigrant country," he added. "With the migration crisis it got even more complicated."
Graffiti artist and shop owner Ibo Omari is trying to spread a similar message in his neighborhood.
Two years ago, a customer told him that a Nazi flag had been painted at a local playground.
Instead of erasing the swastika, Omari used spray paint to turn the image into a mosquito flying into a net.
He repeated the trick whenever a new swastika popped up.
"The problem is that many people don't feel at home so they don't feel responsible," said Omari, 37, whose mother was born in Turkey and his father in Lebanon.
Through a nonprofit organization called The Cultural Heirs, he now runs graffiti workshops for children — including many from migrant families — to give them a feeling of belonging to their community.
Whether such local efforts are enough to change what the Jewish community believes is a growing problem remains up for discussion.
Jewish community leaders are pressing the government to implement further tolerance and anti-Semitism education in schools, as well as to send a strong signal that migrants with anti-Semitic views aren't welcome.
Klein, the commissioner appointed by Merkel's government to coordinate activities against anti-Semitism, started in the post on May 1.
"Of course we have a new challenge and new forms of anti-Semitism which we have to address and combat, but the great problem also rests with right-wing anti-Semitism and we have to develop good strategies to combat that, as we did before," he said at a news conference in late April.
But Rabbi Yehudah Teichtal, of the Jewish Community of Berlin, insisted that tackling the issue needs to be made more of a priority.
"I've never seen the worry that I have in the last three months," Teichtal said.
Someone in a passing car shouted an anti-Semitic slur at Teichtal as he walked home from synagogue on a Friday evening with his 5-year-old son several weeks ago.
"I'm telling the government they need to do more," he said. "I'm an optimist though. We are here to stay and full of trust, but more has to be done."
COVID-19: Indonesia vaccine rollout bucks trend by targeting younger generations | UK News
With shaking hands, broadcast live to the nation, a doctor administered Indonesia's first COVID-19 vaccination.
The recipient was President Joko Widodo, a man who hopes to get 181.5 million Indonesians vaccinated this year.
It's a huge challenge, almost three times the population of the UK and so far one of the largest rollouts in the world.
But the nation's vaccination drive, which started this week using CoronaVac, a jab from Chinese manufacturer Sinovac Biotech, bucks the current trend by injecting under-60s first.
You can find out more about Indonesia's COVID-19 vaccine drive on the Sky News Daily Podcast
Subscribe to the Daily podcast on Apple Podcasts, Google Podcasts, Spotify, Spreaker
Dr Siti Nadia Tarmizi, COVID-19 vaccination spokesperson for Indonesia's Ministry of Health, told Sky News: "18 to 59 is the age group that gets most infected by COVID-19 and mostly without symptoms. We know between 18 and 59 is a more productive age group, so if we are targeting this age group first, we will protect them from COVID-19, which means they can, of course, go to work.
"And then secondly, by protecting this age group, we will cut the transmission."
Indonesia has recorded more than 25,400 deaths and 880,000 infections making it Southeast Asia's worst outbreak.
Testing levels are low, so experts warn the actual infection rate could be much higher.
Starting with frontline workers, under-60s will be inoculated first not only because the government hopes protecting workers will boost the economy, but it's also waiting for more safety data about how CoronaVac impacts the elderly.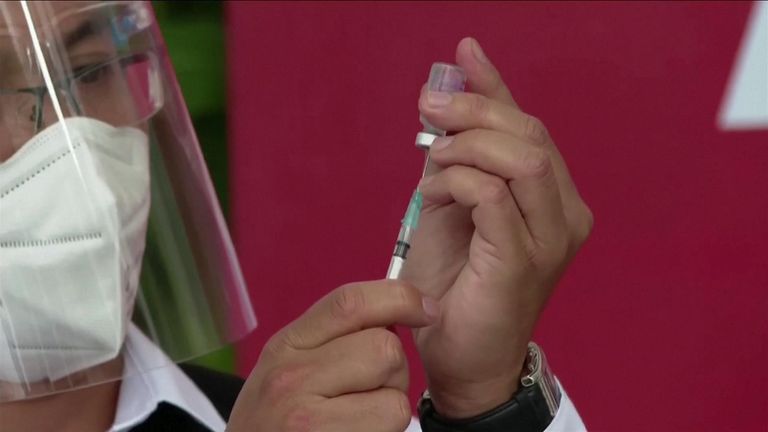 In Indonesia's capital city, Jakarta, where people who refuse the jab will face fines, some are wary.
"If I had the option to refuse the vaccine, I would say no," said Guntur Dwi Adiputra, "For sure I will be afraid to have it because I don't know the side-effects."
"I understand the perspective economic reasons, however, I feel that those people, productive people, they could wait because they're not the ones risking their lives first, the elderly are the ones at stake right now," added local resident Angel Utomo.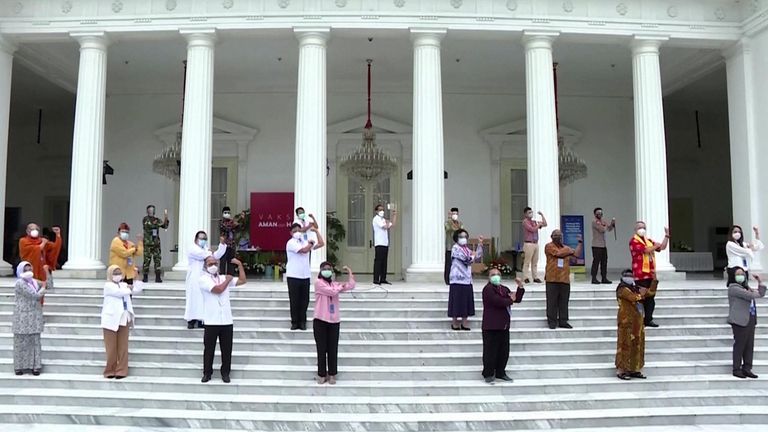 Indonesia is the fourth most populous country in the world and the pandemic has left many struggling financially.
Mohammed Santri's catering business previously sold more than 200 meals a day, but since the coronavirus outbreak it's dropped to just 10.
The family now runs it alone after all the paid staff had to be let go.
"I hope that the vaccination process will be implemented as soon as possible because when people are healthy and they can go back to work then I will receive orders again," Mr Santri said.
CoronaVac is easier for many developing countries to store than some of the other vaccines as it can be kept in the fridge.
Unlike the Pfizer and Moderna mRNA vaccines which have been given the green light in the UK, the Sinovac-made jab uses inactivated coronavirus.
Patients are injected with killed viral particles to expose the body's immune system to the virus and teach it to make antibodies.
Interim data in Indonesia put the efficacy at 65.3% but extended results from Brazil found it to be just 50.4% effective, barely over the 50% needed for regulatory approval.
Researchers at Sao Paulo's Butantan Institute who conducted the trials previously stressed it was 78% effective against mild to severe cases.
Sinovac Biotech is Indonesia's biggest vaccine supplier, and while the country is buying other brands, officials explained the Chinese could deliver fastest.
"I think the main reason why Sinovac is being used in Indonesia is that they committed to deliver this vaccine at the end of December 2020, while the others were still in the negotiation process," Dr Nadia said.
"We plan to have 181.5 million of the population vaccinated, which means we need like 426 million doses of vaccine which is a really huge number and it may not be able to be fulfilled by only having one vaccine type or vaccine factory."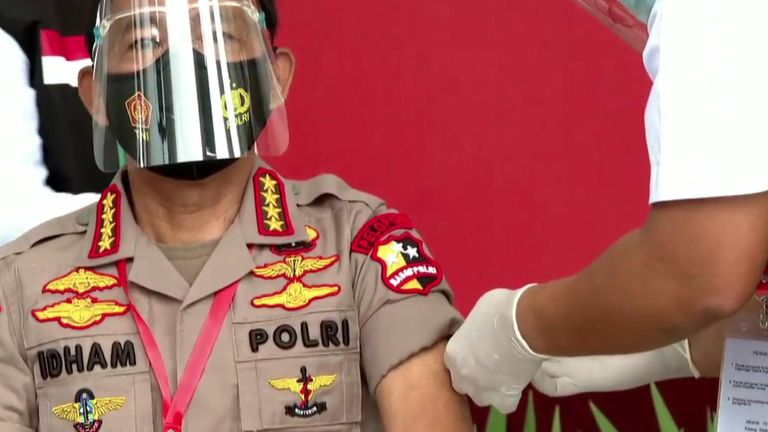 While many countries in the West are focusing on European and American-made vaccines, in Asia, nations including Indonesia, the Philippines and Thailand are all starting with Sinovac.
Dicky Budiman, an epidemiologist at Australia's Griffith University, said China has deliberately positioned itself to fill a gap in the market and supply developing countries which would otherwise face a long wait.
"Vaccine diplomacy has become one of the tools for big countries to improve and increase their power in the region. China will use this as a diplomatic power, that's for sure," he said.
But with more than 270 million people to protect and surging cases, it's a power game Indonesia's willing to play, with leaders hoping this will be a turning point in the fight against the pandemic
COVID-19: Ice cream tests positive for coronavirus in China | World News
Ice cream has been found to have been contaminated with COVID-19 in China after three samples tested positive for the virus.
Anti-epidemic authorities in north China's Tianjin Municipality are tracing people who may have been in contact with the batches, which were produced by Tianjin Daqiaodao Food Company.
All of the products produced by the firm have been sealed and contained after the samples it sent to the municipal centre for disease control this week tested positive for coronavirus.
Initial epidemiological investigations indicate the company produced the batch of ice cream using raw materials, including milk powder imported from New Zealand and whey powder imported from Ukraine.
Dr Stephen Griffin, a virologist based at the University of Leeds, told Sky News the development was unlikely to be a cause for "panic".
"It's likely this has come from a person, and without knowing the details, I think this is probably a one-off," he said.
"Of course, any level of contamination is not acceptable and always a cause for concern, but the chances are that this is the result of an issue with the production plant and potentially down to hygiene at the factory."
He explained that the cold temperature that ice cream was stored at, and the fact it contains fat, could explain why the virus had survived on the samples taken – but suggested the news should not prompt major alarm.
"We probably don't need to panic that every bit of ice cream is suddenly going to be contaminated with coronavirus," he said.
Sky team stopped from investigating COVID origins

The company's 1,662 employees have been placed under quarantine and underwent nucleic acid testing on Thursday following guidance from the Tianjin Center for Disease Control.
Authorities said the company produced 4,836 boxes of COVID-contaminated ice cream, 2,089 of which had been sealed away in storage.
A total of 935 boxes of the ice cream, out of 2,747 boxes that entered the market, were in Tianjin and only 65 were sold to markets.
Authorities said residents who may have bought the product should report their health and physical movements to those in their communities.
The city has also informed the market regulation authorities in other provinces where the ice cream was sent so it can be traced.
Alexey Navalny: Poisoned Putin critic faces jail on return to Russia | World News
Alexey Navalny is flying back to Russia and straight into the hands of the authorities.
Not only does he face a slew of fresh criminal charges against him but he will also once again be at the mercy of Russia's domestic spy agency, the Federal Security Service (FSB), which he says tried to poison him.
It is an extraordinarily brave and risk-filled undertaking. It is also true to form.
Arrest for Alexey Navalny is nothing new. Nor is carving out a life of activism between court appearances, house arrest and prolonged periods in detention.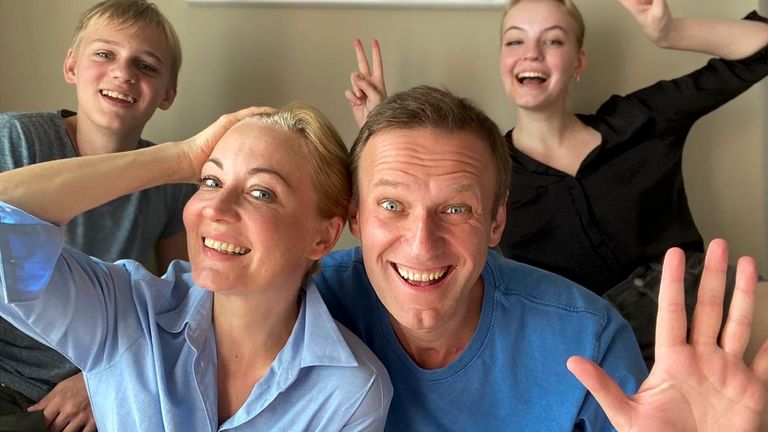 He has repeatedly said he would return to Russia after his convalescence in Germany.
Had he not been poisoned by a novichok nerve agent, with treatment abroad the only way to keep him alive, he never would have left in the first place.
He is now on the Federal Wanted List and is implicated in a number of criminal and administrative cases which give law enforcement broad scope to keep him under prolonged investigation, most probably well beyond September's parliamentary elections which the powers that be in the Kremlin do not want him around for.
Russia's Federal Penitentiary Service has submitted a request to revoke a three-and-a-half-year suspended sentence which wrapped up in December and imprison him instead.
They say he "systematically and repeatedly violated" the terms of his probation both whilst he was in Germany and on a number of occasions before.
If the court agrees, he could serve three-and-a-half-years in jail, minus a few months already spent under house arrest.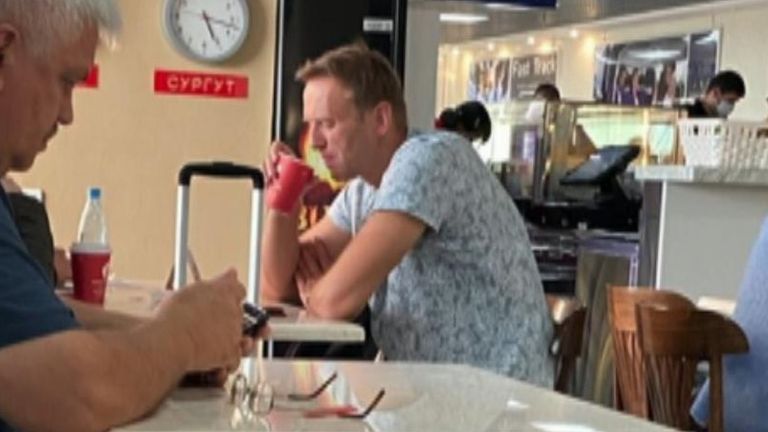 On top of that, Russia's investigative committee has opened a new criminal case accusing him of the supposed misallocation of crowd-sourced funds at his RBK anti-corruption foundation.
"If they really want to go after him, this would be the worst case scenario," says his lawyer Vadim Kobzev.
"Three-and-a-half-years and then 10 years on top of that which is the maximum he can get for this new criminal case."
He thinks a jail term of that length is unlikely. Recent cases against Mr Navalny have all resulted in suspended sentences, "but we're all trying to read the tea leaves here," Mr Kobzev says.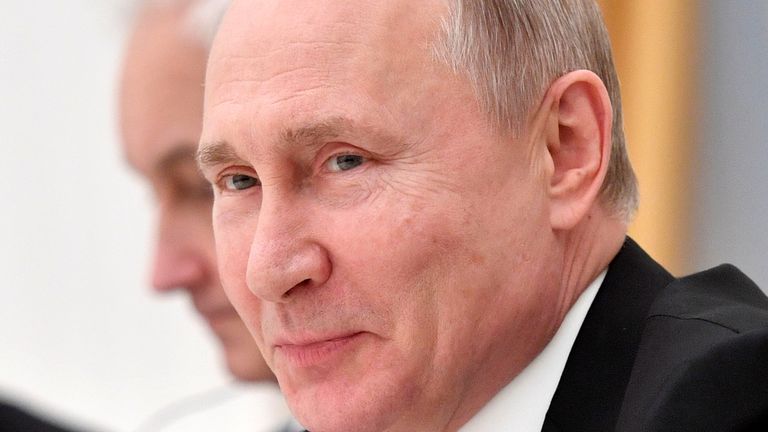 The authorities' most likely course of action – at least in the medium term – will be extended periods under house arrest with restrictions placed on, for example, his use of the internet.
Mr Navalny off-line is far less of a threat to Mr Putin's cronies than the anti-corruption investigations he posts to his YouTube channel. His team will endeavour to keep those going but it is not the same.
And suffice to say, despite the slew of investigations into Mr Navalny's own alleged wrong-doing, authorities have still refused to open any kind of inquiry into how exactly the symbol of Russia's democratic opposition ended up fighting for his life on a work trip to Siberia, with a deadly novichok nerve agent coursing through his veins.
:: Subscribe to Into The Grey Zone podcast on Apple Podcasts, Spotify, Spreaker
President Vladimir Putin's glib comment that the FSB would have finished the job if they had really wanted him dead is no substitute.
Nor, as Mr Navalny so convincingly proved in a telephone call with one of the FSB officers tasked with cleaning up the evidence of his poisoning, is it true.