Trump pleases insurers, angers Democrats with drug-pricing plan
While Trump said his proposal would give Medicare "new tools to negotiate lower prices" — such as allowing Medicare to change its formularies or benefit designs to respond to spikes in generic-drug prices — senior administration officials acknowledged in a briefing prior to his remarks that there is no plan to allow the program to directly barter with drug companies.
There are roughly 60 million people signed up for the Medicare prescription drug benefit, which was created by President George W. Bush and Congress in 2003, and it accounted for nearly 30 percent of all spending on prescription drugs in the U.S. in 2015, according to the Kaiser Family Foundation.
But the Health and Human Services Department, which administers Medicare, is prohibited by law from negotiating prices with drug companies.
Democrats were quick to criticize Trump Friday for his about-face on Medicare negotiating drug prices, calling it a gift to the very pharmaceutical industry he said would be reined in by his new proposal.
"Instead of putting forth a bold initiative, the president pulled his punch," House Minority Leader Nancy Pelosi, D-Calif., said in a statement. "The president should work with Democrats to offer real solutions for struggling families, not waste their time bragging about meager, window-dressing policies."
Some in the insurance industry cheered an announcement that laid the blame for the rising costs of medication completely at the feet of drugmakers.
"We support the administration's efforts to tackle out-of-control drug costs, which include addressing the root cause: skyrocketing list prices set by pharmaceutical companies," said Aetna Chairman and CEO Mark Bertolini. "While the pharmaceutical industry spends hundreds of millions of dollars on advertising and lobbying campaigns blaming others, consumers continue to bear the burden of rising drug costs. Something has to change."
Trump pledged that he would go to Congress to try to implement some of his plans through the legislative process but offered little in the way of detail on what that would entail.
Similarly, an HHS fact sheet outlined what the agency "may" do to try to force the private sector to lower list prices, but stopped short of committing to various actions, including requiring drug companies to name their prices in advertisements.
Former Rep. Jim Greenwood, a Pennsylvania Republican who is now president and CEO of the biopharmaceutical trade association BIO, cautioned that the president's plans could have unintended consequences.
"We have concerns that some of the ideas proposed today could, if adopted, hurt patient access to the medicines they need today and the future cures and treatments they're desperately waiting for America's biopharmaceutical innovators to discover," he said Friday in a statement.
But Trump said he was making good on a campaign promise to fight Washington's resistance to policies that would lower drug prices for consumers. He said he would speed the process for FDA approval of generic drugs, make it harder for foreign countries to acquire U.S.-developed drugs at lower prices than American consumers and cut out the "middle men" in the prescription-drug industry.
The Pharmaceutical Care Management Association — a trade group for the "middle men" criticized by the president — defended their approach. "We share the Administration's goal of reducing drug prices," the group said in a statement released Friday. "The key is to increase competition among drug companies so pharmacy benefit managers (PBMs) can negotiate even more aggressively to reduce drug costs for patients."
For a president who has boasted often about his prowess as a deregulator — and a conservative movement that has resisted federal intervention into the free market — this new mandate would represent a significant ideological break with the past.
"We will work every day to ensure all Americans have access to the quality affordable medication they need and they deserve," Trump said Friday, "and we will not rest until this job of unfair pricing is a total victory for the U.S.A."
COVID-19: Indonesia vaccine rollout bucks trend by targeting younger generations | UK News
With shaking hands, broadcast live to the nation, a doctor administered Indonesia's first COVID-19 vaccination.
The recipient was President Joko Widodo, a man who hopes to get 181.5 million Indonesians vaccinated this year.
It's a huge challenge, almost three times the population of the UK and so far one of the largest rollouts in the world.
But the nation's vaccination drive, which started this week using CoronaVac, a jab from Chinese manufacturer Sinovac Biotech, bucks the current trend by injecting under-60s first.
You can find out more about Indonesia's COVID-19 vaccine drive on the Sky News Daily Podcast
Subscribe to the Daily podcast on Apple Podcasts, Google Podcasts, Spotify, Spreaker
Dr Siti Nadia Tarmizi, COVID-19 vaccination spokesperson for Indonesia's Ministry of Health, told Sky News: "18 to 59 is the age group that gets most infected by COVID-19 and mostly without symptoms. We know between 18 and 59 is a more productive age group, so if we are targeting this age group first, we will protect them from COVID-19, which means they can, of course, go to work.
"And then secondly, by protecting this age group, we will cut the transmission."
Indonesia has recorded more than 25,400 deaths and 880,000 infections making it Southeast Asia's worst outbreak.
Testing levels are low, so experts warn the actual infection rate could be much higher.
Starting with frontline workers, under-60s will be inoculated first not only because the government hopes protecting workers will boost the economy, but it's also waiting for more safety data about how CoronaVac impacts the elderly.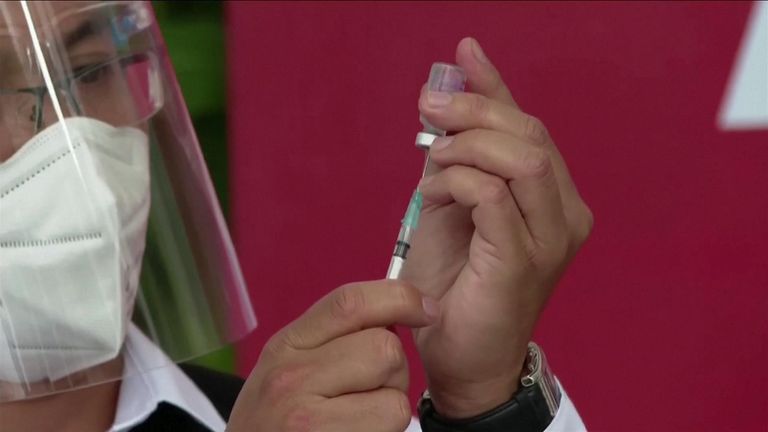 In Indonesia's capital city, Jakarta, where people who refuse the jab will face fines, some are wary.
"If I had the option to refuse the vaccine, I would say no," said Guntur Dwi Adiputra, "For sure I will be afraid to have it because I don't know the side-effects."
"I understand the perspective economic reasons, however, I feel that those people, productive people, they could wait because they're not the ones risking their lives first, the elderly are the ones at stake right now," added local resident Angel Utomo.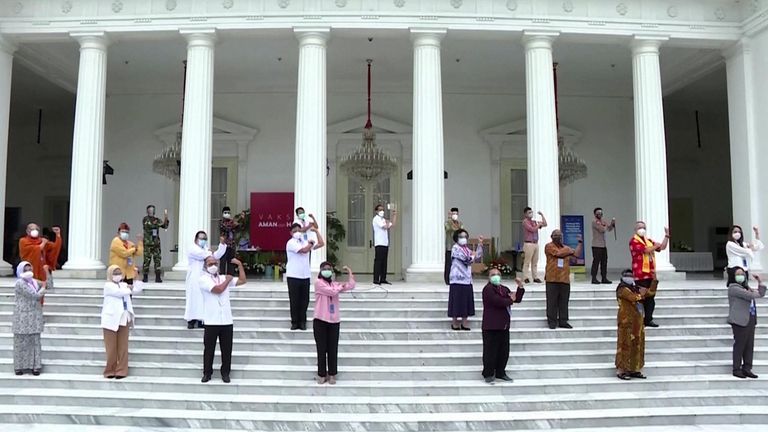 Indonesia is the fourth most populous country in the world and the pandemic has left many struggling financially.
Mohammed Santri's catering business previously sold more than 200 meals a day, but since the coronavirus outbreak it's dropped to just 10.
The family now runs it alone after all the paid staff had to be let go.
"I hope that the vaccination process will be implemented as soon as possible because when people are healthy and they can go back to work then I will receive orders again," Mr Santri said.
CoronaVac is easier for many developing countries to store than some of the other vaccines as it can be kept in the fridge.
Unlike the Pfizer and Moderna mRNA vaccines which have been given the green light in the UK, the Sinovac-made jab uses inactivated coronavirus.
Patients are injected with killed viral particles to expose the body's immune system to the virus and teach it to make antibodies.
Interim data in Indonesia put the efficacy at 65.3% but extended results from Brazil found it to be just 50.4% effective, barely over the 50% needed for regulatory approval.
Researchers at Sao Paulo's Butantan Institute who conducted the trials previously stressed it was 78% effective against mild to severe cases.
Sinovac Biotech is Indonesia's biggest vaccine supplier, and while the country is buying other brands, officials explained the Chinese could deliver fastest.
"I think the main reason why Sinovac is being used in Indonesia is that they committed to deliver this vaccine at the end of December 2020, while the others were still in the negotiation process," Dr Nadia said.
"We plan to have 181.5 million of the population vaccinated, which means we need like 426 million doses of vaccine which is a really huge number and it may not be able to be fulfilled by only having one vaccine type or vaccine factory."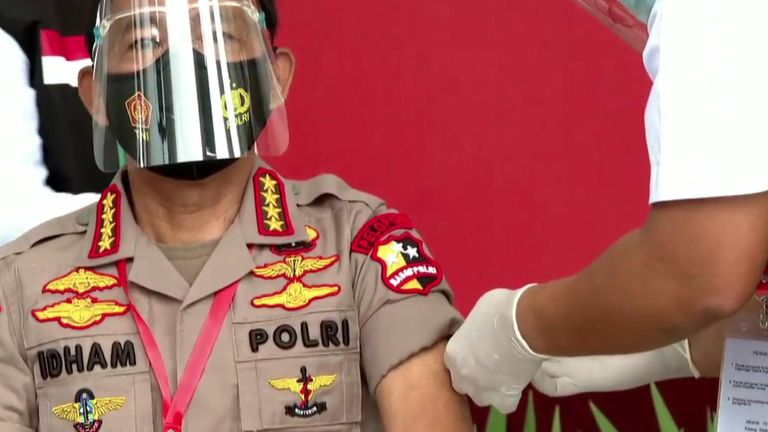 While many countries in the West are focusing on European and American-made vaccines, in Asia, nations including Indonesia, the Philippines and Thailand are all starting with Sinovac.
Dicky Budiman, an epidemiologist at Australia's Griffith University, said China has deliberately positioned itself to fill a gap in the market and supply developing countries which would otherwise face a long wait.
"Vaccine diplomacy has become one of the tools for big countries to improve and increase their power in the region. China will use this as a diplomatic power, that's for sure," he said.
But with more than 270 million people to protect and surging cases, it's a power game Indonesia's willing to play, with leaders hoping this will be a turning point in the fight against the pandemic
COVID-19: Ice cream tests positive for coronavirus in China | World News
Ice cream has been found to have been contaminated with COVID-19 in China after three samples tested positive for the virus.
Anti-epidemic authorities in north China's Tianjin Municipality are tracing people who may have been in contact with the batches, which were produced by Tianjin Daqiaodao Food Company.
All of the products produced by the firm have been sealed and contained after the samples it sent to the municipal centre for disease control this week tested positive for coronavirus.
Initial epidemiological investigations indicate the company produced the batch of ice cream using raw materials, including milk powder imported from New Zealand and whey powder imported from Ukraine.
Dr Stephen Griffin, a virologist based at the University of Leeds, told Sky News the development was unlikely to be a cause for "panic".
"It's likely this has come from a person, and without knowing the details, I think this is probably a one-off," he said.
"Of course, any level of contamination is not acceptable and always a cause for concern, but the chances are that this is the result of an issue with the production plant and potentially down to hygiene at the factory."
He explained that the cold temperature that ice cream was stored at, and the fact it contains fat, could explain why the virus had survived on the samples taken – but suggested the news should not prompt major alarm.
"We probably don't need to panic that every bit of ice cream is suddenly going to be contaminated with coronavirus," he said.
Sky team stopped from investigating COVID origins

The company's 1,662 employees have been placed under quarantine and underwent nucleic acid testing on Thursday following guidance from the Tianjin Center for Disease Control.
Authorities said the company produced 4,836 boxes of COVID-contaminated ice cream, 2,089 of which had been sealed away in storage.
A total of 935 boxes of the ice cream, out of 2,747 boxes that entered the market, were in Tianjin and only 65 were sold to markets.
Authorities said residents who may have bought the product should report their health and physical movements to those in their communities.
The city has also informed the market regulation authorities in other provinces where the ice cream was sent so it can be traced.
Alexey Navalny: Poisoned Putin critic faces jail on return to Russia | World News
Alexey Navalny is flying back to Russia and straight into the hands of the authorities.
Not only does he face a slew of fresh criminal charges against him but he will also once again be at the mercy of Russia's domestic spy agency, the Federal Security Service (FSB), which he says tried to poison him.
It is an extraordinarily brave and risk-filled undertaking. It is also true to form.
Arrest for Alexey Navalny is nothing new. Nor is carving out a life of activism between court appearances, house arrest and prolonged periods in detention.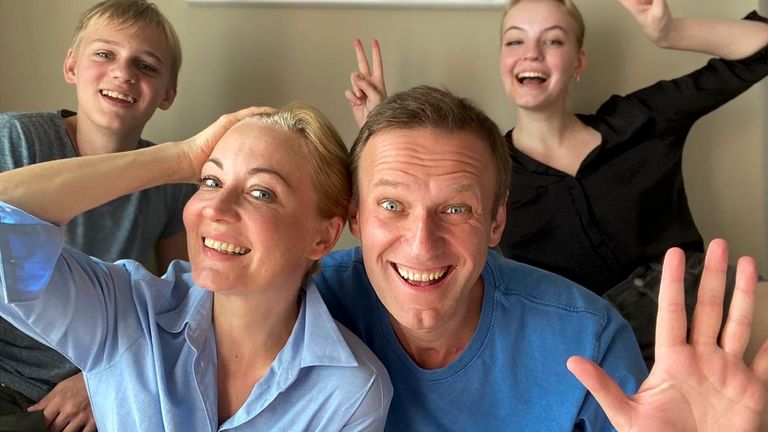 He has repeatedly said he would return to Russia after his convalescence in Germany.
Had he not been poisoned by a novichok nerve agent, with treatment abroad the only way to keep him alive, he never would have left in the first place.
He is now on the Federal Wanted List and is implicated in a number of criminal and administrative cases which give law enforcement broad scope to keep him under prolonged investigation, most probably well beyond September's parliamentary elections which the powers that be in the Kremlin do not want him around for.
Russia's Federal Penitentiary Service has submitted a request to revoke a three-and-a-half-year suspended sentence which wrapped up in December and imprison him instead.
They say he "systematically and repeatedly violated" the terms of his probation both whilst he was in Germany and on a number of occasions before.
If the court agrees, he could serve three-and-a-half-years in jail, minus a few months already spent under house arrest.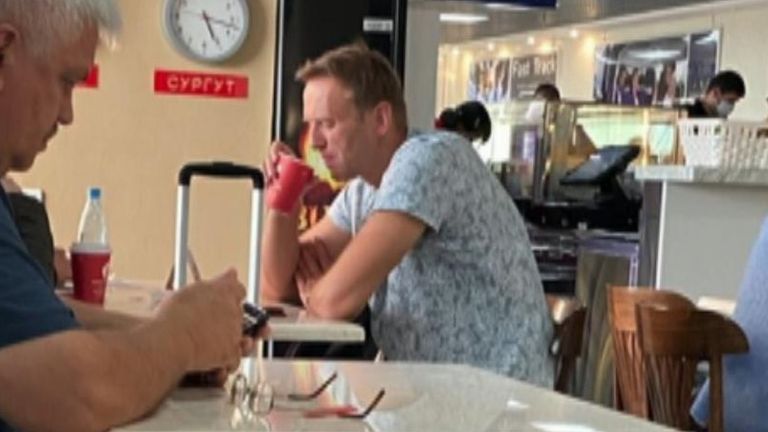 On top of that, Russia's investigative committee has opened a new criminal case accusing him of the supposed misallocation of crowd-sourced funds at his RBK anti-corruption foundation.
"If they really want to go after him, this would be the worst case scenario," says his lawyer Vadim Kobzev.
"Three-and-a-half-years and then 10 years on top of that which is the maximum he can get for this new criminal case."
He thinks a jail term of that length is unlikely. Recent cases against Mr Navalny have all resulted in suspended sentences, "but we're all trying to read the tea leaves here," Mr Kobzev says.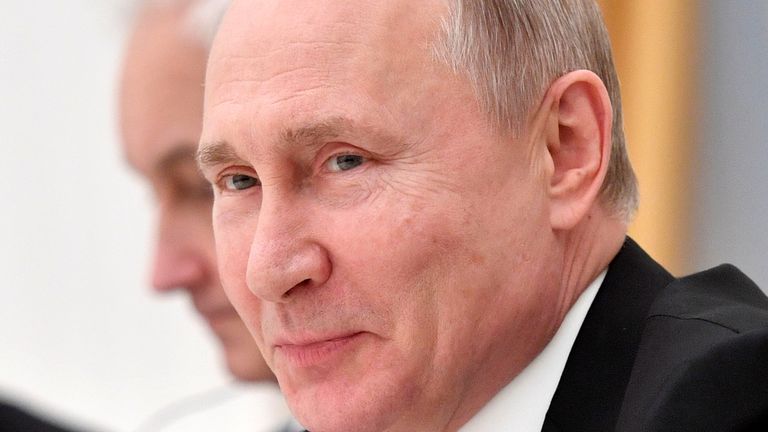 The authorities' most likely course of action – at least in the medium term – will be extended periods under house arrest with restrictions placed on, for example, his use of the internet.
Mr Navalny off-line is far less of a threat to Mr Putin's cronies than the anti-corruption investigations he posts to his YouTube channel. His team will endeavour to keep those going but it is not the same.
And suffice to say, despite the slew of investigations into Mr Navalny's own alleged wrong-doing, authorities have still refused to open any kind of inquiry into how exactly the symbol of Russia's democratic opposition ended up fighting for his life on a work trip to Siberia, with a deadly novichok nerve agent coursing through his veins.
:: Subscribe to Into The Grey Zone podcast on Apple Podcasts, Spotify, Spreaker
President Vladimir Putin's glib comment that the FSB would have finished the job if they had really wanted him dead is no substitute.
Nor, as Mr Navalny so convincingly proved in a telephone call with one of the FSB officers tasked with cleaning up the evidence of his poisoning, is it true.