The world's best singing competition gears up for an emotional, political Grand Final
Get the Think newsletter.
Saturday, May 12 is the Grand Final of the Eurovision Song Contest, a live talent show that airs either in part or in full across nearly 50 countries. Started in 1956 with contestants from seven countries, the Guinness Book of World Records recognizes it as the longest running annual TV music competition. (Wait, did you think "American Idol" was original?)
Eurovision's original dream was to bring the European continent together through music. More than 60 years later, Eurovision works hard to preserve its image as an apolitical entertainment event. But while it is certainly entertaining, to pretend that Eurovision has ever been anything but a political phenomenon is to miss half the point.
Eurovision works hard to preserve its image as an apolitical entertainment event. But to pretend that Eurovision has ever been anything but a political phenomenon is to miss half the point.
When Eurovision started, it was based on the idealistic notion that a new technology called television could bring the world together. (Decades later, this same idealism would be used to describe the potential of the World Wide Web.) Indeed, in early shows the power of telecommunication was on display as much as performances were; the entire second half of the broadcast was dedicated to the production making long distance phone calls to each of the competing countries live on-screen to receive the scores from the officially appointed juries. (A more democratic system was introduced later.)
Eurovision represented "joining hands around Europe" decades before the European Union was born, promoting the idea of one world together. Along the way, it produced hit artists too, from ABBA to Celine Dion.
Today, the EU is more fragile than at any point since its founding in 1993, and yet Eurovision is still one of the highest rated global events of the year, beating out more U.S.-centric events like the Oscars and the Super Bowl handily. Eurovision encourages songs to stay "universal" in their messaging. (There was even a send-up of the stereotypical Eurovision song called "Love, Love, Peace, Peace" in 2016.) But most that perform are chosen by country-wide "Idol" style contests, and the winning songs often betray their fans' more political preferences.
The show's producers have gone back and forth on whether it should be mandatory for entry songs to be performed in the competitor's native tongue, but since 1999 the "free language" rule has relaxed this policy. For a while singing in English was the trend, with many convinced performing in a common language gave them an advantage. But since Brexit and Trump, the tide has turned. The last two winners have sung in their native languages, and this year over a third of the entries have at least some non-English lyrics.
For a while singing in English was the trend, with many convinced performing in a common language gave them an advantage. But since Brexit and Trump, the tide has turned.
Though the show started out with jury-based selection, the advent of mobile technology has brought true democracy (and a two-pronged voting system) to Eurovision. The addition of a popular vote seems also to have made the show even more political. In 2016, for example, the Eurovision jury selected Australia's not-very-controversial number, "Sounds of Silence," as the winning entry. But when the popular vote was counted, Australia fell to third place. (After all, they're not Europeans!) Instead, Ukraine's explicitly anti-Russian anthem inspired by the Crimean War took home the top prize (and the job of hosting the next year).
This set up 2017 to become a proxy war between the two literally warring countries, with Ukraine banning Russia's contestant Yulia Samoylova because she had entered Crimea to give a concert to the Russian troops without a visa. Russia, in retaliation, withdrew from the competition, taking their viewing households with them. This year, to make a point of it, Russia sent the same contestant, with Putin's public blessing (though armed with a brand new song), only to see her roundly snubbed. Meanwhile, Ukraine's piano-on-fire performance not only had the prime final performance slot in the second semi-final round, but is through to the Grand Final. Russia is headed home.
Russia's glaring absence last year was not mentioned during the broadcast, as Eurovision's powers that be attempted in vain to maintain its love and peace façade. Likewise, Eurovision announcers are unlikely to mention the UK's Brexit struggles this year, even though British performer SuRie's song "Storm" speaks of "holding hands together" and "weathering" it as one. Whatever could SuRie be talking about?
Indeed, unlike in pop music, Eurovision songs live or die based on their lyrics. Ireland made the Grande Final for the first time in nearly a decade not because its song was any better than last year's, but because their message is. Finland is making a go of it this year with a song including every participant country's language. Italy's song, "Non Mi Avete Fatto Niente," is inspired by the 2015 Paris bombing. France's song, "Mercy," is about the refugee crisis.
Interestingly, the latter two aren't favored to win. Known as the "Big Five," Italy, France, the UK, Germany and Spain do not compete in the semi-final rounds but rather pass directly to the Grand Final (along with the host country) because they collectively pay the bulk of Eurovision's expenses. It sounds cushy, but anyone who's watched enough of "Idol" or "The Voice" will tell you a lack of TV time ahead of the final is actually a detriment, both in terms of practice and audience investment.
Meanwhile, the juggernaut that is Eurovision keeps growing. This year, the show has 43 participant countries, matching its highest number since 2008. And the admission of Australia after a fabulous guest turn in 2015 suggests the contest might be open to expanding its reach to one day become a true worldwide contest. (Australia is not the first non-European country to be allowed in. Israel has been regularly competing since 1973, and its entry this year is a song that includes clucking like a chicken. Oh by the way, did I also mention Eurovision is hilarious?)
While acknowledging in big or small ways the global turbulence of the last few years, nearly all of this year's entrants sound notes of unity and hope in their numbers. After six decades, perhaps the secret to Eurovision's success is that people still want to believe music can bring us together. That's not an apolitical message, but it is a surprisingly hopeful one. And despite everything that's going on, it's reassuring that hope is still one thing people want to believe in.
Ani Bundel has been blogging professionally since 2010. Regular bylines can be found at Elite Daily, WETA's TellyVisions, and Ani-Izzy.com.
Read more: 'Westworld' season two shakes off its disappointing first attempt. Maybe it really is HBO's heir to 'Game of Thrones.'
COVID-19: Rich 'riding out pandemic in luxury' as frontline workers struggle, says Oxfam | Business News

The divide between rich and poor is "proving as deadly" as coronavirus, the boss of Oxfam said, as research shows the world's richest people recouped their pandemic losses within just nine months.
The charity said it would take more than a decade for the world's poorest to recover from the economic impacts of the pandemic.
A survey of 295 economists from 79 countries, commissioned by Oxfam, reveals that 87% of respondents expect an "increase" or a "major increase" in income inequality in their country as a result of the pandemic.
Live COVID updates from UK and around the world
Oxfam's Inequality Virus report, released on the opening day of the World Economic Forum's Davos Agenda, said it showed how current economic systems have allowed the wealthiest "to amass wealth in the middle of the worst recession since the Great Depression while billions of people are struggling to make ends meet".
The charity also said its research demonstrated the manner in which the pandemic was deepening long-standing economic, racial and gender divides.
Oxfam's executive director Gabriela Bucher said: "Rigged economies are funnelling wealth to a rich elite who are riding out the pandemic in luxury, while those on the frontline of the pandemic – shop assistants, healthcare workers, and market vendors – are struggling to pay the bills and put food on the table.
"Women and marginalised racial and ethnic groups are bearing the brunt of this crisis. They are more likely to be pushed into poverty, more likely to go hungry, and more likely to be excluded from healthcare."
The six-day virtual Davos summit will feature Indian and Chinese leaders Narendra Modi and Xi Jinping.
Ugandan court orders military and police to leave Bobi Wine's property | World News

A Ugandan court has ordered the military and police to stop surrounding the home of opposition leader Bobi Wine, who says he has been held under house arrest since the country's presidential elections.
Mr Wine's lawyer George Musisi told the Reuters news agency: "The judge ordered that the state and its agencies
should immediately vacate his property and his right to personal liberty should immediately be reinstated."
Boris Johnson calls for action against 'devastating' climate change with new coalition | Politics News
Boris Johnson will call for countries to do more to tackle the "devastating" effects of climate change, as he launches a new partnership with five other countries and the United Nations.
The prime minister is due to announce the creation of the Adaptation Action Coalition formed with Egypt, Bangladesh, Malawi, the Netherlands and Saint Lucia.
It will work to turn international political commitments made through the UN into on-the-ground support for vulnerable communities.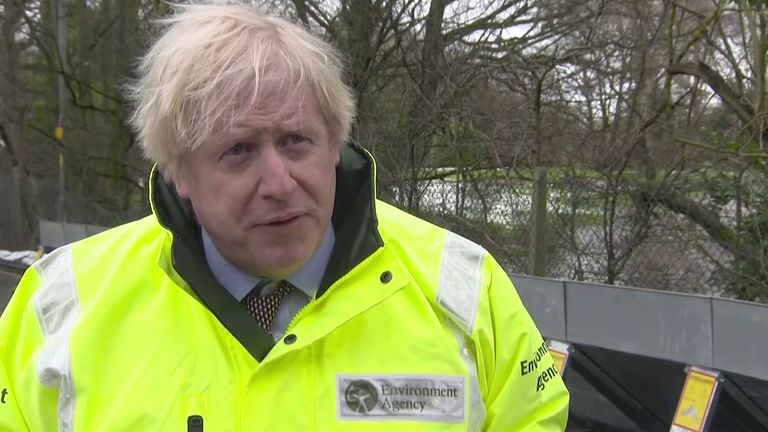 And the body will act as a forum for developed and developing countries to share suggestions on solutions to deal with climate change.
Mr Johnson is expected to say later today it is "undeniable" that climate change is "upon us" and "devastating lives and economies", urging global political leaders to act quickly.
"I'll be making the need for a resilient recovery a priority of the UK's G7 presidency this year," he will add.
"To make sure we get not just warm words but real change, I am today launching an all-new Adaptation Action Coalition to set the agenda ahead of COP26."
COP26 is the annual climate change forum attended by world leaders being held in Glasgow later this year, after it was postponed last year due to the coronavirus pandemic.
Alok Sharma, the former business secretary who is now in charge of organising COP26 from within government, said he wanted "all countries to come forward with ambitious adaptation plans".
And he said: "This important new coalition will crucially focus minds around the world to accelerate adaptation delivery in the areas most in need."
Subscribe to the Daily podcast on Apple Podcasts, Google Podcasts, Spotify, Spreaker
Despite the warm words, the government has come under some criticism recently for giving the go-ahead to a new coal mine opening in Cumbria.
Two teenagers and climate activists were on hunger strike for more than a week over the issue.
In his virtual party conference leader's speech last October, Mr Johnson talked up the future of wind power – and took a dig at himself for once writing it "wouldn't pull the skin off a rice pudding".