Several Palestinians shot as 'volatile' Gaza border protest intensifies
Several people have been shot and tear gas is being fired as tensions flare on the border between Gaza and Israel.
Palestinian demonstrators are burning tyres and using tennis rackets to bat away tear gas canisters fired by Israeli troops as they fight a decade-old blockade of territory.
Israeli snipers and spotters have been seen along the border, while live rounds are being used to repel protesters.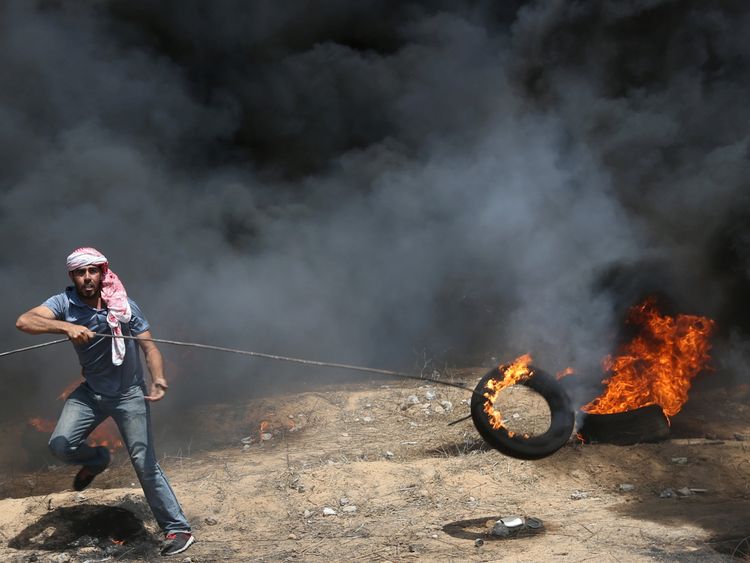 Speaking at the scene while tear gas canisters fell to the ground, Sky News Correspondent Alex Rossi said: "It is very volatile here. It is the seventh week of protests.
"So far today we've seen several people shot.
"Aid agencies say the humanitarian conditions have deteriorated in Gaza. We are expecting a very volatile few days here."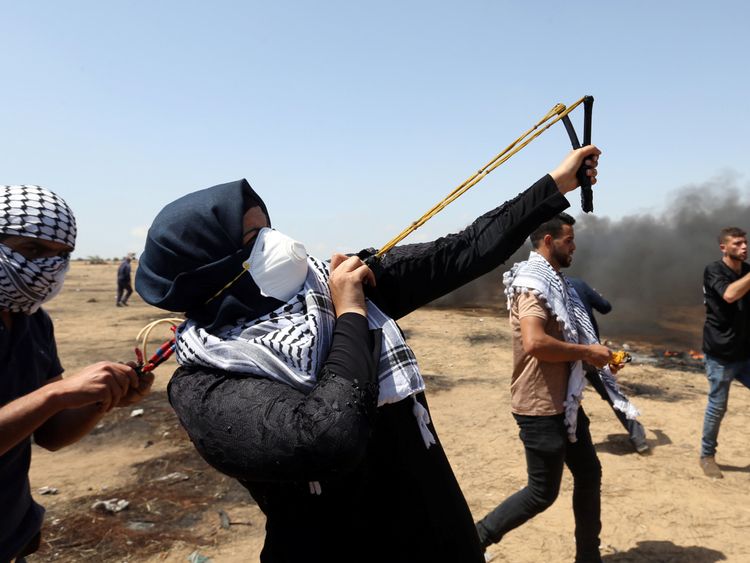 :: Israel's PM warns Iran and Syria of retaliation after rocket attacks
He said that Israel has been accused of using excessive force, but claims it is just protecting its border.
Rossi added: "It claims that Hamas is instigating – or at least has hijacked – these protests and is using them to camouflage acts of terror."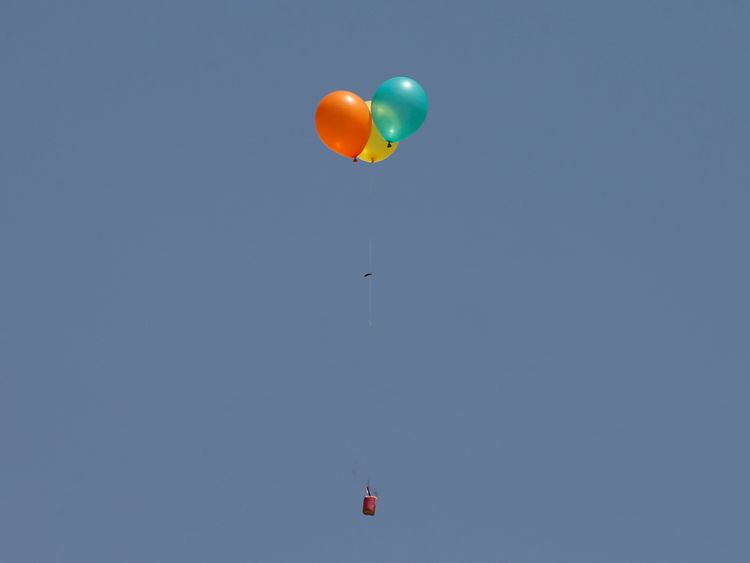 The Gaza leader of the Hamas militant group has suggested tens of thousands of Palestinians could storm into Israel on Monday.
Yehiyeh Sinwar said the crowds will be unarmed, peaceful but "like a starving tiger" in pent-up anger and unpredictability.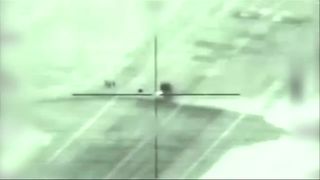 :: Israel launches counter-strikes after Iran attacks Golan Heights
Israel warned it would prevent any border breach, sticking to open-fire policies, including targeting "main instigators" and those approaching the fence.
It has accused Hamas of using the protests as a cover to attack the border, insisting it has a right to protect it.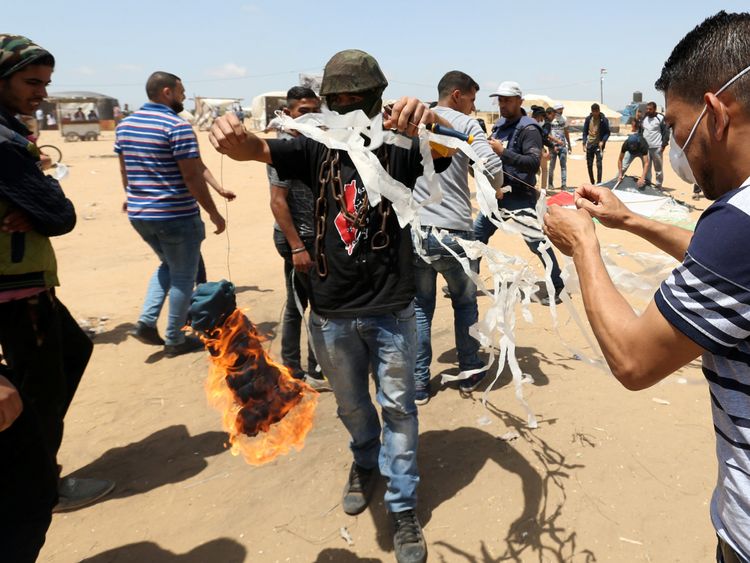 Since the Hamas-led marches began at the end of March, 40 Palestinians have been killed and more than 1,700 wounded from Israeli army fire.
The protests are part of a campaign to break the blockade imposed by Israel and Egypt in 2007 after Hamas overran Gaza.
The border march on Monday will coincide with the historic movement of the US Embassy from Tel Aviv to Jerusalem.
Donald Trump's decision to recognise Jerusalem as the capital outraged Palestinians, with the state's leader describing it as "the slap of the century".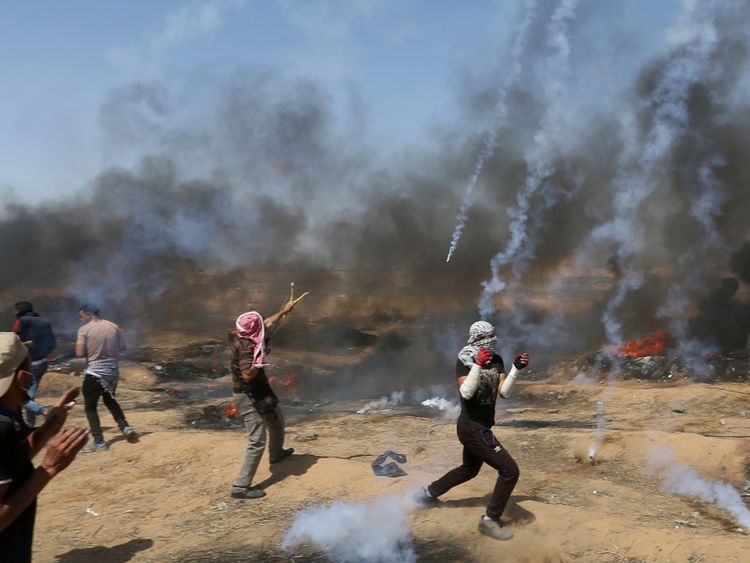 On Tuesday, Palestinians will mark Nakba, referring to the mass uprooting during the Mideast war over the 1948 creation of Israel.
Hundreds of thousands of Palestinians were driven out of what is now Israel.
COVID-19: Rich 'riding out pandemic in luxury' as frontline workers struggle, says Oxfam | Business News

The divide between rich and poor is "proving as deadly" as coronavirus, the boss of Oxfam said, as research shows the world's richest people recouped their pandemic losses within just nine months.
The charity said it would take more than a decade for the world's poorest to recover from the economic impacts of the pandemic.
A survey of 295 economists from 79 countries, commissioned by Oxfam, reveals that 87% of respondents expect an "increase" or a "major increase" in income inequality in their country as a result of the pandemic.
Live COVID updates from UK and around the world
Oxfam's Inequality Virus report, released on the opening day of the World Economic Forum's Davos Agenda, said it showed how current economic systems have allowed the wealthiest "to amass wealth in the middle of the worst recession since the Great Depression while billions of people are struggling to make ends meet".
The charity also said its research demonstrated the manner in which the pandemic was deepening long-standing economic, racial and gender divides.
Oxfam's executive director Gabriela Bucher said: "Rigged economies are funnelling wealth to a rich elite who are riding out the pandemic in luxury, while those on the frontline of the pandemic – shop assistants, healthcare workers, and market vendors – are struggling to pay the bills and put food on the table.
"Women and marginalised racial and ethnic groups are bearing the brunt of this crisis. They are more likely to be pushed into poverty, more likely to go hungry, and more likely to be excluded from healthcare."
The six-day virtual Davos summit will feature Indian and Chinese leaders Narendra Modi and Xi Jinping.
Ugandan court orders military and police to leave Bobi Wine's property | World News

A Ugandan court has ordered the military and police to stop surrounding the home of opposition leader Bobi Wine, who says he has been held under house arrest since the country's presidential elections.
Mr Wine's lawyer George Musisi told the Reuters news agency: "The judge ordered that the state and its agencies
should immediately vacate his property and his right to personal liberty should immediately be reinstated."
Boris Johnson calls for action against 'devastating' climate change with new coalition | Politics News
Boris Johnson will call for countries to do more to tackle the "devastating" effects of climate change, as he launches a new partnership with five other countries and the United Nations.
The prime minister is due to announce the creation of the Adaptation Action Coalition formed with Egypt, Bangladesh, Malawi, the Netherlands and Saint Lucia.
It will work to turn international political commitments made through the UN into on-the-ground support for vulnerable communities.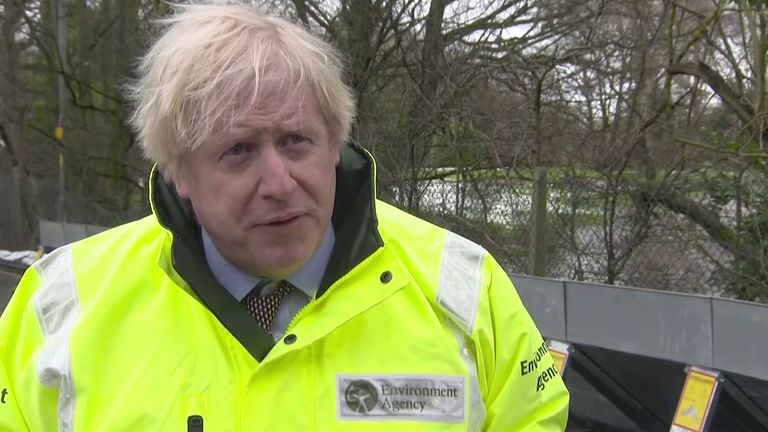 And the body will act as a forum for developed and developing countries to share suggestions on solutions to deal with climate change.
Mr Johnson is expected to say later today it is "undeniable" that climate change is "upon us" and "devastating lives and economies", urging global political leaders to act quickly.
"I'll be making the need for a resilient recovery a priority of the UK's G7 presidency this year," he will add.
"To make sure we get not just warm words but real change, I am today launching an all-new Adaptation Action Coalition to set the agenda ahead of COP26."
COP26 is the annual climate change forum attended by world leaders being held in Glasgow later this year, after it was postponed last year due to the coronavirus pandemic.
Alok Sharma, the former business secretary who is now in charge of organising COP26 from within government, said he wanted "all countries to come forward with ambitious adaptation plans".
And he said: "This important new coalition will crucially focus minds around the world to accelerate adaptation delivery in the areas most in need."
Subscribe to the Daily podcast on Apple Podcasts, Google Podcasts, Spotify, Spreaker
Despite the warm words, the government has come under some criticism recently for giving the go-ahead to a new coal mine opening in Cumbria.
Two teenagers and climate activists were on hunger strike for more than a week over the issue.
In his virtual party conference leader's speech last October, Mr Johnson talked up the future of wind power – and took a dig at himself for once writing it "wouldn't pull the skin off a rice pudding".