Michael Cohen and Eric Schneiderman cases collide in court filing
Get breaking news alerts and special reports. The news and stories that matter, delivered weekday mornings.
The investigation of Trump lawyer Michael Cohen and the domestic-violence scandal that toppled New York Attorney General Eric Schneiderman collided Friday when a colorful attorney not representing either man asked that certain court records be sealed.
In a letter to a federal judge, Peter J. Gleason said that he fed accusations of "sexually inappropriate" conduct by Schneiderman to Cohen five years ago. He asked that any record of that conversation that might be among papers seized from Cohen last month be kept under wraps.
Gleason's account of how he ended up talking to Cohen is an "only in New York" tale with a tabloid twist: the letter says Steve Dunleavy, legendary former editor and columnist for the New York Post, was the go-between who put the lawyer in touch with team Trump.
It also left many unanswered questions, including whether Cohen followed up on Gleason's information about Schneiderman at the time, or why Gleason and Dunleavy thought Trump should get the information.
The episode happened more than five years before the New Yorker's bombshell report this week that four different women had accused Schneiderman, a frequent Trump critic, of physically and emotionally abusing them. Schneiderman denies doing anything non-consensual but resigned from office.
The authors of the New Yorker article, Jane Mayer and Ronan Farrow, took to Twitter to assure readers that their sources didn't come to them through Trump or his fixer.
"Our sources are all deeply opposed to Trump and deeply disappointed that Schneiderman let them and their cause down," Mayer wrote.
Gleason is best known for representing so-called "Soccer Mom Madam" Anna Gristina, who allegedly ran a Manhattan brothel from her suburban New York home and pleaded guilty in 2012 to one count of promoting prostitution.
In his letter to Judge Kimba Wood, in which he misspelled Schneiderman's name repeatedly, he said his office has "an open door policy for any individual who has been victimized by entities that because of their status and power are able to destroy lives with impunity."
That, he wrote, is how he came to be contacted by two unrelated woman, a year apart, who claimed they had been "sexually victimized" by Schneiderman. He said he advised them that because Schneiderman was part of the "power elite," they would not get help from prosecutors.
But, he added, he wanted them to know that someone believed them and that their experiences would not be "brushed under the rug," so he turned to the retired Dunleavy, who suggested he discuss the matter with Trump.
"Mr. Dunleavy did indeed discuss this very matter with Mr. Trump as evidenced by a phone call I received from Attorney Michael Cohen," Gleason wrote to the judge. He said he shared "certain details" of the women's allegations with Cohen.
Gleason admits he has no idea if Cohen wrote down anything about their call or if there is anything in the records seized by the feds about it. But as a precaution, he wrote, he wants the court to issue a protective seal.
The judge is overseeing a dispute over the records seized from Cohen as part of a federal investigation into Cohen's brokering of a $130,000 pre-election payment to adult film actress Stormy Daniels' who says she had an affair with Trump a decade ago.
And in his letter, Gleason took a shot at the porn star's lawyer, Michael Avenatti, accusing him of "reckless behavior," for releasing a report that detailed payments companies like AT&T and Novartis made to Cohen for consulting work after Trump was elected president.
Avenatti, in turn, suggested more revelations are in the pipeline.
"Individuals and companies are finally coming to the realization that much more information is going to come to light regarding their dealings with Mr. Cohen and Mr. Trump," he said in a statement. "They are nervous and should be."
"There is never anything reckless about providing the American people with facts, evidence and the truth," he added.
Cohen's attorney, Schneiderman's spokesman, and Dunleavy did not immediately respond to inquiries from NBC News. Gleason also did not return calls.
Gleason was a police officer and a firefighter and fire marshal before he became a lawyer. He once sued his law school over a grade. He also sued eBay when he and spoon-bending psychic Uri Geller lost out on a attempt to buy Elvis Presley's first home.
He once ran for a New York City Council seat but in 2012 told the New York Daily News he had abandoned plans to pursue politics.
"I would rather play piano in a brothel," he said.
COVID-19: Rich 'riding out pandemic in luxury' as frontline workers struggle, says Oxfam | Business News

The divide between rich and poor is "proving as deadly" as coronavirus, the boss of Oxfam said, as research shows the world's richest people recouped their pandemic losses within just nine months.
The charity said it would take more than a decade for the world's poorest to recover from the economic impacts of the pandemic.
A survey of 295 economists from 79 countries, commissioned by Oxfam, reveals that 87% of respondents expect an "increase" or a "major increase" in income inequality in their country as a result of the pandemic.
Live COVID updates from UK and around the world
Oxfam's Inequality Virus report, released on the opening day of the World Economic Forum's Davos Agenda, said it showed how current economic systems have allowed the wealthiest "to amass wealth in the middle of the worst recession since the Great Depression while billions of people are struggling to make ends meet".
The charity also said its research demonstrated the manner in which the pandemic was deepening long-standing economic, racial and gender divides.
Oxfam's executive director Gabriela Bucher said: "Rigged economies are funnelling wealth to a rich elite who are riding out the pandemic in luxury, while those on the frontline of the pandemic – shop assistants, healthcare workers, and market vendors – are struggling to pay the bills and put food on the table.
"Women and marginalised racial and ethnic groups are bearing the brunt of this crisis. They are more likely to be pushed into poverty, more likely to go hungry, and more likely to be excluded from healthcare."
The six-day virtual Davos summit will feature Indian and Chinese leaders Narendra Modi and Xi Jinping.
Ugandan court orders military and police to leave Bobi Wine's property | World News

A Ugandan court has ordered the military and police to stop surrounding the home of opposition leader Bobi Wine, who says he has been held under house arrest since the country's presidential elections.
Mr Wine's lawyer George Musisi told the Reuters news agency: "The judge ordered that the state and its agencies
should immediately vacate his property and his right to personal liberty should immediately be reinstated."
Boris Johnson calls for action against 'devastating' climate change with new coalition | Politics News
Boris Johnson will call for countries to do more to tackle the "devastating" effects of climate change, as he launches a new partnership with five other countries and the United Nations.
The prime minister is due to announce the creation of the Adaptation Action Coalition formed with Egypt, Bangladesh, Malawi, the Netherlands and Saint Lucia.
It will work to turn international political commitments made through the UN into on-the-ground support for vulnerable communities.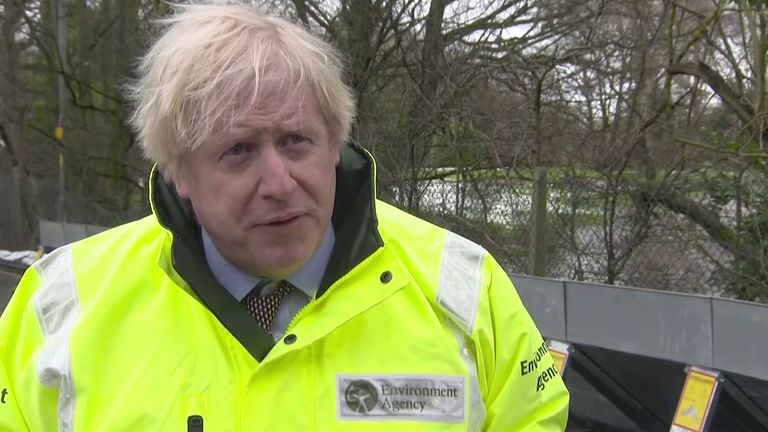 And the body will act as a forum for developed and developing countries to share suggestions on solutions to deal with climate change.
Mr Johnson is expected to say later today it is "undeniable" that climate change is "upon us" and "devastating lives and economies", urging global political leaders to act quickly.
"I'll be making the need for a resilient recovery a priority of the UK's G7 presidency this year," he will add.
"To make sure we get not just warm words but real change, I am today launching an all-new Adaptation Action Coalition to set the agenda ahead of COP26."
COP26 is the annual climate change forum attended by world leaders being held in Glasgow later this year, after it was postponed last year due to the coronavirus pandemic.
Alok Sharma, the former business secretary who is now in charge of organising COP26 from within government, said he wanted "all countries to come forward with ambitious adaptation plans".
And he said: "This important new coalition will crucially focus minds around the world to accelerate adaptation delivery in the areas most in need."
Subscribe to the Daily podcast on Apple Podcasts, Google Podcasts, Spotify, Spreaker
Despite the warm words, the government has come under some criticism recently for giving the go-ahead to a new coal mine opening in Cumbria.
Two teenagers and climate activists were on hunger strike for more than a week over the issue.
In his virtual party conference leader's speech last October, Mr Johnson talked up the future of wind power – and took a dig at himself for once writing it "wouldn't pull the skin off a rice pudding".