Trump says he will hold summit with North Korean leader Kim Jong Un in Singapore on June 12
The deal to meet is a notable shift in what has been, at times, a tense and confrontational relationship between the two men, marked by caustic language.
Trump has repeatedly derided Kim as "Rocket Man" or "Little Rocket Man," and said in August that if North Korea threatened the U.S., "they would be met with fire and fury like the world has never seen."
Kim has referred to Trump as "a gangster" and previously said he would "tame the mentally deranged U.S. dotard with fire."
Trump, however, says the U.S. is developing a better relationship with the North Korean leader. Secretary of State Mike Pompeo recently visited North Korea and met with Kim.
Vice President Mike Pence said Thursday that the release of Americans was "all a direct result of the strong and clear leadership that President Trump has provided on the world stage in this moment. Think about how far we've come in the last year."
"From very early in this administration, President Trump changed the policies of the United States from an era of strategic patience with North Korea to move toward the kind of campaign that would bring economic and diplomatic pressure to bear while reserving all other options, with the clear objective — of achieving the denuclearization of the Korean peninsula," Pence told NBC's Andrea Mitchell in an interview.
"We appreciate Kim Jong Un's efforts so far," Pence said, but noted the administration has "no illusions" about the challenges ahead.
The announcement of the summit comes after punishing sanctions were leveled against North Korea in response to its missile and nuclear tests.
Last month, Kim said he would suspend nuclear and missile tests, stating further ones were unnecessary. He also met South Korean President Moon Jae-in at a historic summit in late April.
The White House has credited its campaign of "maximum pressure" for creating an atmosphere for dialogue with North Korea.
But it is unclear what may come out of the talks. Trump has stated that his goal is the denuclearization of the Korean Peninsula, but added, "If the meeting, when I'm there, isn't fruitful, I will respectfully leave the meeting."
Earlier Thursday, Trump expressed gratitude to Kim for the return of the detainees and said he was optimistic about their planned talks.
"We want to thank Kim Jong Un," the president said as he greeted the returning Americans. "I really think he wants to do something … and bring his country into the real world. I really think we have a very good chance of doing something very meaningful."
The detainees, Kim Hak-song, Kim Dong-chul and Kim Sang-duk, who is also known as Tony Kim, were granted amnesty from North Korean labor campsby Kim after spending up to two years in detention accused of crimes against the regime.
"It is like a dream. We are very, very happy," Kim Dong-chul told reporters through a translator after arriving back in the U.S.
Afghanistan: Gunmen kill two female Supreme Court judges in Kabul car ambush | World News
Gunmen killed two female judges from Afghanistan's Supreme Court in an early morning ambush, which also saw their driver wounded.
The attack happened as the two judges, who have not yet been named, were driving to their office in Kabul in a court vehicle on Sunday, a court official said.
It was the latest attack in the Afghan capital during peace talks between Taliban and Afghan government officials in Doha, Qatar.
No one has claimed responsibility for Sunday's attack. A spokesman for the Taliban said its fighters were not involved.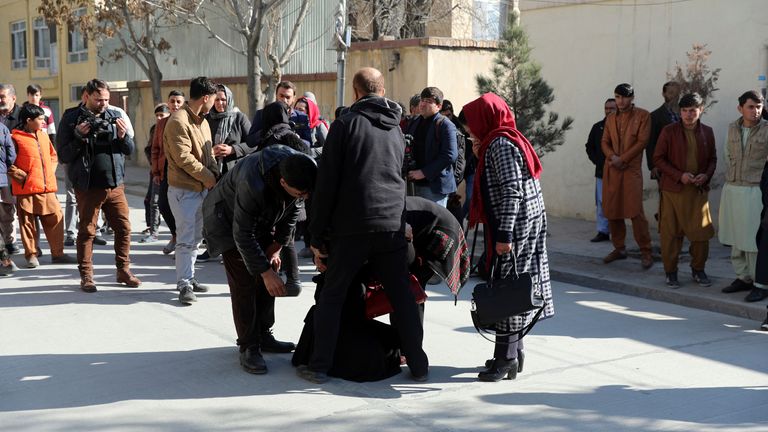 Afghan President Ashraf Ghani issued a statement on Sunday condemning attacks on civilians by the Taliban and other militant groups.
Mr Ghani said "terror, horror and crime" was not a solution to Afghanistan's problem and urged the Taliban to accept "a permanent ceasefire".
Government officials, journalists, and activists have been targeted in recent months, stoking fear particularly in Kabul.
The Taliban has denied involvement in some of the attacks, but has said its fighters would continue to "eliminate" important government figures, though not journalists or civil society members.
Rising violence has complicated US-brokered peace talks taking place in Doha as Washington withdraws troops.
Sources on both sides say negotiations are only likely to make substantive progress once US President-elect Joe Biden
takes office and makes his Afghan policy known.
The number of US troops in Afghanistan has been reduced to 2,500, the lowest level of American forces there since 2001.
COVID-19: First person in Brazil inoculated as two coronavirus vaccines approved | World News
A nurse has become the first person in Brazil to receive a coronavirus jab just hours after the country's health regulator approved two vaccines.
Monica Calazans, 54, who works on the coronavirus frontline, was vaccinated in a ceremony in Sao Paulo.
The rollout of the vaccines made by Sinovac and AstraZeneca comes after months of delay and political disputes over the immunisation programme.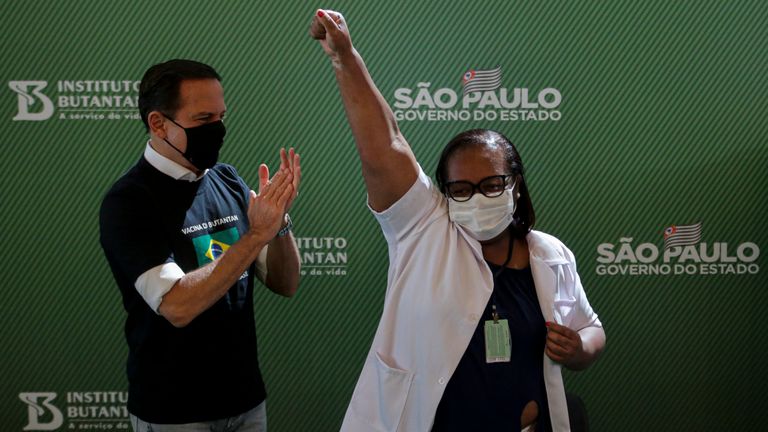 Brazil currently has six million doses of Sinovac's CoronaVac vaccine ready to distribute in the next few days, and is awaiting the arrival of another two million doses of the AstraZeneca/Oxford University jab.
"This is good news for Brazil, but six million doses are still very few," said Ethel Maciel, an epidemiologist at the Federal University of Espirito Santo.
"It will not allow the entire population at risk to be fully immunised, nor is it clear how quickly the country will obtain more vaccines."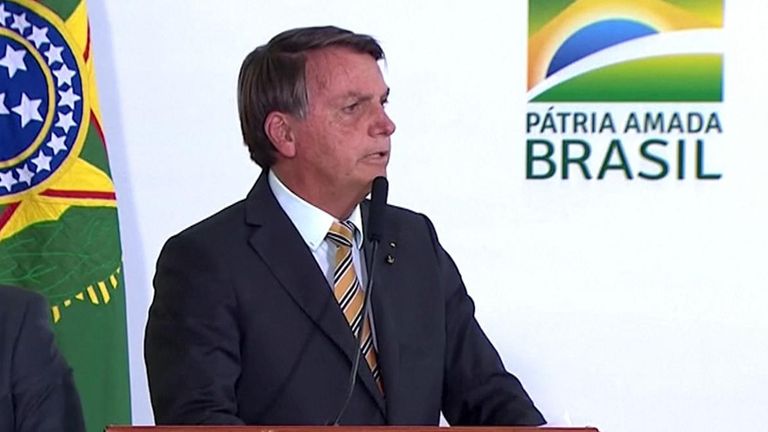 Vaccination in Brazil is beginning later than neighbours such as Argentina and Chile despite a robust public health system and decades of experience with immunisation campaigns.
The process to present and approve the COVID-19 vaccines was fraught with conflict, as allies of President Jair Bolsonaro sought to cast doubt on the efficacy of the Sinovac shot which had been backed by his political rival, Sao Paulo state's governor Joao Doria.
Health professionals on the frontline against coronavirus will be the first to receive the jabs.
It will then be extended to others including the indigenous population, people over 60 years of age and people with pre-existing conditions.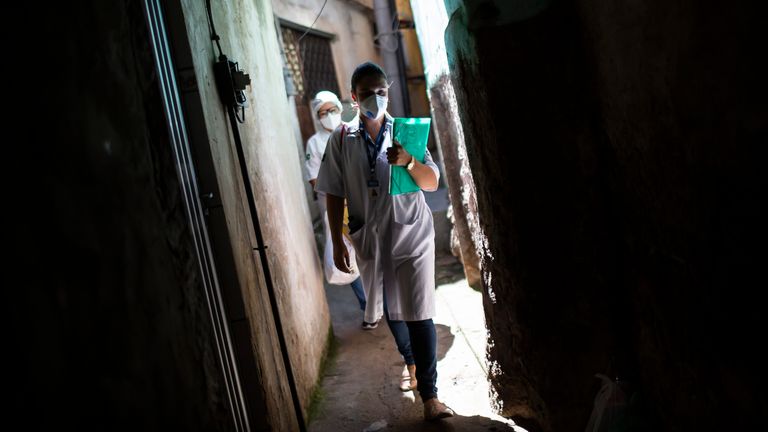 The South American country has now registered 8,455,059 cases since the pandemic began.
Its death toll has risen to 209,296 meaning only the US has suffered more fatalities, according to the Johns Hopkins University.
Uganda: After contentious election, people needed answers but opposition could not provide any | World News
We were expecting a cacophony of noise after the Ugandan Election Commission declared the result in a presidential poll that was both contentious and shockingly violent.
However, we did not see any angry chatter, nor collective calls to arms on popular social media sites because the government had switched the internet off.
The streets of the capital Kampala were quiet as members of the military, carrying short-barrelled machine guns, walked languidly down the side of city streets.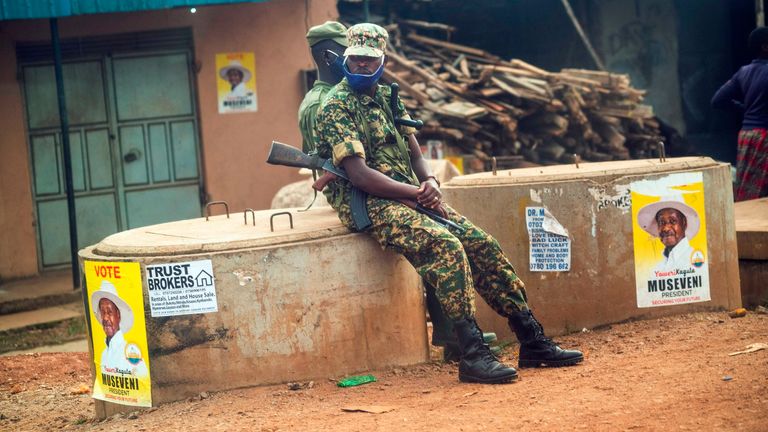 The 38-year old opposition leader Bobi Wine, who visibly connected with tens of thousands of younger Ugandans during the campaign, had been removed from public view. The security services are surrounding his home and blocking anyone from entering.
In effect, the government has used the tools of state to turn down the noise – to dissipate the heat – after its long-time leader, President Yoweri Museveni, took 58% of the vote.
Mr Wine, a popular pop star turned politician, garnered a respectable but insufficient 35%.
And the authorities' masterplan seems to be working, at least for now.
We were invited to a press conference by Bobi Wine's National Unity Platform (NUP) party where they were expected to outline their immediate plans, address their leader's absence, and introduce newly elected parliamentary members to the nation.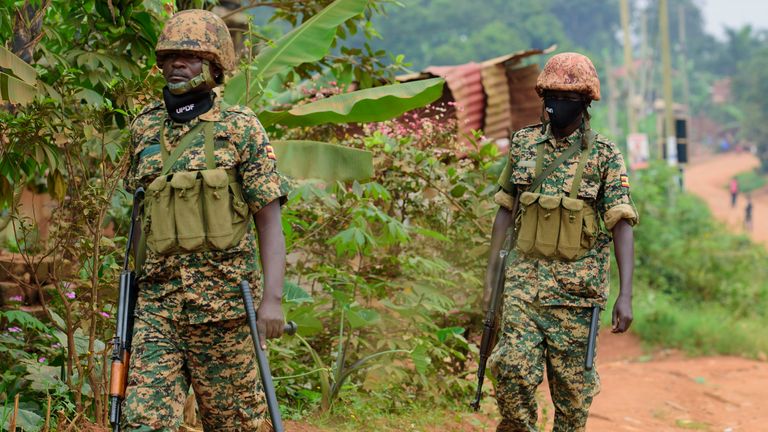 But the event proved to be nothing short of a shambles.
The NUP's spokesman, Joel Senyonyi, began by saying that Mr Wine was now, "effectively under house arrest, an illegal detention".
He criticised the election as an exercise in mass fraud, "with outcomes from the Election Commission that are as curious and amazing as anyone can imagine".
But when I asked him what they planned to do about it, the spokesman was unable to offer anything specific.
"What do you want people to do?" I asked.
"Our simple answer to that is we are urging Ugandans to use every means available in the constitution to keep pursuing the change of leadership that we want."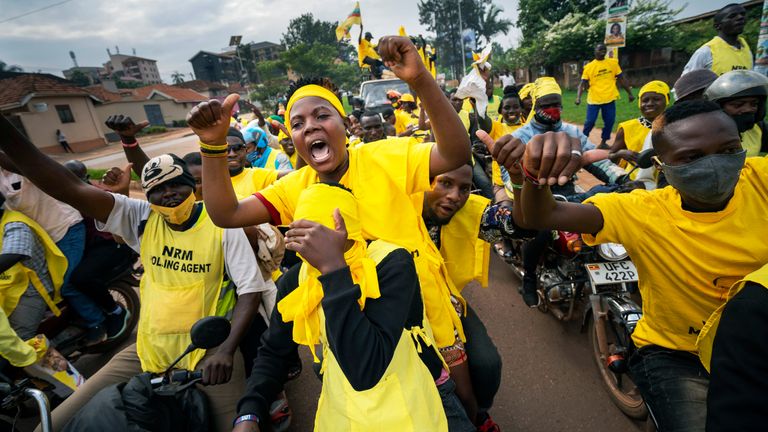 "What does that mean?" I asked.
"Use every constitutional avenue to achieve change. I think that is very clear. Now pardon us, our colleagues (have been raided)…"
The press conference ended abruptly, before any of the new MPs had been introduced, with Mr Senyonyi signalling that some sort of emergency situation had developed.
He left through the gate of the NUP's headquarters with several party officials and two-dozen members of the media, including Sky News, in tow.
We drove at not insignificant speed to a slum in the capital, then ran down a sewage-strewn track to a small clearing where a man, sitting in a plastic seat, relayed a story about an attack meted out by the security services.
His name was Andrew Natumanya and said he was a volunteer polling agent for the NUP party. He had been collecting declaration forms with results from individual polling stations in central and eastern Uganda when a group of plain clothes policemen had grabbed him, roughed him up and confiscated the documents.
I noticed that journalists and camera operators began to drift away as the young man outlined his experience. His allegations are disturbing and deserving of attention – but they are not unique.
Over the past few months, dozens of NUP party members and supporters have lodged allegations of harassment, beatings and arbitrary arrests as they attempt to challenge a system of government that does not tolerate organised dissent.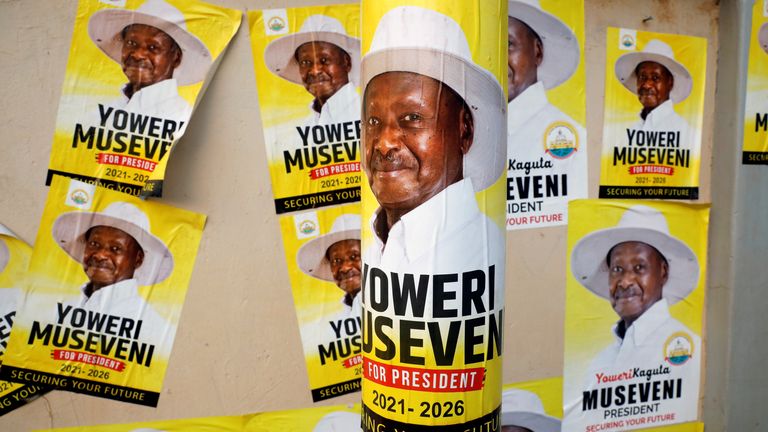 But the National Unity Platform had a crucial opportunity at the press conference to outline their plan, to come up with an approach which exploits and builds on the momentum they have manufactured over the past year.
Should young Ugandans take to the streets? Does the NUP support non-violent protest? How do concerned citizens challenge an election result that many believe is fraudulent?
Today, the people needed answers and the country's biggest opposition party, minus its leader, could not provide any.