Trump could be in line for Nobel Peace Prize if he fixes North Korea and Iran
Donald Trump would be in the running for the Nobel Peace Prize if he "fixes" North Korea and the Iran nuclear deal, Boris Johnson has told Sky News.
South Korea's President has reportedly suggested Mr Trump should win the honour for his efforts to unify Korea.
When asked if he agreed with such a view, the Foreign Secretary said: "If he can fix North Korea, and he can fix the Iran nuclear deal, then I don't see why he's any less of a candidate for the Nobel Peace Prize than Barack Obama, who got it before he even did anything."
Mr Obama was controversially awarded the prize in 2009, less than a year after entering office.
Mr Johnson was speaking during a trip to Washington DC, where he is trying to convince President Trump to renew the 2015 agreement with Tehran.
Mr Johnson warned Mr Trump that Iran will "go for a bomb" if the deal is scrapped.
:: Analysis: Pulling out of deal would be a dangerous moment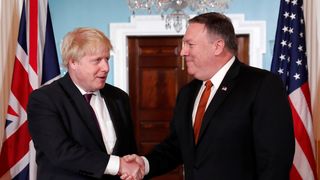 The Foreign Secretary said that deal is "working" at its core, and the US and its allies should work to "fix the rest".
Mr Trump has tweeted to say he will announce his decision on the Iran deal from the White House at 2pm (US time) on Tuesday.
He has previously described the deal as "insane" and issued an ultimatum in January to "either fix the deal's disastrous flaws, or the United States will withdraw".
The agreement eased sanctions on Tehran in exchange for commitments to abandon its nuclear weapons programme.
Mr Johnson said: "The president set the world a legitimate challenge in January, which is to try and address a lot of the bad stuff that Iran is doing in the region.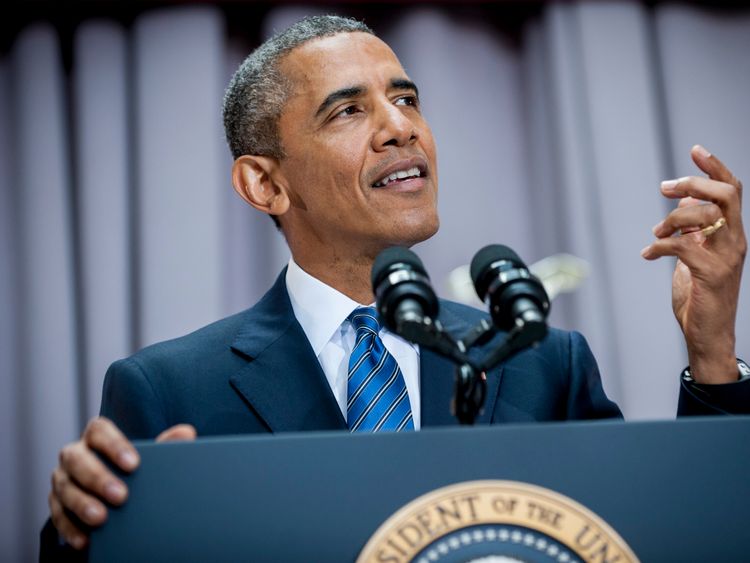 "To try to stop Iran getting missiles, intercontinental ballistic missiles.
"Stop them interfering in neighbouring countries, and also to fix the core problem of the deal, which is that it expires in 2025, and then there's no way of stopping that it expires in 2025, and then there's no way of stopping the Iranians going very rapidly to get a nuclear weapon."
Mr Johnson added that the US President has "a point" when it comes to what will happen when the agreement expires, but added there is currently "no plan B" if the deal is scrapped.
Touching on the agreement's uncertain future, he continued: "There could well be a collapse of the deal, and what happens then? The Iranians just go for a bomb. And how do we stop them? What's our plan B?
Mr Johnson continued: "We have a deal at the moment that is working. The IAEA has done 400 inspections. We've been able to reduce Iran's centrifuges by two-thirds, their enriched uranium by 95%.
"These things are working, so keep the core of it, fix the rest."
The Foreign Secretary was later asked if he felt that Mr Trump might be distracted by the Stormy Daniels affair.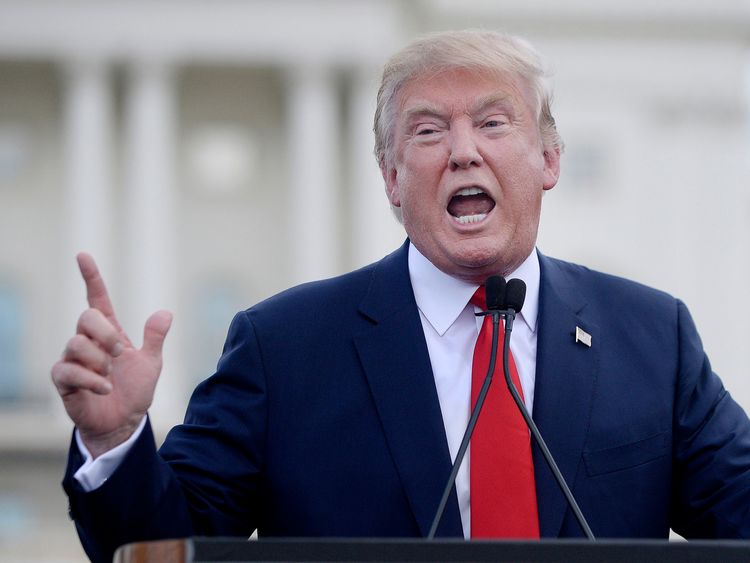 The President's former lawyer is said to have paid $130,000 to an adult actress not to share claims she had an affair with Mr Trump in 2006.
Mr Trump's new lawyer Rudy Giuliani has said it is possible the President's former attorney paid other women.
Turning to Brexit, Mr Johnson was asked if he would resign if he doesn't "get the deal on the customs union" that he wants in the negotiations.
He replied: "The Prime Minister has made it very clear as she said in her Mansion House speech – we're coming out of the customs union, we're coming out of the single market, we're taking back control of our laws."
Mr Johnson also appeared on Mr Trump's favourite show Fox & Friends, where he urged the President not to "throw the baby out with the bathwater" over the Iran deal.
He added that "plan B does not seem, to me, to be particularly well developed at this stage".
COVID-19: Israel bans all passenger flights in and out of country | World News
Israel is banning all passenger flights in and out of the country to tackle the coronavirus pandemic and prevent variants from getting a foothold among its population.
The announcement came as Israeli police clashed in a number of cities with ultra-Orthodox protesters who are resisting the coronavirus safety rules, Associated Press reported.
Authorities are struggling to enforce COVID-19 requirements, including social distancing, in ultra-Orthodox communities throughout the country, contributing to one of the world's highest rates of infection.
One-in-five Israelis now vaccinated

The infection rate among the community also threatens to undermine the Israeli government's successful vaccine campaign, which has seen the country vaccinate over a quarter of its 9.2 million people.
But infection rates remain high, with an average of over 8,000 new cases reported every day.
Late on Sunday evening, the Israeli Cabinet approved measures to close nearly all incoming and outgoing air traffic, with exceptions for humanitarian travel such as for a funeral or for medical patients.
The order still requires parliamentary legislation to be made lawful and will last until the end of January, according to Prime Minister Benjamin Netanyahu.
He said: "Today we are closing Ben-Gurion International Airport. Contrary to what is being said, we are ahead of the whole world. No country has done what we are about to do.
"We are hermetically closing the skies apart from very rare exceptions in order to prevent the entry of mutated viruses and in order to ensure that we will advance quickly with our vaccines operation.
"I would like to emphasise that just this week, in which we are approving closing the skies, we will vaccinate another approximately one million Israelis."
"We are thereby ensuring that the damage from the mutation, if it enters, and from additional variants, if they enter, will be much smaller, and of course, we will be able to open our economy," Mr Netanyahu said.
"Until now we have vaccinated approximately 2.5 million Israeli citizens with the first dose of the vaccine. Of these, around one million citizens have received the second dose," the prime minister concluded.
Experts say that a lack of compliance with safety regulations in Israel's ultra-Orthodox communities has been a major factor in the spread of the virus.
Despite making up just over 10% of the country's population, the Orthodox community accounts for more than a third of Israel's COVID-19 cases.
The country's police force have been reluctant to confront the community, reported Associated Press, with clashes in one city leading to an officer firing into the air to keep a crowd at bay.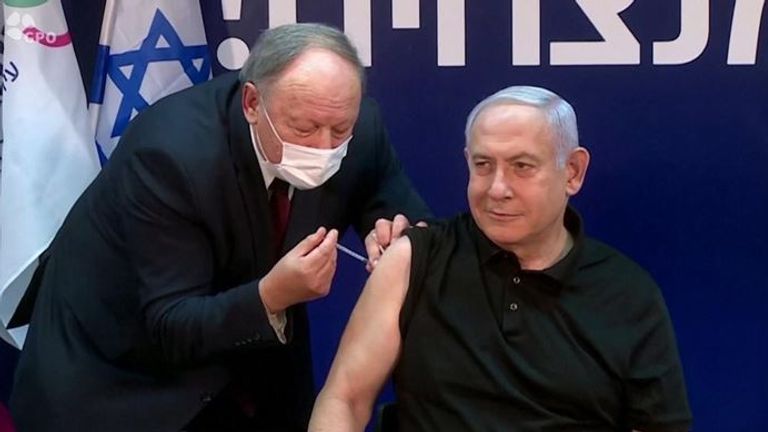 Israel has recorded over 595,000 positive cases since the start of the pandemic and over 4,361 deaths.
The worst unrest on Sunday occurred in the ultra-Orthodox city of Bnei Brak, where large crowds of young men clashed with police and threatened journalists, prompting one police officer to fire his pistol into the air.
Associated Press reported how in Jerusalem police fired tear gas and putrid-smelling water to disperse hundreds of ultra-Orthodox residents outside a reopened school while the demonstrators called the police "Nazis".
"I expect all citizens of Israel to respect the safety guidelines. That includes all the sectors, including the ultra-Orthodox," said Mr Netanyahu, who is relying on ultra-Orthodox support in the upcoming elections.
COVID-19: Joe Biden to reimpose travel ban on UK and European Union – reports | US News
US President Joe Biden is set to reimpose a number of travel bans that were repealed by his predecessor, according to the Reuters news agency.
Mr Biden is also set to put a travel ban in place to arrivals from South Africa, apparently over fears of the new coronavirus variant discovered in the country.
Donald Trump lifted travel restrictions between the US and Brazil and Europe two days before he left office – a decision Joe Biden will imminently rescind through an executive order.
Joe Biden makes sombre warning to Americans

Speaking to the Reuters news agency, anonymous sources said the new president will announce the move on Monday, that will stop entry into the US from European Union countries, the UK, Brazil and South Africa.
The move has been confirmed to the news agency by the principal director of the Centre for Disease Control (CDC), Dr Anne Schuchat, who said: "We are adding South Africa to the restricted list because of the concerning variant present that has already spread beyond South Africa."
She added the agency was "putting in place this suite of measures to protect Americans and also to reduce the risk of these variants spreading and worsening the current pandemic".
The CDC is concerned that vaccines may be less effective against the COVID-19 variant discovered in South Africa, adding it is up to 50% more infectious than other versions of the virus.
Mr Biden has been seen as taking swift action on COVID-19 in the early days of office, and has already signed executive orders imposing mandatory mask wearing and social distancing on government properties across the US.
Subscribe to the Daily podcast on Apple Podcasts, Google Podcasts, Spotify, Spreaker
The UK has also been mulling the idea of full border closures as part of the current lockdown, in an effort to limit the introduction of further variants into the country.
At the moment, flights arriving in to the UK from South America and Portugal are banned, with all other arrivals required to quarantine for 10 days.
Mexico: 19 burned bodies found near town of Camargo on US border | World News

Nineteen bodies have been found near a Mexican town on the US border which has seen a number of gang-related disputes in recent years.
The bodies, which had been shot and burned, were discovered on a dirt road close to the town of Camargo, across the Rio Grande from Texas, after complaints from locals about a burning vehicle, according to the Tamaulipas state prosecutor's office.
Officials found two vehicles on fire – one containing 15 bodies and the other containing four.
All the bodies had been shot, but no shells were found nearby, leading authorities to believe they had been killed elsewhere.
An official said that the killings had happened on Friday, but locals had been too afraid to report them.
Camargo has faced high numbers of drug and migrant smuggling incidents in recent years, with gangs trying to win control of large stretches of the border with the aim of making money on items passing through.
Historically, the town has been run by the Gulf cartel, but has faced competition in recent years from the Northeast cartel, which is trying to take over.
In January last year, 21 bodies were found in vehicles close to the nearby town of Ciudad Mier, with the Mexican army killing 11 alleged gunmen days later.