Rapper Meek Mill in 'Dateline' special says focus after freedom is #JusticeReform
In the nearly two weeks since Meek Mill was released on bail from a state prison in Pennsylvania, the rapper has found little time to himself: He was celebrated courtside at two Philadelphia 76ers games, held a news conference with the governor and state lawmakers, and continued filming an Amazon docuseries chronicling his ongoing journey through the criminal justice system.
How he got there — and the new path he's charting to reform the U.S. prison system and how it treats people of color — are the subject of NBC's "Dateline" special "Dreams and Nightmares: The Meek Mill Story," which airs at 7 p.m. ET/6 p.m. CT Sunday.
Mill, who also turned 31 on Sunday, sat down for an exclusive in-depth interview with NBC News' Lester Holt after his release from prison on April 24 following an order from the Pennsylvania Supreme Court.
"Have you slept since you got out of prison?" Holt asked Mill.
"No, I haven't slept one minute since I've been out of prison," the rapper replied. "It's actually, like, a culture shock, comin' from a small cell back into the real world."
Mill, who was born Robert Rihmeek Williams, was not quite a household name before his sentencing last November to two to four years in prison for a parole violation.
He garnered some success on the hip-hop charts, including with his 2012 debut studio album, "Dreams and Nightmares," and grabbed headlines for dating hip-hop star Nicki Minaj.
But even as his status climbed, he said, he lived in fear that one perceived misstep could send him back to prison after an initial conviction in 2008 on drug and firearms charges. His probation was extended several times, and he's now spent nearly a third of his life under the control of the court system.
"I had eight years of probation that turned to 16 years of probation," Mill said. "Something is not working."
Mill and his legal team plan to fight for his release next month when he goes back to court. Even Philadelphia prosecutors are siding with him, and said his initial charges should be vacated because of alleged corruption involving his arresting officer.
Supporters, including rap mogul Jay-Z, who is executive producing the docuseries, helped to make the hashtag #FreeMeekMill trend on social media in recent weeks. Now, Mill said, he wants a new call to arms — #JusticeReform — to take center stage.
"If I think about how much the world has changed as a result of the Me Too movement, I think Meek Mill will be to criminal justice reform, you know, in a lot of ways what's happened with the Me Too Movement," Michael Rubin, the businessman and co-owner of the Sixers and Mill's friend, told "Dateline."
"So I think he's gonna shine a giant light on this incredible problem that we have," Rubin said, "and I think he's gonna help to make it significantly better."
COVID-19: Rich 'riding out pandemic in luxury' as frontline workers struggle, says Oxfam | Business News

The divide between rich and poor is "proving as deadly" as coronavirus, the boss of Oxfam said, as research shows the world's richest people recouped their pandemic losses within just nine months.
The charity said it would take more than a decade for the world's poorest to recover from the economic impacts of the pandemic.
A survey of 295 economists from 79 countries, commissioned by Oxfam, reveals that 87% of respondents expect an "increase" or a "major increase" in income inequality in their country as a result of the pandemic.
Live COVID updates from UK and around the world
Oxfam's Inequality Virus report, released on the opening day of the World Economic Forum's Davos Agenda, said it showed how current economic systems have allowed the wealthiest "to amass wealth in the middle of the worst recession since the Great Depression while billions of people are struggling to make ends meet".
The charity also said its research demonstrated the manner in which the pandemic was deepening long-standing economic, racial and gender divides.
Oxfam's executive director Gabriela Bucher said: "Rigged economies are funnelling wealth to a rich elite who are riding out the pandemic in luxury, while those on the frontline of the pandemic – shop assistants, healthcare workers, and market vendors – are struggling to pay the bills and put food on the table.
"Women and marginalised racial and ethnic groups are bearing the brunt of this crisis. They are more likely to be pushed into poverty, more likely to go hungry, and more likely to be excluded from healthcare."
The six-day virtual Davos summit will feature Indian and Chinese leaders Narendra Modi and Xi Jinping.
Ugandan court orders military and police to leave Bobi Wine's property | World News

A Ugandan court has ordered the military and police to stop surrounding the home of opposition leader Bobi Wine, who says he has been held under house arrest since the country's presidential elections.
Mr Wine's lawyer George Musisi told the Reuters news agency: "The judge ordered that the state and its agencies
should immediately vacate his property and his right to personal liberty should immediately be reinstated."
Boris Johnson calls for action against 'devastating' climate change with new coalition | Politics News
Boris Johnson will call for countries to do more to tackle the "devastating" effects of climate change, as he launches a new partnership with five other countries and the United Nations.
The prime minister is due to announce the creation of the Adaptation Action Coalition formed with Egypt, Bangladesh, Malawi, the Netherlands and Saint Lucia.
It will work to turn international political commitments made through the UN into on-the-ground support for vulnerable communities.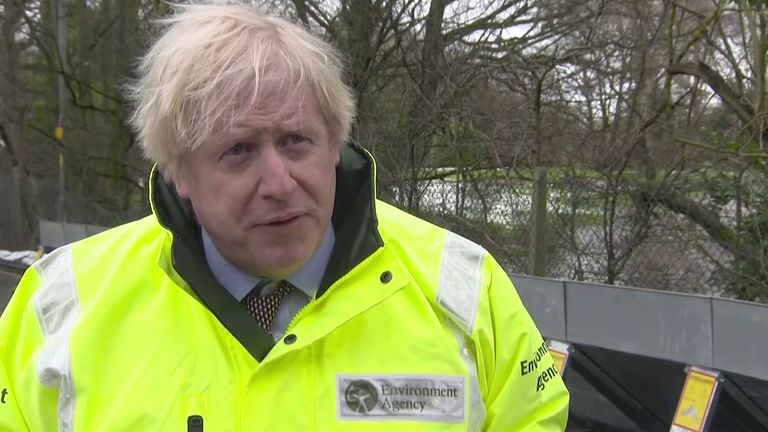 And the body will act as a forum for developed and developing countries to share suggestions on solutions to deal with climate change.
Mr Johnson is expected to say later today it is "undeniable" that climate change is "upon us" and "devastating lives and economies", urging global political leaders to act quickly.
"I'll be making the need for a resilient recovery a priority of the UK's G7 presidency this year," he will add.
"To make sure we get not just warm words but real change, I am today launching an all-new Adaptation Action Coalition to set the agenda ahead of COP26."
COP26 is the annual climate change forum attended by world leaders being held in Glasgow later this year, after it was postponed last year due to the coronavirus pandemic.
Alok Sharma, the former business secretary who is now in charge of organising COP26 from within government, said he wanted "all countries to come forward with ambitious adaptation plans".
And he said: "This important new coalition will crucially focus minds around the world to accelerate adaptation delivery in the areas most in need."
Subscribe to the Daily podcast on Apple Podcasts, Google Podcasts, Spotify, Spreaker
Despite the warm words, the government has come under some criticism recently for giving the go-ahead to a new coal mine opening in Cumbria.
Two teenagers and climate activists were on hunger strike for more than a week over the issue.
In his virtual party conference leader's speech last October, Mr Johnson talked up the future of wind power – and took a dig at himself for once writing it "wouldn't pull the skin off a rice pudding".