Michelle Knight still recovering five years after being freed from Ariel Castro
Knight was 21 when she was kidnapped in 2002, the first of Castro's victims. He raped her repeatedly, police said, impregnating her five times and beating her so badly she miscarried each time.
Now 37, Knight says she no longer has nightmares about Castro, who hanged himself in prison not long after his arrest. But she still lives at the edge of despair.
"I do have triggers," she said in an interview with NBC News. "Certain smells. Light fixtures with chain pulls."
Knight said the chain pulls remind her of the chains Castro used to bound her. She said Castro used to douse himself with Old Spice and Tommy Hilfiger colognes, so now she can't stand those scents.
But more than anything, she can't bear the smell of bacon grease.
"One of the meals he made for us was hot dogs, rice and eggs, all cooked in bacon grease and all served together in a bowl," she said. "I get a nauseous feeling when I smell that."
Knight, who still lives in the Cleveland area, married her husband, Miguel, in 2015 and released a second memoir this month, "Life After Darkness."
Now I have a chance to make my own destiny.
Now I have a chance to make my own destiny.
"I have found joy in my life," Knight, who has changed her name to Lily Rose Lee, recently told Megyn Kelly on NBC's "Today."
Joy is a feeling Knight couldn't imagine she would ever feel again after she was kidnapped.
Castro had told her that "happiness was not for me and that it would never happen to me," she said. "But now I have a chance to make my own destiny."
Knight is still in the process of wading into the wider world. She doesn't watch TV and avoids the news. Asked about the #MeToo movement, she said she wasn't familiar with it.
"I watch family movies like 'Dr. Doolittle,'" she said. "Sometimes my agent will tell me things about the outside world."
Knight's life was difficult even before Castro kidnapped her off the street. Several years before they crossed paths, Knight was gang-raped as a teenager and bore a child she named Joey who was later put up for adoption, her family has said.
Knight was joined in captivity by two other women Castro kidnapped, Amanda Berry and Gina DeJesus. As police searched for the missing women, Castro subjected them to mind games like marking the anniversaries of their abductions by serving them cake.
They were cut off from the world, but some news seeped in, Knight said. Among other things, she said she learned that Barack Obama was running for president from Castro, who was not happy about it.
"I said, 'Oh my God, that is so cool,'" Knight recalled. "But I had to say that in my head because he was not in favor. I kept my opinion to myself."
Knight said that while Castro refused to let her give birth, he made her help Berry deliver a daughter into an inflatable kiddie pool.
In a statement she gave to police, Knight said that the baby was not breathing at first and that Castro threatened to kill Berry if the baby died. So she performed CPR on the infant, who revived and was named Jocelyn. Castro is believed to be the now 11-year-old child's father.
It was Berry who led their escape from the shabby house on Seymour Avenue on May 6, 2013.
When Berry realized that Castro had forgotten to lock the front door, she opened it and started screaming for help through the screen door. Shocked neighbors responded and kicked a hole through which Berry and her daughter escaped and called 911.
Within hours, Knight and DeJesus were free and Castro was in handcuffs.
Donald Trump like a 'mob boss' but he shouldn't be prosecuted, says ex-FBI boss Comey | US News
Donald Trump needs the same level of affirmation as a toddler – but prosecuting him would only give him the attention he craves, says former FBI chief James Comey.
Mr Comey, who was controversially fired by the president in 2017, told Sky News launching a criminal case could lead to several more years of the "Donald Trump show".
He said it could overshadow efforts by Joe Biden to unite America and is "probably what [Trump] would want the most".
"I have never seen an adult with a greater hunger for affirmation than Donald Trump," he told Sky News.
"I've seen it in two-year-olds and three-year-olds. Affirmation is like air, he needs it constantly.
"I'd like to see some of the lights go out and he can stand on the front lawn at Mar-a-Lago and shout at cars in his bathroom and none of us will hear it."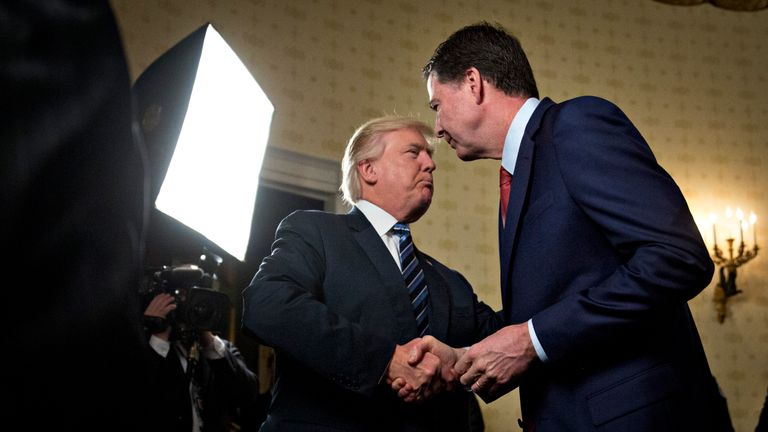 As president, Mr Trump is "constitutionally immune" from prosecution – but that ends in days, raising the possibility he could in future be charged if crimes were committed before or during his term.
Mr Comey agrees, though, with this week's historic second impeachment of the president.
"I don't think that anybody can disagree, there has to be the letter 'i' tattooed on him again, and ideally I'd like to see him convicted by the US Senate and barred from ever holding public office again," said Mr Comey.
The 60-year-old was fired by the president while the FBI was investigating Russian meddling in the 2016 presidential election – and is now a vociferous critic of Mr Trump.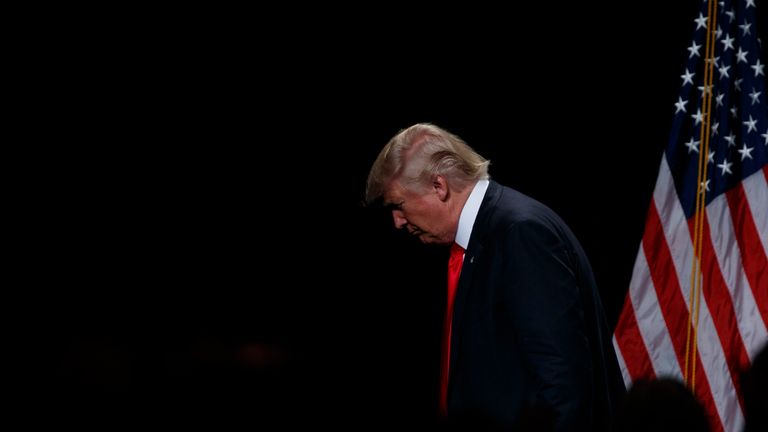 He said the outgoing president was "the dictionary definition of a demagogue", who "aimed not just to lie to people but really to destroy the notion that the truth exists".
"There's a menace to him in private that you don't pick up in public," added Mr Comey.
"But I have felt it sitting close to him, that constantly reminded me of a mob boss because I've known mob bosses and helped put them in jail.
"That menace coupled with that hunger for affirmation is a really dangerous recipe."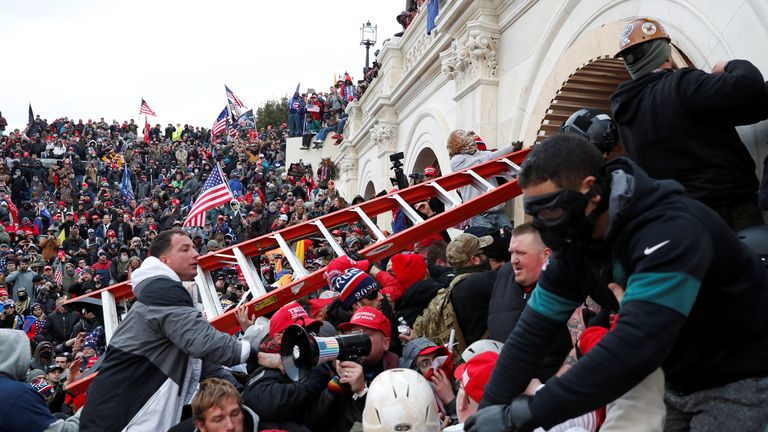 Mr Trump has just a few days left before Joe Biden's inauguration on Wednesday – but it has not stopped politicians voting to impeach him on charges of inciting the deadly riots at the US Capitol.
The storming of the building – the heart of US democracy – on 6 January caused widespread shocked America, with Trump supporters running amok and five people left dead.
Mr Comey told Sky News the danger remains and that he is worried about the potential threat from "armed, disturbed people" on inauguration day.
Many Trump supporters believe his unsubstantiated claims of fraud in November's election and the FBI has identified more than 200 people threatening violence in "concerning online chatter".
Mr Comey said the danger had "to be taken very, very seriously", and that people involved in the previous chaos must be dealt with "swiftly and severely".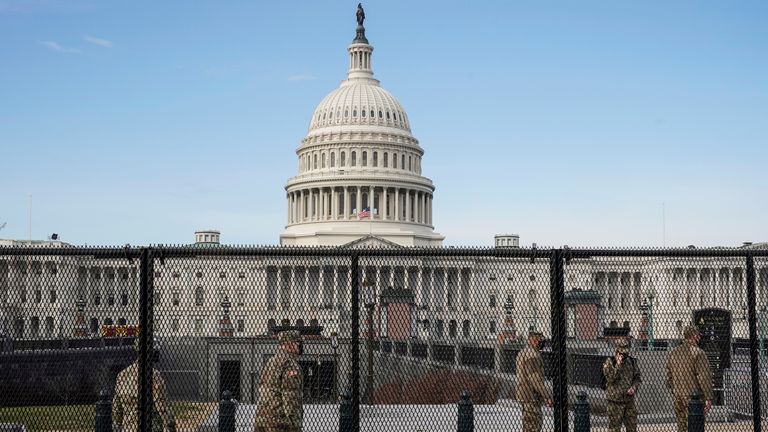 "I'm worried because there are armed, disturbed people who are in this state of mind where they believe their country is being taken from them," said Mr Comey.
"So it's a threat law enforcement in the States has to take very seriously.
"At the same time, I know that we have the capability, investigative and the tactical capability on scene, to protect these locations and so I am optimistic that the threat will be neutralised, but it has to be taken very, very seriously."
The National Guard has also been descending on Washington to guard government buildings ahead of inauguration, when officials say 21,000 will be on hand.
Police were hugely outnumbered by the Capitol rioters and have been criticised over how it easy it was for the mob to seize control.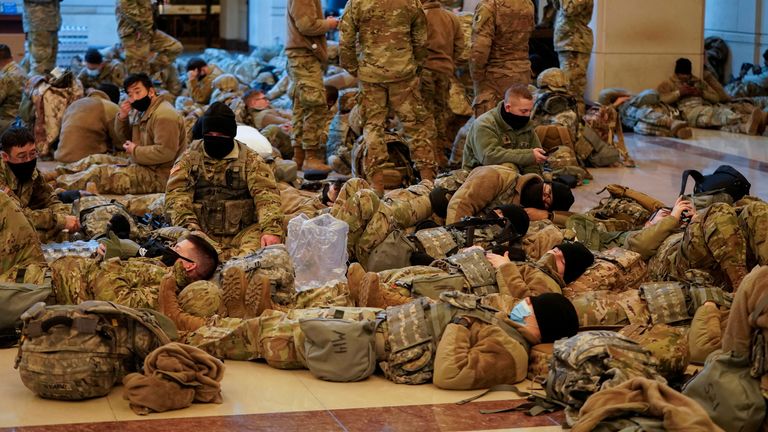 Mr Comey told Sky News he was "sickened" by the violence and angry at the failure to defend the building, despite the obvious threat.
"I was angered by the apparent failure to defend a hill, it [the Capitol] sits on a hill with 2,000 officers assigned to it on a daily basis, the failure to defend the hill. It just mystifies and angers me.
"It is going to be important for our country to understand that failure."
He added: "9/11 we were told was a failure of imagination, we didn't anticipate the way the terrorists might come at us; this didn't require imagination.
"This was all over the internet and the group literally walked slowly down Pennsylvania Avenue towards the Capitol so it was just a failure and we need to know why at all levels so that we don't let it happen again."
Mr Comey has just released a new book, Saving Justice: Truth, Transparency, and Trust, described as a "clarion call for a return to fairness and equity in the law".
COVID-19: US intelligence claims Wuhan lab researchers had coronavirus symptoms before first reported cases | World News
The US says it has intelligence that researchers in a Wuhan lab became sick with COVID-19-like symptoms in autumn 2019 – before the first identified case of the outbreak. 
A new statement from the US Department of State accuses the Chinese Communist Party (CCP) of "deadly obsession with secrecy and control" and claims the Wuhan Institute of Virology had been conducting experiments with a virus genetically similar to the new coronavirus.
The first cases of the outbreak were identified in the Chinese city of Wuhan and were initially thought to have originated from a wet market.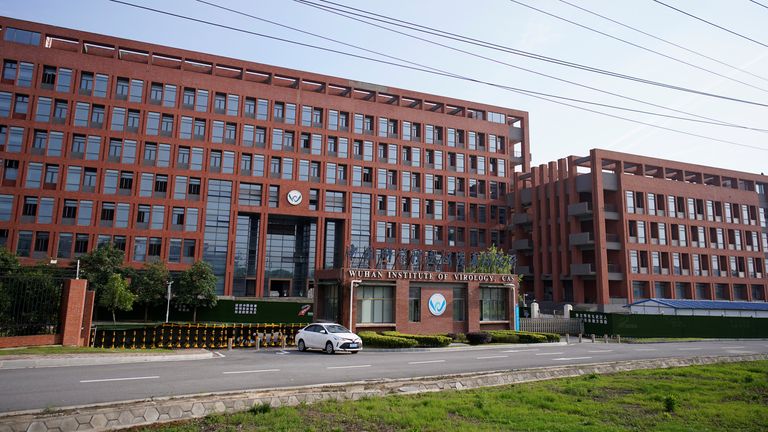 While most scientists believe the virus first transmitted naturally from animals to humans, others have raised the possibility it could have leaked accidentally from the secretive Wuhan lab.
The Trump administration has been particularly critical of China, especially since the new coronavirus outbreak.
According to the US government, researchers at the lab had been experimenting on RaTG13 – the bat coronavirus identified as the closest sample to SARS-CoV-2, the virus that causes COVID-19 – "under conditions that increased the risk for accidental and potentially unwitting exposure".
Several researchers then fell ill with symptoms "consistent with both COVID-19 and common seasonal illnesses", it claims.
However, officials admitted they did not know for sure where, when or how the virus initially transmitted to humans.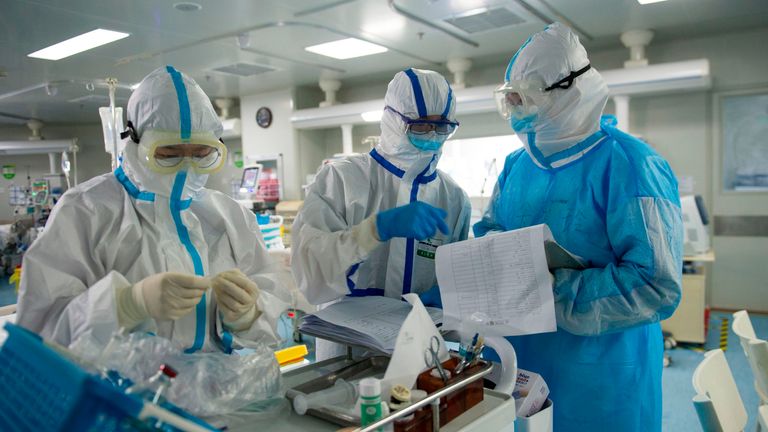 "We have not determined whether the outbreak began through contact with infected animals or was the result of an accident at a laboratory in Wuhan, China," the statement said.
"The virus could have emerged naturally from human contact with infected animals, spreading in a pattern consistent with a natural epidemic.
"Alternatively, a laboratory accident could resemble a natural outbreak if the initial exposure included only a few individuals and was compounded by asymptomatic infection."
Sky team stopped from investigating COVID origins

The lab has denied all claims of a leak, while China has also claimed in recent months the pandemic could have originated in another country.
The state has been accused of covering up the initial outbreak and delaying the release of crucial information which allowed the virus to spread.
It has also moved to silence some in China providing first-hand accounts of the outbreak, including doctors who shared information between each other about a new respiratory illness at the start of the epidemic.
Zhang Zhan, a citizen journalist who reported on the outbreak in Wuhan, was jailed in December for four years for "picking quarrels and provoking trouble".
A team from the World Health Organisation (WHO) has been sent to Wuhan to investigate the source of the pandemic, although there have been some concerns the trip will be heavily controlled by Chinese authorities.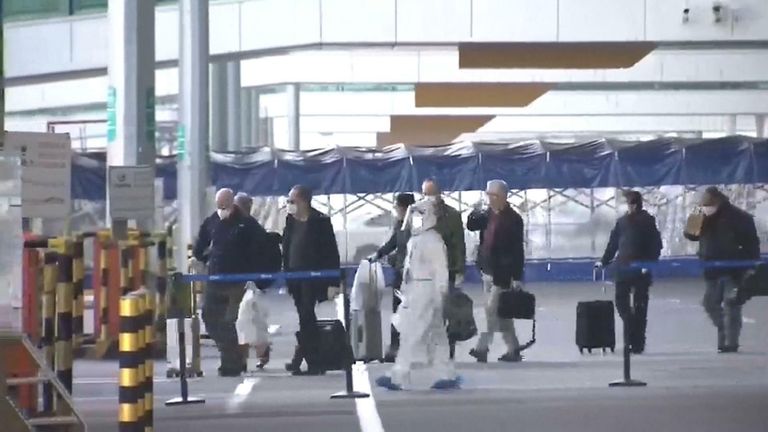 WHO spokesperson Tarik Jasarevic told Sky News the team will "look into different aspects of the early days of the pandemic".
Asked whether the team would investigate whether the virus was produced in a laboratory, he said: "We will follow wherever science leads us.
"The majority of scientists believe there is a natural origin of the virus, we know that bats are a natural reservoir of other coronaviruses, we really want to go and see and get the data."
NASA's 'megarocket' roars into life – but only briefly, putting launch in jeopardy | Science & Tech News

NASA's deep space exploration rocket has briefly ignited its four engines for the first time.
The test was a crucial step towards a debut unmanned launch later this year under NASA's Artemis programme, the Trump administration's mission to return US astronauts to the moon again by 2024.
The rocket, built by Boeing, roared into life for just one minute and 15 seconds at the test facility in Mississippi.
The engines generated 1.6 million pounds of thrust, consuming 700,000 gallons of propellants while on NASA's largest test stand, which is 35 storeys tall.
It was well short of the roughly four minutes that were needed to keep its development on track for it first launch in November.
NASA said: "All four RS-25 engines ignited successfully, but the test was stopped early after about a minute.
"At this point, the test was fully automated.
"During the firing, the onboard software acted appropriately and initiated a safe shutdown of the engines.
"During the test, the propellant tanks were pressurised, and this data will be valuable as the team plans the path forward.
"In coming days, engineers will continue to analyse data and will inspect the core stage and its four RS-25 engines to determine the next steps."
Despite the test being cut short, NASA administrator Jim Bridenstine was still positive, saying: "Saturday's test was an important step forward to ensure that the core stage of the SLS rocket is ready for the Artemis I mission, and to carry crew on future missions.
"Although the engines did not fire for the full duration, the team successfully worked through the countdown, ignited the engines, and gained valuable data to inform our path forward."
"We got lots of data that we're going to be able to sort through," he added, talking about whether the November launch is still possible.
If it is not possible, it could push the debut into 2022.