Iran warns US will suffer 'historic remorse' if it abandons nuclear deal
Iran has warned the US it will suffer "historic remorse" if it pulls out of a nuclear agreement with Tehran.
Donald Trump has threatened to abandon the agreement when it comes up for renewal on 12 May and has demanded European allies "fix the flaws" or he will bring back sanctions against Iran.
But in a speech broadcast live on state television, Iranian President Hassan Rouhani warned Washington and world powers would regret such a move "like never before".
He added: "We have plans to resist any decision by Trump on the nuclear accord.
"Orders have been issued to our atomic energy organisation and to the economic sector to confront America's plots against our country.
"America is making a mistake if it leaves the nuclear accord."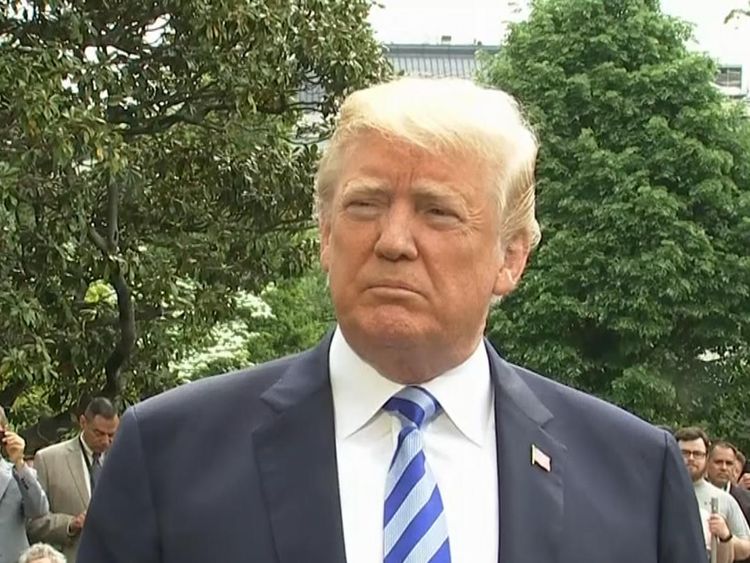 The UK, France and Germany remain committed to the nuclear accord but, in an effort to keep Washington in it, want to open talks on Iran's ballistic missile programme, its role in Middle East crises such as Syria and Yemen, and its nuclear activities beyond 2025 – the year when key provisions of the deal expire.
The deal involved lifting sanctions against Iran in return for a commitment not to pursue a nuclear bomb.
Iran says it is not reaping the rewards despite complying with the deal.
The Islamic republic has always denied it sought to build a nuclear weapon, insisting its atomic programme was for civilian purposes.
Mr Rouhani said; "We will not negotiate with anyone about our weapons and defences, and we will make and store as many weapons, facilities and missiles as we need."
Foreign Secretary Boris Johnson is heading to Washington for a two-day visit to persuade the US president not to scrap the deal.
Mr Johnson will meet Vice President Mike Pence, national security adviser John Bolton and congressional foreign policy leaders.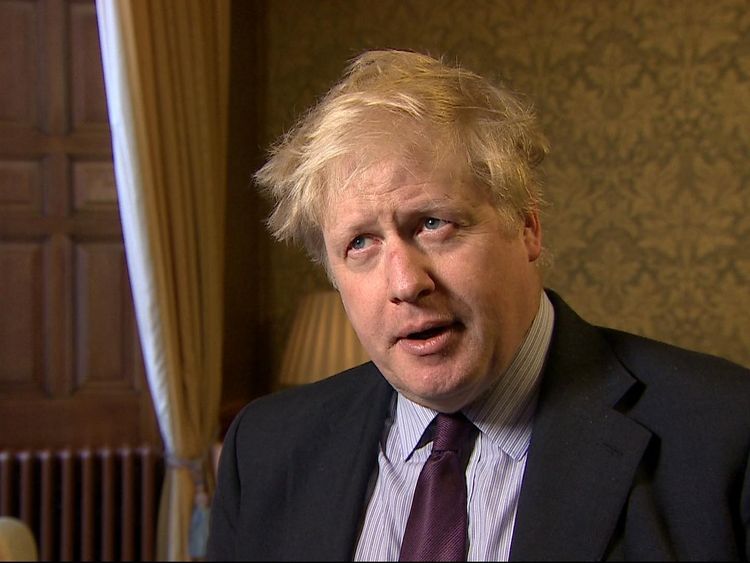 Mr Johnson has said the nuclear deal should remain intact because it allows "intrusive inspections".
Explaining his support for the agreement, Mr Johnson said it was "not based on trust about Iran's intentions; rather it is based on tough verification, including measures that allow inspectors from the IAEA (International Atomic Energy Agency) unprecedented access to Iran's nuclear programme."
Mr Johnson added: "The fact that Iran conducted sensitive research in secret until 2003 shows why we need the intrusive inspections allowed by the Iran nuclear deal today.
"The verification provisions in the Iran nuclear deal would make it harder for Iran to restart any such research.
"That is another good reason for keeping the deal while building on it in order to take account of the legitimate concerns of the US and our other allies."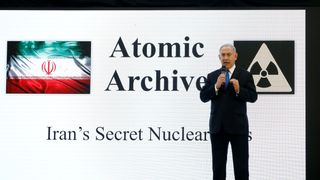 His comments came after Israel accused Tehran of covering up its weapons programme before signing the deal.
Tensions between Israel and Iran were ratcheted up on Sunday when Israeli Prime Minister Benjamin Netanyahu accused Iran of supplying advanced weapons to Syria that threaten Israel – and said it is better to confront Tehran sooner rather than later.
Mr Netanyahu told a cabinet meeting on Sunday: "We are determined to block Iran's aggression against us even if this means a struggle. Better now than later.
"We do not want escalation but we are ready for any scenario."
Israel has repeatedly warned it will not tolerate a permanent Iranian military presence in neighbouring Syria.
Iran is a key ally of Syrian President Bashar Assad, and has provided vital military aid to his forces.
COVID-19: Israel bans all passenger flights in and out of country | World News
Israel is banning all passenger flights in and out of the country to tackle the coronavirus pandemic and prevent variants from getting a foothold among its population.
The announcement came as Israeli police clashed in a number of cities with ultra-Orthodox protesters who are resisting the coronavirus safety rules, Associated Press reported.
Authorities are struggling to enforce COVID-19 requirements, including social distancing, in ultra-Orthodox communities throughout the country, contributing to one of the world's highest rates of infection.
One-in-five Israelis now vaccinated

The infection rate among the community also threatens to undermine the Israeli government's successful vaccine campaign, which has seen the country vaccinate over a quarter of its 9.2 million people.
But infection rates remain high, with an average of over 8,000 new cases reported every day.
Late on Sunday evening, the Israeli Cabinet approved measures to close nearly all incoming and outgoing air traffic, with exceptions for humanitarian travel such as for a funeral or for medical patients.
The order still requires parliamentary legislation to be made lawful and will last until the end of January, according to Prime Minister Benjamin Netanyahu.
He said: "Today we are closing Ben-Gurion International Airport. Contrary to what is being said, we are ahead of the whole world. No country has done what we are about to do.
"We are hermetically closing the skies apart from very rare exceptions in order to prevent the entry of mutated viruses and in order to ensure that we will advance quickly with our vaccines operation.
"I would like to emphasise that just this week, in which we are approving closing the skies, we will vaccinate another approximately one million Israelis."
"We are thereby ensuring that the damage from the mutation, if it enters, and from additional variants, if they enter, will be much smaller, and of course, we will be able to open our economy," Mr Netanyahu said.
"Until now we have vaccinated approximately 2.5 million Israeli citizens with the first dose of the vaccine. Of these, around one million citizens have received the second dose," the prime minister concluded.
Experts say that a lack of compliance with safety regulations in Israel's ultra-Orthodox communities has been a major factor in the spread of the virus.
Despite making up just over 10% of the country's population, the Orthodox community accounts for more than a third of Israel's COVID-19 cases.
The country's police force have been reluctant to confront the community, reported Associated Press, with clashes in one city leading to an officer firing into the air to keep a crowd at bay.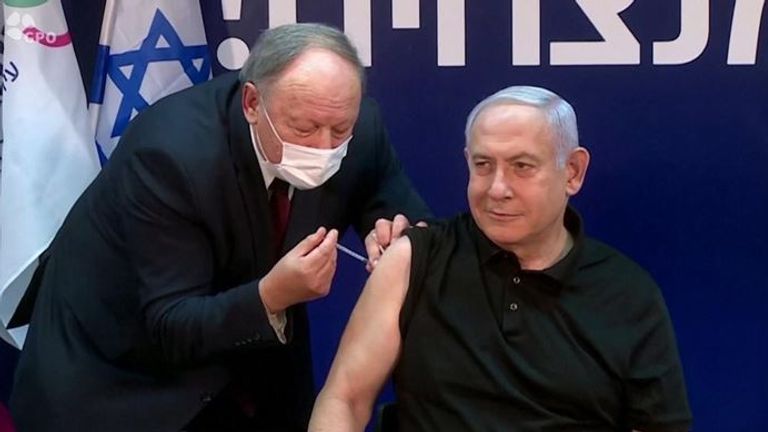 Israel has recorded over 595,000 positive cases since the start of the pandemic and over 4,361 deaths.
The worst unrest on Sunday occurred in the ultra-Orthodox city of Bnei Brak, where large crowds of young men clashed with police and threatened journalists, prompting one police officer to fire his pistol into the air.
Associated Press reported how in Jerusalem police fired tear gas and putrid-smelling water to disperse hundreds of ultra-Orthodox residents outside a reopened school while the demonstrators called the police "Nazis".
"I expect all citizens of Israel to respect the safety guidelines. That includes all the sectors, including the ultra-Orthodox," said Mr Netanyahu, who is relying on ultra-Orthodox support in the upcoming elections.
COVID-19: Joe Biden to reimpose travel ban on UK and European Union – reports | US News
US President Joe Biden is set to reimpose a number of travel bans that were repealed by his predecessor, according to the Reuters news agency.
Mr Biden is also set to put a travel ban in place to arrivals from South Africa, apparently over fears of the new coronavirus variant discovered in the country.
Donald Trump lifted travel restrictions between the US and Brazil and Europe two days before he left office – a decision Joe Biden will imminently rescind through an executive order.
Joe Biden makes sombre warning to Americans

Speaking to the Reuters news agency, anonymous sources said the new president will announce the move on Monday, that will stop entry into the US from European Union countries, the UK, Brazil and South Africa.
The move has been confirmed to the news agency by the principal director of the Centre for Disease Control (CDC), Dr Anne Schuchat, who said: "We are adding South Africa to the restricted list because of the concerning variant present that has already spread beyond South Africa."
She added the agency was "putting in place this suite of measures to protect Americans and also to reduce the risk of these variants spreading and worsening the current pandemic".
The CDC is concerned that vaccines may be less effective against the COVID-19 variant discovered in South Africa, adding it is up to 50% more infectious than other versions of the virus.
Mr Biden has been seen as taking swift action on COVID-19 in the early days of office, and has already signed executive orders imposing mandatory mask wearing and social distancing on government properties across the US.
Subscribe to the Daily podcast on Apple Podcasts, Google Podcasts, Spotify, Spreaker
The UK has also been mulling the idea of full border closures as part of the current lockdown, in an effort to limit the introduction of further variants into the country.
At the moment, flights arriving in to the UK from South America and Portugal are banned, with all other arrivals required to quarantine for 10 days.
Mexico: 19 burned bodies found near town of Camargo on US border | World News

Nineteen bodies have been found near a Mexican town on the US border which has seen a number of gang-related disputes in recent years.
The bodies, which had been shot and burned, were discovered on a dirt road close to the town of Camargo, across the Rio Grande from Texas, after complaints from locals about a burning vehicle, according to the Tamaulipas state prosecutor's office.
Officials found two vehicles on fire – one containing 15 bodies and the other containing four.
All the bodies had been shot, but no shells were found nearby, leading authorities to believe they had been killed elsewhere.
An official said that the killings had happened on Friday, but locals had been too afraid to report them.
Camargo has faced high numbers of drug and migrant smuggling incidents in recent years, with gangs trying to win control of large stretches of the border with the aim of making money on items passing through.
Historically, the town has been run by the Gulf cartel, but has faced competition in recent years from the Northeast cartel, which is trying to take over.
In January last year, 21 bodies were found in vehicles close to the nearby town of Ciudad Mier, with the Mexican army killing 11 alleged gunmen days later.