Children sick as Russia's landfill crisis turns toxic
No one likes a landfill in their backyard, especially not when it makes their children sick.
That's what happened in the town of Volokolamsk, three days after Russia's general election.
As the world's diplomats worried about a poisoning in Salisbury, the residents of Volokolamsk worried about a mass poisoning of their sons and daughters.
More than 60 children were treated at a local clinic for headaches, nausea and breathing difficulties.
Locals blamed a particularly toxic emission from the nearby Yadrovo dump, one of 15 across the Moscow region filled well beyond capacity with waste from the capital.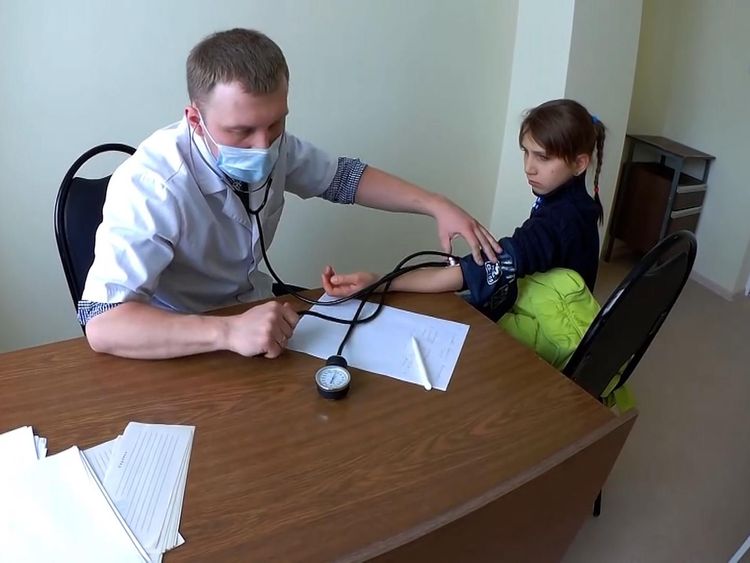 At the end of March, district officials declared a state of emergency because of excessive levels of hydrogen sulphide in the air.
Two months later and the people of Volokolamsk are still protesting – back in their central square as Alexei Navalny rallied his supporters for a day of anti-Putin protests across Russia.
Never mind wider freedoms, all they want is to be able to wake up in the morning without worrying which way the wind blows or whether their child should take a gas mask to school.
It's not just Volokolamsk. There are ongoing protests in nine other towns across the Moscow region, burdened with the detritus their consumerist cousins in the capital throw away.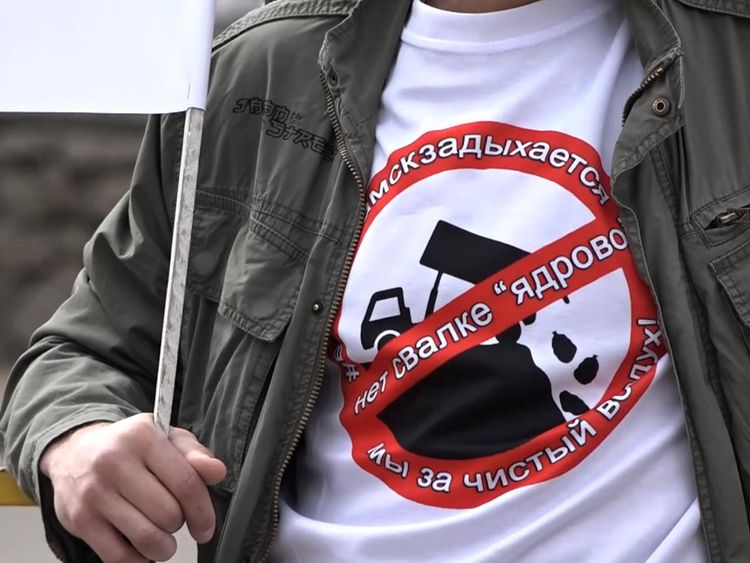 In Volokolamsk, residents have managed to reduce the number of garbage deliveries to 80 a day, with volunteers taking it in turns to monitor them.
In Kolomna on the other side of Moscow, locals work in shifts through the night to check they don't get more than their fair share. Sometimes it ends in clashes with lorry drivers or police.
Protests there have been banned so the best Kolomna residents can do now is single-man pickets.
It doesn't have to be this way. Moscow produces eight million tons of waste a year, one fifth of all the garbage in Russia – with 90% of that dumped in landfills.
The ministry of ecology admits that of the 15 landfills across the Moscow region, 13 do not meet the required standards.
Last year, Vladimir Putin ordered the Kuchino landfill to close after residents there begged him to during his annual direct phone in. But that's just aggravated the problem – Moscow's garbage has to go somewhere.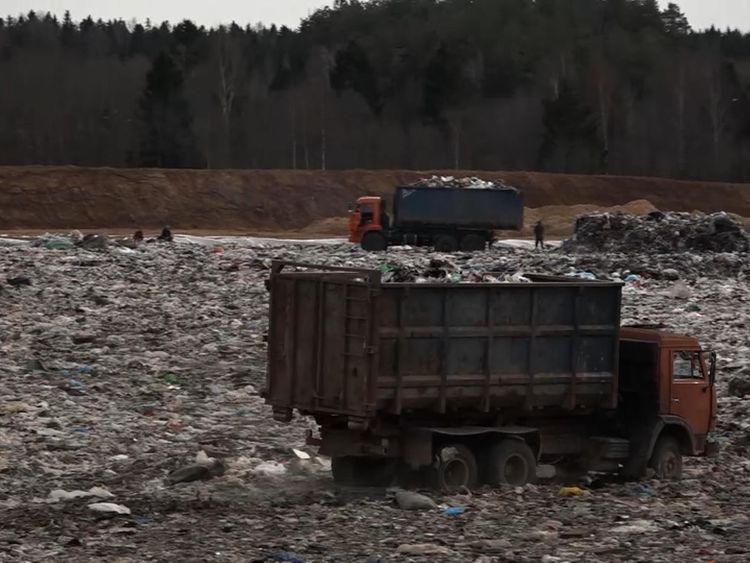 It is food waste which causes the buildup of gases. Look at the Yadrovo dump and you can see the heat it generates, shimmering above the litter.
Sergei Orlov, who volunteers at the Yadrovo gates, says you can tell when there's a particularly strong emission because there'll be a puff of black smoke rising from the dump. Three to five minutes later, the smell hits you.
According to Alexei Kiselev, head of the Greenpeace Russia toxic program, Moscow has the biogas facilities to process food waste as well as 432 recycling plants which could handle the rest.
He thinks Moscow could easily sort its trash and recycle if there was the political will to do so. But there isn't.
It is far cheaper to dump or burn waste than it is to separate and recycle it. Existing contracts with garbage suppliers are structured with that in mind and there's no desire from the powers that be it seems to change that.
Last November, the Kremlin said it was taking the matter in hand. Instructions had been dealt to the regions to set up better waste management schemes and to motivate the population to separate their garbage.
But there are precious few facilities even in the capital that would encourage people to do that and so far the situation's only worsened around Moscow's dumps.
Until the government's environmental policy becomes anything more than reactive, that's what this will remain – a toxic problem right on Moscow's doorstep.
'Unacceptable' vaccine delays cause frustration across European Union | World News
European countries are growing increasingly frustrated with delays in the delivery of COVID-19 vaccinations.
Pharmaceutical company AstraZeneca told European Union officials that production problems will result in a 60% cut in deliveries of its Oxford vaccine to the bloc during the first quarter of this year.
This means EU member states will receive only 31 million doses during that period.
The Republic of Ireland said it may have to slow its vaccine rollout as a result of the shortage.
Micheal Martin, the Irish prime minister, told Irish broadcaster RTE that the delays would "put us in a problem".
He added: "AstraZeneca was going to be the catalyst to be allowed to move from low level to mass vaccination."
The AstraZeneca vaccine is yet to be approved by the European Medicines Agency, although it is expected to get regulatory approval next week.
European countries were already facing delays in shipments of the Pfizer vaccine while the pharmaceutical firm increases manufacturing capacity.
'No other nation has adopted' 12-week approach

Also on Saturday, Italian prime minster Giuseppe Conte called the delays to the delivery of the Pfizer vaccine "unacceptable".
Mr Conte wrote on Facebook that the delays "constitute serious contractual violations, which cause enormous damage to Italy and other European countries, with direct repercussions on the life and health of citizens".
He also vowed to launch legal action against the pharmaceutical giant to ensure contractual commitments are met.
COVID-19: Lebanon's health service close to collapse with case numbers beyond 'wildest predictions' | World News
The head of Lebanon's main coronavirus hospital has said the country's health system is close to collapse – with not enough beds, drugs, oxygen, ventilators or staff.
In a stark interview with Sky News, Dr Firas Abiad said the government decision to relax coronavirus restrictions over a few fateful days at Christmas and New Year has led to a huge increase in cases and deaths over the past few weeks.
He allowed our cameras into the casualty department and the intensive care unit of the Rafic Hariri University Hospital in Beirut to see the pressure he and his staff are under.
Dr Abiad said all hospitals were reporting full, or almost full, intensive care units – and many have patients stuck in emergency wards, waiting for a bed.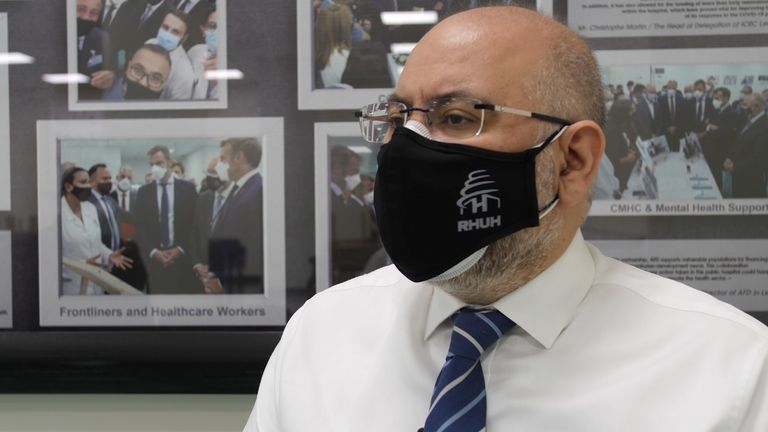 "Some patients are not able to find a bed and there's been several cases where patients have died in their homes," he said.
"If you look at the sharp rise in cases you see that Lebanon is really seeing unprecedented COVID numbers which is even beyond our wildest predictions.
"The number of daily new cases has almost quadrupled since where we were almost a month ago," said Dr Abiad.
"At the same time we've seen that the number of deaths has also tripled and the number of patients in ICU has gone up by almost 100%."
On 17 December, four days before a nationwide lockdown was due to end, the government decided to ease a series of restrictions for the holiday period.
Under intense pressure from businesses, they allowed nightclubs, bars and restaurants to open at 50% capacity while urging people to wear masks and maintain social distancing.
But videos on social media over Christmas and New Year showed packed clubs and bars. No attempts were made to crackdown on the violations.
"It's clear that those were catastrophic [decisions] and what has happened is they've thrown the whole healthcare system of the country into a major abyss," said Dr Abiad.
In the casualty department, the pressures are obvious. There is a shortage of beds, drugs, oxygen, ventilators and staff.
It is a relatively modern hospital but it looks sparse, except for the number of patients.
A nurse strokes a patient's head.
"I am passing out… I am passing out," he tells the nurse.
"No, no! You're doing very well. Don't be scared. Your oxygen is good. 99%. Honestly it's very good," she reassures him.
In the next bed is 53-year-old Aida Derawi. She first began to feel unwell 15 days ago. Her family had hoped she would recover at home, but this week things got worse.
"Yesterday I felt I couldn't take it anymore," she says. "My back and lungs were aching. My kids took me around to find a hospital but not a single one would accept me."
Eventually space was found and she is improving slowly.
Nurse Hussein al Khazn tells us that in this wave of the virus, the patients are no longer predominately elderly.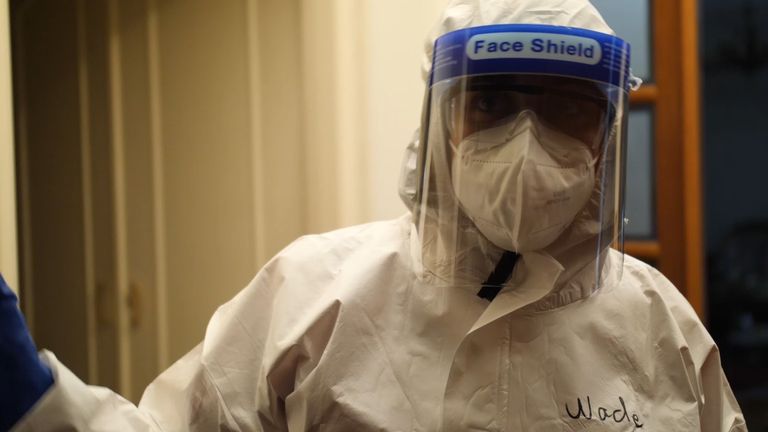 "Much younger now," he says. "Before we had 50, 60-year-old patients.
"Now it's 20, 25, 30-year-old patients and they're very, very critical – all of them."
On the other side of the city, we're given access to the Lebanese Red Cross coordination centre.
In a well-organised control room, a team of volunteers is juggling telephone calls from patients' families with radio calls to the ambulance teams on the ground.
"So, she's ill with coronavirus?" a volunteer asks down the line. "So she's got shortness of breath?"
A radio message is sent to one of the dispatch teams.
"We're dispatched to a patient that tested positive for COVID and she's currently suffering from desaturation and vomiting," volunteer medic Waad Abdulaal says from the passenger seat of the ambulance.
"So we're going to go ahead, assess her and see if there's a need to take her to the hospital."
Lebanon was already in a critical state economically.
Years of accumulative economic mismanagement has led to a slow collapse in every sector of society.
That was then exacerbated by the pandemic and the devastating port explosion last year.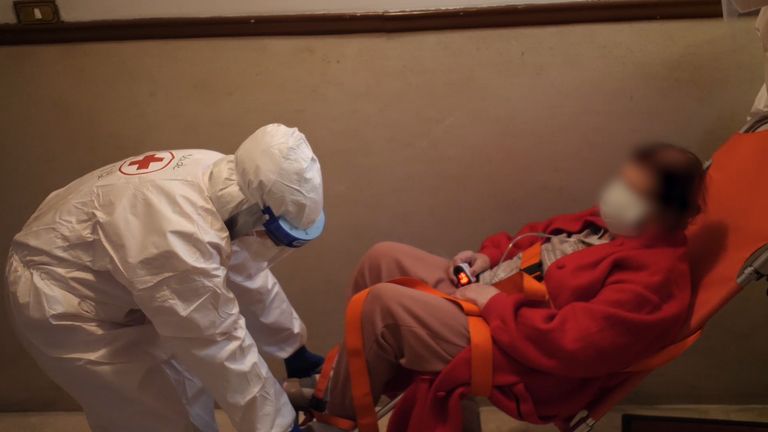 Up several flights of a stairwell, in darkness because of yet another power cut, the Red Cross team reaches its patient.
Madame Imad is 80 years old. She tested positive last week and her diabetes is complicating her condition. She needs to go to hospital, but there is an issue finding a bed for her.
The positivity rate across the country this past week has been at 21% (the 14-day rolling average).
That means the community spread of the virus is out of control. It needs to be at 5% before there is any chance of regaining a grip of the crisis.
Calls are made and they think space has been found at a hospital nearby.
Madame Imad is carried down the stairs as her daughter Sophie looks straight into our camera and pleads: "Show them that there are people dying before they reach the hospital."
The elderly woman did make it to the hospital. But she was sent home again. There were no beds. Her family has told us her condition this weekend has worsened.
Alexei Navalny supporters clash with police and 'hundreds arrested' as mass protests expected across Russia | World News
Hundreds of people have reportedly been detained as a series of demonstrations in support of jailed Putin critic Alexei Navalny begins across Russia.
The gatherings, which police have declared illegal, are the first by Mr Navalny's supporters since he was arrested last weekend on his return to Moscow, after spending five months in Germany recovering from novichok poisoning.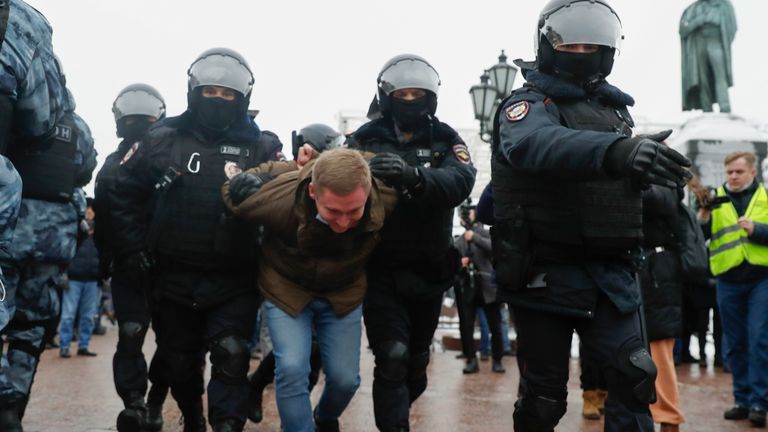 More than 200 people have been detained in central and eastern Russia because of the protests, according to monitoring group OVD-INFO, with more than 100 held in Moscow, according to a Reuters witness, the location for one of up to 70 marches this weekend.
There have been scuffles in the southeastern city of Khabarovsk, and videos also show people being taken away from a protest in Yakutsk, where people have been gathering in -50C temperatures, and one person lying on the ground, apparently injured, in Novosibirsk.
Other footage shows people being hit with batons in Orenburg and riot shields and tears gas being used in some cities.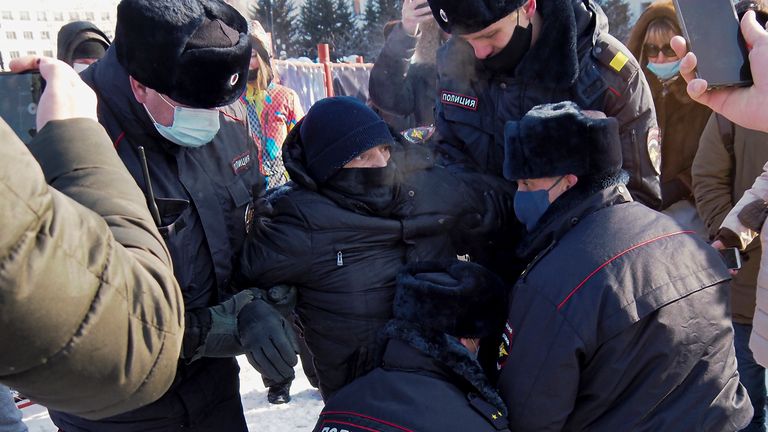 Hundreds, possibly thousands, appear to have been taking part in rallies and marches in Yekaterinburg and Irkutsk.
There have also been reports that mobile phone and internet services in Russia have suffered outages as police
crack down on anti-Kremlin protesters.
Authorities sometimes interfere with communication networks to make it harder for protesters to get in touch with each other and the wider world online.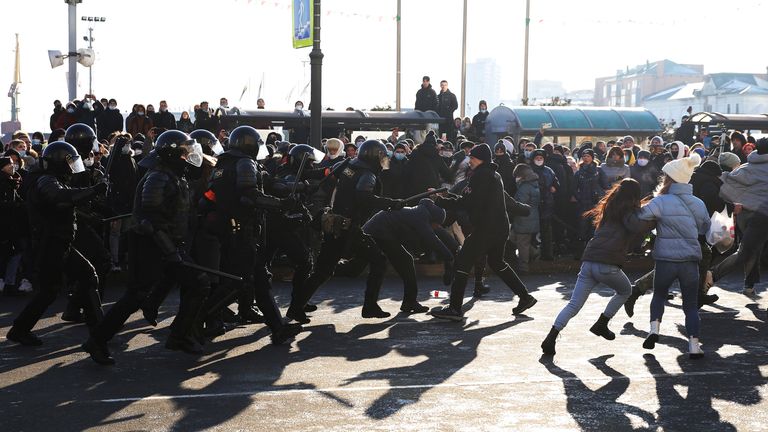 Six journalists have been held in St Petersburg, according to Avtozaklive.
Mr Navalny, 44, who is one of President Vladimir Putin's most outspoken critics, blames Moscow for the attack that nearly killed him, although the Kremlin denies any involvement.
He is charged with breaking his bail conditions – and is facing a potential three-and-a half-year jail term if found guilty.
Navalny supporters clash with Russian police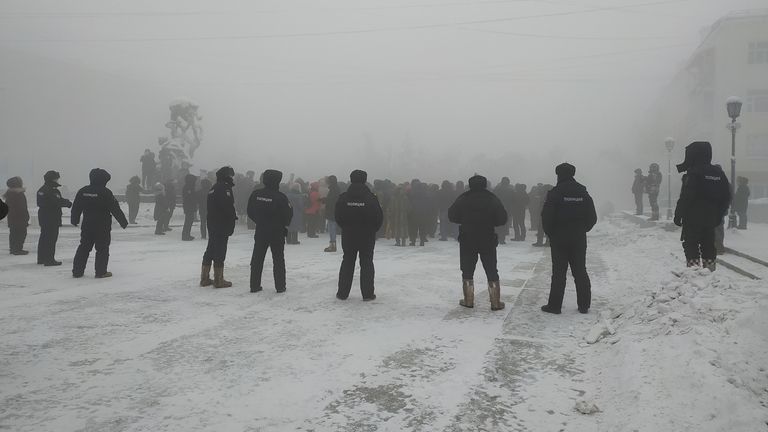 Anyone who takes part faces charges of rioting, fines, problems at work, prison and even threats over child custody as the Russian state tries to crack down on the demonstrations, which could be the largest against Mr Putin since 2018.
Officials also enforced a crackdown in the run-up to the demonstrations, arresting members of Mr Navalny's team, including his spokeswoman Kira Yarmysh.
If turnout in the Far East is anything to go by, #Navalny protests today across Russia will be huge. Expect police to crack down hard in Moscow & St P especially; arrests backed up by criminal prosecution

— Diana Magnay (@DiMagnaySky) January 23, 2021
They launched an investigation after young Navalny supporters flooded TikTok with anti-Putin videos, pushing for people to support the action this weekend and using the using the hashtags #freenavalny and #23Jan.
The content has been viewed more than 300 million times.
TikTok videos in support of Navalny

Anger mounted against Mr Putin this week after Mr Navalny's team released a documentary exposing a vast and opulent palace built by Russia's leader on the Black Sea coast.
The programme claims the complex – 39 times larger than Monaco – cost £1bn to build and was funded through illicit money.
It is said to have a casino, an underground ice hockey complex and a vineyard.
More than 60 million people have now viewed the Russian-language video on YouTube within three days of it being published.
Navalny calls for protests over his arrest

On Friday, ahead of the weekend of planned protests, Mr Navalny issued a statement saying he wanted it known that he had no plans to take his own life in prison.
The arrest of Mr Navalny has attracted widespread criticism from Western leaders, sparking new tensions in the already strained relationship with the US.
Despite the plans for the protests, Mr Putin's grip on power appears solid, with the 68-year-old regularly recording approval ratings of more than 60%, many times higher than those of Mr Navalny.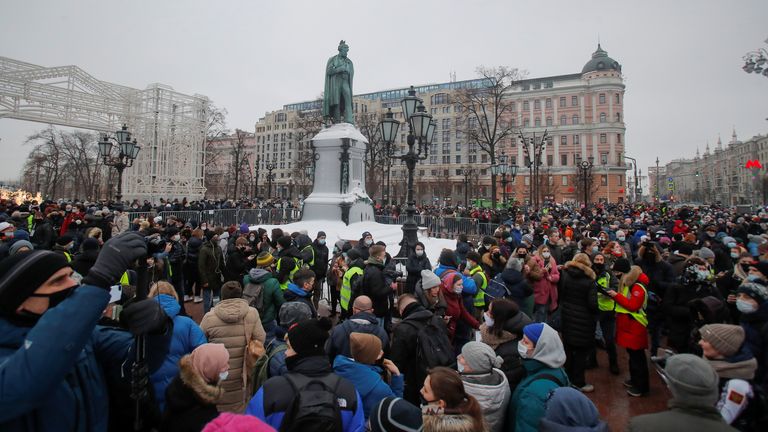 'Our kids are being brainwashed'
Eyewitness by Diana Magnay, Moscow correspondent
The rally is not due to start until 2pm, but already here in Moscow, the police are making arrests and there are several hundred people around waiting.
It reminds me very much of the protests in the summer of 2019. There are huge numbers of press following each arrest. I haven't seen any beatings yet, but the arrests are not pleasant.
Among those attending are Olga and Vladislav Sheglov, father and daughter.
Mr Sheglov told me: "I came here because I cannot live like this anymore, what they're doing is not acceptable.
"I always tell myself we have the best country, but the worst government."
His daughter Olga said: "Our kids are being brainwashed. You have families with low income and they have another view of politics.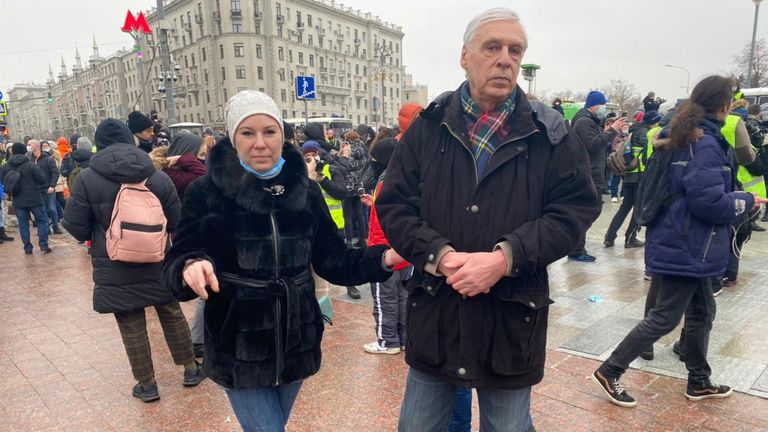 "When we saw the Putin's palace investigation, we were so shocked. We used to vote for him, but this was the last straw. We believe 150%, a million percent that Navalny was poisoned."
Another person at the protest, 16-year-old Yaroslavl, who we are not naming fully because he's 16, said: "There'll probably be more detentions than normal because it's such a big day.
"I'm a bit concerned, but so many people have come together to defend their own opinion and to defend Russia.
"I was told at school not to come, that they might have extra lessons today, but I ignored them. And my parents were even more serious about me not coming, but I ignored them too."
He said that today everyone went out not for Navalny, but for themselves, to fight for their rights.