Syrian man, Hassan al Kontar, is stranded at Malaysian airport for nearly 60 days
Get breaking news alerts and special reports. The news and stories that matter, delivered weekday mornings.
LONDON — Stranded in a foreign airport for nearly 60 days, trying not to lose hope of ever getting out.
That's the reality for Hassan al Kontar, 36, a Syrian who has been stuck at the Kuala Lumpur international airport since March 7.
Before a civil war broke out in Syria in 2011, al Kontar was living what would be considered a normal life. A native of Sweida, a city about 60 miles south of the Syrian capital, Damascus, al Kontar worked as an insurance marketing manager in the United Arab Emirates.
Then, with hostilities escalating, he was summoned for military service in his home country. After refusing to return and join the military, he says the Syrian embassy in the UAE declined to renew his passport in 2012. That meant his work permit couldn't be renewed either, so al Kontar lost his job and went into hiding in the UAE for the next six years.
"I am really tired," he said. "I keep shouting that I am not a bad guy, I am not a coward — I can fight, but it's not my fight. It's someone else's fight in my land."
Al Kontar says he realizes there are Syrians in far worse situations, but his predicament has been mentally exhausting.
He was apprehended by UAE authorities last year and says he struggled to avoid deportation back to Syria. Al Kontar, who was able to renew his passport last year, was eventually sent to Malaysia — one of the few countries to accept Syrian citizens without a visa for up to 90 days.
After his attempts to obtain a permanent visa there failed, he decided to go to Ecuador, another country that accepts Syrians without a visa. But he says his flight was canceled at the last minute by Turkish Airlines. He tried going to Cambodia, but was sent back to the airport in Kuala Lumpur, Malaysia's capital, in early March, and has been stranded there since.
Al Kontar's time at the airport has been challenging. He has access to two bathrooms and a waiting area in the transit section of the airport. AirAsia, the airline that took him back to Malaysia, provides him with three airline meals a day.
During the first few days at the airport, he slept on the chairs in the waiting area, but has now moved to sleep on the floor under a stairwell.
For weeks he has confronted basic logistical dilemmas such as where to take a shower, how to clean his clothes and where to dry them — documenting his daily life on his Twitter account.
Nearly two months into his ordeal, his struggles continue. "The daily routine is the same, nothing has changed," al Kontar said.
He says he tries to stay positive, because "otherwise, it's better to die" — as he spoke with NBC News, the frustration in his voice was punctuated by the chimes of airport announcements.
He says he can't leave the airport because he was "blacklisted" for five years by Malaysian authorities for originally overstaying his visa. Returning to Syria is not an option either as he says he is liable to be arrested for evading military service.
After his tweets attracted the attention of international media, al Kontar says Malaysia gave him a temporary one-month pass into the country. It would allow him to leave the airport, but while he is thankful for it, al Kontar says it's a temporary fix, with no long-term prospects.
"I am a highly-qualified professional — desperate for a place where I can be safe, legal, not looking over my shoulder or being on the run … a place where I can work and prove myself."
Malaysia Airports, the company that manages the airport in Kuala Lumpur, is aware of al Kontar's case, which is now being handled by Malaysian immigration authorities known as "Jabatan Imigresen Malaysia," or JIM.
"JIM has informed us that they are monitoring the situation closely and have taken necessary steps in managing the situation," Malaysia Airports said. "Malaysia Airports will give full cooperation to the relevant authorities in helping to resolve this situation."
The United Nations Refugee Agency said it has also been in touch with al Kontar and continues to engage with the Malaysian authorities on his case, adding "reasonable assistance" has been offered for him to enter the country by the Malaysian government.
Much of the media coverage of his ordeal draws comparisons to the film "The Terminal," in which Tom Hanks's character is stuck at New York's Kennedy Airport. But al Kontar says that referring to a Hollywood movie, which may reflect the precariousness of his situation, takes away from his plight and the struggle of the Syrian people, who he says are "paying the price of the war [they] have nothing to do with."
Over 5.6 million people have fled Syria since 2011, according to the U.N. Refugee Agency.
There is one beacon of hope remaining for al Kontar: A group of volunteers in Canada are determined to get him out of Malaysia.
The group has crowdfunded for him, arranged for sponsorship and filed all the necessary paperwork to apply for a temporary resident permit that would allow him to legally travel to Canada.
His application was submitted last week, and now all he can do is wait. He has also asked his Twitter followers to reach out to Canada's immigration minister to drum up support for his case.
Al Kontar said he feels Canada is his only chance out now. "If I lose that hope, I don't know what to do," he said. "I don't want to think of the possibility that it's not going to happen because I may break down."
Russia: Momentum for protest is growing over Putin's 'palace' and Navalny's imprisonment | World News
What doesn't kill you makes you stronger. An old maxim which may be giving some in Russia's corridors of power pause for thought. 
That is what a botched poisoning attempt and a rush to incarcerate have done to the man President Putin refuses to call by name, Alexei Navalny.
The man who has courageously returned to Russia and into the hands of the authorities who he says tried to kill him – the Kremlin denies any association with his poisoning – because he cannot bear to stay silent in the face of their apparent lawlessness.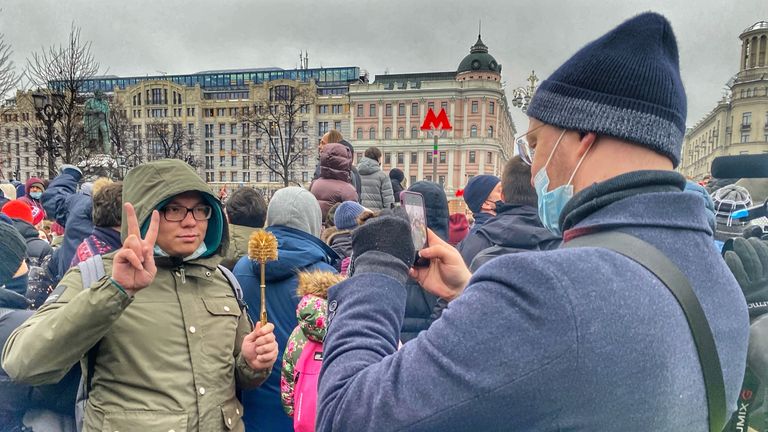 The man who today brought more than a hundred thousand to the streets in town after city across Russia's 11 time zones to demand his release from jail and for whom 2,500 people found themselves detained.
"Who needs him?" President Putin had said at his annual news conference just before Christmas, with a smirk.
He won't have been laughing this Saturday as the chants and car horns blaring in Navalny's support echoed down Moscow's central avenue, Tverskaya, towards the Kremlin.
Or as the reports of protest from nearly 70 cities – from Sakhalin to Vladivostock, from Yakutsk to Novosibirsk to St Petersburg – flooded in.
More than 3,000 people were reportedly detained amid the rallies on Saturday, prompting the US and UK to condemn "the Russian authorities' use of violence against peaceful protesters and journalists" as Britain's Foreign Secretary Dominic Raab stated.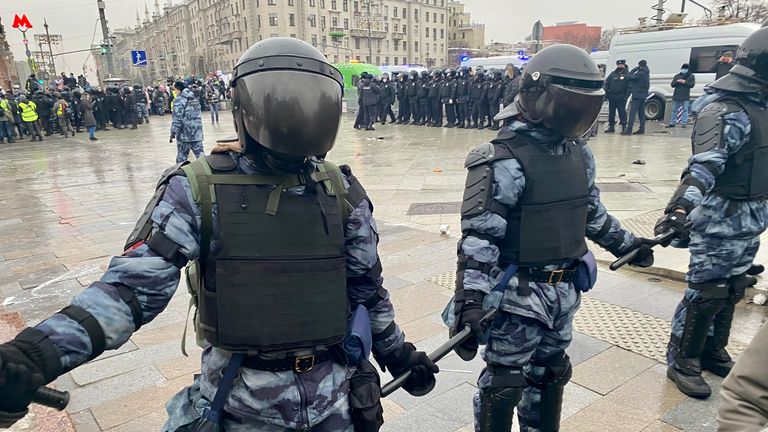 "Putin is a thief" has been a rallying cry at Russian demonstrations for years, ever since the so-called Bolotnaya protests in 2012, the first major set of rallies against President Putin's regime.
Navalny emerged from those frozen weeks of protest as an opposition figure of note but the years of harassment and persecution he has suffered without falter have given him a moral force which more and more of his countrymen are coming to recognise.
"One for all and all for one" was the script on one of the placards held up in Moscow on Saturday, with a photograph of Navalny on it. "He is not afraid and we aren't either," said another.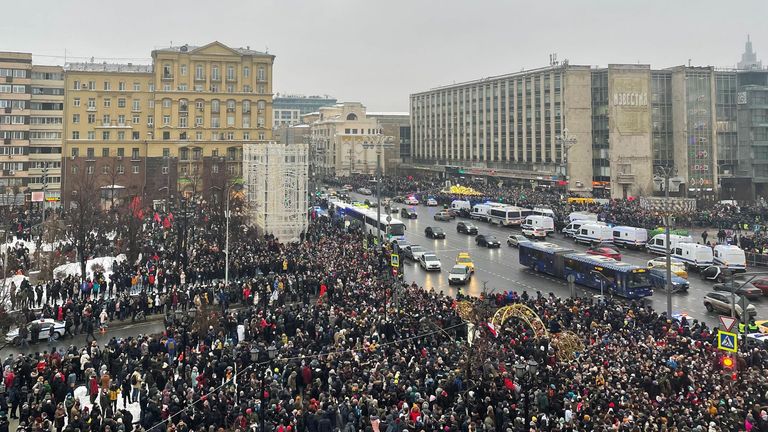 Navalny's investigation into the palatial residence he says belongs to President Putin on Russia's Black Sea Coast has had 70 million views already.
It was only released on Tuesday. Pro-Navalny, protest-related content on the social media group TikTok was viewed 300 million times. But it was not only the younger, internet-savvy generation who came out this Saturday; all age groups, all demographics did.
Navalny hits out at Putin again in video

The Kremlin has long insisted that Alexei Navalny is a marginal figure. Through a combination of their egregious missteps and his own extraordinary courage, his political currency is growing even as he sits in his prison cell, planning his next step.
This protest movement may have no short-term impact, and in all likelihood it will not secure Navalny's release, but there is a momentum, a budding protest season in the making. Who knows where that could end up.
Dutch police arrest alleged Asian drug syndicate kingpin | World News

The alleged leader of an Asian drug syndicate and one of the world's most-wanted fugitives has been arrested by Dutch police.
Tse Chi Lop, a Chinese-born Canadian national, was arrested at the request of Australian police, who led an investigation that found his organisation dominates the $70bn-a-year Asia-Pacific drug trade.
Dutch police spokesman Thomas Aling said Tse was detained without incident at Amsterdam's Schiphol Airport on Friday "based on intelligence we received".
He is expected to be extradited to Australia after an initial court appearance.
Tse, 57, has lived in Canada, Macau, Hong Kong and Taiwan in recent years, according to authorities.
According to Australian newspaper The Age, his arrest will also be welcomed by authorities in the US, New Zealand, Canada, Japan, Myanmar, Laos, Thailand and across Europe, places which have all served as markets or supply hubs for his organisation.
The syndicate he allegedly helps control is an amalgam of once-competing Chinese Triad groups that have variously worked with Australian bikies, South American cartels and European crime bosses, the newspaper added.
Australian Federal Police say he is the senior leader of the syndicate – called The Company – and is referred to as "Sam Gor" (Brother Number Three in Cantonese).
In 2019, Jeremy Douglas, Southeast Asia and Pacific representative for the United Nations Office on Drugs and Crime (UNODC), told Reuters that Tse is "in the league of (fellow drug kingpins) El Chapo or maybe Pablo Escobar".
The AFP did not name Tse in its statement but said the man arrested "is of significant interest to the AFP and other law enforcement agencies".
"The syndicate targeted Australia over a number of years, importing and distributing large amounts of illicit narcotics, laundering the profits overseas and living off the wealth obtained from crime," the agency said.
'Unacceptable' vaccine delays cause frustration across European Union | World News
European countries are growing increasingly frustrated with delays in the delivery of COVID-19 vaccinations.
Pharmaceutical company AstraZeneca told European Union officials that production problems will result in a 60% cut in deliveries of its Oxford vaccine to the bloc during the first quarter of this year.
This means EU member states will receive only 31 million doses during that period.
The Republic of Ireland said it may have to slow its vaccine rollout as a result of the shortage.
Micheal Martin, the Irish prime minister, told Irish broadcaster RTE that the delays would "put us in a problem".
He added: "AstraZeneca was going to be the catalyst to be allowed to move from low level to mass vaccination."
The AstraZeneca vaccine is yet to be approved by the European Medicines Agency, although it is expected to get regulatory approval next week.
European countries were already facing delays in shipments of the Pfizer vaccine while the pharmaceutical firm increases manufacturing capacity.
'No other nation has adopted' 12-week approach

Also on Saturday, Italian prime minster Giuseppe Conte called the delays to the delivery of the Pfizer vaccine "unacceptable".
Mr Conte wrote on Facebook that the delays "constitute serious contractual violations, which cause enormous damage to Italy and other European countries, with direct repercussions on the life and health of citizens".
He also vowed to launch legal action against the pharmaceutical giant to ensure contractual commitments are met.