Iowa's new six-week 'heartbeat' abortion bill is a blatant attempt to reverse Roe v. Wade
Previous to this bill being signed, Iowa already imposed numerous restrictions on abortion. According to the Guttmacher Institute, abortions after 20 weeks gestation are banned in the state unless the woman's life is endangered, and public funding is available for abortion only in cases of life endangerment, rape, incest or fetal anomaly. The governor must approve each Medicaid-funded abortion. Women are also forced to undergo an ultrasound prior to obtaining an abortion, and a pregnant minors' parent or parents must be notified before the procedure can be performed.
In this context, Iowa's heartbeat bill isn't entirely unexpected. But it is unlikely to go into effect in light of judicial precedent. Federal courts have already thwarted similar attempts to ban abortions in Ohio, North Dakota and elsewhere.
So what's the endgame here? As Robyn Marty has previously noted: "Anti-abortion groups no longer fear that the Supreme Court, given its current and future mix of justices, will uphold Roe if another case makes its way there." In other words, they're attempting to use this bill as a test case to get the issue in front of the Supreme Court, where they hope a post-Trump court will gut abortion rights nationwide.
Indeed, state Sen. Rick Bertrand (R-Sioux City) publicly declared as much during the bill's floor debate: "Today we will begin this journey as Iowa becomes ground zero nationally for the life movement and the starting line back to the Supreme Court. I believe this bill will be the vehicle that will ultimately provide change and provide the opportunity to overturn Roe v. Wade."
Bertrand's "opportunity" is a dystopian nightmare for women. Imposing such a punitive law would decimate women's self-determination by eliminating the ability to plan their families. And make no mistake: low-income and financially overburdened women have been shown to suffer the brunt of other, similar abortion bans (as those with financial resources are better able to travel out of state to seek abortion care).
Despite declaring themselves champions of the unborn, these legislators are defiling the very concept of life — and motherhood. Bringing a child into the world should be done willingly, not as a form of punishment derived from the rigid ideological beliefs of anti-abortion extremists. As a mother, I firmly believe that every child deserves a parent who is willing to bear the lifelong responsibilities of parenting with love and care.
Despite declaring themselves champions of the unborn, these legislators are defiling the very concept of life — and motherhood.
If Iowa's lawmakers truly want to reduce the number of abortions in their state, they should focus their efforts on increasing access to family planning services and contraception. But they haven't; in fact, Iowa shuttered one-third of its Planned Parenthood centers in 2017, which was followed by a rise in STDs and quite possibly unintended pregnancies.
The writing is on the wall: Women's lives and health do not matter to Iowa's Republican legislature or governor. If we're not careful, the rest of the country may soon feel draconian ripple effects coming out of the heartland.
Maureen Shaw is a writer, activist and proud mama of two. Her writing has appeared widely online, including in Quartz, Teen Vogue, The Atlantic, Huffington Post, Rewire, ThinkProgress, Romper, Parents and more. She tweets prolifically at @MaureenShaw.
Read more: Mike Pence says making abortion illegal saves lives. History proves the opposite.
US National Guard troops removed from inauguration duty due to 'far right' links, reports | US News

Two US Army National Guard members have been removed from duty during Joe Biden's presidential inauguration because of ties to far-right militias, according to Associated Press.
A US Army official and a senior US intelligence official confirmed the decision to AP on the condition of anonymity due to Defense Department media regulations.
They did not say what fringe group the Guard members belonged to or what unit they served in.
Latest updates on the final preparations for Joe Biden's inauguration
A spokesman for the National Guard Bureau told AP: "Due to operational security, we do not discuss the process nor the outcome of the vetting process for military members supporting the inauguration."
The heightened security comes after the riots on 6 January when Donald Trump supporters stormed the Capitol Building.
One dead as Japan snowstorm causes 134-car pile-up | World News
A snowstorm caused a 134-car pile-up which killed one person and left a dozen others injured in Japan.
At least 134 cars were involved in a series of crashes on a 1km stretch of the Tohoku Expressway, in the northern prefecture of Miyagi.
Authorities had imposed a speed limit of 50kph (31mph) after blizzard snow conditions cut visibility at about noon on Tuesday.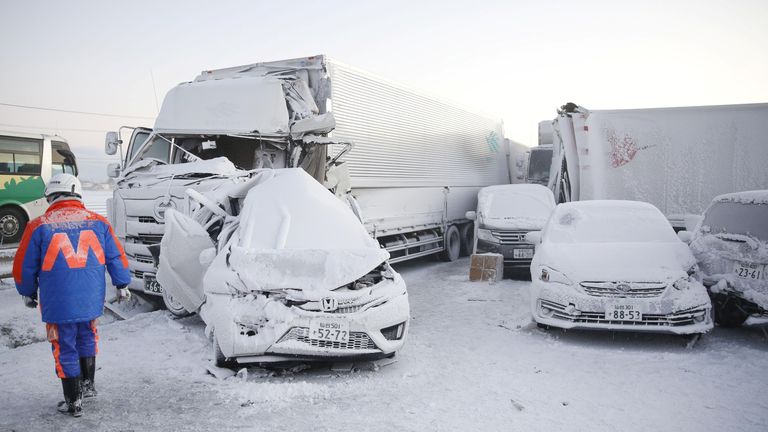 Some 200 people were caught up in the pile-up and 12 of them were sent to hospital, the disaster management agency said.
Rescue operations were under way, Chief Cabinet Secretary Katsunobu Kato told reporters.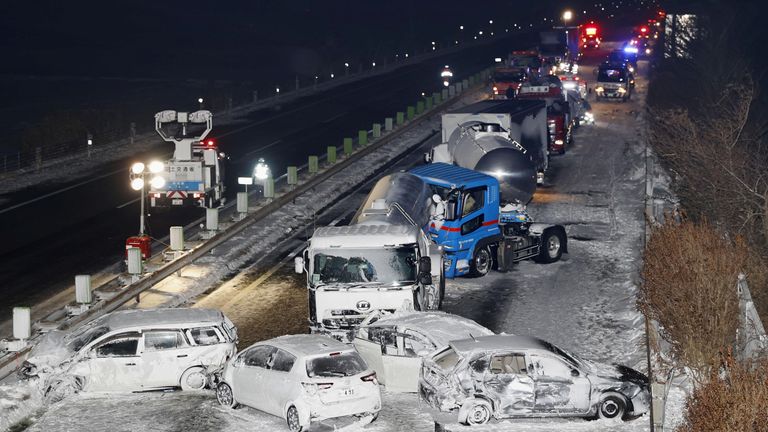 Japan has seen unusually heavy snow in recent weeks, with some parts seeing more than double the usual amount.
Last week Toyama city, on the Japanese coast, saw a new record 88cm (2.8ft) of snow within 48 hours, NHK reported, leaving many stranded.
Thailand: Woman jailed for for 43 years over defaming monarchy | UK News
A Thai ex-civil servant has been jailed for a "record-breaking" 43 years and 6 months for sharing audio clips on social media said to defame the country's monarchy.
The 65-year-old woman – identified as Anchan – pleaded guilty at Bangkok Criminal Court to 29 counts of posting audio clips to Facebook and YouTube under different usernames with comments deemed critical of the monarchy.
The court initially announced a sentence of 87 years but reduced it by half because of her guilty plea.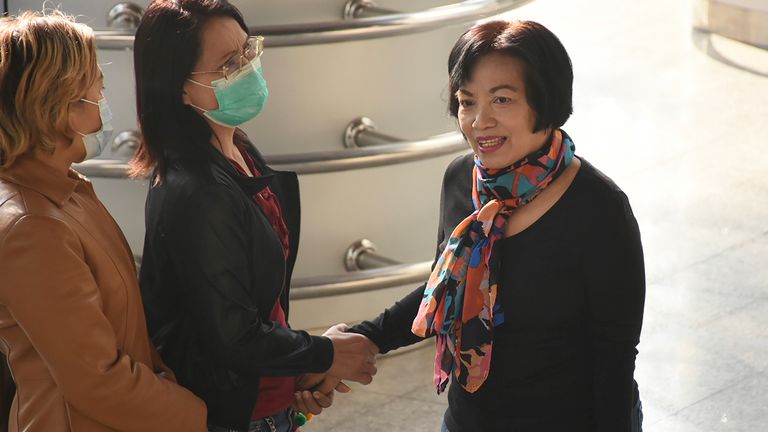 It is said thought be the longest ever sentence for such crimes.
Sunai Phasuk, senior researcher for the group Human Rights Watch, said: "Today's court verdict is shocking and sends a spine-chilling signal that not only criticisms of the monarchy won't be tolerated, but they will also be severely punished."
Violating Thailand's lèse-majesté law, known widely as Article 112, is punishable by three to 15 years' imprisonment per count.
The law is controversial not only because simple things such as liking a post on Facebook can be punishable, but also because anyone, not just royals or authorities, can lodge a complaint that can lead to legal proceedings lasting years.
Ms Anchan's case dates back six years when Thailand's anti-establishment sentiment was growing after a 2014 military coup led by Prime Minister Prayuth Chan-ocha.
She denied the charges when her case was first heard in military court, where lèse-majesté law offences were prosecuted for a period after the coup.
When her case was transferred to a criminal court, she pleaded guilty in the hope the court would have sympathy for her actions, because she had only shared the audio not posted or commented on it, she told local media.
She said: "I thought it was nothing. There were so many people who shared this content and listened to it.
Anti-government protests continue in Thailand as pro-democracy activists clash with royalists

"The guy (who made the content) had done it for so many years, so I didn't really think this through and was too confident and not being careful enough to realise at the time that it wasn't appropriate."
She added she had worked as a civil servant for 40 years and was arrested one year before retirement, and a conviction meant she would lose her pension.
Ms Anchan is now seeking bail and will decide whether to appeal. If she does not appeal or her appeal fails then she may try to seek a royal pardon from the king.
Thailand has seen 15 years of political unrest but recently young protesters have started issuing calls for the reform of the monarchy, which has long been regarded as an almost sacred institution by many Thais.