New Zealand is getting peeved at being left off world maps
New Zealand has launched a tourism campaign exploring a question that has bothered the country for years: why is it frequently left off world maps?
A tongue-in-cheek clip shows PM Jacinda Ardern and comedian Rhys Darby exploring why the nation keeps getting wiped off maps.
"We're a bit of a fiddly looking shaped country, a bit like a half-eaten lamb chop," Darby tells Ms Ardern in the video.
"Perhaps people are just leaving us off, thinking we're a mistake?"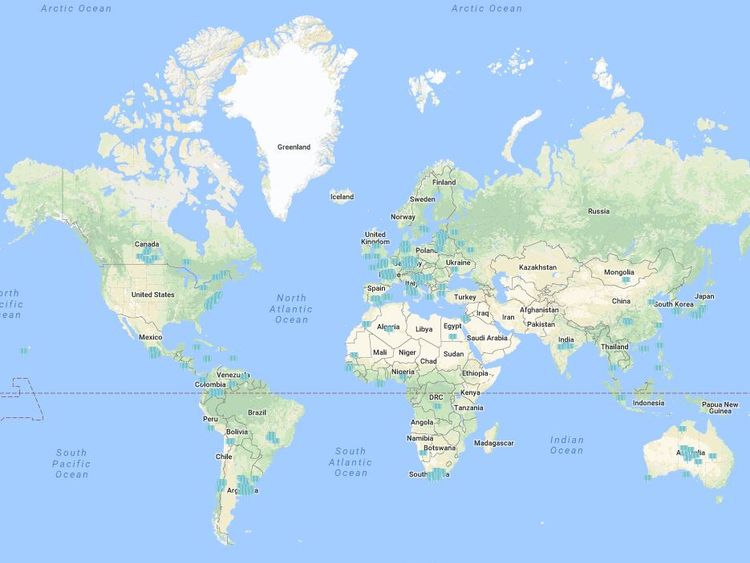 He adds that the conspiracy is "bigger than the moon landing and the Loch Ness combined".
Darby surmises that Australia wants to steal their tourists, England plans to get rid of the All Blacks rugby team and the French are jealous of the Kiwi wine industry.
New Zealand has been left off maps including at The Smithsonian Natural History Museum, Central Park Zoo, Starbucks and Ikea.
In the video, which is accompanied by the hashtag #getnzonthemap, Darby explores the notion that there's a "big conspiracy going on" to obscure the island nation.
The nation is home to 4.7 million people and is located in the south west Pacific ocean, around 2,000km from Sydney.
A reddit thread dedicated to recording incidents where New Zealand is left off global maps has nearly 30,000 subscribers.
COVID-19: India begins vaccine roll-out and aims to administer 300 million jabs by August | World News
India has began its ambitious project of vaccinating its 1.3 billion citizens – as it aims to administer 300 million jabs by August.
Prime Minister Narendra Modi launched the voluntary vaccination programme at 3,006 locations across the country this morning.
About 300,000 health workers will be vaccinated today and the numbers will increase as more capacity is enhanced every week.
In the first phase, vaccines will be given to 30 million health and frontline workers for free.
In its second phase 270 million citizens over the age of 50 and those under 50 with other health problems will be vaccinated.
There is an air of relief and optimism at the Rajiv Gandhi Super Speciality hospital as the first beneficiaries line up for the jab.
There is also relief and celebration by health workers at the Lok Nayak Jai Prakash (LNJP) Hospital in Delhi.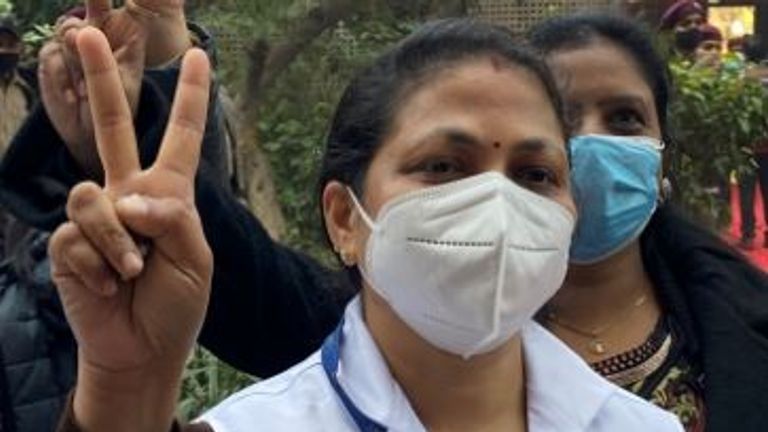 Staff nurse Biji Tony, the first to be vaccinated there, told Sky News: "I am so relieved. It has been a very difficult year, working day and night.
"We've stayed away from family and loved ones. We are human as well. Now all this ends. We are not afraid anymore after we get the second dose."
Dr Suresh Kumar, the medical superintendent at the LNJP hospital, told Sky News: "Today is a historic day and like a festival, we are feeling as if we have won a super world cup.
"But it has come with a lot of struggle. We have lost doctors and staff to the virus. But now we are ready to win the COVID war."
The two vaccines, the Oxford-AstraZeneca's "Covishield" and Bharat Biotech's "Covaxin", were approved for emergency use by the Central Drugs and Standards Committee (CDSCO) on 3 January.
Millions of doses of Covishield, manufactured by the Serum Institute of India at its Pune plant, and Covaxin, produced by Bharat Biotech in Hyderabad, were transported under security to various cities across the nation.
The approval of the latter has raised concerns amongst scientists and epidemiologists as third phase trails are still ongoing and its efficacy has not yet been published.
Prime minister Modi said: "The DCGI (Drug Controller General of India) gave approval after they were satisfied with the data of the two vaccines. So stay away from rumours."
Professor KS Reddy, president of the Public Health Foundation Of India (PHFI) – a non- profit organisation and a watchdog of public health – said: "Ideally at the best of circumstances one should see the phase three trials completed and efficacy data fully evaluated and out in the public domain through scientific publications as well as other scrutiny.
"However in this pandemic situation it was felt that given the large number of persons in India that need to be immunised the potential escalation of the epidemic due to mutants. I think the policy makers have taken the decision, I too wish the trial could have been completed earlier.
"But as far as the safety is concerned it has been adequately proven for Covaxin. But anyone who has doubts of the vaccine need not take it even if it is offered, they can decline it."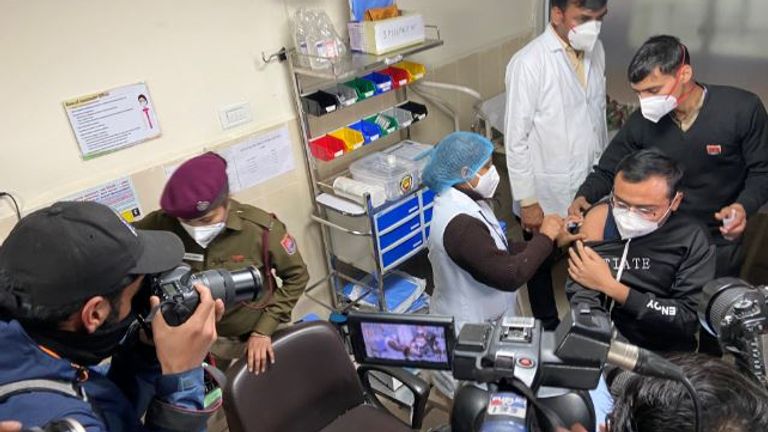 Indian Health Ministry spokesperson Rajesh Bhushan said: "There is no option for recipients to choose which vaccine they want to be inoculated with."
Preparations for these dry runs took place in more than 700 districts across the country with mock transportation and dummy injections by more than 150,000 health staff.
The country has 29,000 cold-chain points, 240 walk-in coolers, 70 walk-in freezers, 45,000 ice-lined refrigerators, 41,000 deep freezers and 300 solar refrigerators for storage.
Immunising a country that is almost 2,000 miles north to south and the same east to west with over a billion people will be a herculean task.
Reaching remote and rural areas where most of India lives and where the infrastructure is wanting will be a challenge.
Added to this is a second jab required to complete the cycle.
And then there are the many summer months where temperatures soar to 40C (104 F) or more in most parts of the country.
It has been a tragic winter for the Sharma household
Deviram Sharma, 65, died within four days of being admitted to a hospital with the virus.
His son Avneesh is donning a PPE suit to perform the last rites at Nigambodh Ghat – the largest Hindu crematorium.
Subscribe to the Daily podcast on Apple Podcasts, Google Podcasts, Spotify, Spreaker
Families have no time for mourning as farewells are hurried and from afar due to restrictions.
Traditional last rites are rushed under the overbearing shadow of the virus, the bereavement a mere formality.
Avneesh told Sky News: "It has jolted our family, it has shaken our roots, even I had to go on medication and am still feeling low myself.
"I hope and pray that this virus is removed through the use of vaccination and others don't have to suffer what our family has gone through."
With more than 10.5 million cases, India is the second worst affected country after the United States.
Almost 152,000 deaths have been reported so far and the need for a vaccine has never been as critical as now.
COVID-19: Indonesia vaccine rollout bucks trend by targeting younger generations | UK News
With shaking hands, broadcast live to the nation, a doctor administered Indonesia's first COVID-19 vaccination.
The recipient was President Joko Widodo, a man who hopes to get 181.5 million Indonesians vaccinated this year.
It's a huge challenge, almost three times the population of the UK and so far one of the largest rollouts in the world.
But the nation's vaccination drive, which started this week using CoronaVac, a jab from Chinese manufacturer Sinovac Biotech, bucks the current trend by injecting under-60s first.
You can find out more about Indonesia's COVID-19 vaccine drive on the Sky News Daily Podcast
Subscribe to the Daily podcast on Apple Podcasts, Google Podcasts, Spotify, Spreaker
Dr Siti Nadia Tarmizi, COVID-19 vaccination spokesperson for Indonesia's Ministry of Health, told Sky News: "18 to 59 is the age group that gets most infected by COVID-19 and mostly without symptoms. We know between 18 and 59 is a more productive age group, so if we are targeting this age group first, we will protect them from COVID-19, which means they can, of course, go to work.
"And then secondly, by protecting this age group, we will cut the transmission."
Indonesia has recorded more than 25,400 deaths and 880,000 infections making it Southeast Asia's worst outbreak.
Testing levels are low, so experts warn the actual infection rate could be much higher.
Starting with frontline workers, under-60s will be inoculated first not only because the government hopes protecting workers will boost the economy, but it's also waiting for more safety data about how CoronaVac impacts the elderly.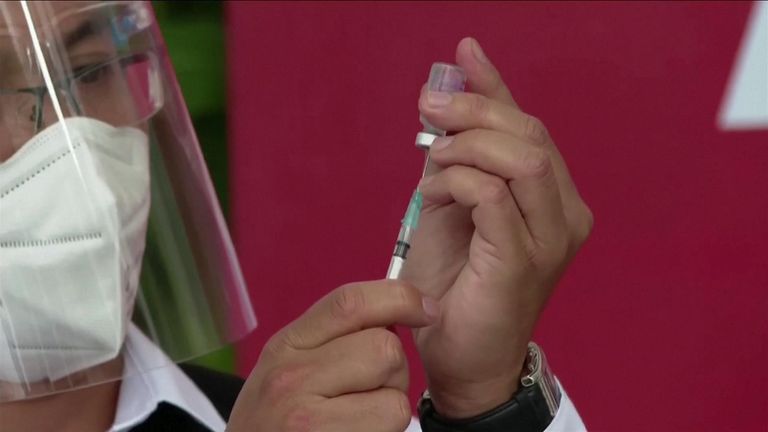 In Indonesia's capital city, Jakarta, where people who refuse the jab will face fines, some are wary.
"If I had the option to refuse the vaccine, I would say no," said Guntur Dwi Adiputra, "For sure I will be afraid to have it because I don't know the side-effects."
"I understand the perspective economic reasons, however, I feel that those people, productive people, they could wait because they're not the ones risking their lives first, the elderly are the ones at stake right now," added local resident Angel Utomo.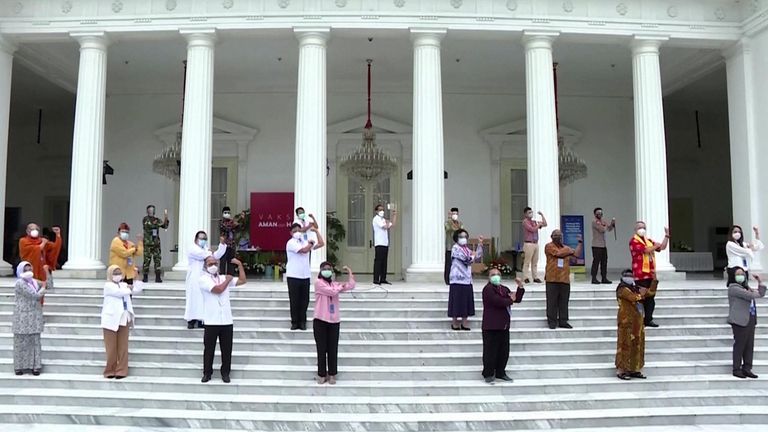 Indonesia is the fourth most populous country in the world and the pandemic has left many struggling financially.
Mohammed Santri's catering business previously sold more than 200 meals a day, but since the coronavirus outbreak it's dropped to just 10.
The family now runs it alone after all the paid staff had to be let go.
"I hope that the vaccination process will be implemented as soon as possible because when people are healthy and they can go back to work then I will receive orders again," Mr Santri said.
CoronaVac is easier for many developing countries to store than some of the other vaccines as it can be kept in the fridge.
Unlike the Pfizer and Moderna mRNA vaccines which have been given the green light in the UK, the Sinovac-made jab uses inactivated coronavirus.
Patients are injected with killed viral particles to expose the body's immune system to the virus and teach it to make antibodies.
Interim data in Indonesia put the efficacy at 65.3% but extended results from Brazil found it to be just 50.4% effective, barely over the 50% needed for regulatory approval.
Researchers at Sao Paulo's Butantan Institute who conducted the trials previously stressed it was 78% effective against mild to severe cases.
Sinovac Biotech is Indonesia's biggest vaccine supplier, and while the country is buying other brands, officials explained the Chinese could deliver fastest.
"I think the main reason why Sinovac is being used in Indonesia is that they committed to deliver this vaccine at the end of December 2020, while the others were still in the negotiation process," Dr Nadia said.
"We plan to have 181.5 million of the population vaccinated, which means we need like 426 million doses of vaccine which is a really huge number and it may not be able to be fulfilled by only having one vaccine type or vaccine factory."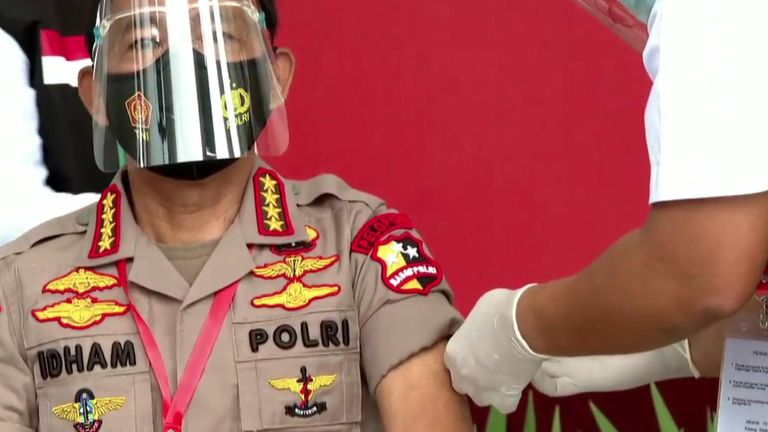 While many countries in the West are focusing on European and American-made vaccines, in Asia, nations including Indonesia, the Philippines and Thailand are all starting with Sinovac.
Dicky Budiman, an epidemiologist at Australia's Griffith University, said China has deliberately positioned itself to fill a gap in the market and supply developing countries which would otherwise face a long wait.
"Vaccine diplomacy has become one of the tools for big countries to improve and increase their power in the region. China will use this as a diplomatic power, that's for sure," he said.
But with more than 270 million people to protect and surging cases, it's a power game Indonesia's willing to play, with leaders hoping this will be a turning point in the fight against the pandemic
COVID-19: Ice cream tests positive for coronavirus in China | World News
Ice cream has been found to have been contaminated with COVID-19 in China after three samples tested positive for the virus.
Anti-epidemic authorities in north China's Tianjin Municipality are tracing people who may have been in contact with the batches, which were produced by Tianjin Daqiaodao Food Company.
All of the products produced by the firm have been sealed and contained after the samples it sent to the municipal centre for disease control this week tested positive for coronavirus.
Initial epidemiological investigations indicate the company produced the batch of ice cream using raw materials, including milk powder imported from New Zealand and whey powder imported from Ukraine.
Dr Stephen Griffin, a virologist based at the University of Leeds, told Sky News the development was unlikely to be a cause for "panic".
"It's likely this has come from a person, and without knowing the details, I think this is probably a one-off," he said.
"Of course, any level of contamination is not acceptable and always a cause for concern, but the chances are that this is the result of an issue with the production plant and potentially down to hygiene at the factory."
He explained that the cold temperature that ice cream was stored at, and the fact it contains fat, could explain why the virus had survived on the samples taken – but suggested the news should not prompt major alarm.
"We probably don't need to panic that every bit of ice cream is suddenly going to be contaminated with coronavirus," he said.
Sky team stopped from investigating COVID origins

The company's 1,662 employees have been placed under quarantine and underwent nucleic acid testing on Thursday following guidance from the Tianjin Center for Disease Control.
Authorities said the company produced 4,836 boxes of COVID-contaminated ice cream, 2,089 of which had been sealed away in storage.
A total of 935 boxes of the ice cream, out of 2,747 boxes that entered the market, were in Tianjin and only 65 were sold to markets.
Authorities said residents who may have bought the product should report their health and physical movements to those in their communities.
The city has also informed the market regulation authorities in other provinces where the ice cream was sent so it can be traced.