Japan's trans community faces uphill battle
TOKYO — Fumino Sugiyama, 36, has been with his girlfriend for the past eight years, but he's not allowed to marry her.
The Tokyo-based transgender man does not pass the very high bar Japanese law sets for people to have their change of gender legally recognized. The process includes the completion of gender reassignment surgery along with an operation to prevent the possibility of having children — a clause Human Rights Watch says amounts to forced sterilization.
Japan also does not allow same-sex marriage, so two people legally classified as female are not permitted to wed.
"For my partner, I want to get married, but because of the law I can't go through the legal process of getting married," Sugiyama told NBC News.
"I don't want to have any other surgeries," he added. "I believe that if I am going to go under surgery I would want to do it for myself and not for anyone else. So I think it's an absurd idea and law."
Because he is classed as female on official documentation, Sugiyama also faces other difficulties in everyday life. He has been turned away from job interviews and struggled to get health insurance. He has had to explain his personal circumstances to customs officers and elected officials who question why he has a beard.
"Politicians don't know the struggle that a trans person has to go through every day," said Sugiyama, who has been personally lobbying lawmakers for reform. He added, however, that once he has spoken to politicians face-to-face, "they recognize it is an issue, and a lot of them do offer help and try to support me in creating a movement."
Human Rights Watch, an international human rights advocacy organization, is calling on politicians to reform the law surrounding gender identity so Japan can join the ranks of LGBTQ-friendly countries by the time it hosts the Tokyo 2020 Olympics.
"I don't want to have any other surgeries … I believe that if I am going to go under surgery I would want to do it for myself and not for anyone else. So I think it's an absurd idea and law."
"I don't want to have any other surgeries … I believe that if I am going to go under surgery I would want to do it for myself and not for anyone else. So I think it's an absurd idea and law."
Japan's controversial Law 111 requires people who seek a legal change of gender to have a medical diagnosis of gender dysphoria, have body parts that "resemble the genital organs of those of the opposite gender" and have no functioning reproductive glands.
"The forced sterilization clause is equivalent, in my view, to torture," Kanae Doi, the Japan director of Human Rights Watch, told NBC News.
"Because of this forced sterilization clause, there are a lot of people who cannot change their legal gender into their own identity," Doi said. "But also there are some people who sterilized themselves against their will. There is a lot of pressure."
People who wish to apply for a legal gender change through Japan's family court must also be at least 20 years old, unmarried and without any children who are minors.
"You have to be single, which means that if you are married you have to divorce," Doi said. "This is also a violation of privacy and identity and all sorts of things in which the government should not intervene. This law is obviously outdated and it should be revised as soon as possible."
While Japan has seen an improvement in social acceptance of LGBTQ people, advocates say there is still a need for concrete legal steps, including laws to prevent discrimination on the basis of gender identity and sexual orientation.
Same-sex marriage is seen as a particularly complicated issue, because the Japanese constitution refers to marriage as a partnership of "both sexes" — indicating constitutional reform might be needed to achieve marriage equality.
"I view the next three years as being the biggest moment for the LGBTQ community because of the 2020 Olympics."
"I view the next three years as being the biggest moment for the LGBTQ community because of the 2020 Olympics."
A cross-party group of parliamentarians dedicated to pursuing LGBTQ issues was established a few years ago, but it is struggling to gain traction. Doi said this relatively new caucus has been "working on reform," but it hasn't been able to move the needle much because there are "some very influential and senior" conservative parliamentarians "who are blocking these movements."
Sugiyama said he is doing his best to raise awareness of the issues. He knows from personal experience the challenges LGBTQ individuals face in Japan.
He recalled an occasion when he was just two or three years old and was required to wear a skirt to a ceremony at his kindergarten. He refused. Throughout his schooling, he said nobody spoke about trans issues.
"When I was in high school, I first came out to my friend because I felt so isolated and alone, and it just became too much for me, and I wanted to just speak out loud," Sugiyama recalled.
"My friend was very accepting and said, 'You're Fumino, you're just who you are, you're the same, it doesn't matter what gender you are or what you identify as.' I feel that was a very good experience, a positive experience for me, and if it had been a negative experience it probably wouldn't have led me to where I am now."
Sugiyama's parents also accepted him. He went on to write a book about his experiences, titled "Double Happiness" and published in 2006, partly to raise the visibility of his community among the rest of the population.
After the book was published, many people contacted Sugiyama asking to meet him. He suggested they join him at a suburban litter-pick-up volunteer group. Ken Hasebe, a local assembly member who would go on to become the mayor of Tokyo's Shibuya ward, saw the numbers involved and came to realize the need for action. With Hasebe's support, Shibuya became in 2015 the first local authority in Japan to issue partnership certificates for same-sex relationships. Since then a handful of other local governments across Japan have followed suit.
"People in Japan had the general idea that there weren't any LGBTQ people living in Japan, and then when Shibuya ward started to pass out these certificates of recognition for same-sex partnership, people were like 'Oh, there are people among us who are part of the LGBTQ community,' and that's when things started to move towards the right direction," Sugiyama explained.
The growing visibility of the LGBTQ community has played out in other ways, too. Sugiyama is co-chair of Tokyo Rainbow Pride, which is likely to record its biggest-ever numbers when the country's largest pride parade and festival is held again this upcoming weekend. Not many people showed up to the first parade in 1994, but last year nearly 110,000 people attended the main weekend of activities.
Sugiyama has also fielded an increase in requests for him to speak to groups about LGBTQ issues. Last year he conducted 120 lectures or seminars for companies, schools, government officials and parents across the country, he said.
He is convinced education is the key to changing attitudes, having heard that message from activists in Taiwan, where the top court last year paved the way for same-sex marriage to take effect within two years.
"I view the next three years as being the biggest moment for the LGBTQ community because of the 2020 Olympics," Sugiyama said. "I feel like diversity is becoming a term that a lot of people are becoming aware of, and during this hype with everyone acknowledging the term, it could be one of the biggest movements to occur for the LGBTQ community in Tokyo and Japan in general."
And if the effort culminates in legal reforms, Sugiyama hopes he will finally have the chance to marry his long-term partner.
Joe Biden takes oath of office to become America's 46th president | US News
Joe Biden has become the 46th president of the United States, after taking his oath of office in a heavily scaled back inauguration ceremony in Washington DC.
He swore to preserve, protect and defend America to the sound of cheers and applause from former presidents both Democrat and Republican – though Donald Trump decided to break precedent by skipping the event.
It came minutes after new Vice President Kamala Harris took her oath, too.
Biden's inauguration – follow live updates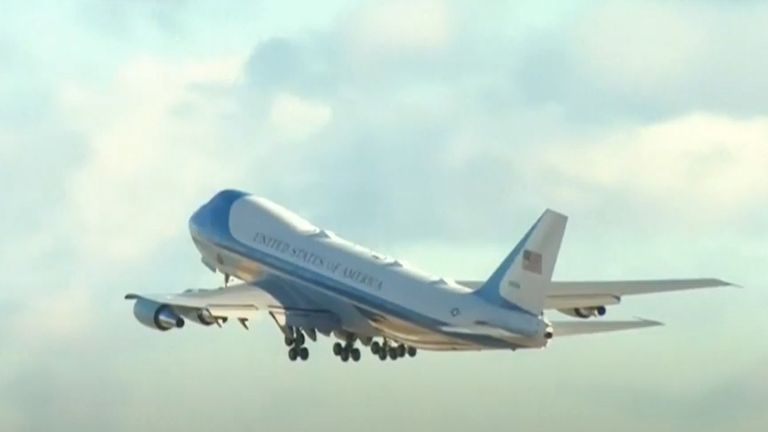 Mr Biden stressed the fairness of last November's election result in the opening of his inaugural address by declaring: "This is democracy's day. The will of the people has been heard and the will of the people has been heeded.
"We've learned again that democracy is precious, democracy is fragile and at this hour my friends, democracy has prevailed."
Mr Biden promised to "press forward with speed and urgency" during a "winter of peril" to tackle the "once-in-a-century virus that silently stalks the country", also vowing to confront white supremacy and terrorism.
He stressed his prevailing focus after a divisive election campaign will be on "uniting our nation", adding: "With unity, we can do great things, important things – we can right wrongs."
And he said he wanted to "make America once again a leading force for good in the world", seemingly in a snub to Mr Trump commenting: "Let's start afresh… all of us."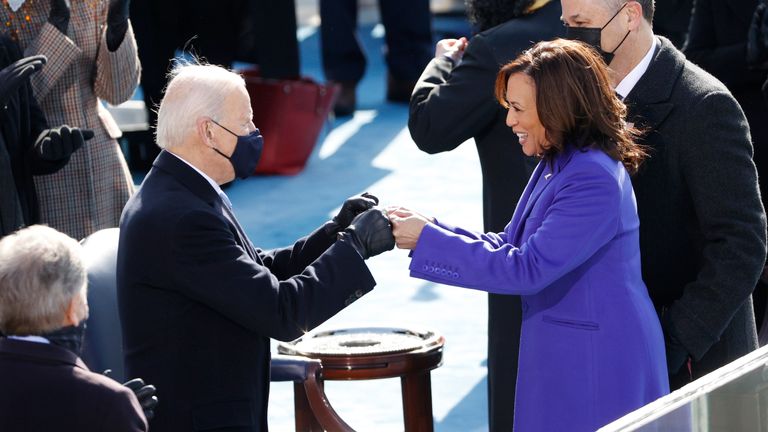 Mr Biden urged people to "join forces, stop the shouting and lower the temperature", for, he explained, without unity there will be "no nation, only a state of chaos".
Speaking as he looked out on to the National Mall lit by a bright sunshine, Mr Biden continued: "Politics doesn't have to be a raging fire destroying everything in its path.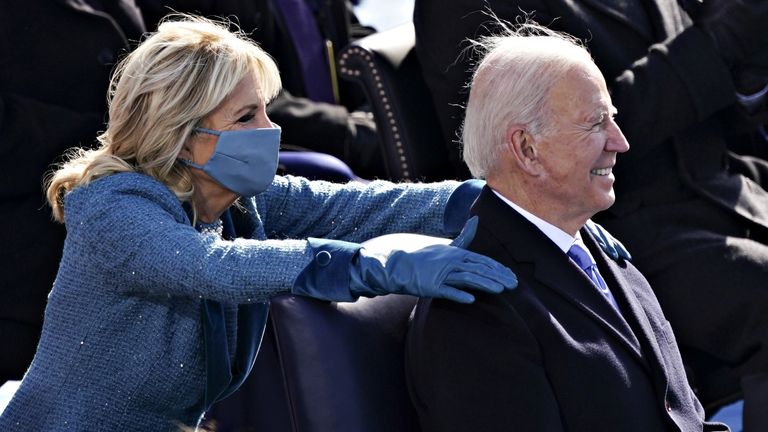 "Every disagreement doesn't have to be a cause for total war and we must reject the culture in which facts themselves are manipulated and even manufactured."
Repeating a motif from his victory speeches in the days after winning the Electoral College vote, Mr Biden promised to be "a president for all Americans".
Winding up his address, he struck an optimistic tone, saying: "Together we shall write an American story of hope not fear, of unity not division, of light not darkness."
He ended with: "May God bless America and may God protect our troops, thank you America."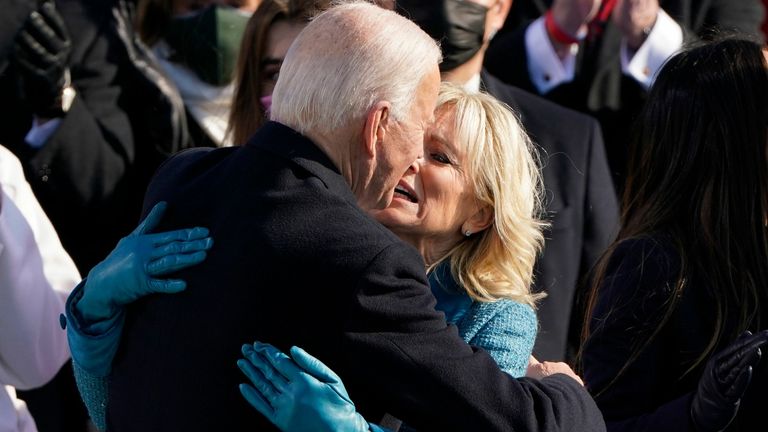 Lady Gaga, wearing a large dove broach on her top and clasping a golden microphone, had just performed a rousing rendition of the national anthem – and Jennifer Lopez followed with an "American musical selection".
Former presidents Barack Obama, George W Bush and Bill Clinton attended the event at the Capitol – and Mr Biden was greeted by cheers and applause as he walked up to the stage.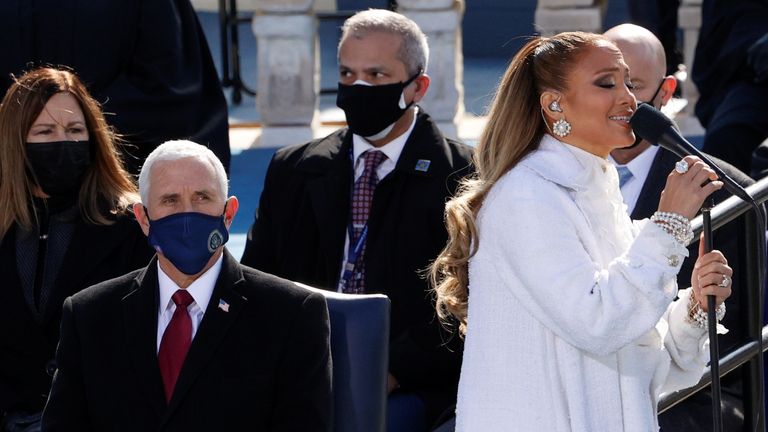 Mr Biden shared a fist-bump with Barack Obama before the pair took their seats, and then a series of speeches got underway – all sharing a theme of unity.
But as the new president prepared to take the oath of office, Donald Trump was landing in Florida.
Mr Trump is the first outgoing president since 1869 to skip an inauguration ceremony, but departing Vice President Mike Pence was in the audience.
As the inauguration ceremony took place in a chilly Washington DC, where it was trying to snow, the White House was getting a deep clean that was set to cost $500,000 (£366,000).
Shortly before the ceremony began, Mr Biden declared on Twitter: "It's a new day in America."
Mr Trump gave a parting message before boarding Air Force One, telling a small group of supporters and family members gathered on the tarmac of Joint Base Andrews that "we will be back in some form".
"I wish the new administration great luck and great success," he added, before boarding the plane, which took off to the booming soundtrack of Frank Sinatra's My Way.
Mr Biden is only the second Catholic to hold the office of president.
His team have already announced he will sign a series of executive orders reversing several of Mr Trump's policies, including on COVID-19, climate change and racial inequality.
Australian Open: Novak Djokovic says he is not 'selfish, difficult and ungrateful' for quarantine requests | World News
Tennis star Novak Djokovic has insisted he was not being "selfish, difficult and ungrateful" after making a list of requests for players in quarantine ahead of the Australian Open.
The men's world number one reportedly sent a letter to Australian officials asking for a reduction in the time players spend in isolation, permission to see coaches and for athletes to be moved to private houses.
His suggestions were firmly rebuffed by Victoria's premier Daniel Andrews, who said: "People are free to provide lists of demands, but the answer is no… There's no special treatment here."
State premier lays down law to tennis stars

A total of 72 players are in quarantine after 10 people who flew to Melbourne for the first Grand Slam of the year tested positive for coronavirus – leaving many forced to train in their hotel rooms.
Djokovic has since defended speaking out about the quarantine conditions, writing in a lengthy social media post: "My good intentions for my fellow competitors in Melbourne have been misconstrued as being selfish, difficult and ungrateful.
"This couldn't be farther from the truth."
He said his email exchange regarding suggestions for the quarantine conditions was an "opportunity to brainstorm" and he was "aware that the chances were low that any of our suggestions would be accepted".
"There were a few suggestions and ideas that I gathered from other players from our chat group and there was no harm intended to try and help," he said.
While many players are under the strictest quarantine conditions and unable to leave their rooms, others who were not on the affected flights – including Djokovic – are able to train outside for five hours a day under COVID-secure protocols.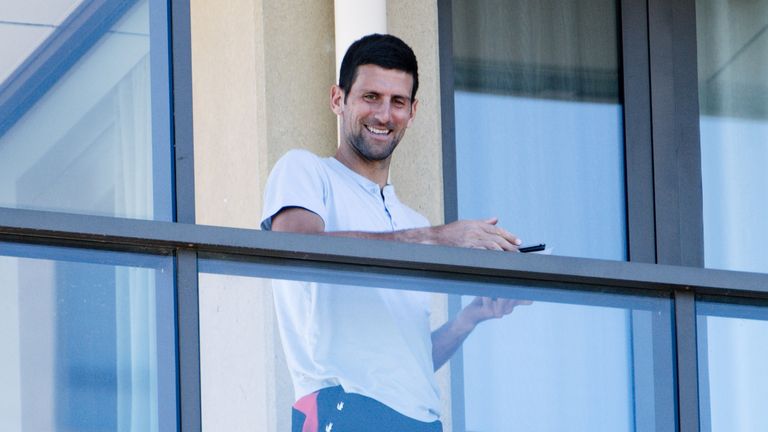 The star player said he wanted to use his "position of privilege" to help others.
"I've earned my privileges the hard way and for that reason it is very difficult for me to be a mere onlooker knowing how much every help, gesture and good word mattered to me when I was small and insignificant in the world pecking order," he said.
He added: "Things in the media escalated and there was a general impression that the players (including myself) are ungrateful, weak and selfish because of their unpleasant feelings in quarantine.
"I am very sorry that it has come that because I do know how grateful many are."
Quarantined tennis stars train in hotel rooms

Going ahead with the tournament amid the global pandemic and harsh restrictions in Melbourne has caused some controversy, particularly as many Australians remain stuck overseas.
Three new coronavirus cases related to the tournament were reported on Wednesday, including a player who has been in hard lockdown since they arrived.
The second case related to another player and the third is a support person with the player.
Madrid: 'Extremely loud' explosion in city centre – reports of injuries | World News

An "extremely loud" explosion has been reported in Madrid's city centre – with rescue teams, firefighters and police sent to the scene.
Spanish media reports said the explosion took place in a building near a nursing home – and videos and images shared on social media showed rubble scattered in the street.
"We didn't know where the sound came from. We all thought it was from the school. We went up the stairs to the top of our building and we could see the structure of the building and lots of grey smoke," a witness told the AP news agency.
The explosion happened in Toledo street. Video on social media showed a number of wrecked cars and debris strewn in the road.
According to TVE, several people have been hurt, while Telemadrid is reporting that at least one person is trapped.
Emergency services could not immediately confirm if there had been injuries.
A police spokeswoman said the area was being evacuated but could not confirm the cause of the explosion.
Government sources have been quoted by Spanish media as saying it may have been a gas leak.