Scotland tackles alcohol crisis with minimum price law
Scotland's alcohol consumption is among the highest in the world, according to World Health Organization data; on average, Scots consume the equivalent of more than 13 liters (3.4 gallons) of pure alcohol a year, about 40 percent more than Americans (2.4 gallons).
"Alcohol is an integral part of Scottish life," the Scottish government observed when it first proposed the change. "But there is also clear evidence that for a large section of the Scottish population their relationship with alcohol is damaging and harmful — to individuals, families, communities and to Scotland as a nation."
While some U.S. states, such as Connecticut, have price controls on alcohol sales, most are a legacy of prohibition rather than modern public health policy.
"It's uncharted territory," Rice said of Scotland's new law.
'The cycle of chaos'
On a Friday night in Edinburgh, the bitterly cold weather doesn't keep revellers away from bars and clubs.
"People get totally smashed at home because you can buy a whole bottle of spirits for the same price as a round of drinks in town," 18-year-old Elisha Dharsi said. "I think the minimum price is a good idea. Drinking is seen as a joke in Scotland, something to be proud of, and that's a problem. We have to do something about it."
Dan MacNeill, 30, has been drinking with co-workers since lunchtime; he has just paid $6.30 for a bottle of Budweiser at a trendy, glass-fronted bar on St. Andrew Square.
"If these prices don't make people drink less then I don't see that it would make any difference at the cheaper end," he said. "I don't see that anyone would change their habits."
Outside the Abbotsford Bar — one of a string of historic pubs along Rose Street — Rhona Wood, 50, is with a bachelorette party drinking rum and cokes. (The bride-to-be, having drunk too much earlier, is back at the hotel already.)
Wood disagrees with Sturgeon's assessment that Scotland has an alcohol problem.
"She had no right saying that. I don't think it's true," Wood said. "I don't see people here drinking more than anywhere else. I don't have any alcohol at home."
As glasses are being raised on Rose Street, former soldier Tam Begbie is already at work.
An Afghanistan war veteran, Begbie is one of a team of "Navigator" support workers employed by Scotland's Violence Reduction Unit, a police-backed program. He spends his Friday and Saturday nights in the emergency room at Edinburgh's main hospital, trying to steer patients struggling with alcohol and other issues onto a better path.
"Alcohol is a factor in the majority of cases I see, especially when people have been injured in a fight," Begbie said. "Drinking is categorized as a cultural thing, something we are supposed to do in order to have fun, but the reality is it changes people's lives to the point where they're not in control."
Begbie sees emergency room visits as an opportunity to connect.
"People are often at their lowest, they realize they've got to a point where it has to stop, and it's a good time to break the cycle of chaos," the 28-year-old Begbie said.
Bargain shoppers
Scots are the biggest drinkers in the U.K., with average weekly sales of alcohol per adult 17 percent higher than in England and Wales, according to the Scottish government.
Authorities hope setting minimum prices will target excessive drinkers who, according to research, are more likely to be bargain shoppers compared to moderate drinkers. Further studies show excessive drinkers in deprived areas are up to 11 times more likely to come to harm than those in more affluent neighborhoods.
The impact of the new policy is being studied overseas. Ireland this year will become the second country to introduce minimum pricing, and the measure has earned Sturgeon a seat on a new public health task force led by Michael Bloomberg, the former mayor of New York, and Larry Summers, the former Treasury secretary.
The new law allows the government to set a minimum price per "unit" — equivalent to 10 milliliters (0.35 fluid ounces) of pure alcohol. The rate is expected to set the rate at 50 pence (66 cents) per unit.
While the cost of a typical pint of beer or a glass of wine in bars won't need to change, the price of a 15-pack of Budweiser, for example, will rise $1.21, to $20.96.
A standard-size 24-ounce bottle of whisky will cost at least $19.80; in February, one was on sale in a supermarket for $15.50.
"This isn't about the single malts and the famous brands because they already cost more than that," said Rice, of Scottish Health Action on Alcohol Problems and who is among the new law's architects. "But if you look down to the bottom shelf in the supermarket you see those nonbranded value bottles — that's where the price is very low."
Just the tonic
In Scotland's rust belt, where the decline of coal and steel has left a legacy of high unemployment and social decay, Abdul Majid has run a small grocery store for 34 years.
Cheap beer and super-strength cider are popular with his customers, many of whom don't have a car to go to large supermarkets or speciality retailers with lower prices.
"This is a typical working-class community," he explains, "where local stores have disproportionately higher sales of stronger drinks."
At his store in Bellshill, Lanarkshire — where life expectancy ranks the lowest in Scotland — a giant 101-ounce bottle of Frosty Jack cider (7.5 percent alcohol content) until recently sold for $5.65 but as of Tuesday costs at least $16.20.
"That's what the serious drinkers go for," he said. "It's cheaper than some mineral water. In fact, they drink it like water."
He supports the principle behind the pricing changes, but fears small stores like his will be targeted by shoplifters. He already keeps individual cans of cider under the counter to prevent theft.
"People need their hit, and if they can't buy it they will attempt to steal it," he said. "We need to be tackling the social issues behind it, such as why people drink too much, rather than spending millions on making it harder to get what they want."
Majid also fears some will cross the English border, just 80 miles to the south, to buy products in bulk at lower prices to resell in his neighborhood. "People who don't have much money will buy illegally if it's cheaper," he said.
As a Muslim, he sees how much alcohol is rooted in Scottish society. "I've never had a drink, and from my perspective everything people do is around drink," Majid said. "From the birth of a child to family celebrations, anniversaries, sporting events, every part of society is linked to alcohol. It has woven itself into the fabric of everyday life."
Bellshill demonstrates the complexities of welfare and health policies.
It lies at the fringes of the so-called Buckfast Triangle, a patch of post-industrial Scotland that accounts for 10 percent of all global sales of Buckfast, a fortified and caffeinated tonic wine with a sugary kick that makes it popular with violent, unruly teens and problem drinkers.
Made by Benedictine monks, Buckfast is about 15 percent alcohol — not much stronger than a Californian chardonnay — but contains three and a half times as much caffeine as Coke, earning it local nicknames such as "Commotion Lotion." Its glass bottles frequently double as a weapon.
Yet while Buckfast is cheap, at about $9.60 a bottle, it isn't cheap enough to qualify for Scotland's new minimum pricing.
"If anything, people will probably end up buying more of it because the alternatives will go up in price," Majid said.
'They just want oblivion'
Choosing a bottle of wine to have over dinner, or for unwinding after a tough day at work, is unlikely to change for most Scots; even the cheapest wine at Majid's store already meets the new criteria so he won't be forced to raise his prices.
But cheap booze is the mainstay for hardcore drinkers.
"They just want oblivion, and they'll do anything to get it," said Claire Gallagher, manager of a rehab center that provides emergency shelter and detox for the homeless in Glasgow, Scotland's biggest city.
Her unit, part of the Turning Point charity, sees the effect of cheap alcohol on those living on the streets.
"If they weren't in here, they'd be in the hospital or the morgue," she said.
However, she believes price controls will push drinkers onto other drugs, such as psychoactive substances.
"What is being forgotten is the reason why people buy cheap, strong drink," she said. "For most people that we see, it is to mask some other problem. Doubling the price of their alcohol just means they'll take something else."
Among the temporary residents in her unit is Kevin Kerrigan, 49, who expects to move into a new home this month after five months of recovery from alcohol addiction.
"Speaking from my experience, if you want it you'll get it," he said. "So I don't think higher prices will mean much except less money in your pocket."
For Gallagher, the changes amount to a tax on the poorest in society.
"Alcohol policies rarely achieve what they're supposed to," she said. "We already have fines for street drinking and all that happens is that people end up in prison because they can't pay it.
"Addicts with the hardest lives are being treated like villains, yet minimum pricing won't stop the people who flop down in the evening thinking, 'What a terrible day I've had' and drink a whole bottle of wine."
British Virgin Islands: Inquiry into claims of corruption and political interference – all with the public purse | World News
Claims of widespread corruption and fraud involving millions of pounds of public money are being investigated on the British Virgin Islands.
The governor of the islands, a British territory, has ordered an independent inquiry into the allegations and is supported by both the prime minister and the foreign secretary.
One of the claims is that $40m (£29m) set aside for struggling families during the COVID pandemic might have been channelled to political allies.
Announcing the Commission of Inquiry, Governor August Jaspert said there were "wide concerns over the possible mismanagement of some public projects".
He said successive audit reports had set out practices of "political interference, inflated pricing and conflicts of interest" and added: "These may have cost the public purse millions of dollars in recent years, with no sign of improvement.
"In the past months, the community has had many open and honest conversations about this. For the first time, many have felt confident to raise their voice. This is an important conversation for us to have, albeit difficult as those who speak up are too often silenced."
In a written statement to parliament, Foreign Secretary Dominic Raab said: "The UK is extremely concerned about the state of good governance in the British Virgin Islands.
"A consistent and deeply troubling array of concerns have been put to the governor by local institutions and the community.
"Successive attempts have been made to address these concerns through local institutions, many of which have done commendable work to bring them to light.
"However, the scope and seriousness of the concerns are now beyond local capacity to address."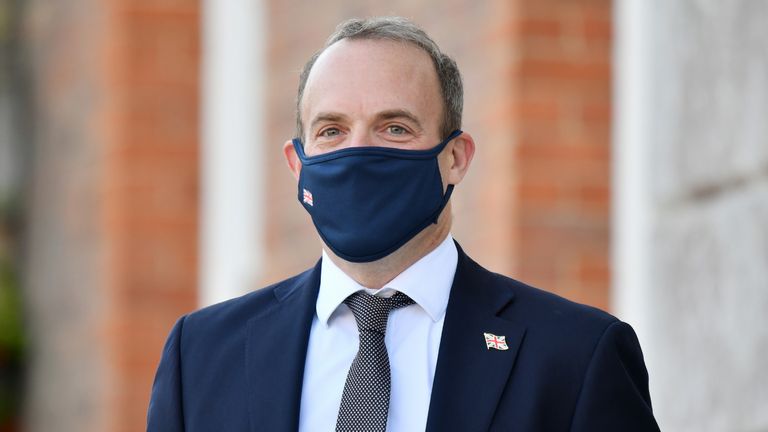 It is the first inquiry of its kind in more than 10 years – the last took place in 2008 to investigate corruption on Turks and Caicos.
It was felt that the British Virgin Islands themselves lack the ability to investigate allegations of this breadth, scope and seriousness.
Among the claims are ones of political interference in appointments and the criminal justice system – and the misuse of public money on infrastructure and transport projects including $7m (£5m) to an airline that did not exist and more than a million dollars spent on a school fence.
There have also been claims of intimidation towards people in the media and community leadership.
In November 2020, two tonnes of cocaine with a street value of almost £190m was seized, underlining the extent of criminal behaviour on BVI.
The inquiry is set to formally begin in the coming days and is expected last at least six months.
It will be led by the Right Honourable Lord Justice Gary Hickinbottom, an experienced High Court judge.
He will have the power to seize evidence and force witnesses to give evidence.
Alexei Navalny: Putin critic urges Russians to 'take to the streets' after 30-day detainment order | World News
Putin critic Alexei Navalny has urged Russians to "take to the streets" after a judge ordered that he be kept in custody for at least 30 days.
In a video clip released after the ruling, Mr Navalny said: "Don't be afraid, take to the streets. Don't go out for me, go out for yourself and your future."
The sentence came following an hour-long, ad-hoc hearing – held in a police station in Khimki, outside Moscow – on Monday afternoon. Mr Navalny described the proceedings as the "highest level of lawlessness".
The 44-year-old was originally detained on arrival at Moscow's Sheremetyevo airport on Sunday, after spending five months in Germany recovering from novichok poisoning.
Mr Navalny, who is one of President Vladimir Putin's most outspoken critics, blames Moscow for the attack that nearly killed him, although the Kremlin denies any involvement.
His detention was widely expected because Russia's prisons service said he had violated parole terms from a suspended sentence on a 2014 embezzlement conviction.
But it has drawn widespread condemnation from Western leaders, with the UN telling Russia to immediately let Mr Navalny go.
Moment Navalny is detained after landing in Russia

Boris Johnson called the arrest "appalling" and joined Foreign Secretary Dominic Raab in calling for Mr Navalny's immediate release.
He said: "It is appalling that Mr Navalny has been detained by the Russian authorities and he must be immediately released.
"Rather than persecuting Mr Navalny, Moscow should fulfil its obligation under international law to investigate and explain the use of a chemical weapon on Russian soil."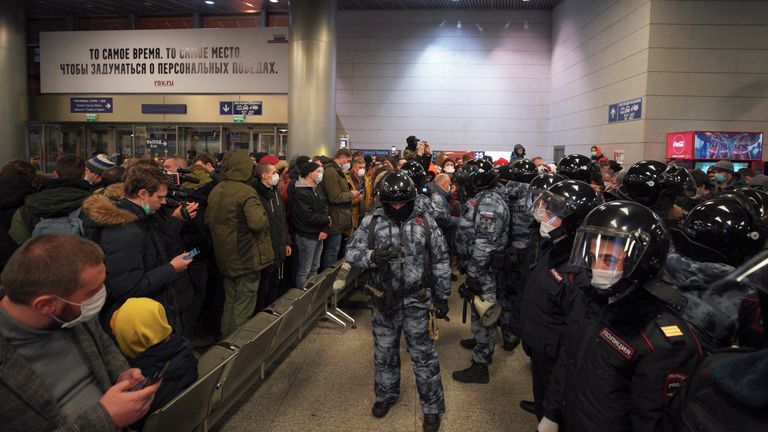 European Commission President Ursula von der Leyen further implored Russian authorities to release Mr Navalny and "ensure his safety".
In a statement shared on Twitter, she added: "Detention of political opponents is against Russia's international commitments.
"We will monitor the situation closely."
I condemn the detention of Alexei Navalny by the Russian authorities. They must immediately release him and ensure his safety.

Detention of political opponents is against Russia's international commitments. pic.twitter.com/RRATmAHVvn

— Ursula von der Leyen (@vonderleyen) January 18, 2021
Mike Pompeo, US secretary of state, said Washington "strongly condemns" the decision to arrest Mr Navalny and called his detention "the latest in a series of attempts to silence Navalny and other opposition figures and independent voices who are critical of Russian authorities."
He added on Twitter that he was "deeply troubled" by the move.
"Confident political leaders do not fear competing voices, nor see the need to commit violence against or wrongfully detain, political opponents," he said.
President-elect Joe Biden's pick for national security adviser also called on the Russian authorities to free him.
'They tried to kill me,' says Kremlin critic

"Mr Navalny should be immediately released, and the perpetrators of the outrageous attack on his life must be held accountable," Jake Sullivan said in a tweet.
Moscow has dismissed the criticism.
Russian foreign minister Sergei Lavrov said that Western countries' expressions of outrage were designed to distract their citizens from their own domestic problems.
Meanwhile, foreign ministry spokeswoman Maria Zakharova wrote on Facebook: "Respect international law, do not encroach on national legislation of sovereign states and address problems in your own country."
On leaving Berlin on Sunday, Mr Navalny said he didn't think he would be arrested as he had "every right" to return to his home country.
The arrest raises tensions in Russia as it approaches national parliament elections this year, in which Mr Navalny's organisation is expected to be active in trying to defeat pro-Kremlin candidates.
"This is a real act of bravery for Alexei Navalny to return to Russia, given that government agents already tried to kill him once," Human Rights Watch executive director Kenneth Roth tweeted.
"But he understandably wants to be part of the pro-democracy movement in Russia, not a dissident in exile."
Mr Navalny fell into a coma while aboard a domestic flight from Siberia to Moscow on 20 August.
He was transferred to a hospital in Berlin two days later.
Labs in Germany, France and Sweden tested the substance he was exposed to.
It was established he was poisoned with a Soviet-era novichok nerve agent – the same kind of substance used against Sergei and Yulia Skripal, a former Russian double agent and his daughter, in a 2018 poisoning in Salisbury.
COVID-19: Man 'lived in Chicago airport in secret for three months' – as virus made him 'too scared' to fly home | US News

A 36-year-old man lived undetected in a secure section of Chicago's O'Hare International Airport for three months because he was "too scared" to go home due to COVID-19, US prosecutors say.
Aditya Singh is charged with felony criminal trespass to a restricted area of an airport and misdemeanour theft.
According to police, he arrived in Chicago on a flight from Los Angeles on 19 October.
Mr Singh, who survived on food from other passengers, is unemployed and lives in the city of Orange, California. It was unclear why he was in Chicago.
Cook County Judge Susana Ortiz reacted with surprise when a prosecutor set out the allegations, according to the Chicago Tribune.
She reportedly told the court: "So if I understand you correctly, you're telling me that an unauthorised non-employee individual was allegedly living within a secure part of the O'Hare airport terminal from 19 October 2020 to 16 January 2021 and was not detected? I want to understand you correctly."
On Saturday, two employees from United Airlines were said to have approached Mr Singh and asked for his identification.
Assistant state attorney Kathleen Hagerty said he lowered his face mask before showing them an airport ID badge, which he had reportedly found, and was "scared to go home due to COVID".
The badge apparently belonged to an operations manager who had reported it missing on 26 October.
Assistant public defender Courtney Smallwood said Mr Singh does not have a criminal background and has a master's degree in hospitality – and said the unusual allegations were not violent, reported the Tribune.
If he is able to post the $1,000 (£738) for bail, Mr Singh will be barred from entering the airport.
Judge Ortiz added: "The court finds these facts and circumstances quite shocking for the alleged period of time that this occurred."
The Chicago Department of Aviation said that while the incident remains under investigation, it had been able to "determine that this gentleman did not pose a security risk to the airport or to the travelling public".