Michelle Wolf made attendees at the White House Correspondents' Dinner uncomfortable. They deserve to be.
As someone who bathed in the waters of Washington for over a decade, I can safely report to all Americans that, in fact, you want every single person sitting in the Washington Hilton ballroom on the night of the White House Correspondents' Dinner to be uncomfortable. The country is better off that way.
Let me explain.
Over the past few decades, Americans' attitudes about those in Washington — the president, congressmen, senators, journalists, lobbyists, you name it — have continued to plummet. Hardly anyone expects much of their elected officials, fewer still look to Washington for role models and, to top things off, only a middling number of Americans trust the Fourth Estate to accurately and honestly sort through the entire mess.
And, yet, at the same time, official Washington has curiously boomed, enjoying a robust economy that has easily outpaced the rest of the country. Those who ostensibly came to Washington to do good have done enormously well… for themselves. The per capita income in our nation's capital is 25 percent higher than the national average. Many top reporters and journalists are splashed across the town's society pages and enjoy princely salaries. Lobbyists' and consultants are rewarded handsomely for the harvest they reap. Politicians enjoy great electoral stability thanks to comfortably drawn congressional districts.
Those who ostensibly came to Washington to do good have done enormously well… for themselves.
And, as a result, official D.C. is fat, happy and comfortable. And, so, there is a vested interest in maintaining the status quo — which is why Wolf's remarks caused the 2,000+ people in that ballroom Saturday night to sit stone-faced in their gowns and tuxedos.
But most Americans outside of the Beltway will tell you that the status quo in Washington isn't working for them. And perhaps one way to begin changing that is to make those inside the Beltway a little more nervous and uneasy, since complacency and failure tend to go hand in hand.
White House Press Secretary Sarah Huckabee Sanders should be called out by Wolf and others for her obfuscations from the podium. President Donald Trump should be called out by Wolf and others for his poor handling of issues related to race. And journalists should be called out by Wolf and others for — to quote Wolf — the disingenuousness of their outrage.
"I think what no one in this room wants to admit is that Trump has helped all of you," said Wolf. "He's helped you sell your papers and your books and your TV. You helped create this monster and now you're profiting off of him."
The notion that politicians', lobbyists' and journalists' precious sensibilities and egos should be coddled and protected is exactly what made Washington so divorced from the people it's supposed to serve in the first place.
These are all accurate and worthwhile critiques of official Washington (and they're also why Wolf didn't need tasteless abortion jokes to make them). The notion that politicians', lobbyists' and journalists' precious sensibilities and egos should be coddled and protected is exactly what made Washington so divorced from the people it's supposed to serve in the first place. And the fact that Wolf was dinged for not properly respecting the people in the room is a perfect reflection of just how backward we have this whole democracy thing.
Wolf's full-throated critique comes at a time when politicians not only abhor the independent inquiries of a free press, but they actively avoid it. President Barack Obama's attitude towards reporters caused USA Today's Susan Page to call him the "most dangerous" president to the press than any other in history. Hillary Rodham Clinton wore her distrust for reporters as a virtual badge of honor. And President Trump has gone his entire presidency without a challenging sit-down interview while simultaneously maligning the Fourth Estate at every turn.
Wolf's 19-minute routine, then, felt like the only comeuppance served to anyone in Washington in quite some time.
And that, to me, is the real joke.
Patrick Gavin is a journalist and filmmaker and the director of the 2015 feature length documentary, "Nerd Prom: Inside Washington's Wildest Week." He covered Washington's politics and people for Politico from 2009 to 2015 and is currently at work on a documentary about the Trump resistance movement.
Bobi Wine: Uganda's pop star politician makes plea to the world after being made 'prisoner in his own home' | World News
There is a road north of the capital, Kampala, that few Ugandans wish to follow.
It is a rough, potholed track which leads to the home of the opposition leader, Bobi Wine.
The 38-year old has not left his home since last Thursday, when he cast his vote in the general election. He came second in the presidential contest after the country's long-time ruler, Yoweri Museveni, took 58% of the vote.
Mr Wine's house is now surrounded by riot police and soldiers along with a set of metallic yellow spikes in case anyone was minded to drive their way in.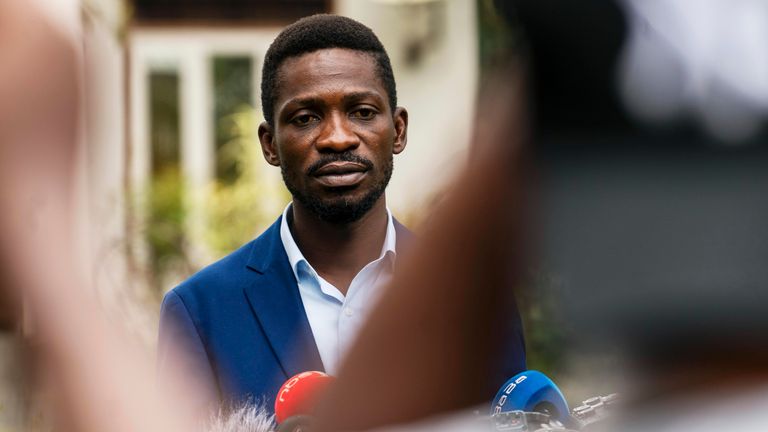 Nonetheless, we met a pair of lawyers in a respectable looking car who told us they were determined to speak to their client.
George Musisi, a partner in a firm in Kampala, said Mr Wine's home had been turned into a de facto prison.
"We know that his home is not a detention centre, we know that it is a private property, so we are going to see how we can access it," he said.
Wine and reporters flee from gun-toting soldiers

The lawyers, who accuse the government of trying to muzzle the popular politician, edged slowly towards the police barricade.
Lawyer Benjamin Katana tried to reason with policeman in charge.
"[Bobi Wine] has rights, like access to his lawyers especially now he is under detention, we need instructions from him, this is standard," he said.
The commander looked decidedly uncomfortable and left them to make a phone call.
He came back to tell the lawyers that no one was getting in.
"You can contact the police department's spokesman if you want."
The lawyers chuckled.
"This is futile, even people in police cells can access their lawyers," said an exasperated Mr Musisi.
Bobi Wine, who captured the imagination of younger voters during the campaign, was contacted by phone and he said the situation inside the cordon was desperate.
"We have run short of food supplies but when my wife tried to go to our garden to pick food she was assaulted by the military," he said.
"The only practical plan now is to inform the world to see that fellow citizens of the world can help us."
He told Sky News he has even been targeted with bullets and tear gas.
The Ugandan authorities have done this before. Five years ago, prominent opposition leader Kizza Besigye was detained for 40 days after the election. He told me it was part of a long-standing pattern of harassment.
"How many times were you arrested?" I asked.
"Frankly I cannot count how many times I was arrested, because I lost count. Sometimes it was every day," said Mr Besigye.
"How many times did you go to court?" I inquired of Mr Besigye, who stood against President Museveni in four elections.
"Again very many… I was charged with rape, treason, terrorism and illegal possession of guns all in one go [at the beginning of the 2006 presidential campaign].
"I was tried [and cleared] of rape but the judgement didn't come out until after the election. Many cases are still in court."
Mr Besigye said he experienced strong sense déjà vu watching the Bobi Wine campaign and warns that the authorities will not leave him alone.
Yet the people of Uganda will need the 38-year-old, along with every other opposition-minded citizen, if they are going to overturn Mr Museveni's rule.
"It's difficult to [physically] gather, it's difficult to work together but it doesn't mean people won't challenge his regime," said Bobi Wine.
"They are determined, trust me – so watch this space."
British Virgin Islands: Inquiry into claims of corruption and political interference – all with the public purse | World News
Claims of widespread corruption and fraud involving millions of pounds of public money are being investigated on the British Virgin Islands.
The governor of the islands, a British territory, has ordered an independent inquiry into the allegations and is supported by both the prime minister and the foreign secretary.
One of the claims is that $40m (£29m) set aside for struggling families during the COVID pandemic might have been channelled to political allies.
Announcing the Commission of Inquiry, Governor August Jaspert said there were "wide concerns over the possible mismanagement of some public projects".
He said successive audit reports had set out practices of "political interference, inflated pricing and conflicts of interest" and added: "These may have cost the public purse millions of dollars in recent years, with no sign of improvement.
"In the past months, the community has had many open and honest conversations about this. For the first time, many have felt confident to raise their voice. This is an important conversation for us to have, albeit difficult as those who speak up are too often silenced."
In a written statement to parliament, Foreign Secretary Dominic Raab said: "The UK is extremely concerned about the state of good governance in the British Virgin Islands.
"A consistent and deeply troubling array of concerns have been put to the governor by local institutions and the community.
"Successive attempts have been made to address these concerns through local institutions, many of which have done commendable work to bring them to light.
"However, the scope and seriousness of the concerns are now beyond local capacity to address."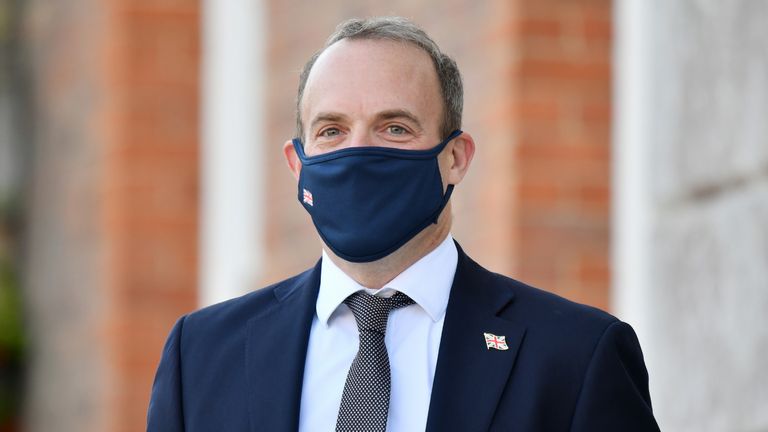 It is the first inquiry of its kind in more than 10 years – the last took place in 2008 to investigate corruption on Turks and Caicos.
It was felt that the British Virgin Islands themselves lack the ability to investigate allegations of this breadth, scope and seriousness.
Among the claims are ones of political interference in appointments and the criminal justice system – and the misuse of public money on infrastructure and transport projects including $7m (£5m) to an airline that did not exist and more than a million dollars spent on a school fence.
There have also been claims of intimidation towards people in the media and community leadership.
In November 2020, two tonnes of cocaine with a street value of almost £190m was seized, underlining the extent of criminal behaviour on BVI.
The inquiry is set to formally begin in the coming days and is expected last at least six months.
It will be led by the Right Honourable Lord Justice Gary Hickinbottom, an experienced High Court judge.
He will have the power to seize evidence and force witnesses to give evidence.
Alexei Navalny: Putin critic urges Russians to 'take to the streets' after 30-day detainment order | World News
Putin critic Alexei Navalny has urged Russians to "take to the streets" after a judge ordered that he be kept in custody for at least 30 days.
In a video clip released after the ruling, Mr Navalny said: "Don't be afraid, take to the streets. Don't go out for me, go out for yourself and your future."
The sentence came following an hour-long, ad-hoc hearing – held in a police station in Khimki, outside Moscow – on Monday afternoon. Mr Navalny described the proceedings as the "highest level of lawlessness".
The 44-year-old was originally detained on arrival at Moscow's Sheremetyevo airport on Sunday, after spending five months in Germany recovering from novichok poisoning.
Mr Navalny, who is one of President Vladimir Putin's most outspoken critics, blames Moscow for the attack that nearly killed him, although the Kremlin denies any involvement.
His detention was widely expected because Russia's prisons service said he had violated parole terms from a suspended sentence on a 2014 embezzlement conviction.
But it has drawn widespread condemnation from Western leaders, with the UN telling Russia to immediately let Mr Navalny go.
Moment Navalny is detained after landing in Russia

Boris Johnson called the arrest "appalling" and joined Foreign Secretary Dominic Raab in calling for Mr Navalny's immediate release.
He said: "It is appalling that Mr Navalny has been detained by the Russian authorities and he must be immediately released.
"Rather than persecuting Mr Navalny, Moscow should fulfil its obligation under international law to investigate and explain the use of a chemical weapon on Russian soil."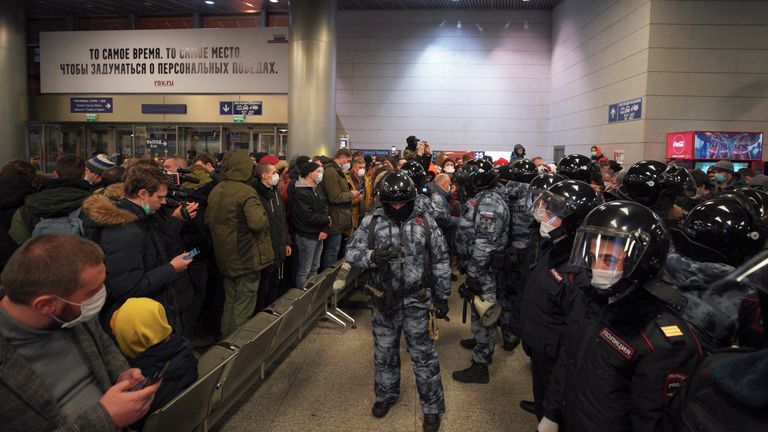 European Commission President Ursula von der Leyen further implored Russian authorities to release Mr Navalny and "ensure his safety".
In a statement shared on Twitter, she added: "Detention of political opponents is against Russia's international commitments.
"We will monitor the situation closely."
I condemn the detention of Alexei Navalny by the Russian authorities. They must immediately release him and ensure his safety.

Detention of political opponents is against Russia's international commitments. pic.twitter.com/RRATmAHVvn

— Ursula von der Leyen (@vonderleyen) January 18, 2021
Mike Pompeo, US secretary of state, said Washington "strongly condemns" the decision to arrest Mr Navalny and called his detention "the latest in a series of attempts to silence Navalny and other opposition figures and independent voices who are critical of Russian authorities."
He added on Twitter that he was "deeply troubled" by the move.
"Confident political leaders do not fear competing voices, nor see the need to commit violence against or wrongfully detain, political opponents," he said.
President-elect Joe Biden's pick for national security adviser also called on the Russian authorities to free him.
'They tried to kill me,' says Kremlin critic

"Mr Navalny should be immediately released, and the perpetrators of the outrageous attack on his life must be held accountable," Jake Sullivan said in a tweet.
Moscow has dismissed the criticism.
Russian foreign minister Sergei Lavrov said that Western countries' expressions of outrage were designed to distract their citizens from their own domestic problems.
Meanwhile, foreign ministry spokeswoman Maria Zakharova wrote on Facebook: "Respect international law, do not encroach on national legislation of sovereign states and address problems in your own country."
On leaving Berlin on Sunday, Mr Navalny said he didn't think he would be arrested as he had "every right" to return to his home country.
The arrest raises tensions in Russia as it approaches national parliament elections this year, in which Mr Navalny's organisation is expected to be active in trying to defeat pro-Kremlin candidates.
"This is a real act of bravery for Alexei Navalny to return to Russia, given that government agents already tried to kill him once," Human Rights Watch executive director Kenneth Roth tweeted.
"But he understandably wants to be part of the pro-democracy movement in Russia, not a dissident in exile."
Mr Navalny fell into a coma while aboard a domestic flight from Siberia to Moscow on 20 August.
He was transferred to a hospital in Berlin two days later.
Labs in Germany, France and Sweden tested the substance he was exposed to.
It was established he was poisoned with a Soviet-era novichok nerve agent – the same kind of substance used against Sergei and Yulia Skripal, a former Russian double agent and his daughter, in a 2018 poisoning in Salisbury.