'Infinity War' sets record with biggest opening weekend ever
The track record for Marvel, along with the hyper, extravagant effort put into the long-planned "Infinity War," made the record-setting weekend something of a fait accompli. After 10 years, 18 previous films and $15 billion in box office, the weekend was an assured and long-awaited coronation for Kevin Feige's Marvel, the most dominant force in a Hollywood with precious few sure things.
By any measure, the 2-hour, 40 minute-long "Infinity War" is one of the largest films ever assembled. With a production budget reportedly almost $300 million, Joe and Anthony Russo's film brings together the stars of Marvel's superhero stable, including Robert Downey Jr.'s Iron Man, Chris Hemsworth's Thor, Chadwick Boseman's Black Panther, Chris Evans' Captain America, Mark Ruffalo's Hulk and many more.
It was shot over 18 months back to back with a sequel that is due out next summer. Marvel spent years laying the groundwork for the big showdown, teasing its villain (Josh Brolin's Thanos) since 2014. The result earned positive reviews (84 percent fresh on Rotten Tomatoes) and an A CinemaScore from audiences. All but one of Marvel's 19 cinematic universe releases have scored A on CinemaScore.
"Infinity War" was also the first film shot entirely with IMAX cameras. (Christopher Nolan's "Dunkirk" was mostly shot on IMAX.) IMAX screenings accounted for a record $41 million of the weekend's global ticket sales.
Greg Foster, head of entertainment for IMAX Corp., said the success of Marvel stands apart from Hollywood's other mega franchises.
"This isn't something that their parents saw. This isn't an old franchise that their parents saw when they were 20," Foster said. "This is theirs. The Marvel universe is the group of characters that this generation owns."
Paul Dergarabedian, senior media analyst for comScore, credited Marvel with the potent lead-up to "Infinity Wars" with "Spider-Man: Homecoming," "Guardians of the Galaxy Vol. 2," "Thor: Ragnarok" and "Black Panther" — all successful and well-reviewed entries.
"This brought the world together this weekend," Dergarabedian said. "That's what these movies do: They remind us why we love going to the movie theater. A movie like this shows the singular and unique experience of going into a movie theater."
Estimated ticket sales for Friday through Sunday at U.S. and Canadian theaters, according to comScore. Where available, the latest international numbers for Friday through Sunday are also included. Final domestic figures will be released Monday.
"Avengers: Infinity War," $250 million ($380 million international)
"A Quiet Place," $10.7 million ($6.6 million international)
"I Feel Pretty," $8.1 million ($1.4 million international)
"Rampage," $7.1 million ($16.2 million international)
"Black Panther," $4.4 million
"Super Troopers 2," $3.6 million
"Truth or Dare," $3.2 million ($2.8 million international)
"Blockers," $2.9 million ($1.6 million international)
"Ready Player One," $2.4 million ($8.6 million international)
"Traffik," $1.6 million
Jack Ma: Chinese tycoon appears in public for the first time since October | Business News
Chinese tycoon Jack Ma has appeared in public for the first time in nearly three months – after speculation about his whereabouts following a clampdown by Beijing on his business empire.
The founder of e-commerce giant Alibaba was seen on Wednesday speaking by video in an online ceremony for an annual event for rural teachers.
The 50-second video made no mention of his disappearance.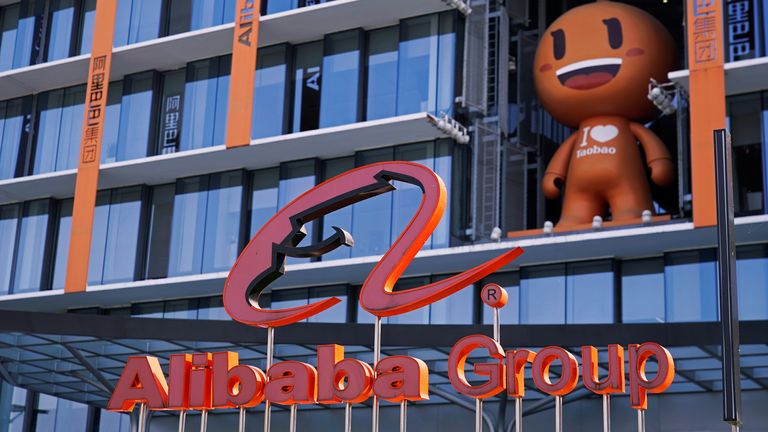 He had last appeared publicly on 24 October when he took aim at China's regulators in a Shanghai speech, saying they had an old-fashioned "pawnshop mentality" and were hampering innovation.
In November, authorities pulled the plug on plans for what would have been a record-breaking £26bn stock market float for finance giant Ant Group – founded by Mr Ma – with two days to spare.
Last month, anti-monopoly regulators warned executives at Alibaba and five other tech giants not to use their dominance to block new competitors.
More recently, Mr Ma was replaced in the final episode of a reality TV show on which he had been a judge.
The events had prompted online speculation about whether the ruling Communist regime wanted to make an example of the 56-year-old tycoon.
Hong Kong-listed shares in Alibaba – known for its annual Singles Day sales extravaganza – rose 8.5% after Mr Ma resurfaced.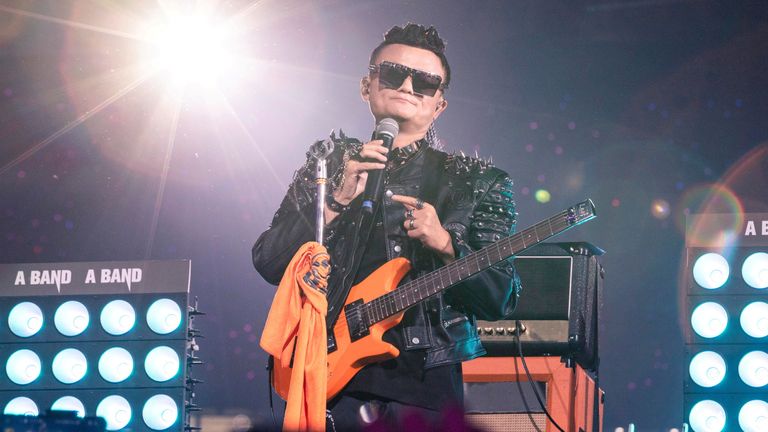 The tycoon had previously often appeared in public to speak at conferences and other events, though less frequently than in 2019 due to the coronavirus pandemic.
Alibaba and Mr Ma's charitable foundation both confirmed that the businessman, a former English teacher, had participated in the event on Wednesday.
The video also contained footage, dated 10 days ago, of him meeting staff at a school in Hangzhou.
The topic "Jack Ma makes his first public appearance" and his video address to teachers began trending on Chinese social media.
Mr Ma has stepped down from corporate positions at Alibaba and Ant Group but retains significant influence over the companies.
US says China is committing genocide against Uighurs and other ethnic minorities | World News
The US State Department has declared that China is committing genocide and crimes against humanity in a campaign targeting Uighurs and other ethnic minorities in Xinjiang. 
In a statement, outgoing Secretary of State Mike Pompeo said: "I believe this genocide is ongoing, and that we are witnessing the systematic attempt to destroy Uighurs by the Chinese party-state."
The designation was made in the dying hours of the Trump administration. But the incoming Biden team had previously voiced its support for such a definition, labelling the repression of Uighurs genocide in August last year.
And although Joe Biden's nominee for secretary of state, Antony Blinken, has pledged to reverse a host of President Trump's foreign policy measures, he said that he agreed with Mr Pompeo's determination.
In his determination of crimes against humanity, Pompeo cited "the arbitrary imprisonment or other severe deprivation of physical liberty of more than one million civilians, forced sterilisation, torture of a large number of those arbitrarily detained, forced labour, and the imposition of draconian restrictions on freedom of religion or belief, freedom of expression, and freedom of movement".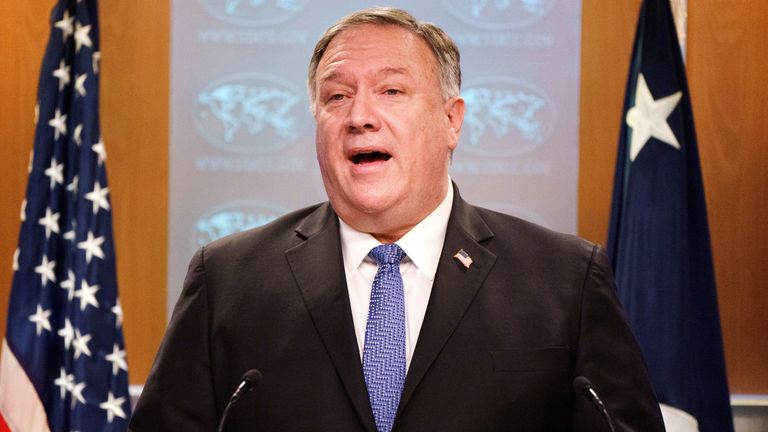 Beijing is likely to react furiously. At a press conference held last week in the Chinese capital, Communist Part official Xu Guixiang said: "This utterly untethered fabrication of 'genocide' regarding Xinjiang is the conspiracy of the century."
Analysis: Condemnation of China might be the only point of consensus between Biden and Trump
The US labelling China's treatment of Uighurs and other minorities as genocide is the most significant intervention on the issue. It might get lost in the pageantry of today's inauguration, and the pressing domestic concerns of the US, but it will reverberate for months and years to come.
China's reaction is guaranteed to be apoplectic. But it will seek to portray the genocide designation as motivated by politics, the last gasp of an outgoing administration and the personal vendetta of Mike Pompeo – public enemy number one in Chinese propaganda.
Critics elsewhere might agree with some of that. The Trump administration was not well known for its protection of minorities and human rights, whether at home or abroad. The US ignored calls to declare Myanmar's treatment of the Rohingya as genocide, for example.
And President Trump previously sidestepped human rights issues in his dealings with China, preferring initially to focus on trade. His former national security adviser John Bolton alleged that in July 2019 President Trump told Chinese President Xi Jinping that he was correct to build detention centres for Uighurs.
The designation isn't too much of a curveball for the Biden administration, which has voiced its agreement – perhaps the only point of consensus between two vastly different administrations. For all the division in the US, it is united on China.
But it might make things more difficult for America's allies. The British government narrowly defeated an amendment to legislation that would have added a genocide clause to trade bills, a clause aimed squarely at China. And the EU has recently concluded its own massive trade deal with China. The Biden administration may take a dim view of all that, and the genocide designation adds more moral heft.
In practical terms, the designation legally allows the US to take some new measures, although none of those are massive. The power is in the symbolism. And that symbolism may be most apparent in a year's time, when the 2022 Winter Olympics begin in Beijing.
It's hard to imagine Team USA competing in a country the US government accuses of ongoing genocide. Would other countries join that boycott?
Jailed Alexei Navalny releases investigation into Vladimir Putin's '£1bn palace' | World News
He may be behind bars, but the Kremlin has not succeeded in silencing Alexei Navalny.
On his first full day in Moscow's Matrosskaya-Tishina prison, Mr Navalny's team have released a huge video investigation into the construction and alleged slush fund behind what is known as "Putin's palace", a £1bn private residence on Russia's Black Sea coast.
Calling it "Putin's biggest secret", Mr Navalny and his team reveal new details about the sprawling complex near the resort town of Gelendzhik which has long been rumoured to belong to the Russian President.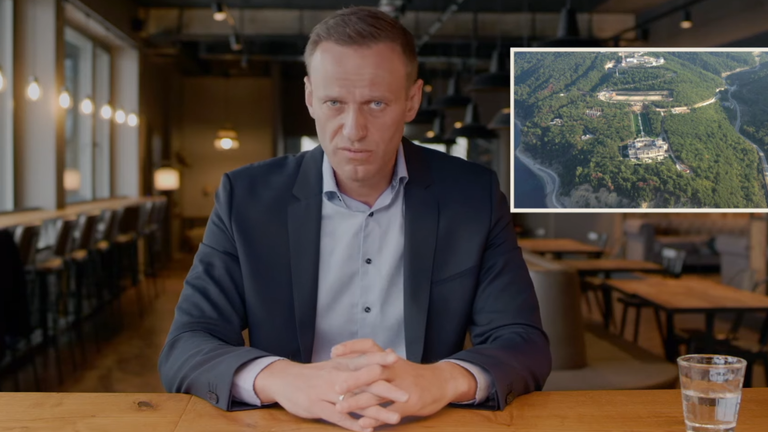 Drone footage over the grounds which the team says are 39 times the size of Monaco shows an underground ice hockey complex, 2500 square metre greenhouse and underground tunnel leading out to the Black Sea.
Architectural floor plans secured from a contractor shocked at the extent of the luxury reveal a lavish indoor theatre, fully-fledged casino and purple-tinted "hookah bar".
It is "the most expensive palace in the world", Mr Navalny says in the narration. "A new Versailles, new Winter Palace."
Mr Navalny says the idea for the investigation, which he presents from Germany, came during his time in intensive care.
He travels to Dresden to trace Vladimir Putin's path from lowly KGB operative on the wrong side of the Iron Curtain to the pinnacle of power in the Kremlin, showing how the friends he made in the 1990s have remained the principle beneficiaries of his kleptocratic regime to this day.
"Putin's personal money is kept by those he met thirty years ago," the investigation says. "In search of sponsors for the most corrupt ruler in the history of Russia, you need to go to his past."
He calls the Gelendzhik property the "biggest bribe in the world" and claims to have uncovered a scheme by which money for its construction is funnelled into offshore accounts by Putin's cronies as payment for lucrative state contracts he has handed them over the years.
"The standout for me is how bizarre and cuckoo-in the head our president is," says Vladimir Ashurkov, a close ally of Mr Navalny and executive director of his now disbanded Anti-Corruption Foundation. "Why do you need a billion dollar palace which you would never really use, as president?"
The Kremlin has denied that president Putin owns a palace in Gelendzhik.
The almost two hour video investigation ends with a plea to the Russian people to go out and protest. "If 10% of those who are disaffected take to the streets, the government will not dare falsify elections," Mr Navalny says.
It is a call he repeated in a video message from a Moscow police station on Monday, shortly before he was taken to jail. In a hastily convened court session inside the police station, a judge ruled that his detention should be extended for 30 days, until 15 February.
On 2 February a court will decide whether to convert a three and a half year suspended sentence he was serving for an alleged embezzlement charge into a custodial sentence on the grounds that he violated the terms of his parole whilst convalescing in Germany.
Navalny calls for protests over his arrest

Mr Navalny says all the various charges he has faced over the years are politically motivated.
His team are calling for a nationwide day of protest this Saturday. Mass gatherings are banned in Russia because of the pandemic and so far in Moscow, just two thousand people have registered as going on the Facebook page.
"The message about Putin's property will reach people in different formats and different channels," Mr Ashurkov says.
"It's unlikely that the regime will change tomorrow and we'll see hundreds of thousands of people on the streets but it's a campaign of constant pressure and history teaches us that the only constant throughout the decades is change."