Kim to close nuclear site in view of outside world
North Korea plans to shut its nuclear testing site in May and reveal the process to the outside world, South Korea has said.
Announcing the pledge, Seoul said North Korea's leader Kim Jong Un has said Donald Trump will get to know he is "not a person" to aim missiles at US.
"Kim said he would carry out the closing of the nuclear test site in May, and would soon invite experts of South Korea and the US to disclose the process to the international community with transparency," Seoul's presidential spokesman Yoon Young-chan said.
Mr Kim made the comment during Friday's summit with South Korean President Moon Jae-in, the spokesman added.
North Korea had announced ahead of the summit that Pyongyang would immediately suspend nuclear and missile tests, and look towards scrapping its nuclear test site in order to pursue economic growth and peace.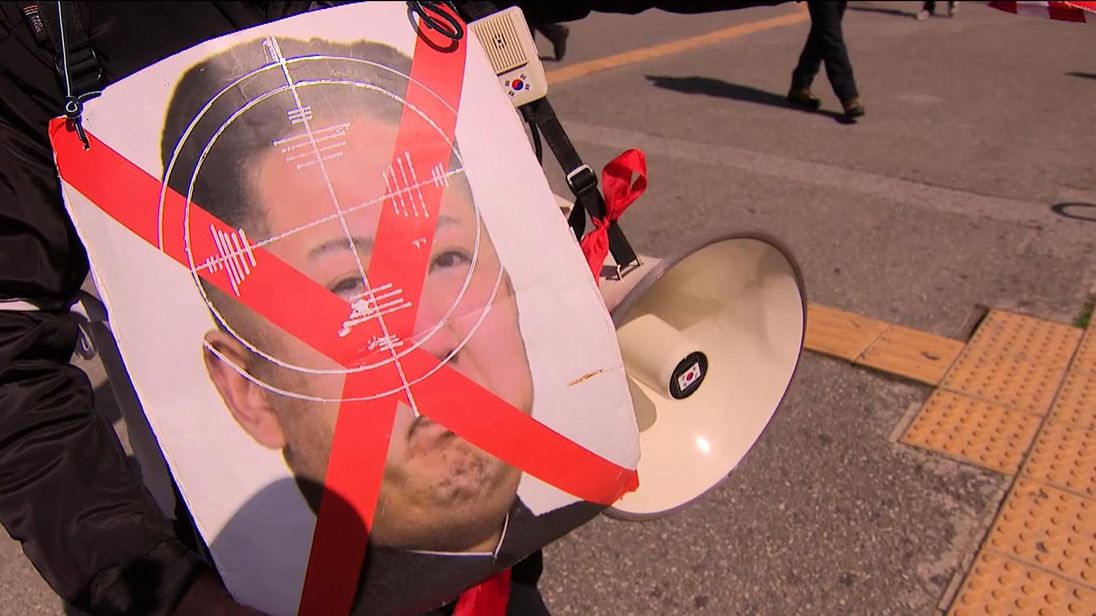 Meanwhile, President Donald Trump has said a meeting with Mr Kim could happen in the next three or four weeks.
Speaking at a campaign rally in Michigan, the President said he would try to do "the world a big favour" by achieving a nuclear deal with the regime – but was cautiously optimistic over the outcome.
He said: "I think we'll have a meeting over the next three or four weeks. It's going be a very important meeting, the denuclearisation of the Korean Peninsula.
"We'll see how it goes… whatever happens, happens. Look, I may go and it may not work out. I leave. I'm not going to be a John Kerry who makes that horrible Iran deal. Horrible."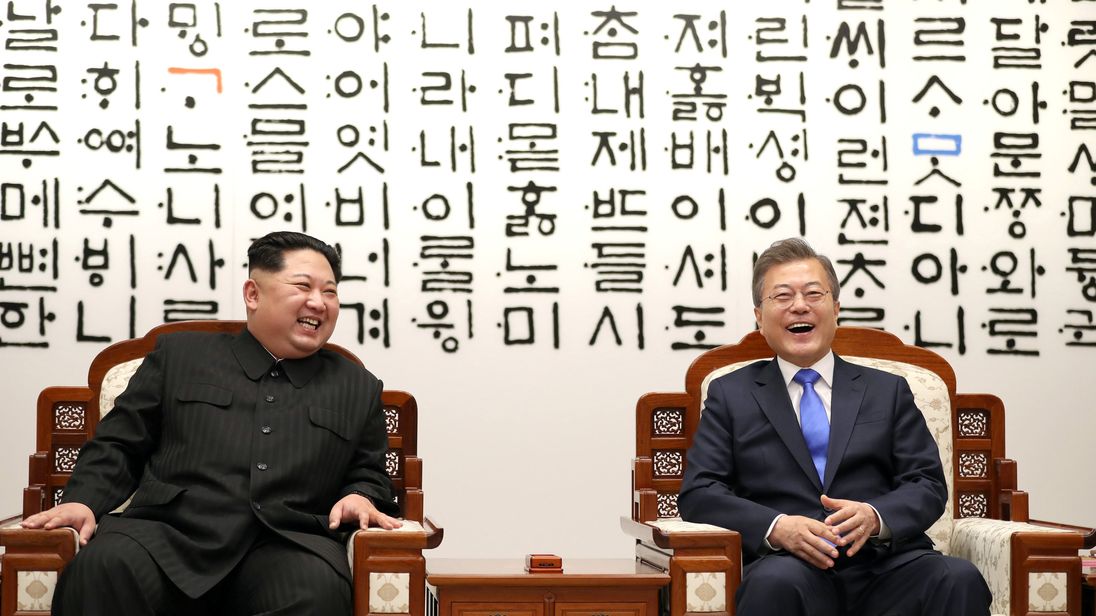 During his speech, Mr Trump attacked the European Union, China other nations over trade, threatening to "take on" the bloc and superpower.
He said the EU "sounds so nice" but it was "formed to take advantage of the United States".
The European Union was temporarily spared from a round of tariffs on metal imports imposed by Mr Trump's administration in March, although the exemption is due to expire in the coming days.
Pledging to support US farmers, Mr Trump accused Brussels of putting up barriers and called for markets to be opened up.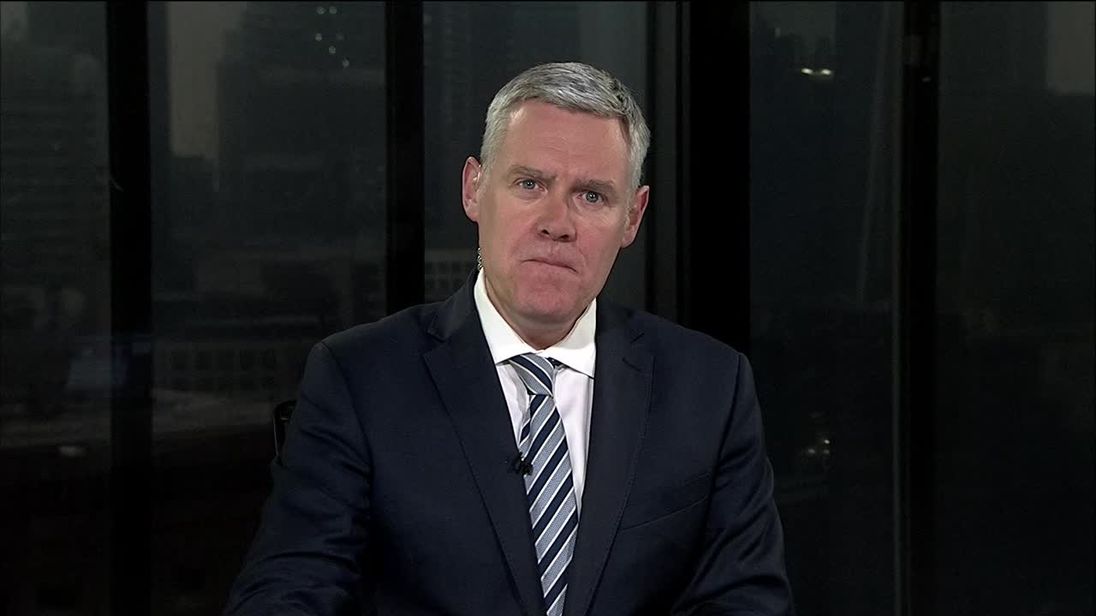 "When we take on China or the European Union, which has tremendous blocks, it's very hard for us to sell stuff into the European Union. It was put there to take advantage of the United States, OK."
Responding to a member of the crowd shouting "not anymore", he replied: "You're right. Not anymore. We told them that yesterday actually, we said the same words 'not anymore'. Those days are over.
"But we've got to open up these markets. It's not fair."
The US and China have been locked in a bitter dispute over tariffs on metals and other products, raising fears of a trade war between the world's two largest economies.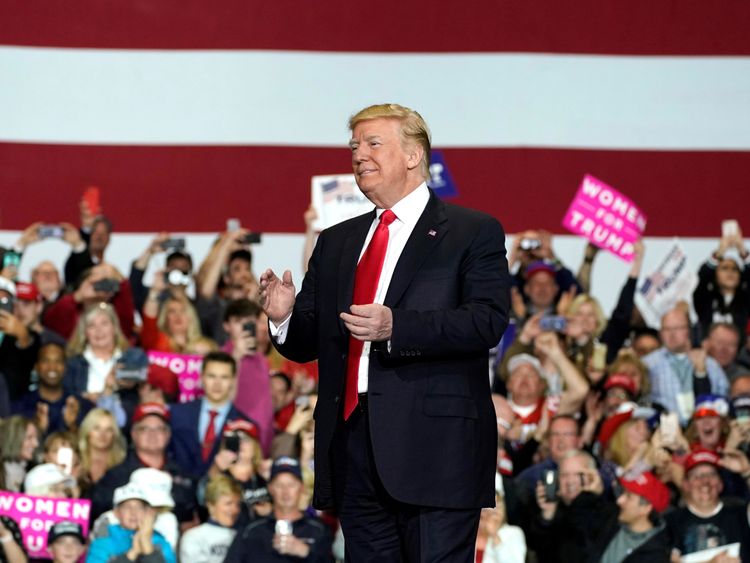 Mr Trump was speaking in Washington, Michigan while the annual White House Correspondents' Dinner was taking place in Washington, DC.
It is the second time Mr Trump has skipped the event, which is traditionally attended by the President and news media.
Ahead of the rally, the President said he had somewhere better to be than being stuck in a room "with a bunch of fake news liberals who hate me", adding he would rather spend the evening "with my favourite deplorables" – a term Hillary Clinton used in 2016 to describe some of his supporters.
Jailed Alexei Navalny releases investigation into Vladimir Putin's '£1bn palace' | World News
He may be behind bars, but the Kremlin has not succeeded in silencing Alexei Navalny.
On his first full day in Moscow's Matrosskaya-Tishina prison, Mr Navalny's team have released a huge video investigation into the construction and alleged slush fund behind what is known as "Putin's palace", a £1bn private residence on Russia's Black Sea coast.
Calling it "Putin's biggest secret", Mr Navalny and his team reveal new details about the sprawling complex near the resort town of Gelendzhik which has long been rumoured to belong to the Russian President.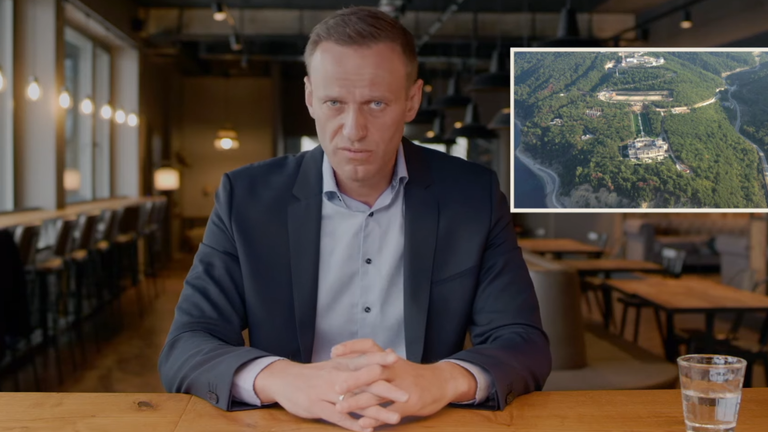 Drone footage over the grounds which the team says are 39 times the size of Monaco shows an underground ice hockey complex, 2500 square metre greenhouse and underground tunnel leading out to the Black Sea.
Architectural floor plans secured from a contractor shocked at the extent of the luxury reveal a lavish indoor theatre, fully-fledged casino and purple-tinted "hookah bar".
It is "the most expensive palace in the world", Mr Navalny says in the narration. "A new Versailles, new Winter Palace."
Mr Navalny says the idea for the investigation, which he presents from Germany, came during his time in intensive care.
He travels to Dresden to trace Vladimir Putin's path from lowly KGB operative on the wrong side of the Iron Curtain to the pinnacle of power in the Kremlin, showing how the friends he made in the 1990s have remained the principle beneficiaries of his kleptocratic regime to this day.
"Putin's personal money is kept by those he met thirty years ago," the investigation says. "In search of sponsors for the most corrupt ruler in the history of Russia, you need to go to his past."
He calls the Gelendzhik property the "biggest bribe in the world" and claims to have uncovered a scheme by which money for its construction is funnelled into offshore accounts by Putin's cronies as payment for lucrative state contracts he has handed them over the years.
"The standout for me is how bizarre and cuckoo-in the head our president is," says Vladimir Ashurkov, a close ally of Mr Navalny and executive director of his now disbanded Anti-Corruption Foundation. "Why do you need a billion dollar palace which you would never really use, as president?"
The Kremlin has denied that president Putin owns a palace in Gelendzhik.
The almost two hour video investigation ends with a plea to the Russian people to go out and protest. "If 10% of those who are disaffected take to the streets, the government will not dare falsify elections," Mr Navalny says.
It is a call he repeated in a video message from a Moscow police station on Monday, shortly before he was taken to jail. In a hastily convened court session inside the police station, a judge ruled that his detention should be extended for 30 days, until 15 February.
On 2 February a court will decide whether to convert a three and a half year suspended sentence he was serving for an alleged embezzlement charge into a custodial sentence on the grounds that he violated the terms of his parole whilst convalescing in Germany.
Navalny calls for protests over his arrest

Mr Navalny says all the various charges he has faced over the years are politically motivated.
His team are calling for a nationwide day of protest this Saturday. Mass gatherings are banned in Russia because of the pandemic and so far in Moscow, just two thousand people have registered as going on the Facebook page.
"The message about Putin's property will reach people in different formats and different channels," Mr Ashurkov says.
"It's unlikely that the regime will change tomorrow and we'll see hundreds of thousands of people on the streets but it's a campaign of constant pressure and history teaches us that the only constant throughout the decades is change."
Donald Trump's farewell address: 'Our movement is only just beginning' | US News

Donald Trump will say he will "pray for the success" of Joe Biden's administration in his farewell address later but that the political movement he created "is only just beginning".
Before he leaves office tomorrow, the outgoing president said everyone in the US had been "horrified" by the rioting at the Capitol in Washington DC earlier this month.
In extracts released by the White House, he said: "Political violence is an attack on everything we cherish as Americans. It can never be tolerated."
He added: "As I prepare to hand power over to a new administration at noon on Wednesday, I want you to know that the movement we started is only just beginning."
Live updates on the final preparations for Joe Biden's inauguration
Biden inauguration: Watch and follow events on Sky News from 1pm on Wednesday, with the ceremony starting at 4pm
Mr Trump also said he would pray for the success of the new administration in keeping America safe and prosperous, but he did not mention Joe Biden by name.
He went on: "Our agenda was not about right or left, it wasn't about Republican or Democrat, but about the good of a nation, and that means the whole nation."
He said his administration had "restored American strength at home – and American leadership abroad", and it "built the greatest economy in the history of the world".
Under his leadership, Mr Trump claimed the US had "revitalised our alliances and rallied the nations of the world to stand up to China like never before".
And he said: "As a result of our bold diplomacy and principled realism, we achieved a series of historic peace deals in the Middle East. It is the dawn of a new Middle East and we are bringing our soldiers home."
He also said he was "especially proud" to be the first president in decades who has "started no new wars".
Mr Trump will not attend tomorrow's inauguration – the first outgoing president to skip the ceremony since Andrew Johnson more than a century and a half ago.
Before leaving the state of Delaware where he was a senator for decades, Mr Biden addressed dozens of supporters in an emotional sendoff.
As the US exceeded 400,000 coronavirus deaths, the president-elect said: "These are dark times. But there's always light."
COVID-19: 'Real-world' analysis of vaccine in Israel raises questions about UK strategy | World News
The first real-world analysis of the Pfizer coronavirus vaccine suggests it is matching its performance in clinical trials, but raises serious questions about the UK's decision to delay the second dose.
Scientists in Israel – which is leading the COVID-19 vaccination race – have told Sky News that they are "very hopeful" having studied preliminary data from 200,000 vaccinated people.
But crucially they say their results do not show efficacy at a level close to that used by the UK to justify delaying the second dose of the Pfizer jab.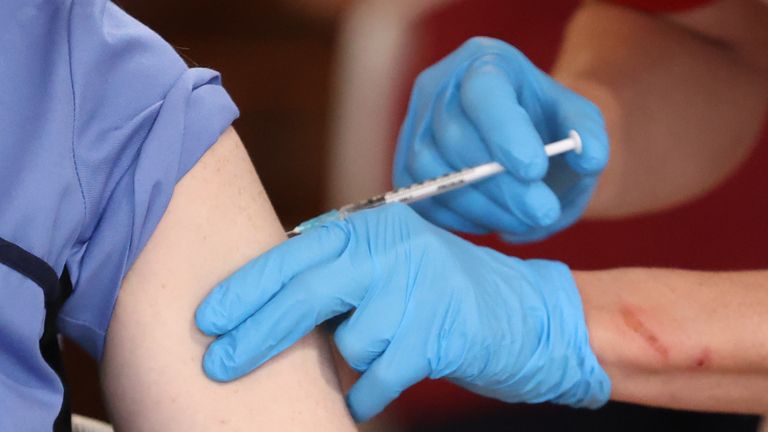 Professor Balicer is a physician, epidemiologist and chief innovation officer for Clalit, the largest health care provider in Israel. He is also an adviser to the World Health Organisation.
"We compared 200,000 people above the age of 60 that were vaccinated. We took a comparison group of 200,000 people, same age, not vaccinated, that were matched to this group on various variables…" prof Balicer said.
"Then we looked to see what is the daily positivity rate… And we saw that there was no difference between vaccinated and unvaccinated until day 14 post-vaccination.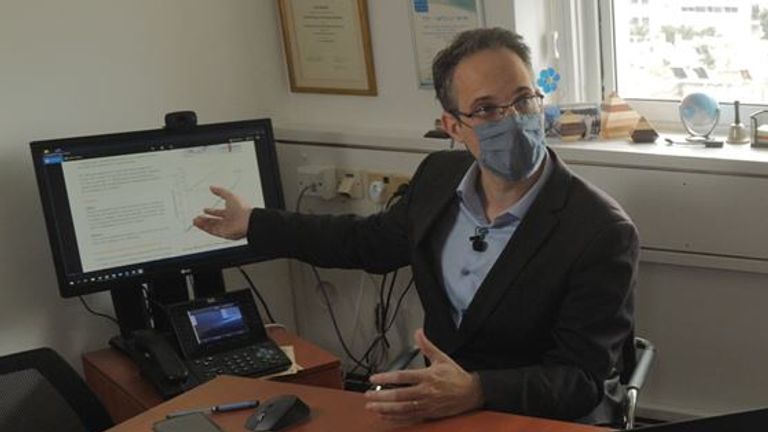 "But on day 14 post-vaccination, a drop of 33% in positivity was witnessed in the vaccinated group and not in the unvaccinated… this is really good news."
However, UK scientists said in December that trial data had suggested it would be 89% effective after one dose.
A document issued by the UK government's vaccine advisers, the Joint Committee on Vaccination and Immunisation, to justify delaying the second dose for up to 12 weeks said: "Using data for those cases observed between day 15 and 21, efficacy against symptomatic COVID-19 was estimated at 89%, suggesting that short term protection from dose 1 is very high from day 14 after vaccination."
This is much more optimistic than the new real-world Israeli data suggests.
Responding to the UK government strategy, prof Balicer said: "The data and estimates I gave are what we have.
"We could not see 89% reduction in the data we reported. Further data and analyses will be released in peer reviewer scientific format."
He added: "The practise in Israel is to provide the second vaccine at three weeks.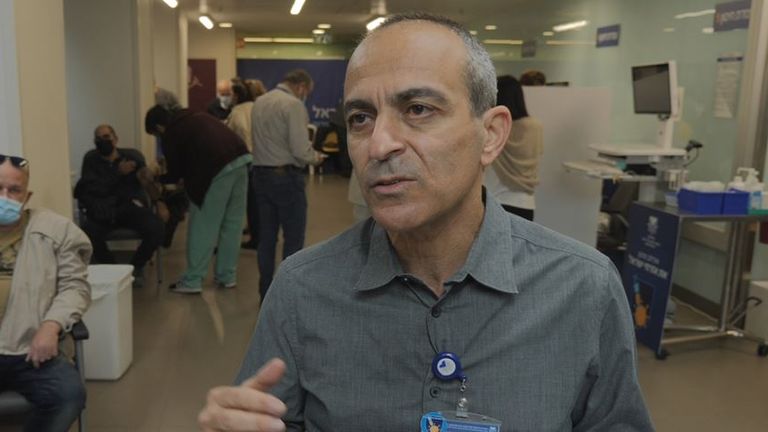 "And so it is impossible for us to tell what would be the impact of not providing the second dose…"
Israel is following Pfizer protocol in giving the second dose of the coronavirus vaccine three weeks after the first.
It has a smaller population and a regular supply from Pfizer. In return it's providing detailed data to Pfizer.
In contrast, the UK with a much larger population is prioritising the first jab – arguing that one dose given to as many people as possible is better than two to fewer people.
"We have already covered some 25% of our population and over 75% above the age of 60 in the last four and a half weeks.
One-in-five Israelis now vaccinated

"And so we are one of the first countries to be able to witness the sheer impact in big numbers of vaccinating such a large proportion of the population," prof Balicer said.
"By being able to manipulate this data in real time, to clean it and to use proper epidemiological methodology, we are able to provide answers to the most pertinent questions right now."
The Israeli scientists believe their 33% figure will rise when data is compiled from younger age groups and the fact that the data is real-life adds to their confidence.
"This is not the ideal setting of a randomised controlled trial where everything from coaching maintenance to selection of the population of interest is done in a very meticulous way.
"This is the real-world. And so by seeing the real world impact so early on in the same direction and in the same timing as we've seen in the clinical trials is something that makes us very hopeful."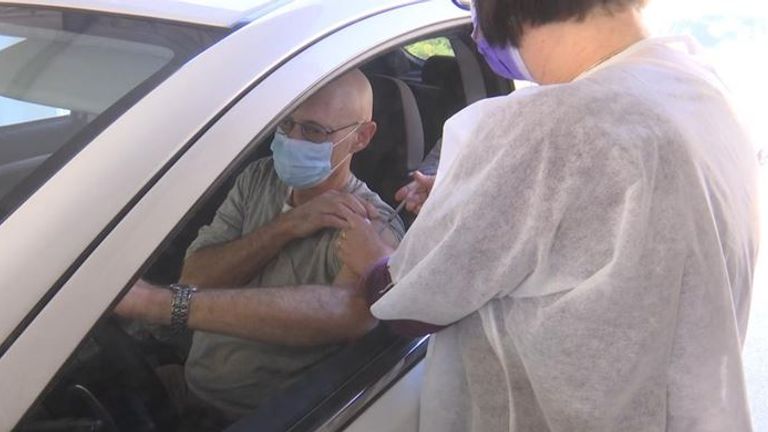 Tel Aviv's Sourasky hospital, one of hundreds of vaccination centres, is inoculating hundreds of people an hour.
Ronni Gamzu is the hospital director. He served as the government "corona tsar" – a rotating advisory role – until last month.
"I believe, truly believe, this is the beginning of the end because the vaccine creates the immune response.
"We see that clearly and we see a change in the people that are becoming severely ill with coronavirus and moderately ill. People that have got the vaccine are more protected," professor Gamzu said.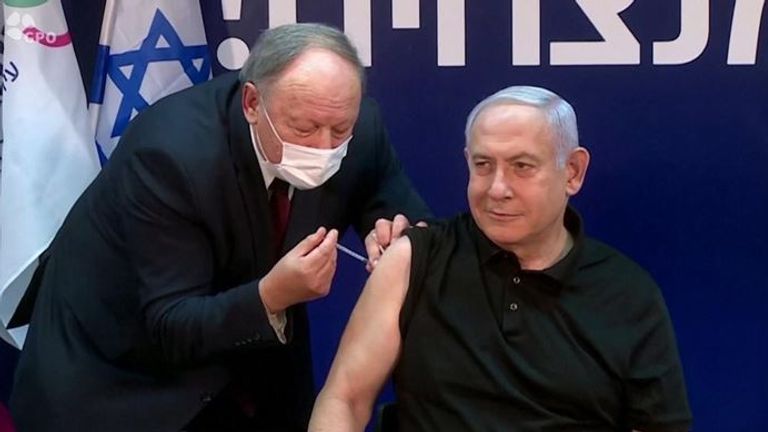 Asked about the UK strategy of delaying the second dose, he said the 89% figure seemed "very optimistic" but understood why compromises needed to be made.
"If you are short of vaccines, this is a good idea… We believe that if you take the booster shot, even after six weeks, then you will have an effect, the effect is coming and growing gradually.
"We do not know that for sure because the studies were done for 21 days for Pfizer and 28 days for Moderna. But there is a clear logic behind postponing it when you are short on vaccines."
In a previous statement on the decision, the JCVI said: "With most vaccines an extended interval between the prime and booster doses leads to a better immune response to the booster dose.
"There is evidence that a longer interval between the first and second doses promotes a stronger immune response with the AstraZeneca vaccine.
"There is currently no strong evidence to expect that the immune response from the Pfizer-BioNTech and AstraZeneca vaccines differ substantially from each other.
"The committee advises initially prioritising delivery of the first vaccine dose as this is highly likely to have a greater public health impact in the short term and reduce the number of preventable deaths from COVID-19."
Sky News has contacted the JCVI for comment.