Infinity War' is the first Marvel crossover event to embrace tragedy
Get the Think newsletter.
"Avengers: Infinity War" has arrived in theaters, the 19th franchise film from the Marvel Cinematic Studios in a decade. While all are superhero films, Marvel has tried to distinguish its many offerings using characteristics typical of other genres, from the period-piece flourishes of "Captain America: The First Avenger" to the 80s-style comedy of "Thor: Ragnarok."
But when it comes to the lynchpin movies, the "crossover" films upon which the entire enterprise hangs, the studio has always played it pretty straight. With "Infinity War," the franchise takes things to a whole new level, however, by giving audiences an old-fashioned Shakespearean tragedy instead of a cheerful comic book movie with a happy ending.
When the first crossover film "The Avengers"arrived in 2012, it had a huge impact on the movie business. And after earning $207 million at the box office in its first weekend, the film recorded the most successful opening weekend of any film in the Marvel franchise universe. (To put that number into context, it's the fourth-largest opening weekend of all time.)
When it comes to the "crossover" films upon which the entire enterprise hangs, the studio has always played it pretty straight. With "Infinity War," the franchise takes things to a whole new level.
If "The Avengers" was not a hit, it's likely the "Star Wars" resurrection would have been a single trilogy, without the stand-alone films. Warner Brothers also probably would not have embarked on its disastrous "Justice League" franchise, a series of films that managed to suck all the joy out of its cape-wearing protagonists. Without "The Avengers," there would be no "Wonder Woman."
For better or for worse (and "Justice League" was definitely for worse), "Infinity War" showed sequel-loving Hollywood how to take new material and still brand it a sequel, with the understanding that the characters would all eventually meet up together in a massive crossover event. This is how a psychedelic comedy trip like "Guardians of the Galaxy" could be billed as a sequel to "Iron Man 3" and "Captain America: The Winter Soldier." It was a strategy that seemed good for Hollywood and good for fans, but it couldn't last. How does one handle a film with 22 lead characters?
From the outset, Marvel's movie arm, known as the Marvel Cinematic Universe (the MCU), defined itself as a family-friendly company. Even in the direst of situations, Marvel characters never lose their sense of snarky good humor — as the original "Iron Man" and the first crossover "The Avengers" prove. (This is partly why Robert Downey Jr. was such a good fit and indeed has come to embody a lot of what the MCU stands for today.) The style is now so recognizable that 20th Century FOX's superhero hit "Deadpool" spent much of its nearly two hours lampooning MCU clichés.
Make no mistake, "Infinity War" is still full of snarky humor, especially when characters accustomed to being the center of attention in their own little franchises meet for the first time. Egos are challenged, barbs are thrown. Such little moments, while predictable, are also where the film feels most confident.
But the movie still suffers from its massive character count. This is a problem of Marvel's own creation, of course, since it has always been so focused on the crazy extended family trope. Killing off characters is much trickier to do in the MCU, unlike, say, in the DC Comics franchise, which is much more brooding and tortured. The Avengers would rather fail because they cannot bear (as Spock so brilliantly put it) to remember that the good of the many outweighs the good of the few.
All of which makes the plot of "Infinity War" — and its body count — that much more risky. And whether this movie actually succeeds in pulling off its tragedy arc is something audiences will be debating until, well, the next installment comes around.
The film suffers from its massive character count. This is a problem of Marvel's own creation, of course, since it has always been so focused on the crazy extended family trope.
When director Joss Whedon pulled off the first "The Avengers," he only had five characters to mix together. By his second, "Avengers: Age of Ultron," he had reached double digits, and the movie ended up feeling like a series of great vignettes in search of a coherent plot. For "Infinity War," Marvel turned to directors Joe and Anthony Russo, who are on their third Marvel film and second Marvel crossover.
The brothers' first crossover attempt, "Captain America: Civil War" (which should really have been called "Avengers 2½: The Smell of Civil Liberties") produced nice sequences, but lacked plot focus. Learning from that experience, the pair leans into the vignette structure in "Infinity War." The characters are divided up into smaller factions, and each scene crosscuts with other threads so that individual heroes get screen time without totally sacrificing the narrative. In this case, that narrative seems to revolve around the notion the all heroes suffer from the same fatal flaw: they cannot bring themselves to allow other members of the team to be hurt in order to stop a catastrophic ending.
Biden inauguration: Washington 'like a warzone' with new president's swearing-in just hours away | US News
A jittery United States still reeling from the attack on the Capitol Building is readying itself for a change of leadership, with Joe Biden's inauguration just hours away.
The swearing-in ceremony will be unlike any other in history, taking place against the backdrop of a raging pandemic and profound political divisions across the country.
Yesterday, the 78-year-old bid farewell to his home state of Delaware, making an emotional speech, before leaving for the capital.
'Excuse the emotion': Biden's tears on eve of presidency

He told the crowd: "We have great opportunities, Delaware has taught us anything's possible, anything's possible in this country."
Live updates on the final preparations for Joe Biden's inauguration
But the Washington he arrived in is a reflection of the fractured dystopian political landscape.
Subscribe to the Daily podcast on Apple Podcasts, Google Podcasts, Spotify, Spreaker
More than 25,000 National Guard have been drafted in for fear of more violence, and for all intents and purposes the city is a warzone – it's almost three times the number of American soldiers deployed in Iraq, Afghanistan, Somalia and Syria combined.
Entire streets have been sealed off and concrete slabs and large container trucks block off the entrances to the central area.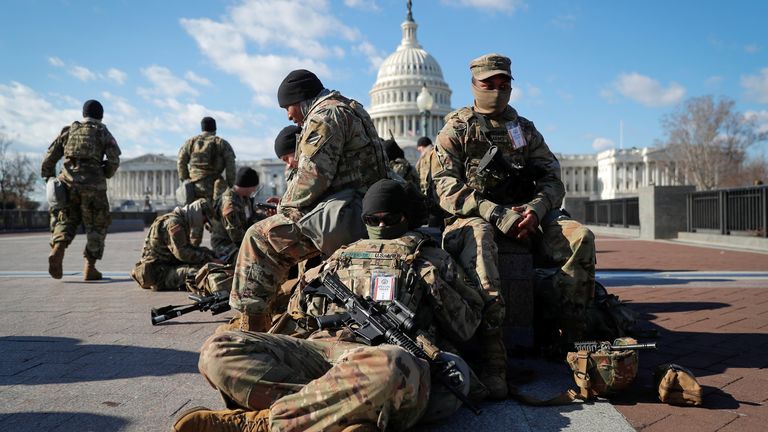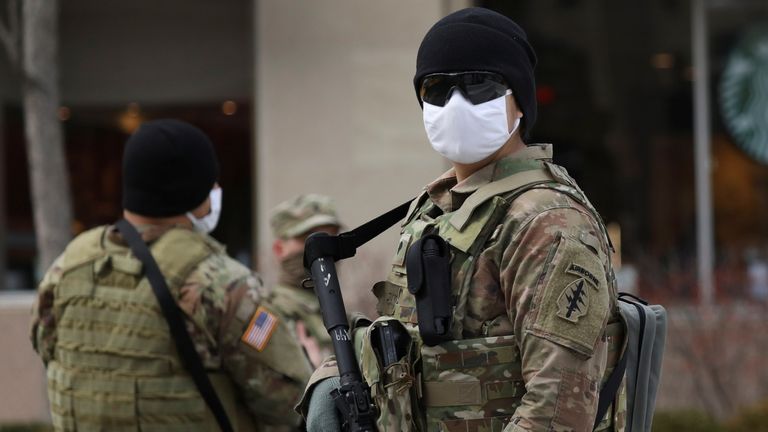 The security services say there is intelligence that the democratic institutions could be targeted by right-wing terrorists.
With DC under lockdown, there will be no crowds to cheer the new president – the pandemic meant much of the ceremony would be conducted virtually anyway.
Biden inauguration: Watch and follow events on Sky News from 1pm, with the ceremony starting at 4pm
The National Mall, which on Inauguration Day is ordinarily packed, has also been sealed off.
Instead, there is a display of nearly 200,000 flags to represent the people who cannot attend.
In his inaugural address Mr Biden will speak about how he hopes to unify the country and bring about a common sense of purpose – he will also likely emphasise that he is a president for all Americans, not just for those who voted for him.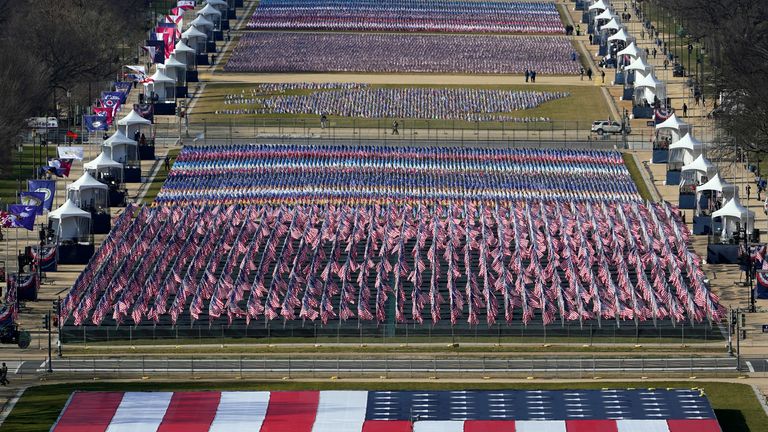 But before the swearing-in ceremony Mr Biden will attend Mass, another indication of how much America has changed.
He's only the country's second Catholic president.
The first, John F Kennedy, had to repeatedly fend off accusations that Rome held too much influence over the Oval Office.
But it will not be religion that keeps the incoming leader awake at night.
He inherits a country that's constitutionally battered and bruised after four turbulent years of Donald J Trump.
His final day in office also saw the coronavirus death toll sail past the grim figure of 400,000. The Biden administration says it will make dealing with the pandemic a priority in the days ahead.
There's little argument though that the outgoing 45th president's term has ended in disgrace.
Mr Trump is in the ignominious position of being the only US president to be impeached twice.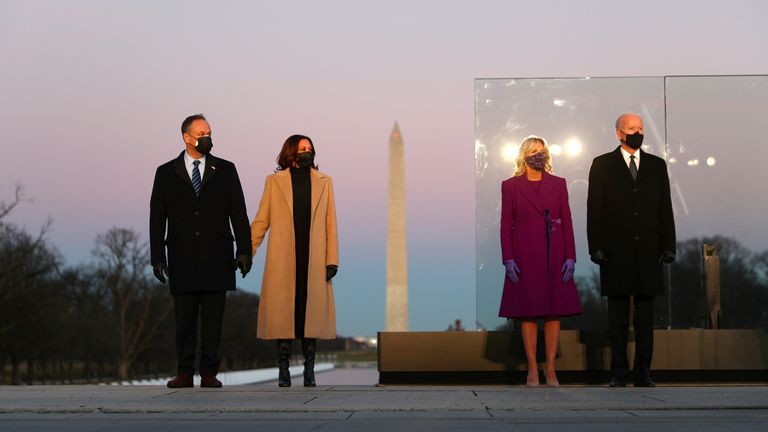 He's accused of inciting the insurrection on Capitol Hill on 6 January, which saw a violent mob storm America's seat of democracy.
The crisis that is his presidency was perhaps most starkly underlined by denunciations from senior Republicans on his last full day in office.
Outgoing Senate Majority leader Mitch McConnell accused Mr Trump of "provoking" the violence after the "mob was fed lies".
But President Trump appears undeterred, reportedly still telling aides and anyone that will listen, that he won the election, despite overwhelming evidence to the contrary.
'We pray for the new administration'

He will leave for Florida in the morning after he refused to attend the inauguration of his successor. It's another sign of just how acrimonious the transfer of power has become in this bitterly divided nation.
Since he was struck off Twitter, President Trump has been largely silent. However, yesterday he did release a 20-minute farewell video.
In it, he lists what he believes are his accomplishments and offers well wishes to his successor – although he did not mention Joe Biden by name.
He also said that "the movement we started is only just beginning".
Jack Ma: Chinese tycoon appears in public for the first time since October | Business News
Chinese tycoon Jack Ma has appeared in public for the first time in nearly three months – after speculation about his whereabouts following a clampdown by Beijing on his business empire.
The founder of e-commerce giant Alibaba was seen on Wednesday speaking by video in an online ceremony for an annual event for rural teachers.
The 50-second video made no mention of his disappearance.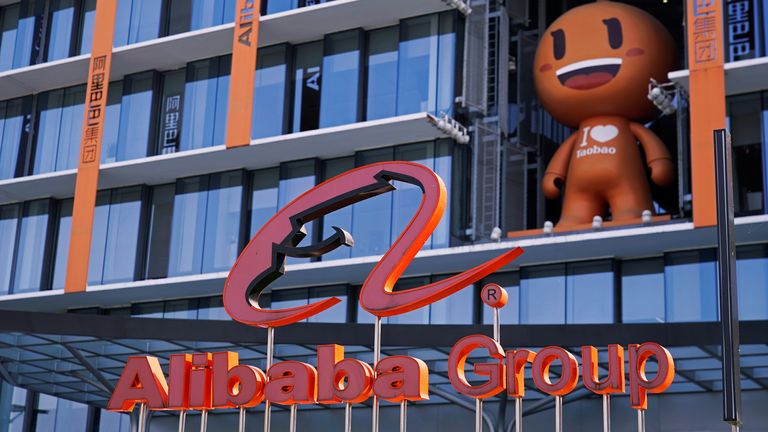 He had last appeared publicly on 24 October when he took aim at China's regulators in a Shanghai speech, saying they had an old-fashioned "pawnshop mentality" and were hampering innovation.
In November, authorities pulled the plug on plans for what would have been a record-breaking £26bn stock market float for finance giant Ant Group – founded by Mr Ma – with two days to spare.
Last month, anti-monopoly regulators warned executives at Alibaba and five other tech giants not to use their dominance to block new competitors.
More recently, Mr Ma was replaced in the final episode of a reality TV show on which he had been a judge.
The events had prompted online speculation about whether the ruling Communist regime wanted to make an example of the 56-year-old tycoon.
Hong Kong-listed shares in Alibaba – known for its annual Singles Day sales extravaganza – rose 8.5% after Mr Ma resurfaced.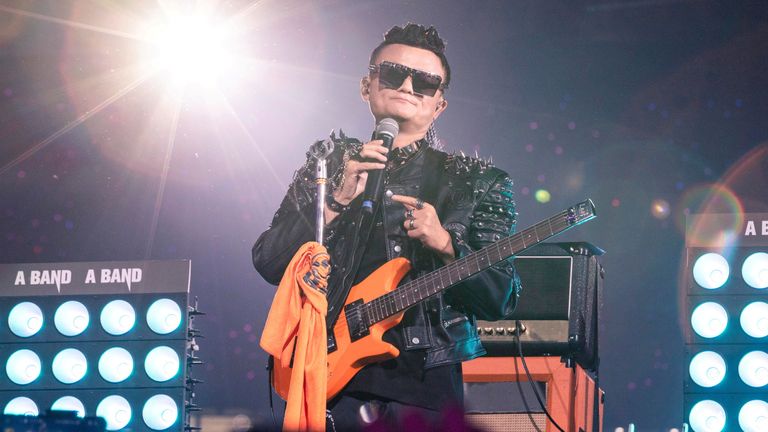 The tycoon had previously often appeared in public to speak at conferences and other events, though less frequently than in 2019 due to the coronavirus pandemic.
Alibaba and Mr Ma's charitable foundation both confirmed that the businessman, a former English teacher, had participated in the event on Wednesday.
The video also contained footage, dated 10 days ago, of him meeting staff at a school in Hangzhou.
The topic "Jack Ma makes his first public appearance" and his video address to teachers began trending on Chinese social media.
Mr Ma has stepped down from corporate positions at Alibaba and Ant Group but retains significant influence over the companies.
US says China is committing genocide against Uighurs and other ethnic minorities | World News
The US State Department has declared that China is committing genocide and crimes against humanity in a campaign targeting Uighurs and other ethnic minorities in Xinjiang. 
In a statement, outgoing Secretary of State Mike Pompeo said: "I believe this genocide is ongoing, and that we are witnessing the systematic attempt to destroy Uighurs by the Chinese party-state."
The designation was made in the dying hours of the Trump administration. But the incoming Biden team had previously voiced its support for such a definition, labelling the repression of Uighurs genocide in August last year.
And although Joe Biden's nominee for secretary of state, Antony Blinken, has pledged to reverse a host of President Trump's foreign policy measures, he said that he agreed with Mr Pompeo's determination.
In his determination of crimes against humanity, Pompeo cited "the arbitrary imprisonment or other severe deprivation of physical liberty of more than one million civilians, forced sterilisation, torture of a large number of those arbitrarily detained, forced labour, and the imposition of draconian restrictions on freedom of religion or belief, freedom of expression, and freedom of movement".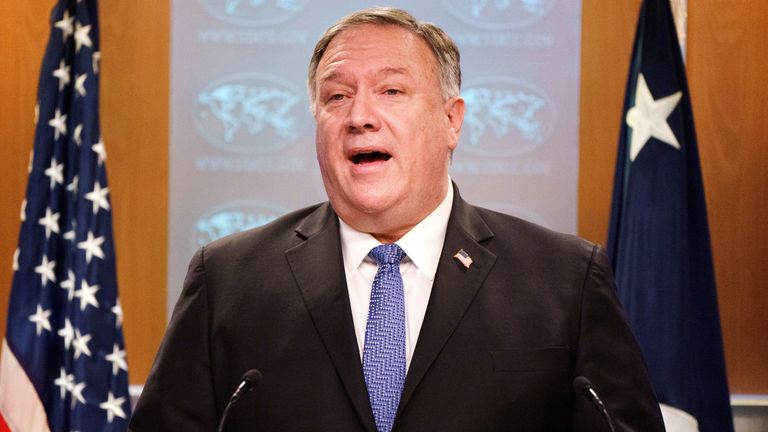 Beijing is likely to react furiously. At a press conference held last week in the Chinese capital, Communist Part official Xu Guixiang said: "This utterly untethered fabrication of 'genocide' regarding Xinjiang is the conspiracy of the century."
Analysis: Condemnation of China might be the only point of consensus between Biden and Trump
The US labelling China's treatment of Uighurs and other minorities as genocide is the most significant intervention on the issue. It might get lost in the pageantry of today's inauguration, and the pressing domestic concerns of the US, but it will reverberate for months and years to come.
China's reaction is guaranteed to be apoplectic. But it will seek to portray the genocide designation as motivated by politics, the last gasp of an outgoing administration and the personal vendetta of Mike Pompeo – public enemy number one in Chinese propaganda.
Critics elsewhere might agree with some of that. The Trump administration was not well known for its protection of minorities and human rights, whether at home or abroad. The US ignored calls to declare Myanmar's treatment of the Rohingya as genocide, for example.
And President Trump previously sidestepped human rights issues in his dealings with China, preferring initially to focus on trade. His former national security adviser John Bolton alleged that in July 2019 President Trump told Chinese President Xi Jinping that he was correct to build detention centres for Uighurs.
The designation isn't too much of a curveball for the Biden administration, which has voiced its agreement – perhaps the only point of consensus between two vastly different administrations. For all the division in the US, it is united on China.
But it might make things more difficult for America's allies. The British government narrowly defeated an amendment to legislation that would have added a genocide clause to trade bills, a clause aimed squarely at China. And the EU has recently concluded its own massive trade deal with China. The Biden administration may take a dim view of all that, and the genocide designation adds more moral heft.
In practical terms, the designation legally allows the US to take some new measures, although none of those are massive. The power is in the symbolism. And that symbolism may be most apparent in a year's time, when the 2022 Winter Olympics begin in Beijing.
It's hard to imagine Team USA competing in a country the US government accuses of ongoing genocide. Would other countries join that boycott?