Ahead of White House Correspondents' Dinner, two former press secretaries talk shop
Earlier this month, Reporters Without Borders ranked the U.S. 45th out of 180 countries in the world for press freedom. It was 43rd in 2017. (This year Norway was first and North Korea last.)
"A media-bashing enthusiast, Trump has referred to reporters as 'enemies of the people,' a term once used by Joseph Stalin," the report read.
Trump's press secretary Sarah Huckabee Sanders was described by Politico as "the face of the most duplicitous press operation in White House history." And the president's first press secretary, Sean Spicer, debuted in the briefing room by slamming reporters over the crowd size at Trump's inauguration — drawing derision for inaccurately saying it was "the largest audience to ever witness an inauguration, period."
Meanwhile, Josh Earnest, who was press secretary to President Barack Obama from 2014 to 2017 and is a contributor to MSNBC, took Trump's press operations to task on the topic of telling the truth.
"Look, at the risk of being blunt here, protecting the president's ego in the current administration is no small thing and that's why they're willing to tell lies that degrade their credibility," he said. "Protecting the president's ego, in some ways, supersedes the credibility of the people who are speaking for him, and that has eroded their ability to effectively make arguments to the press corps and to the American people. So they've paid the price for it."
Earnest added that transcripts of his press briefings were annotated with corrections if he got things wrong from the podium.
McCurry faced some challenging moments during his tenure, too — including responding to questions from the podium about Clinton's relationship with White House intern Monica Lewinsky. Fielding difficult, at times awkward, questions appears to be a necessary part of the job since the White House and press can naturally be adversaries.
But is it the role of a press secretary to speak on behalf of the president when reporters probe into personal matters, such as the allegations around Lewinsky or Stormy Daniels, the adult film star who alleges she had sex with Trump?
When it came to personal matters involving the president, McCurry said, he was often forced to rely on lawyers. Still, he said it was not his role to be a personal cheerleader: "Remember the person who speaks on behalf of the president is there because they're paid by the American people."
McCurry added, "The role of the press secretary is not to get out there and try to be the defense attorney."
Earnest said the idea of telling "white lies" for the president, as former communications director Hope Hicks admitted doing for Trump, simply erodes credibility for any press secretary.
He also reflected on how future presidents will return relations to some form of normality. "There is now an unfortunate tolerance for saying things that everybody knows isn't true. It's important for people to remember: that is new," Earnest said. He added that the next person to become press secretary after Trump's time in office will need to reassert a "100% commitment to the facts."
"You can not lead people away from the truth," said McCurry, who later added: "You can wink and nod and do a little shuck and jive on the way, but I don't think you can actually say something that's not true."
After all, the stakes are high.
"It's fundamentally corrosive to our democracy when the president in the White House doesn't respect the role of the independent press," McCurry added. "If you don't respect the role that the free press plays and call them enemies of the people, then you are doing something that is fundamentally destructive in our democracy. And I think that is a very, very troubling thing that's happening."
COVID-19: 'Real-world' analysis of vaccine in Israel raises questions about UK strategy | World News
The first real-world analysis of the Pfizer coronavirus vaccine suggests it is matching its performance in clinical trials, but raises serious questions about the UK's decision to delay the second dose.
Scientists in Israel – which is leading the COVID-19 vaccination race – have told Sky News that they are "very hopeful" having studied preliminary data from 200,000 vaccinated people.
But crucially they say their results do not show efficacy at a level close to that used by the UK to justify delaying the second dose of the Pfizer jab.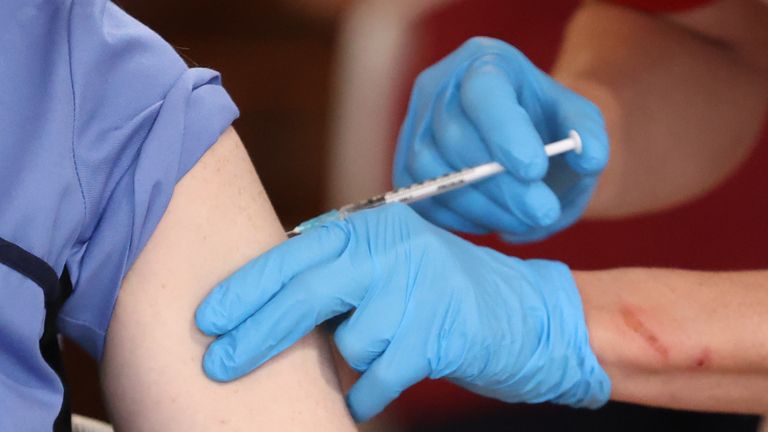 Professor Balicer is a physician, epidemiologist and chief innovation officer for Clalit, the largest health care provider in Israel. He is also an adviser to the World Health Organisation.
"We compared 200,000 people above the age of 60 that were vaccinated. We took a comparison group of 200,000 people, same age, not vaccinated, that were matched to this group on various variables…" prof Balicer said.
"Then we looked to see what is the daily positivity rate… And we saw that there was no difference between vaccinated and unvaccinated until day 14 post-vaccination.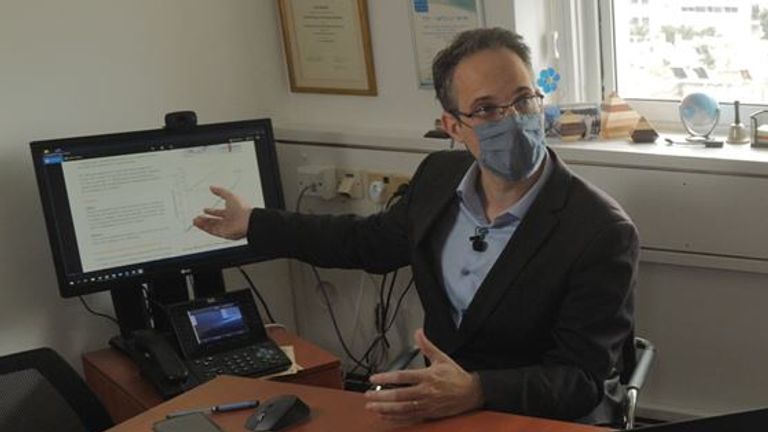 "But on day 14 post-vaccination, a drop of 33% in positivity was witnessed in the vaccinated group and not in the unvaccinated… this is really good news."
However, UK scientists said in December that trial data had suggested it would be 89% effective after one dose.
A document issued by the UK government's vaccine advisers, the Joint Committee on Vaccination and Immunisation, to justify delaying the second dose for up to 12 weeks said: "Using data for those cases observed between day 15 and 21, efficacy against symptomatic COVID-19 was estimated at 89%, suggesting that short term protection from dose 1 is very high from day 14 after vaccination."
This is much more optimistic than the new real-world Israeli data suggests.
Responding to the UK government strategy, prof Balicer said: "The data and estimates I gave are what we have.
"We could not see 89% reduction in the data we reported. Further data and analyses will be released in peer reviewer scientific format."
He added: "The practise in Israel is to provide the second vaccine at three weeks.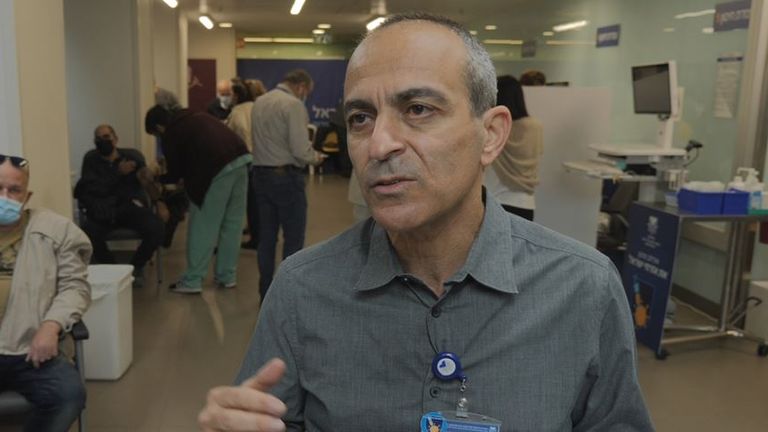 "And so it is impossible for us to tell what would be the impact of not providing the second dose…"
Israel is following Pfizer protocol in giving the second dose of the coronavirus vaccine three weeks after the first.
It has a smaller population and a regular supply from Pfizer. In return it's providing detailed data to Pfizer.
In contrast, the UK with a much larger population is prioritising the first jab – arguing that one dose given to as many people as possible is better than two to fewer people.
"We have already covered some 25% of our population and over 75% above the age of 60 in the last four and a half weeks.
One-in-five Israelis now vaccinated

"And so we are one of the first countries to be able to witness the sheer impact in big numbers of vaccinating such a large proportion of the population," prof Balicer said.
"By being able to manipulate this data in real time, to clean it and to use proper epidemiological methodology, we are able to provide answers to the most pertinent questions right now."
The Israeli scientists believe their 33% figure will rise when data is compiled from younger age groups and the fact that the data is real-life adds to their confidence.
"This is not the ideal setting of a randomised controlled trial where everything from coaching maintenance to selection of the population of interest is done in a very meticulous way.
"This is the real-world. And so by seeing the real world impact so early on in the same direction and in the same timing as we've seen in the clinical trials is something that makes us very hopeful."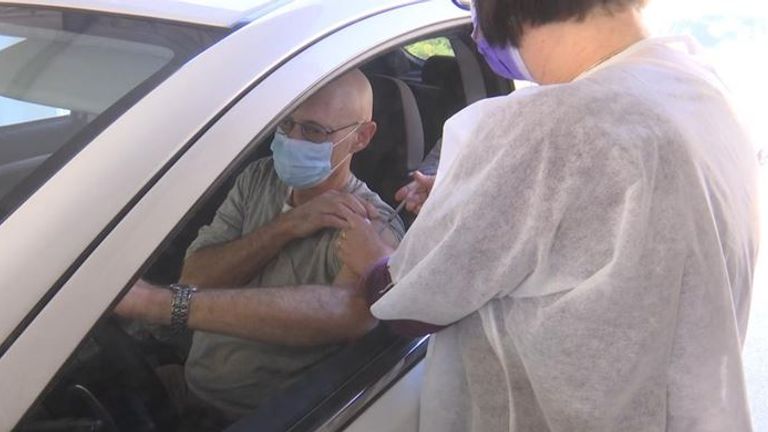 Tel Aviv's Sourasky hospital, one of hundreds of vaccination centres, is inoculating hundreds of people an hour.
Ronni Gamzu is the hospital director. He served as the government "corona tsar" – a rotating advisory role – until last month.
"I believe, truly believe, this is the beginning of the end because the vaccine creates the immune response.
"We see that clearly and we see a change in the people that are becoming severely ill with coronavirus and moderately ill. People that have got the vaccine are more protected," professor Gamzu said.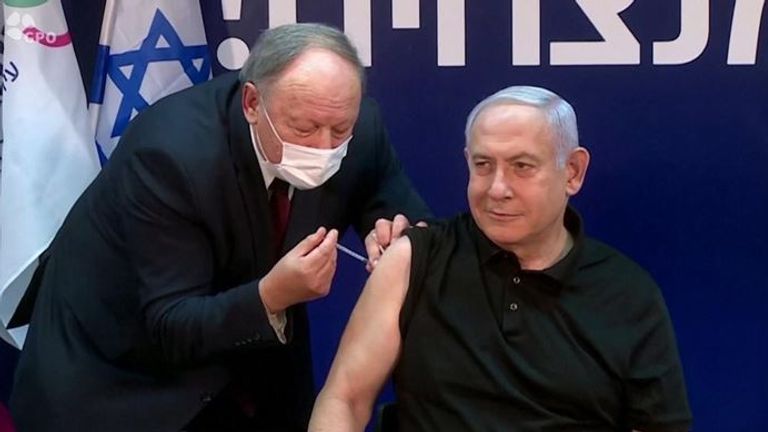 Asked about the UK strategy of delaying the second dose, he said the 89% figure seemed "very optimistic" but understood why compromises needed to be made.
"If you are short of vaccines, this is a good idea… We believe that if you take the booster shot, even after six weeks, then you will have an effect, the effect is coming and growing gradually.
"We do not know that for sure because the studies were done for 21 days for Pfizer and 28 days for Moderna. But there is a clear logic behind postponing it when you are short on vaccines."
In a previous statement on the decision, the JCVI said: "With most vaccines an extended interval between the prime and booster doses leads to a better immune response to the booster dose.
"There is evidence that a longer interval between the first and second doses promotes a stronger immune response with the AstraZeneca vaccine.
"There is currently no strong evidence to expect that the immune response from the Pfizer-BioNTech and AstraZeneca vaccines differ substantially from each other.
"The committee advises initially prioritising delivery of the first vaccine dose as this is highly likely to have a greater public health impact in the short term and reduce the number of preventable deaths from COVID-19."
Sky News has contacted the JCVI for comment.
US National Guard troops removed from inauguration duty due to 'far right' links, reports | US News

Two US Army National Guard members have been removed from duty during Joe Biden's presidential inauguration because of ties to far-right militias, according to Associated Press.
A US Army official and a senior US intelligence official confirmed the decision to AP on the condition of anonymity due to Defense Department media regulations.
They did not say what fringe group the Guard members belonged to or what unit they served in.
Latest updates on the final preparations for Joe Biden's inauguration
A spokesman for the National Guard Bureau told AP: "Due to operational security, we do not discuss the process nor the outcome of the vetting process for military members supporting the inauguration."
The heightened security comes after the riots on 6 January when Donald Trump supporters stormed the Capitol Building.
One dead as Japan snowstorm causes 134-car pile-up | World News
A snowstorm caused a 134-car pile-up which killed one person and left a dozen others injured in Japan.
At least 134 cars were involved in a series of crashes on a 1km stretch of the Tohoku Expressway, in the northern prefecture of Miyagi.
Authorities had imposed a speed limit of 50kph (31mph) after blizzard snow conditions cut visibility at about noon on Tuesday.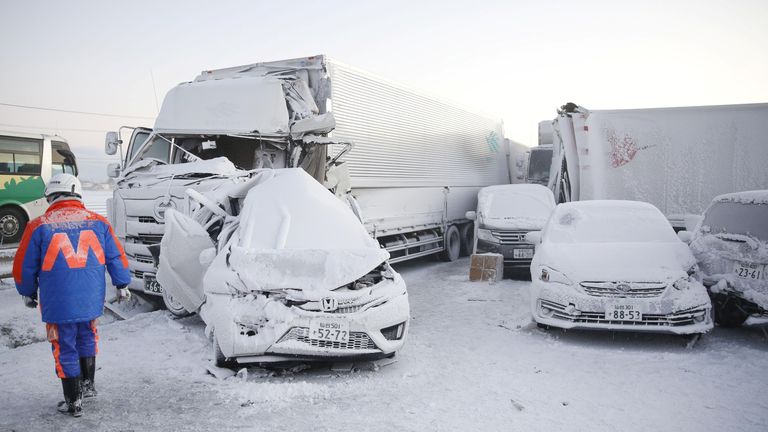 Some 200 people were caught up in the pile-up and 12 of them were sent to hospital, the disaster management agency said.
Rescue operations were under way, Chief Cabinet Secretary Katsunobu Kato told reporters.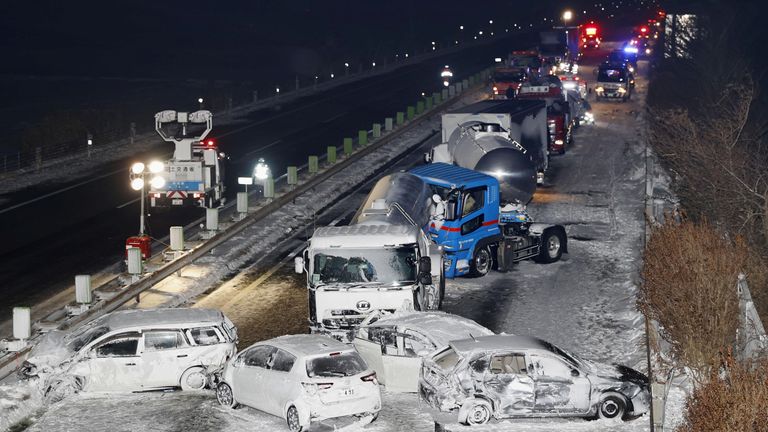 Japan has seen unusually heavy snow in recent weeks, with some parts seeing more than double the usual amount.
Last week Toyama city, on the Japanese coast, saw a new record 88cm (2.8ft) of snow within 48 hours, NHK reported, leaving many stranded.