North Korea's nuclear ambitions met their match in President Donald Trump
Get the Think newsletter.
It is a dangerous world, dominated by outsized personalities who act aggressively on behalf of their nations, including not hesitating to threaten — and even engage in — war.
Fortunately, one is President Donald Trump.
Another is North Korean dictator Kim Jong Un, who with his developing nuclear arsenal represents the most imminent threat to the United States. In a landmark meeting Friday with South Korean President Moon Jae-in, the two agreed there would be "no more war" on the Korean peninsula and also committed to work towards denuclearization. But Kim's South Korean charm offensive will only get him so far — because now he has to deal with Trump.
History — and in particular, the American voter — has a way of calling forth the right person to lead at the right time.
History — and in particular, the American voter — has a way of calling forth the right person to lead at the right time. Trump is a flawed man — self-indulgent, megalomaniacal, a bit paranoid, driven by self-interest and implacably domineering. But these "flaws" also make him a big character, and as he prepares to confront Kim and the other great tyrants of the age, Americans can feel assured that they have chosen the right man for the moment.
Not too long ago, the struggles among great nations were defined by ideology, as democracy and communism competed for allegiance around the world. During that age, a relatively non-ideological, nonintellectual man like Trump might have had trouble understanding the thinking animating Russian and Chinese communists, hampering his ability to confront them. But with realpolitik and raw ambition supreme, Trump is the man for this current age of crisis.
The president will have no problem understanding the motivations of Kim and the other tyrants he faces, including Russian President Vladimir Putin, newly anointed Chinese President-for-life Xi Jinping and Iranian supreme leader Ayatollah Ali Khamenei. And Trump has the outsized strength of personality to combat them — unlike any of his rivals in the 2016 presidential election.
Republican voters were offered several "nice" alternatives who were raised to be respectful, yet they chose they guy who'd wipe his mouth off with your tie.
Republican voters were offered several "nice" alternatives who were raised to be respectful, yet they chose they guy who'd wipe his mouth off with your tie. Then the general public concurred.
To fully appreciate Trump's forcefulness, just think of the roster of strong, accomplished and even feared individuals he has crushed over the past two years. Men — and one woman in particular — whom he pulverized.
Trump adeptly diminished and rattled his opponents with what critics deemed to be crude putdowns. But Trump understood from a lifetime of primordial struggle in business and a successful career in personal branding that these labels would have lasting and damaging effect.
Florida Sen. Marco Rubio became "Little Marco," a name he may never live down and that might actually harm his chances to ever be president. Knocked off stride, Rubio rolled in the gutter with Trump — who no doubt welcomed him there — commenting obscenely on the size of Trump's hands.
To fully appreciate Trump's forcefulness, just think of the roster of strong, accomplished and even feared individuals he has crushed over the past two years.
An even worse pummeling rained down on Jeb Bush, who was widely expected to proceed through the primaries as if in a carriage to his coronation. Though armed with facts and figures Trump could never hope or want to learn, he was demolished in the Republican primary debates by Trump's visceral attacks. Bush was so visibly unnerved and helpless that he morphed into "Low-Energy Jeb," despite a reputation as a dynamic, hard-working politician.
Hillary Clinton's subsequent loss in the general election to Trump, who attacked her relentlessly and repeatedly suggested she would land in jail, seems to have untethered her a bit from reality. Exposure to Trump has reduced this proud, strong woman to a wounded doe wandering the earth trying to figure out what brand of political tractor trailer hit her as she was crossing the road to the White House.
Steve Bannon, who built the populist revolution that elected Trump, ran his winning campaign and entered the White House as chief strategist, was marginalized and forced to return to his previous role commanding the powerful Breitbart website. He lost that as well when it became clear to Breitbart's rainmakers that Bannon had run afoul of Trump.
COVID-19: Rich 'riding out pandemic in luxury' as frontline workers struggle, says Oxfam | Business News

The divide between rich and poor is "proving as deadly" as coronavirus, the boss of Oxfam said, as research shows the world's richest people recouped their pandemic losses within just nine months.
The charity said it would take more than a decade for the world's poorest to recover from the economic impacts of the pandemic.
A survey of 295 economists from 79 countries, commissioned by Oxfam, reveals that 87% of respondents expect an "increase" or a "major increase" in income inequality in their country as a result of the pandemic.
Live COVID updates from UK and around the world
Oxfam's Inequality Virus report, released on the opening day of the World Economic Forum's Davos Agenda, said it showed how current economic systems have allowed the wealthiest "to amass wealth in the middle of the worst recession since the Great Depression while billions of people are struggling to make ends meet".
The charity also said its research demonstrated the manner in which the pandemic was deepening long-standing economic, racial and gender divides.
Oxfam's executive director Gabriela Bucher said: "Rigged economies are funnelling wealth to a rich elite who are riding out the pandemic in luxury, while those on the frontline of the pandemic – shop assistants, healthcare workers, and market vendors – are struggling to pay the bills and put food on the table.
"Women and marginalised racial and ethnic groups are bearing the brunt of this crisis. They are more likely to be pushed into poverty, more likely to go hungry, and more likely to be excluded from healthcare."
The six-day virtual Davos summit will feature Indian and Chinese leaders Narendra Modi and Xi Jinping.
Ugandan court orders military and police to leave Bobi Wine's property | World News

A Ugandan court has ordered the military and police to stop surrounding the home of opposition leader Bobi Wine, who says he has been held under house arrest since the country's presidential elections.
Mr Wine's lawyer George Musisi told the Reuters news agency: "The judge ordered that the state and its agencies
should immediately vacate his property and his right to personal liberty should immediately be reinstated."
Boris Johnson calls for action against 'devastating' climate change with new coalition | Politics News
Boris Johnson will call for countries to do more to tackle the "devastating" effects of climate change, as he launches a new partnership with five other countries and the United Nations.
The prime minister is due to announce the creation of the Adaptation Action Coalition formed with Egypt, Bangladesh, Malawi, the Netherlands and Saint Lucia.
It will work to turn international political commitments made through the UN into on-the-ground support for vulnerable communities.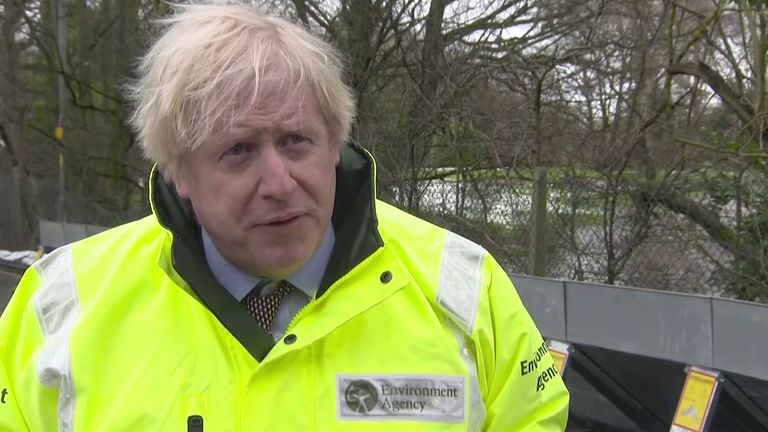 And the body will act as a forum for developed and developing countries to share suggestions on solutions to deal with climate change.
Mr Johnson is expected to say later today it is "undeniable" that climate change is "upon us" and "devastating lives and economies", urging global political leaders to act quickly.
"I'll be making the need for a resilient recovery a priority of the UK's G7 presidency this year," he will add.
"To make sure we get not just warm words but real change, I am today launching an all-new Adaptation Action Coalition to set the agenda ahead of COP26."
COP26 is the annual climate change forum attended by world leaders being held in Glasgow later this year, after it was postponed last year due to the coronavirus pandemic.
Alok Sharma, the former business secretary who is now in charge of organising COP26 from within government, said he wanted "all countries to come forward with ambitious adaptation plans".
And he said: "This important new coalition will crucially focus minds around the world to accelerate adaptation delivery in the areas most in need."
Subscribe to the Daily podcast on Apple Podcasts, Google Podcasts, Spotify, Spreaker
Despite the warm words, the government has come under some criticism recently for giving the go-ahead to a new coal mine opening in Cumbria.
Two teenagers and climate activists were on hunger strike for more than a week over the issue.
In his virtual party conference leader's speech last October, Mr Johnson talked up the future of wind power – and took a dig at himself for once writing it "wouldn't pull the skin off a rice pudding".