Meghan Markle married – but not to Prince Harry
Meghan Markle tied the knot overnight, but it wasn't Prince Harry stood next to her at the altar.
The actress bid farewell to her colleagues on the US legal drama Suits – and brought the curtains down on her acting career – in a season finale that saw her character Rachel Zane marry fellow lawyer Mike Ross.
Ms Markle and Prince Harry are due to tie the knot – this time for real – at St George's Chapel in Windsor Castle on 19 May.
In the Suits episode, titled Good-Bye, the two characters leave their high-powered jobs in New York to move to Seattle, where they will run a firm dealing with class action lawsuits against Fortune 500 companies.
During the modest wedding, the 36-year-old's character told her co-star: "You're the husband I've always wanted."
:: Getting to know Meghan Markle: How love flourished with Prince Harry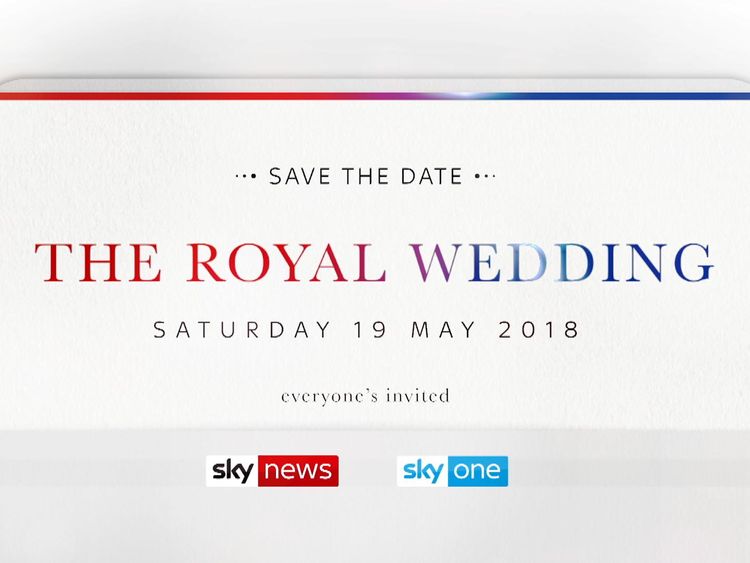 Suits creator Aaron Korsh told Deadline: "I would say it was emotional.
"I remember having a really fun talk with Meghan as we were setting up to shoot the wedding and we were just wrapping up our time together.
"It was in November, during her first joint interview with Harry, that Ms Markle confirmed she would close her acting career."
At the time, Ms Markle had told reporters: "I don't see it as giving anything up, I just see it as a change. It's a new chapter."
Ms Markle's Suits co-stars had been among the first to congratulate her following the announcement of her engagement to Harry.
Adams had tweeted a link to the news from Kensington Palace, adding: "She said she was just going out to get some milk…"
He added: "Playing Meghan's television partner for the better part of a decade uniquely qualifies me to say this: Your Royal Highness, you are a lucky man and I know your long life together will be joyful, productive and hilarious. Meghan, so happy for you, friend. Much love."
Gabriel Macht, who played Ms Markle's boss Harvey Specter in the series, had tweeted: "Congrats to @meghanmarkle and Prince Harry.
"Sending all my best for your upcoming nuptials and a long happy life together. #love"
COVID-19: Ice cream tests positive for coronavirus in China | World News
Ice cream has been found to have been contaminated with COVID-19 in China after three samples tested positive for the virus.
Anti-epidemic authorities in north China's Tianjin Municipality are tracing people who may have been in contact with the batches, which were produced by Tianjin Daqiaodao Food Company.
All of the products produced by the firm have been sealed and contained after the samples it sent to the municipal centre for disease control this week tested positive for coronavirus.
Initial epidemiological investigations indicate the company produced the batch of ice cream using raw materials, including milk powder imported from New Zealand and whey powder imported from Ukraine.
Dr Stephen Griffin, a virologist based at the University of Leeds, told Sky News the development was unlikely to be a cause for "panic".
"It's likely this has come from a person, and without knowing the details, I think this is probably a one-off," he said.
"Of course, any level of contamination is not acceptable and always a cause for concern, but the chances are that this is the result of an issue with the production plant and potentially down to hygiene at the factory."
He explained that the cold temperature that ice cream was stored at, and the fact it contains fat, could explain why the virus had survived on the samples taken – but suggested the news should not prompt major alarm.
"We probably don't need to panic that every bit of ice cream is suddenly going to be contaminated with coronavirus," he said.
Sky team stopped from investigating COVID origins

The company's 1,662 employees have been placed under quarantine and underwent nucleic acid testing on Thursday following guidance from the Tianjin Center for Disease Control.
Authorities said the company produced 4,836 boxes of COVID-contaminated ice cream, 2,089 of which had been sealed away in storage.
A total of 935 boxes of the ice cream, out of 2,747 boxes that entered the market, were in Tianjin and only 65 were sold to markets.
Authorities said residents who may have bought the product should report their health and physical movements to those in their communities.
The city has also informed the market regulation authorities in other provinces where the ice cream was sent so it can be traced.
Alexey Navalny: Poisoned Putin critic faces jail on return to Russia | World News
Alexey Navalny is flying back to Russia and straight into the hands of the authorities.
Not only does he face a slew of fresh criminal charges against him but he will also once again be at the mercy of Russia's domestic spy agency, the Federal Security Service (FSB), which he says tried to poison him.
It is an extraordinarily brave and risk-filled undertaking. It is also true to form.
Arrest for Alexey Navalny is nothing new. Nor is carving out a life of activism between court appearances, house arrest and prolonged periods in detention.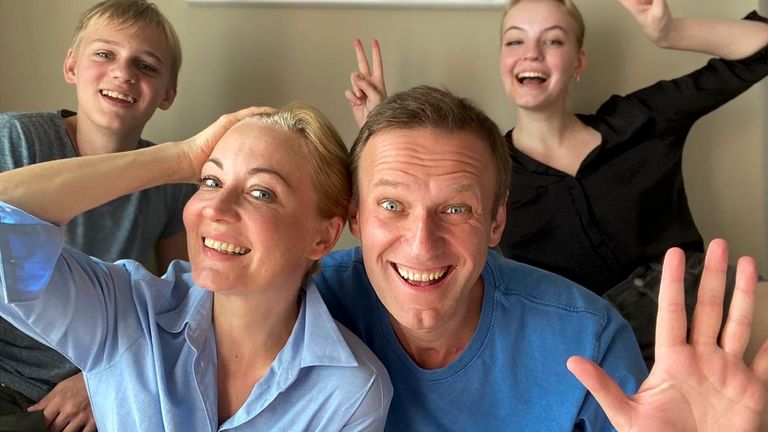 He has repeatedly said he would return to Russia after his convalescence in Germany.
Had he not been poisoned by a novichok nerve agent, with treatment abroad the only way to keep him alive, he never would have left in the first place.
He is now on the Federal Wanted List and is implicated in a number of criminal and administrative cases which give law enforcement broad scope to keep him under prolonged investigation, most probably well beyond September's parliamentary elections which the powers that be in the Kremlin do not want him around for.
Russia's Federal Penitentiary Service has submitted a request to revoke a three-and-a-half-year suspended sentence which wrapped up in December and imprison him instead.
They say he "systematically and repeatedly violated" the terms of his probation both whilst he was in Germany and on a number of occasions before.
If the court agrees, he could serve three-and-a-half-years in jail, minus a few months already spent under house arrest.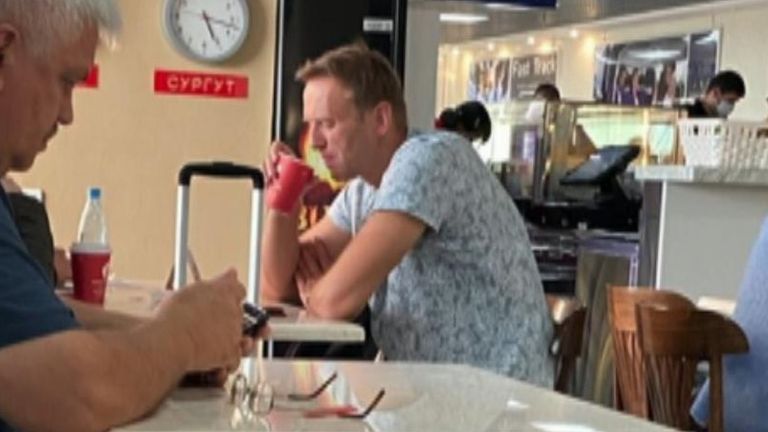 On top of that, Russia's investigative committee has opened a new criminal case accusing him of the supposed misallocation of crowd-sourced funds at his RBK anti-corruption foundation.
"If they really want to go after him, this would be the worst case scenario," says his lawyer Vadim Kobzev.
"Three-and-a-half-years and then 10 years on top of that which is the maximum he can get for this new criminal case."
He thinks a jail term of that length is unlikely. Recent cases against Mr Navalny have all resulted in suspended sentences, "but we're all trying to read the tea leaves here," Mr Kobzev says.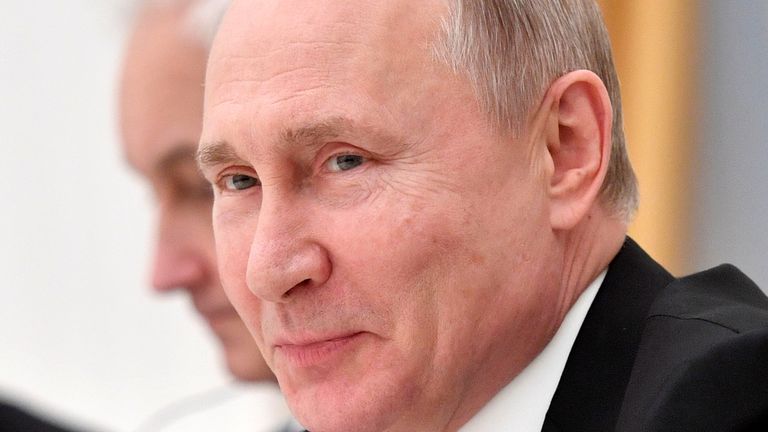 The authorities' most likely course of action – at least in the medium term – will be extended periods under house arrest with restrictions placed on, for example, his use of the internet.
Mr Navalny off-line is far less of a threat to Mr Putin's cronies than the anti-corruption investigations he posts to his YouTube channel. His team will endeavour to keep those going but it is not the same.
And suffice to say, despite the slew of investigations into Mr Navalny's own alleged wrong-doing, authorities have still refused to open any kind of inquiry into how exactly the symbol of Russia's democratic opposition ended up fighting for his life on a work trip to Siberia, with a deadly novichok nerve agent coursing through his veins.
:: Subscribe to Into The Grey Zone podcast on Apple Podcasts, Spotify, Spreaker
President Vladimir Putin's glib comment that the FSB would have finished the job if they had really wanted him dead is no substitute.
Nor, as Mr Navalny so convincingly proved in a telephone call with one of the FSB officers tasked with cleaning up the evidence of his poisoning, is it true.
Angela Merkel's reign has months left – here's who could end up leading Europe's economic powerhouse | World News
Every year, Forbes magazine produces a list of the most powerful women in the world. And in 14 of the past 15 years, it has been the same person – Angela Merkel.
German's chancellor has dominated European politics for the last decade and a half.
Born in what was West Germany, brought up in the East, and then charged with leading a united nation, she reshaped Germany, often dominated European politics, and also changed her party – the Christian Democratic Union, universally known as the CDU.
But now, the Merkel era is coming to an end.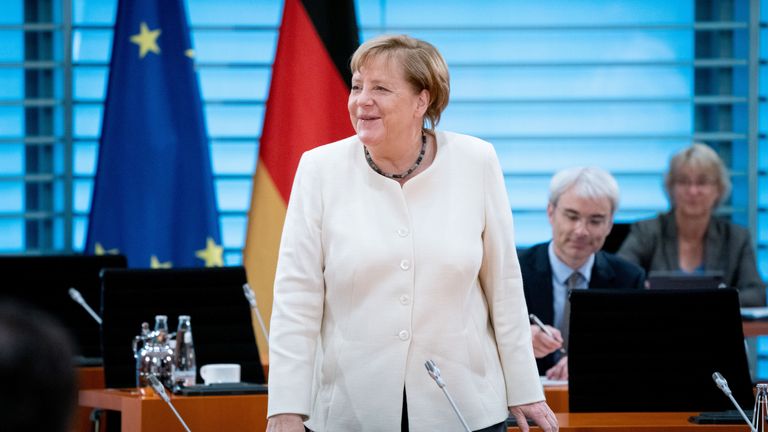 In September, the country will hold an election to choose a new chancellor as she stands down. Merkel will remain as national leader until the election but will then leave the political stage.
The identity of her successor is not easy to predict.
This weekend, the CDU will elect a new leader from among a shortlist of three men.
Whoever wins the election, voted for by 1,001 party delegates from regional, local and state associations, will actually take over as leader from Annegret Kramp-Karrenbauer, who assumed the job in 2018 after Merkel's decision to relinquish the CDU role, while continuing as chancellor.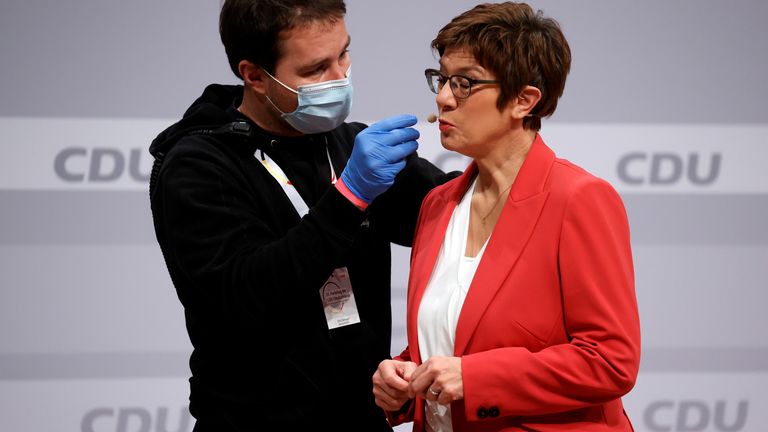 In reality, of course, it was Merkel who remained as Germany's most important political figure and the inspiration for the CDU.
By contrast, Kramp-Karrenbauer's time in charge was blighted by a series of mistakes and missteps, and by the erosion of confidence in her leadership ability.
She resigned from the job last year, triggering a leadership election that has been percolating for 11 months.
The three men vying for the job are all familiar within the CDU.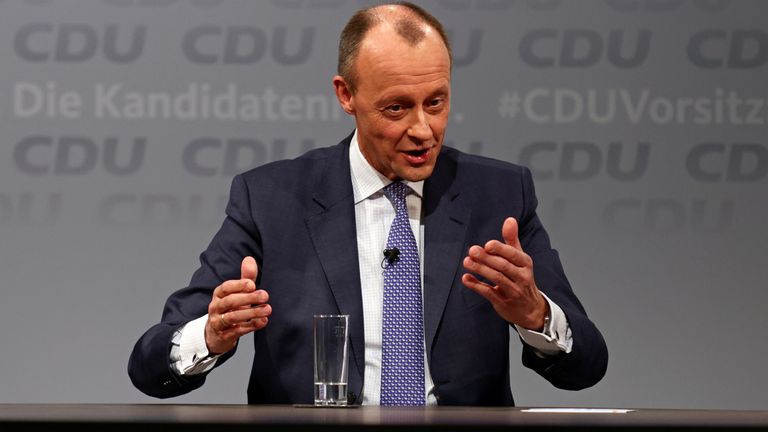 Friedrich Merz, a former senior banker at the investment giant Blackrock, is the favourite, with a mission to take the party back towards a more conservative agenda. He is popular with the business community but has struggled for support among the party's more liberal supporters.
Ranged against him is Armin Laschet, the prime minister of North Rhine-Westphalia, and a man who makes little secret of his desire to maintain the direction set by Merkel, whose policy framework was famously broad.
Laschet sees himself as a moderniser, keen to reach out to younger voters.
And then there's Norbert Rottgen, the outsider in this three-horse race. Rottgen is renowned for his grasp of foreign affairs, but says that, if elected leader, he'll pursue a greener agenda.
Merz is 65, Laschet 59 and Rottgen 55. They are all white, with professional backgrounds. Two of them, Merz and Rottgen, have been previously fired from jobs by Merkel.
Only Laschet, as a regional leader, has had to make big decisions about how to deal with the pandemic, but the jury is still out on whether he got those mainly right or not.
Certainly, his enthusiasm to loosen restrictions after the first wave now looks questionable.
The idea, obviously, is that one of these three will emerge – either in the first round or via a run-off – to lead the CDU into the next election.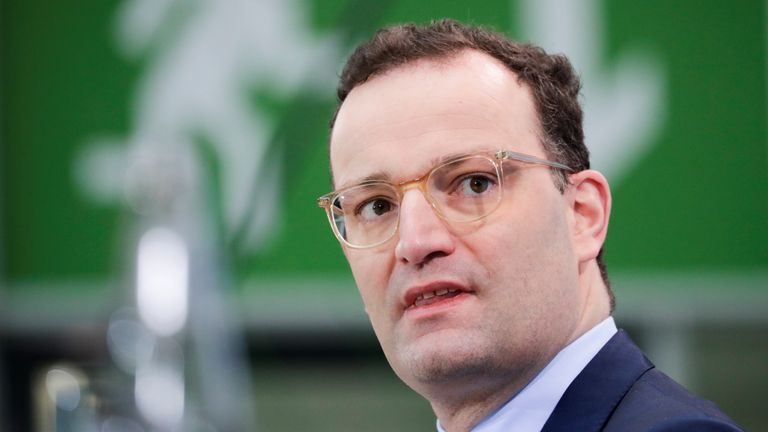 But there is another possibility brewing – that the CDU's choice of leader could be usurped by the party picking someone else to run for chancellor in September.
One choice, talked about with ever-more gusto, would be Laschet's running mate – Jens Spahn, the German health minister whose popularity has blossomed over the past year.
There are plenty who think that Spahn – a 40-year-old, happily married gay man whose reputation actually exceeded Merkel in one recent poll – would offer a fresh, modern start.
But a more likely contender to run for chancellor could actually be the leader of a completely different party.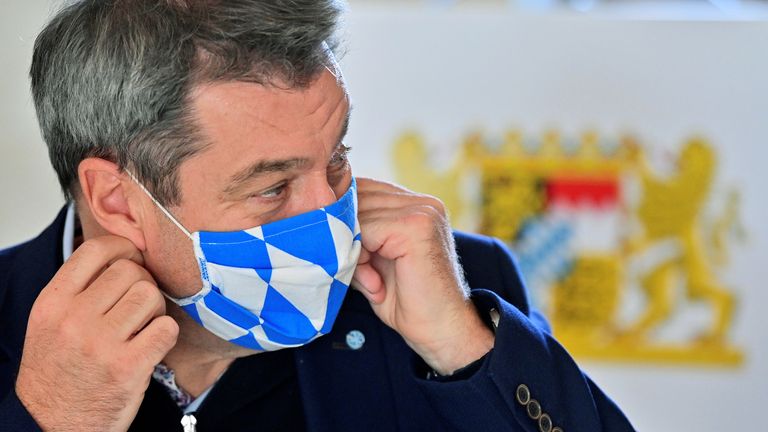 Markus Soder, the prime minister of Bavaria, is the leader of the CDU's much smaller sister party, the CSU.
He's considered adept, charismatic and decisive, with experience of leadership. A recent poll for Spiegel found that, among CDU supporters, he was considered the candidate best suited to challenge for the job of chancellor.
That decision is for the future.
If Spahn or Soder do throw their hats into the ring, it probably won't happen until April. And by then, the CDU will have a new leader.
One of Merz, Rottgen and Laschet will inherit the challenge of emerging from the shadow of a leader who has been a dominant figure on the global stage for a decade and a half. For the winner, it will be an imposing challenge.