Ex-Bernie Sanders activist wants to make Russian politics more like Uber
WASHINGTON — An activist who worked on Bernie Sanders' presidential campaign has set out to disrupt Russian politics by making it "as easy as an Uber ride" to stand against President Vladimir Putin.
Vitali Shkliarov, 41, runs what he calls a "political incubator" that helps novice candidates run on independent tickets in local races.
His mission is to challenge the Russian president and his allies the way that Silicon Valley upstarts transformed the music and transportation industries. Shkliarov believes anyone with fresh ideas, regardless of funding or years spent in service to a party, should be able to run for office.
"Politics should be as easy as an Uber ride," he told NBC News.
Shkliarov's playbook comes from years spent working on spirited political campaigns in the U.S. He also campaigned for President Barack Obama.
But the obstacles to change are numerous in a country where Putin controls the airwaves and opposition politicians have been jailed and murdered. In Russia's recent presidential election, in which the most viable opposition figure was barred from running, Putin won nearly 77 percent of the vote.
More on MSNBC's 'On Assignment with Richard Engel' Friday at 9 p.m. ET
Shkliarov advised opposition candidate Ksenia Sobchak in that race. The TV personality-turned-politician garnered less than 2 percent support at the ballot box.
Shkliarov's organization raises money to help covers candidates' campaign costs, shepherds them through the arduous registration process, and coaches them on voter mobilization and engagement.
He compares it to Uber because he says it lowers barriers to entry in politics the same way the ride-sharing app made entrepreneurs out of anyone with a car.
Shkliarov was born in Belarus, in the former Soviet Union, and studied in Germany. It was in Berlin in 2008 that he had his first taste of American politics: a rousing speech by then-presidential candidate Obama at the Brandenburg Gate. Shkliarov was hooked.
He moved to the U.S. in 2010 with his American wife and began searching for work on a political campaign.
But with his broken English and limited résumé, he had little luck. At his wife's suggestion, he decided to volunteer for Obama at a field office in Washington.
"I did the hardest job for a non-English speaking Russian: cold calling," he said.
Sitting in a basement among 20 other volunteers, he called undecided voters. While other volunteers averaged 180 to 200 calls a day, Shkliarov managed no more than 10. But he succeeded in engaging those who didn't hang up right away. His enthusiasm for Obama was infectious, and within a few weeks he was managing a small team of volunteers.
After Obama's re-election, Shkliarov worked on local and congressional campaigns, including that of Tammy Baldwin of Wisconsin, who won in 2013 to become the first openly gay U.S. senator.
Most of his friends signed on to Hillary Clinton's campaign as the 2016 election approached. But Shkliarov was captivated by Sanders and his commitment to universal health care.
Shkliarov "felt the Bern" and jumped aboard the first offer, heading up voter turnout efforts in Nevada.
"If Obama made politics cool and sexy, Bernie made politics into a festival, a rock concert," Shkliarov said.
American politics also taught him the importance of voter engagement.
"Politics is about talking — to listen and to hear what people have to say — not about great TV ads or super targeting on Facebook," he said. "You don't have that in Russian politics."
Shkliarov described Russian campaigns as a "one-way street" with politicians speaking at voters from afar. Town hall meetings and door-to-door canvassing are rare in Russia.
Shkliarov turned his attention to local Russian elections after Sanders' loss in the Democratic primary. Alongside two friends and fellow activists, he fielded opposition candidates — all of them novices without any links to the Kremlin — in district races across Russia. Of the 1,017 candidates drafted to compete, 267 won seats.
Shkliarov hopes that signals the arrival of a "new generation" of Russian lawmakers.
His organization emulated the Obama and Sanders fundraising model, raising a total of $1 million for candidates, with individual donations averaging about $13. It was a feat in Russia, where campaign finance restrictions remain tight and no American-style fundraising tradition exists.
He hopes that experience in local politics will prepare some of the 267 winners to seek higher office. The next parliamentary elections are due to take place by 2021.
But Shkliarov recognizes that change comes slowly in Russian politics and says that the process can be monotonous and thankless — "like washing dishes."
"To do politics in Russia is not easy," Shkliarov said. "If I invest 20 to 25 years of my life in this project — the development of politics in Russia — I believe this is going to change."
Nicole Grether reported from Washington, and Kennett Werner from London.
COVID-19: Israel bans all passenger flights in and out of country | World News
Israel is banning all passenger flights in and out of the country to tackle the coronavirus pandemic and prevent variants from getting a foothold among its population.
The announcement came as Israeli police clashed in a number of cities with ultra-Orthodox protesters who are resisting the coronavirus safety rules, Associated Press reported.
Authorities are struggling to enforce COVID-19 requirements, including social distancing, in ultra-Orthodox communities throughout the country, contributing to one of the world's highest rates of infection.
One-in-five Israelis now vaccinated

The infection rate among the community also threatens to undermine the Israeli government's successful vaccine campaign, which has seen the country vaccinate over a quarter of its 9.2 million people.
But infection rates remain high, with an average of over 8,000 new cases reported every day.
Late on Sunday evening, the Israeli Cabinet approved measures to close nearly all incoming and outgoing air traffic, with exceptions for humanitarian travel such as for a funeral or for medical patients.
The order still requires parliamentary legislation to be made lawful and will last until the end of January, according to Prime Minister Benjamin Netanyahu.
He said: "Today we are closing Ben-Gurion International Airport. Contrary to what is being said, we are ahead of the whole world. No country has done what we are about to do.
"We are hermetically closing the skies apart from very rare exceptions in order to prevent the entry of mutated viruses and in order to ensure that we will advance quickly with our vaccines operation.
"I would like to emphasise that just this week, in which we are approving closing the skies, we will vaccinate another approximately one million Israelis."
"We are thereby ensuring that the damage from the mutation, if it enters, and from additional variants, if they enter, will be much smaller, and of course, we will be able to open our economy," Mr Netanyahu said.
"Until now we have vaccinated approximately 2.5 million Israeli citizens with the first dose of the vaccine. Of these, around one million citizens have received the second dose," the prime minister concluded.
Experts say that a lack of compliance with safety regulations in Israel's ultra-Orthodox communities has been a major factor in the spread of the virus.
Despite making up just over 10% of the country's population, the Orthodox community accounts for more than a third of Israel's COVID-19 cases.
The country's police force have been reluctant to confront the community, reported Associated Press, with clashes in one city leading to an officer firing into the air to keep a crowd at bay.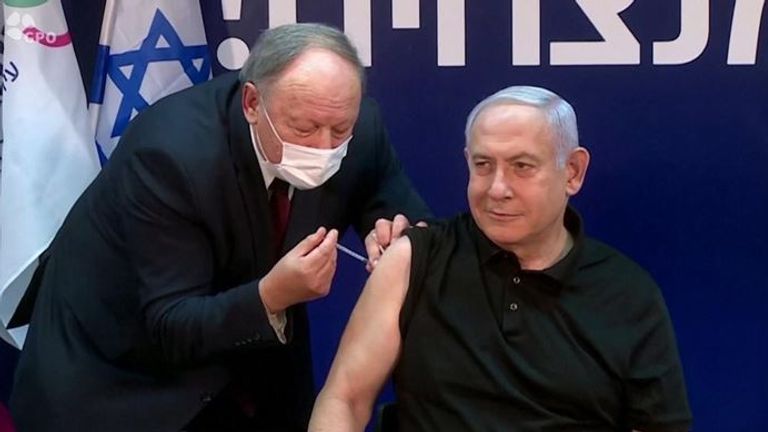 Israel has recorded over 595,000 positive cases since the start of the pandemic and over 4,361 deaths.
The worst unrest on Sunday occurred in the ultra-Orthodox city of Bnei Brak, where large crowds of young men clashed with police and threatened journalists, prompting one police officer to fire his pistol into the air.
Associated Press reported how in Jerusalem police fired tear gas and putrid-smelling water to disperse hundreds of ultra-Orthodox residents outside a reopened school while the demonstrators called the police "Nazis".
"I expect all citizens of Israel to respect the safety guidelines. That includes all the sectors, including the ultra-Orthodox," said Mr Netanyahu, who is relying on ultra-Orthodox support in the upcoming elections.
COVID-19: Joe Biden to reimpose travel ban on UK and European Union – reports | US News
US President Joe Biden is set to reimpose a number of travel bans that were repealed by his predecessor, according to the Reuters news agency.
Mr Biden is also set to put a travel ban in place to arrivals from South Africa, apparently over fears of the new coronavirus variant discovered in the country.
Donald Trump lifted travel restrictions between the US and Brazil and Europe two days before he left office – a decision Joe Biden will imminently rescind through an executive order.
Joe Biden makes sombre warning to Americans

Speaking to the Reuters news agency, anonymous sources said the new president will announce the move on Monday, that will stop entry into the US from European Union countries, the UK, Brazil and South Africa.
The move has been confirmed to the news agency by the principal director of the Centre for Disease Control (CDC), Dr Anne Schuchat, who said: "We are adding South Africa to the restricted list because of the concerning variant present that has already spread beyond South Africa."
She added the agency was "putting in place this suite of measures to protect Americans and also to reduce the risk of these variants spreading and worsening the current pandemic".
The CDC is concerned that vaccines may be less effective against the COVID-19 variant discovered in South Africa, adding it is up to 50% more infectious than other versions of the virus.
Mr Biden has been seen as taking swift action on COVID-19 in the early days of office, and has already signed executive orders imposing mandatory mask wearing and social distancing on government properties across the US.
Subscribe to the Daily podcast on Apple Podcasts, Google Podcasts, Spotify, Spreaker
The UK has also been mulling the idea of full border closures as part of the current lockdown, in an effort to limit the introduction of further variants into the country.
At the moment, flights arriving in to the UK from South America and Portugal are banned, with all other arrivals required to quarantine for 10 days.
Mexico: 19 burned bodies found near town of Camargo on US border | World News

Nineteen bodies have been found near a Mexican town on the US border which has seen a number of gang-related disputes in recent years.
The bodies, which had been shot and burned, were discovered on a dirt road close to the town of Camargo, across the Rio Grande from Texas, after complaints from locals about a burning vehicle, according to the Tamaulipas state prosecutor's office.
Officials found two vehicles on fire – one containing 15 bodies and the other containing four.
All the bodies had been shot, but no shells were found nearby, leading authorities to believe they had been killed elsewhere.
An official said that the killings had happened on Friday, but locals had been too afraid to report them.
Camargo has faced high numbers of drug and migrant smuggling incidents in recent years, with gangs trying to win control of large stretches of the border with the aim of making money on items passing through.
Historically, the town has been run by the Gulf cartel, but has faced competition in recent years from the Northeast cartel, which is trying to take over.
In January last year, 21 bodies were found in vehicles close to the nearby town of Ciudad Mier, with the Mexican army killing 11 alleged gunmen days later.