Axon's police body cams could be getting an AI upgrade. Civil rights groups are worried.
Get breaking news alerts and special reports. The news and stories that matter, delivered weekday mornings.
America's largest maker of police body cameras said Thursday it had formed an ethics board to guide its work on artificial intelligence, prompting a rebuke from civil rights organizations who urged the company not to develop devices that are able to identify people by their faces.
The announcement by Axon ─ formerly known as Taser, for its line of stun guns ─ marks a new development in an ongoing battle over the uses, and feared abuses, of body cameras. The devices have exploded in popularity in recent years, as high-profile officer killings of black men ignited calls for greater police transparency. The cameras have also raised privacy concerns, as they allow police to capture what people do in public and behind closed doors.
Facial recognition is already used in many aspects of modern life, from tagging functions on Facebook and unlocking iPhones to identification checks at some airports. Some big American police departments use facial recognition software to scan video footage of crimes and identify suspects. Most Americans' driver's license photos, passport photos and mugshots are converted by the government into a format that allows them to be scanned by facial recognition systems, researchers say.
But the leap to real-time facial recognition in body cameras is still in its infancy. China says it has equipped police with body-worn cameras with facial recognition capabilities. Such technology has not been deployed in the United States, although researchers say the possibility of that happening isn't too far off.
That has triggered a furious debate about how such cameras would be used, and the risks of using them to expand public surveillance.
Axon is the body camera industry leader in the United States, and last year acquired two artificial intelligence companies, fueling speculation that it was seeking to develop police body cameras with facial recognition. Although Axon CEO Rick Smith has talked in the past about using facial recognition technology to search faces in crowds for wanted criminals, the company says it is not currently developing products that would do that. Its current AI-related work is focused on helping police departments sift through footage and automatically blur images like victims' faces on officers' dashboard computers before the footage is released to the public. The company also says it is using artificial intelligence to automate report writing.
Thursday's statement doesn't mention facial recognition, although a company spokesman said it is on the agenda for the board's first meeting.
"We'd rather get it right than be first to market for any technology," said Michael Wagers, an Axon vice president and chair of the ethics board. "That's certainly true for facial recognition."
The company said in the statement that it would rely on the new ethics board ─ comprised of experts in artificial intelligence, computer science, privacy law, civil liberties and policing ─ to "discuss ethical implications of AI-powered technologies" under development.
"We believe the advancement of AI technology will empower police officers to connect with their communities versus being stuck in front of a computer screen doing data entry," Smith said in the statement. "We also believe AI research and technology for use in law enforcement must be done ethically and with the public in mind."
The company's AI director, Moji Solgi, promised Axon would be "transparent with our customers and the general public" about its commitment to individual rights and privacy, starting with the release of annual reports outlining the ethics board's work.
But a number of civil rights organizations are not satisfied. Forty-two groups ─ including the NAACP, the American Civil Liberties Union, the National Urban League and the Electronic Frontier Foundation ─ joined in an open letter to the ethics board saying the company should reject as "categorically unethical" any products that allow "real-time face recognition analysis of live video captured by body-worn cameras."
Such devices, the civil rights groups said, could be used to chill freedom of speech at political protests, and could misidentify innocent people as criminal suspects.
Researchers have said that facial recognition algorithms often fail to identify, or misidentify, people of certain racial or ethnic groups. The civil rights organizations cited a recent MIT study that found algorithms created by Microsoft, IBM and China-based Face++ had high rates of misclassifications of dark-skinned women.
Harlan Yu, executive director of Upturn, which monitors police agencies' body camera policies and is one of the letter's signatories, said the groups felt it important to "draw a bright ethical line" around real-time facial recognition body cameras. He also said the groups were troubled by the lack of representation on the ethics board of communities, particularly those made up of racial minorities, that are subject to intense police scrutiny.
"Just because real-time face recognition might be technologically feasible to do doesn't mean they should," Yu said.
Yu said he declined an invitation to join the Axon ethics board in part because it required signing a non-disclosure agreement.
Wagers said the non-disclosure agreements covered the company's intellectual property but did not prevent board members from talking publicly about the issues they discuss.
He added that Axon would work to expand the ethics board so that it reflects critics' concerns.
National Rifle Association: US gun advocacy group files for bankruptcy | US News
The National Rifle Association (NRA) has announced it has filed for bankruptcy petitions in a US court as part of a restructuring plan.
The gun rights advocacy group said it would restructure as a Texas nonprofit to exit what it described as "a corrupt political and regulatory environment in New York", where it is currently registered.
It comes four months after the New York Attorney General filed a lawsuit to dissolve the organisation over allegations of financial misconduct.
In a message issued to its members and supporters on Friday, the group said the decision to file voluntary chapter 11 petitions in the United States Bankruptcy Court was not due to financial problems.
"You know that our opponents will try to seize upon this news and distort the truth," the statement said.
"Don't believe what you read from our enemies. The NRA is not 'bankrupt' or 'going out of business'. The NRA is not insolvent. We are as financially strong as we have been in years."
The message suggested the decision had been taken as a direct result of the lawsuit in New York.
"We are leaving the state of an attorney general who, just a few months ago, vowed to put us out of business through an abuse of legal and regulatory power," it said.
"Subject to court approval, the NRA is pursuing plans to reincorporate in the State of Texas."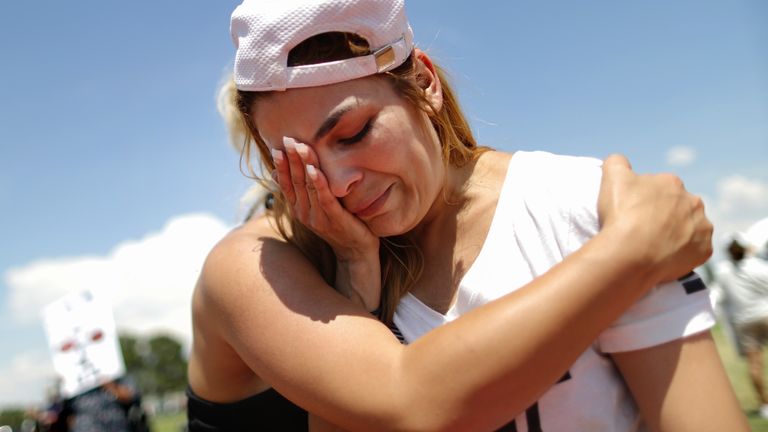 A separate statement from the organisation said the "move will enable long-term, sustainable growth and ensure the NRA's continued success as the nation's leading advocate for constitutional freedom – free from the toxic political environment of New York".
NRA chief executive Wayne LaPierre said: "Obviously, an important part of this plan is dumping New York.
"The NRA is pursuing reincorporating in a state that values the contributions of the NRA, celebrates our law-abiding members, and will join us as a partner in upholding constitutional freedom."
The NRA has previously faced allegations it wields disproportionate influence on American politics through extensive lobbying.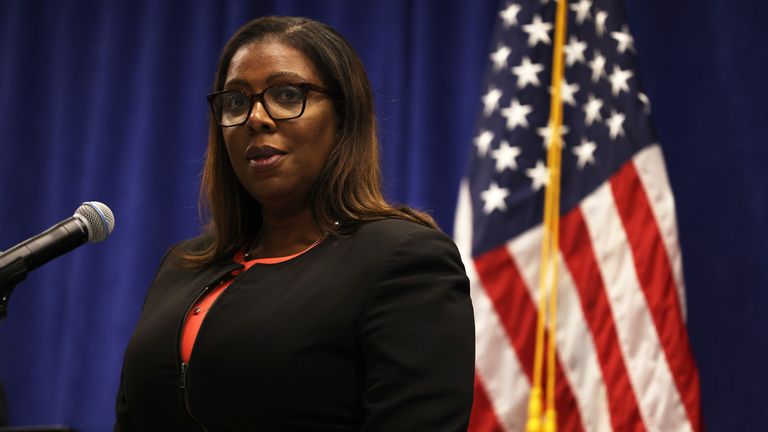 It has played a key role in preventing tighter restrictions on gun sales, despite a series of deadly mass shootings and opinion polls repeatedly showing a significant majority of Americans favour stricter controls on weapons.
Announcing her move to dissolve the group in August, New York Attorney General Letitia James accused it of siphoning millions of dollars from its charitable mission for personal use by senior figures.
"The NRA's influence has been so powerful that the organisation went unchecked for decades while top executives funnelled millions into their own pockets," she said.
"The NRA is fraught with fraud and abuse, which is why, today, we seek to dissolve the NRA, because no organisation is above the law."
US Capitol riots: Police break silence on 'brutal, medieval style combat' | US News
Police involved in protecting the Capitol building last week have spoken for the first time describing what happened as "brutal, medieval style combat".
The officers were outnumbered by hundreds of rioters, who federal prosecutors claim were intending to "capture and assassinate officials".
Officer Daniel Hodges was nearly crushed to death in the violence. Disturbing video shows him trapped by a metal door, bloodied and screaming for help.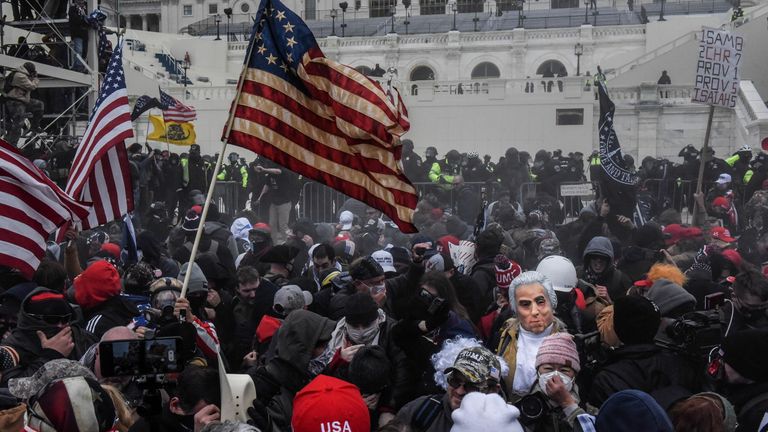 "They were calling us traitors, shouting at us, telling us to remember our oath, and eventually, they attacked us," he said.
"At that moment in the hallway where I was pinned, I was there to do my best to keep them out, obviously, and the way I was doing that was with my body."
At times, he said, he thought he wouldn't survive.
"There was chaos, someone managed to get his thumb in my eye and start gauging my eye," he said.
"That was the second time I thought it might be the end, or I might be maliciously disfigured."
The police officers' accounts of the chaos and the violence brings a chilling new understanding to what the world witnessed.
Nancy Pelosi has spoken of visiting Auschwitz – and then seeing anti-Semitic T-shirts among Capitol rioters

The footage is still being carefully studied by investigators.
In one video, police officer Michael Fanone can be seen being pulled from the building.
He was then beaten by the pro-Trump thugs on the steps of America's seat of democracy.
He said: "Guys were grabbing at my gear, I had my badges ripped off, my radio was ripped off, one of my ammunition magazines was stripped from my belt and guys were trying to grab my gun and they were chanting: 'Kill him with his own gun'.
"I thought… I could shoot them, they're trying to kill me and I'm justified, but if I did that I'd provide them with the justification they needed to kill me.
"So then I thought I could appeal to someone's humanity and I just started yelling that I have kids."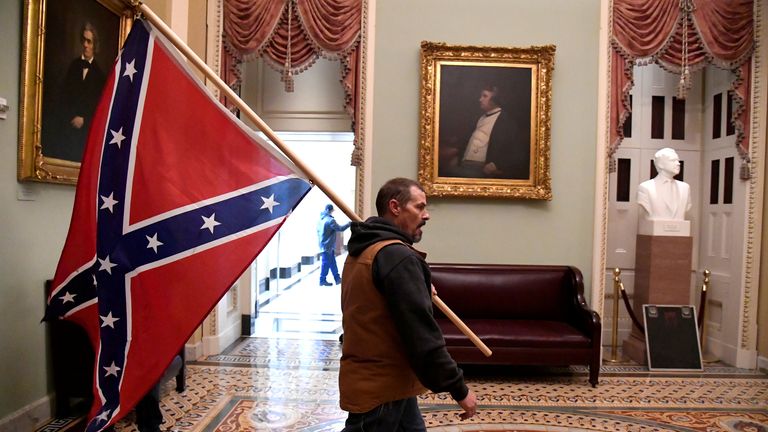 Another police officer, Eugene Goodman, has also been feted for his bravery and is now in line for the congressional gold medal.
In video that has emerged he can be seen armed with just his baton and, at great risk, diverting the insurrectionists away from the unguarded entrance to the Senate, allowing members to escape.
But as some police officers are lauded for their heroism, others are being investigated. It is thought some had a role in the chaos.
The wider investigation is beginning to gather pace and so far there have been nearly 100 arrests.
Authorities are still trying to identify more suspects, including the man wanted in connection with the murder of police officer, Brian Sicknick.
Subscribe to the Daily podcast on Apple Podcasts, Google Podcasts, Spotify, Spreaker
And it is feared there could be more attacks in the days leading up to the inauguration of President-elect Joe Biden.
Thousands of National Guard troops are fanned out across the capital, fortifying institutions.
This city now has all the hallmarks of a war zone. It is a sad reflection of the state of politics in a country which feels increasingly under siege.
COVID-19: Global coronavirus deaths pass two million – just over a year since outbreak began | World News

Global deaths linked to coronavirus have passed two million – just over a year since it was first identified in China.
The US has recorded the highest number at over 389,000 – and more than 23 million cases, according to figures from Johns Hopkins University.
Brazil – where several new variants have recently been identified – is second with over 207,000 deaths.
India and Mexico are next, with roughly 152,000 and 137,000 respectively.
The UK has recorded the fifth-highest death toll – and the highest in Europe – with more than 87,000 deaths recorded within 28 days of a confirmed positive test. Italy follows closely behind with around 80,000.
Global deaths from coronavirus hit one million on 29 September – it has taken 108 days to reach two million.
UN Secretary General Antonio Guterres said the death toll had been "made worse by the absence of a global coordinated effort" on vaccination.
"Science has succeeded, but solidarity has failed," he said.
While wealthy nations have already given millions of doses, things have barely got off the ground in poorer countries with large populations – meaning deaths from the virus are likely to remain high for a long time.
"Behind this terrible number are names and faces – the smile that will now only be a memory, the seat forever empty at the dinner table, the room that echoes with the silence of a loved one," said Mr Guterres.
It is little over a year since the World Health Organisation (WHO) put out its first bulletin on COVID-19, warning that a "pneumonia of unknown cause" had been identified in China.
At that stage, it said the country had reported 44 patients of which 11 were severely ill, and that the outbreak had been linked to a wet market in the sprawling city of Wuhan.
Thailand confirmed the first case outside China on 13 January, and France reported three cases – the first in Europe – on 24 January.
America's first case was in Washington state on 21 January – in a man who had recently been to Wuhan.
By the end of January, the WHO's emergency committee declared the outbreak a Public Health Emergency of International Concern (PHEIC).
The first UK cases were confirmed on 31 January – in two Chinese nationals at a York hotel – one of whom was a student at the city's university.