Florida Gov. Rick Scott to challenge Sen. Bill Nelson
Get breaking news alerts and special reports. The news and stories that matter, delivered weekday mornings.
WASHINGTON — Florida Gov. Rick Scott will run for Senate, a Scott political adviser confirmed to NBC News on Monday, challenging longtime incumbent Democrat Sen. Bill Nelson and turning up the heat in what will be one of the nation's most-watched midterm election battles.
Scott's move sets up a contentious and pricey battle for Democrats to defend the seat they've held for almost two decades, but also brings President Donald Trump's possible impact on down-ballot races into close focus yet again.
The president has been urging Scott — a key supporter of Trump for president in 2016 — for months publicly and privately to run for the seat, held by Nelson since 2000. Trump considers Florida his second home and has spent most winter weekends as president at his Mar-a-Lago estate in West Palm Beach.
But in an interview with Politico Monday morning, Scott wouldn't cast himself in the mold of a "Trump Republican," nor would he say if he wanted the president on the campaign trail with him.
"I'm going to campaign for this job. I know there are going to be people that like what I'm saying. There are going to be people who don't like what I'm saying," the Florida governor told Politico, which first reported the news that he would take on Nelson. "Let's go back to 2010. No one, I don't believe hardly anybody, endorsed me in 2010. Did that phase me? No. Whether they do or whether they don't, I'm doing what I believe in."
But strategists are skeptical about whether Trump will be a boon to candidates, like Scott, that he anoints. Past races in Alabama, Virginia and Pennsylvania's 18th congressional district have all seen Trump's chosen candidates felled by Democrats.
"(Trump)'s his own brand, his own thing, and we've not really seen any evidence that him anointing you makes you a winner," one Florida strategist with ties to both Trump and Scott told NBC News.
Veteran political watchers have raised flags about Nelson's ability to keep his seat. Charlie Cook of the Cook Political Report put Nelson at the top of his "most vulnerable" Democrats list, while pointing out that the movements on gun control in the wake of the Parkland, Florida, shooting and teachers strikes across the country could provide momentum to Democrats in tough spots across the country.
Those marches and movements are "all stirring up people that aren't in the Republican base," he said.
The gun issue is one that will certainly play a key role in Scott's race. Scott signed new gun restrictions into law last month — a response to a school shooting at Marjory Stoneman Douglas High School that left 17 people dead. The measure raises the age to buy all firearms to 21, imposes a three-day waiting period for most gun purchases, allows trained school workers to carry handguns, provides new mental health programs for schools, and restricts access to guns from people who show signs of mental illness or violence.
Another longtime Republican Florida strategist called that move "a self-inflicted ding" by Scott that could harm him with voters who strongly support the National Rifle Association and the Second Amendment.
"You don't touch Second Amendment rights," the GOP strategist said, while telling NBC they still saw the race as "Scott's to lose."
Nelson, on the other hand, has pushed for gun control measures alongside students from Parkland, who have taken the national spotlight in their crusade for stricter gun laws from lawmakers both in Florida and Washington.
Taiwan invasion unlikely for now – but there are other ways China can turn the screw | World News
The good news is that there are only five months when weather conditions are good enough to mount an invasion of Taiwan, according to Ian Easton, the author of The Chinese Invasion Threat. 
The bad news is that two of them are April and May.
So when Taiwan reported that 25 Chinese air force aircraft, including nuclear-capable bombers, entered its air defence identification zone (ADIZ) this week, fears of attack are front of mind.
It was the largest incursion by the Chinese military to date.
US Admiral Philip Davidson – Washington's top military officer in the Asia-Pacific region – recently said he was worried China could invade Taiwan in the next six years.
Chiu Kuo-cheng, Taiwan's new defence minister, responded: "His evaluation says six years, but my concerns include six hours."
The foreign minister, Joseph Wu, said this month that in the event of an attack Taiwan would fight "to the very last day".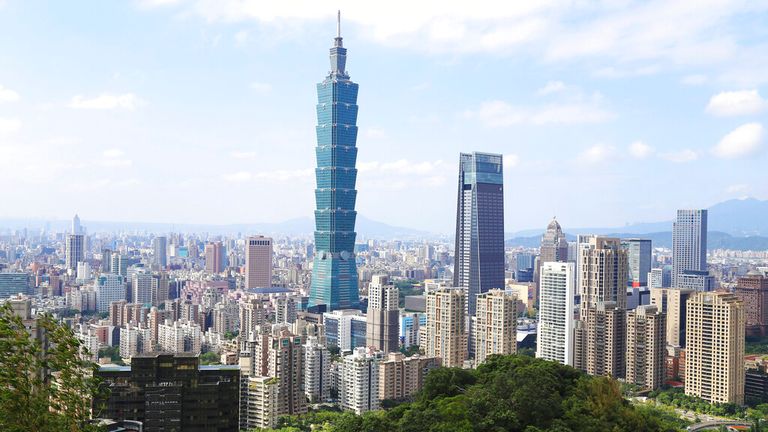 There is belligerence from the Chinese side. A defence ministry spokesperson said that a declaration by Taiwan of independence "means war".
Hu Xijin, the editor of a nationalistic Chinese tabloid, said that the Chinese military could fly directly over the island of Taiwan itself, and if Taiwan fired at those planes, China would attack.
Hu's attention-seeking provocations should always be taken with a pinch of salt but they show how the conversation around Taiwan is evolving.
But although the intensity is increasing, in many ways we are still in the status quo that has existed for decades.
China's constitution, adopted in 1949, says Taiwan is part of its "sacred territory" and details the "inviolable duty" of "reunifying the motherland".
:: Subscribe to Into The Grey Zone on Apple Podcasts, Spotify, Spreaker
On the question of "Taiwan independence", China as far back as 2005 passed a law that formally authorised military force if Taiwan was "separated" from China.
Taiwan has its own constitution and a highly functioning democracy – rated above Japan and South Korea by the Economist Intelligence Unit.
The election of President Tsai Ing-wen in 2016 led to an escalation in pressure from China. What we're seeing now is best viewed as the latest development in that continuous period.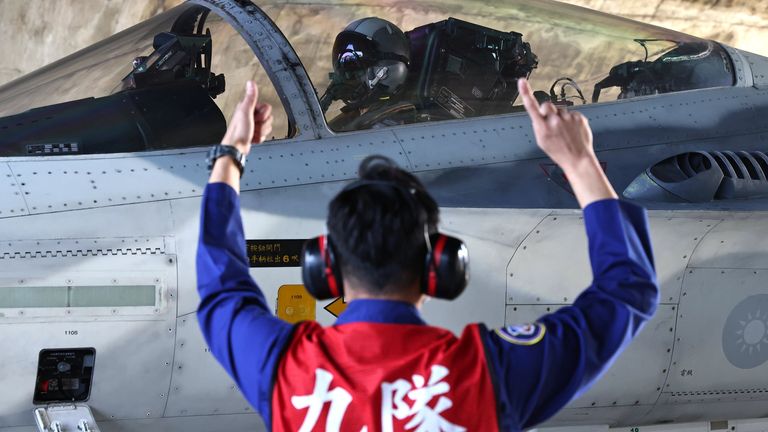 And as China has increased its attrition strategy, the US has increased its ties with the island, which in turn leads to more Chinese pressure.
That pressure is designed to take a psychological and logistical toll on Taiwan.
In 2020, Taiwan spent some $900m scrambling fighters to meet Chinese sorties and said it would no longer dispatch jets to meet every incursion, instead tracking Chinese aircraft with land-based missiles. Expect that pressure to continue.
But a full-scale invasion by China remains unlikely in the short term. That would require a massive build up of forces, easily detectable by US and Taiwanese monitoring.
There are options short of invasion that are still worrying.
China could blockade the island economically, or seize some of its outlying territory. The Kinmen Islands, administered by Taiwan, are barely a mile from China.
Any such move would be a test of the US resolve to defend Taiwan, perhaps analogous to Russia's seizing of the Crimean Peninsula.
Would an aggressive Chinese move, short of full invasion, prompt the US to respond militarily?
Right now, no one knows. That means it would be hugely destabilising.
For all the pressures of the current moment, it at least fits a known, established pattern – and is far preferable to an escalation, the consequences of which would be difficult to predict.
COVID-19: World Health Organisation calls for ban on sale of live wild mammals in food markets | World News
The sale of live wild mammals at food markets should be suspended as an emergency measure, the World Health Organisation has said.
The statement comes after a WHO team visited Wuhan in China to investigate the origins of COVID-19.
The most likely scenario is that the virus originated in bats, was spread to another unidentified animal, and then passed on to humans, a WHO report said in March.
Live COVID updates from across the UK and around the world
The organisation said in a separate report on Tuesday that animals, "particularly wild animals", are the source of more than 70% of emerging infectious diseases in humans.
They added many of these are caused by novel viruses – a virus that has not previously been recorded.
The report states: "Wild mammals, in particular, pose a risk for the emergence of new diseases. They come into markets without any way to check if they carry dangerous viruses.
"There is a risk of direct transmission to humans from coming into contact with the saliva, blood, urine, mucus, faeces, or other body fluids of an infected animal, and an additional risk of picking up the infection from contact with areas where animals are housed in markets or objects or surfaces that could have been contaminated with such viruses."
The WHO said "traditional markets play a central role in providing food and livelihoods " around the world.
It added that banning the sale of live wild animals would help to protect the health of both shoppers and workers.
WHO: Lab leak COVID origin 'unlikely'

The closest-related viruses to COVID-19 have been found in bats in southwest China.
The intermediate host is more elusive: mink, pangolins, rabbits, raccoon dogs and domesticated cats have all been cited as a possibility.
The WHO team said that a theory the virus was leaked from a lab was "extremely unlikely" but it has not been ruled out.
The call for a ban of the sale of wild animals comes as the the WHO said the global coronavirus pandemic is at a "critical point".
It added that people need a "reality check" as restrictions are eased.
Follow the Daily podcast on Apple Podcasts, Google Podcasts, Spotify, Spreaker
Dr Maria van Kerkhove, head of the WHO's technical response, told a news conference vaccinations alone are not enough to combat COVID-19.
Coronavirus restrictions were eased in parts of the UK on Monday, with shoppers returning to high streets and drinkers visiting pub gardens in England, and non-essential retailers reopening in Wales.
Dr van Kerkhove, speaking on Monday afternoon, urged caution, saying: "We need headlines around these public health and social measures, we need headlines around the tools that we have right now that can prevent infections and save lives.
"We are in a critical point of the pandemic right now, the trajectory of this pandemic is growing."
Facebook takes down official page for French town called Bitche | Science & Tech News

Facebook has been criticised after taking down the official page for the French town of Bitche.
Local broadcaster Radio Melodie reported that the page was taken down, forcing the municipal communications officer to create a new one under another name.
Ms Valerie Degouy said the new page was named after the town's post code, Mairie 57230, as reported by Politico.
Ms Degouy said: "I tried to reach out to Facebook in every possible way, through different forms, but there's nothing [I could] do," she said, adding she had "already had issues when I first created the page".
Another of the commune's towns, Rohrbach-les-Bitches, renamed its page Ville de Rohrbach out of caution.
In a post explaining the change, the account holder said: "Far from us the idea of denying the name of our beautiful village… [but] Facebook seems to be hunting the term associated with Rohrbach…
"We let you imagine the reason," they added with a winking and laughing emoji.
As Politico reports, this is not the first time that the town's name has caused upset for Americans.
Back in 1881, the US embassy was located on the Place de Bitche in Paris, named in honour of the town.
The then ambassador, Levi Parsons Morton, complained about the name as it appeared to be embarrassing on the embassy's letterhead and Parisian authorities renamed the square Place des Etats-Unis.
A spokesperson for Facebook confirmed to Sky News that the page was removed in error, and had since been "swiftly restored this morning, when we because aware of the issue".