Diplomacy has been 'weaponized' with memes, trolling, online polls
Get breaking news alerts and special reports. The news and stories that matter, delivered weekday mornings.
LONDON — A growing army of diplomats is spreading targeted propaganda online.
Techniques for promoting news articles and memes on social media are being used by governments around the world to influence opinion about global events and to undermine public confidence in rival countries.
The spy poisoning case and Russian interference in the 2016 U.S. presidential election have proved to be fertile ground for their work.
Russia has taken to trolling adversaries using official diplomatic Twitter accounts — creating tongue-in-cheek online polls and even snarky memes.
Coming in the wake of fake news factories and troll farms, experts warn such digital diplomacy is the latest way in which public trust in official information is being eroded.
Researchers say that while some governments are using social media transparently to streamline their message, others are engaged in covert disinformation campaigns that disrupt traditional foreign relations.
"There is a now a sense that public diplomacy has become weaponized," said Jan Melissen, a professor of diplomacy at the University of Antwerp and a senior research fellow at the Netherlands Institute of International Relations Clingendael. "These technologies are being used in ways that we didn't anticipate."
It is a far cry from the Arab Spring uprisings of 2011 when campaigners used Facebook to mobilize grassroots pro-democracy protests in repressive Middle Eastern countries.
Corneliu Bjola, an associate professor of diplomatic studies at the University of Oxford and head of the Oxford Digital Diplomacy Research Group, said the poisoning of Russian former double agent Sergei Skripal highlighted the extent of online statecraft.
According to Bjola, methods of online diplomacy include:
using Facebook's publicly-available option to pay for posts to be targeted at particular interest groups;
"gaming" Facebook's constantly changing news feed filter in order to boost page views;
building communities of sympathetic users more likely to reshare links or retweet and approaching other so-called influencers to do the same. "People are more likely to trust links that come from their friends, their groups or pages they have liked, and they are also more likely to reshare them," Bjola said. "Something that resonates has a much better chance of being passed on, regardless of how accurate it is.
In extreme examples, it can involve the dissemination of misleading or fake information.
Such techniques are "getting much greater reach than through traditional media," Melissen said. "In 2012 after the Arab Spring, Facebook was seen as a democratizing medium where sharing everything meant people reaching out to each other. That's still taking place but we've the same medium being used in a more intrusive way, including using algorithms not to reach the networks of your friends, like in normal public diplomacy, but to enter the networks of your opponents."
Wael Ghonim, a former Google executive who spearheaded the Arab Spring in Egypt with his online activism, lamented how authoritarian governments had responded by drowning out dissent with propaganda. "I thought the Internet was a power that was granted to the people and that would never be weakened," he said in an interview with MIT Technology Review. "But I was wrong."
'A tool for contesting reality'
Russia's London Embassy boasts a Digital Club that offers Twitter users "regular competitions and prize draws" and even invitations to the ambassador's residence in exchange for allowing their account to be used for automatic retweets of official posts.
Most official diplomacy remains benign, even in areas of tension. The U.S. operates a "virtual embassy" for Iranians, in the absence of formal relations. The Palestinian Authority, which has no presence in Israel, runs a Facebook page in Hebrew aimed at communicating directly with ordinary Israelis.
There have been some successes; the U.S. Embassy in Beijing's decision to publish air quality data on its Twitter feed is credited with pressuring Chinese authorities into tackling the city's chronic pollution.
And President Donald Trump's Twitter pressure on Kim Jong Un — including his "Little Rocket Man" jibe — was last month praised by South Korea for nudging Pyongyang toward talks.
However, Russian meddling in Ukraine in 2014 — which ended with the annexation of Crimea — saw digital diplomacy used as "a tool for contesting reality," according to Bjola's fellow Oxford researcher, Ilan Manor.
"During the first two months of the Crimean crisis … Russian digital diplomacy stated that there were no Russian troops in Ukraine while the U.S. argued the opposite," Manor wrote. "Once Russia admitted it had forces in the area, it portrayed its actions as an attempt to safeguard the lives of Russian minorities coming under threat from Ukrainian neo-Nazis. The U.S., and its allies, alleged that no such neo-Nazis existed and portrayed Russia's actions as the invasion of another sovereign state. Social media users were thus faced with two conflicting realities."
Western nations are learning to play Russia at its own game. Moscow traded barbs with the U.S. and Britain over the Skripal case, posting snarky memes ridiculing the U.K. government, the State Department and even American weather.
"It seems all very entertaining but the Russians are systematically trying undermine confidence in the U.K. and U.S. government position," said James Pamment, assistant professor at Lund University in Sweden and an expert on digital diplomacy. "They got caught out this time because the British Foreign Office quickly used social media quickly to frame the issue not as a spy being injured but about the use of chemical weapons in peacetime. By doing so, Britain was able to build an international consensus behind diplomatic expulsions and I don't think Russia was expecting that."
It is not just Russia involved in the darker side of digital diplomacy.
"There are many other players — more than we know — and some of them, such as Iran and Sudan, you wouldn't immediately expect in this field," Melissen said.
In particular, Israel has embraced online communication as a way of getting its message across and to underscore its reputation as one of one the world's leading technology hubs. The Israeli Defense Forces (IDF) has a social media unit that provides fast information on clashes and stabbings, helping it shape the media narrative on events such as the recent killings of Palestinian protesters in Gaza.
Elad Ratson, one of a number of Israeli diplomats to regularly approach reporters on social media, describes himself in his Twitter bio as "pioneering digital & algorithmic diplomacy."
His apparently automated direct messages invite journalists to retweet positive news about Israel or to join the Israel Twitter Hive, "a community of few thousands of people from around the world who enable their Twitter account to automatically amplify important factual information about Israel, thus contributing to its large exposure."
Ratson agreed to discuss his work with NBC News but the request was overruled, without explanation, by a spokeswoman.
Lund University's Pamment predicted that digital diplomacy would never replace traditional relationship-building between nations.
"The real battles are still taking place in traditional diplomacy, such as trying to agree the terms for talks or find common ground," he said. "Digital diplomacy is just an extension of what happens in the real world."
Adam Toledo: Bodycam footage of 13-year-old boy being shot dead by Chicago police released | US News
Bodycam footage of a police officer fatally shooting a 13-year-old boy last month appears to show the teenager holding his hands up before he is shot.
Adam Toledo can be seen running away from police down an alley in Chicago as the officer shouts for him to stop and show his hands.
The boy stops and appears to hold his hands up as the officer shouts "drop it".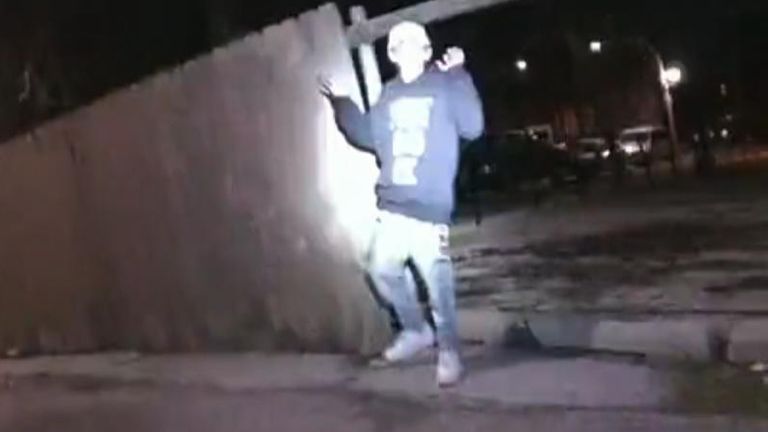 A shot is then heard as the officer repeats the command, and the boy crumples to the ground while the officer asks if he is alright and calls for an ambulance.
The footage shows it took 19 seconds from when the officer left his police car to when he shot the teen.
Further footage was released showing the officer telling the boy to "stay awake" as other officers arrive.
The first officer says he cannot feel a heartbeat and starts administering CPR as the other officers say "stay awake".
Police said a handgun the boy had been carrying was found at the scene.
Chicago Police said the shooting happened after officers responded to gunshots detected by police technology before dawn on 29 March in the predominantly Latino and black Little Village neighbourhood on the city's West Side.
The teenager, who was Latino, and a 21-year-old man ran off when confronted by police before Adam was shot.
The man was arrested on a misdemeanour charge of resisting arrest.
This is the second widely publicised US shooting of a black or Latino person during the trial of former Minneapolis police officer Derek Chauvin, who is accused of killing black man George Floyd last year by kneeling on his neck.
In the days before, footage of a white police officer shooting black man Daunte Wright during a traffic stop sparked protests in the same city the trial is taking place in.
Kim Potter, who claims to have accidentally used her gun instead of her Taser, was charged on Wednesday with second-degree manslaughter.
The video of Adam was posted by the Civilian Office of Police Accountability on Thursday after initially saying it could not release the video because it involved the shooting of a minor.
But Chicago's mayor and police superintendent called for it to be released.
Before it was released, shops in downtown Chicago's "Magnificent Mile" boarded up their windows in anticipation.
Derek Chauvin refuses to testify at George Floyd trial

The release of previous police shooting videos have sparked major protests in the city, including the 2014 shooting of black teen Laquan McDonald 16 times by a white officer.
The city fought for months to keep the public from seeing the video after which the officer was eventually convicted of murder.
It also tried to stop a TV news station from broadcasting video of a botched 2019 police raid in which an innocent, naked, black woman was not allowed to put on clothes until she was handcuffed.
COVID-19: Patients 'tied to beds and intubated without sedatives' as coronavirus crisis worsens in Brazil | World News
Hospitals in Brazil are being forced to intubate coronavirus patients without sedatives amid critical medicine shortages caused by the country's current outbreak, reports claim.
A doctor at the Albert Schweitzer municipal hospital in Rio de Janeiro said that doctors are resorting to tying patients to their beds in order to ventilate them.
Medics have also been diluting sedative medication to make it last longer and using neuromuscular blockers so patients can't resist, they said on the condition of anonymity.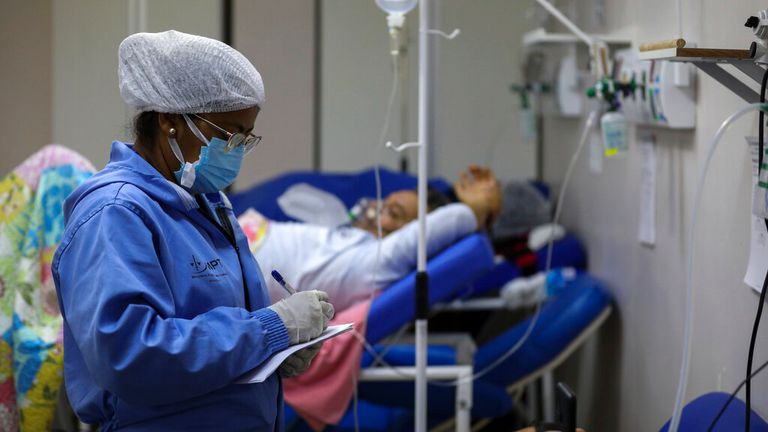 Brazil has become the epicentre of the coronavirus pandemic, with daily deaths averaging around 3,000 a day and oxygen supplies for intensive care patients at breaking point.
On Thursday, the country reported 3,560 COVID-19 fatalities and 73,174 new cases.
Describing the situation at the hospital in Rio, the doctor said: "You relax the muscles and do the procedure easily, but we don't have sedation. Some try to talk, resist. They're conscious."
Brazilian newspaper O Globo reported on Thursday that other hospitals in the Rio metropolitan region were experiencing similar issues, with patients' relatives desperately calling other medical facilities in search of sedatives.
A spokesperson for Rio de Janeiro's health secretariat said "occasional" shortages at the Albert Schweitzer hospital are being caused by difficulties obtaining supplies on the global market.
They said that "substitutions are made so that there is no damage to the assistance provided" to patients.
The spokesperson did not comment on claims patients are being tied to their beds.
In Sao Paulo, state health secretary Jean Carlo Gorinchteyn said at a news briefing on Wednesday that 640 hospitals there were on the verge of collapse.
He said medicine shortages are possible within days and the need for medical supplies is urgent.
"This is not a necessity for Sao Paulo; it is a necessity for the whole country," he told reporters.
Nine requests for intubation medication have been made by his health ministry over the past 40 days, he added.
The last delivery of supplies only covered 6% of what was needed that month in Sao Paulo, state officials said.
Federal health minister Marcelo Queiroga said on Wednesday that a shipment of sedatives was due to arrive within the next 10 days following a deal with the Pan American Health Organisation.
An order of 3.4 million doses of intubation drugs – enough to treat 500 patients for six weeks – has also been ordered from private sector firms, officials added.
The first batch of 2.3 million doses was due to arrive in Brazil from China on Thursday.
COVID-19: People may need additional vaccines beyond their second dose, Pfizer boss says | World News
People are "likely" to need a third dose of the coronavirus vaccine within 12 months of getting the first two, Pfizer's chief executive has said.
Dr Albert Bourla said a booster jab could be necessary "somewhere between six and 12 months" after the second one – and every year thereafter.
"A likely scenario is that there will be likely a need for a third dose, somewhere between six and 12 months and then from there, there will be an annual revaccination, but all of that needs to be confirmed," he told CNBC.
Dr Bourla said that variants "will play a key role" in how regularly people will need to have their COVID immunity topped up as time goes on – in a similar way to how flu vaccines are updated and re-administered year on year.
In comments published on Thursday, Dr Bourla said that the Pfizer-BioNTech vaccine has proved to provide immunity for six months.
He added: "But protection goes down by time. It is extremely important to suppress the pool of people that can be susceptible to the virus."
In the UK, vaccines minister Nadhim Zahawi has said that the top four priority groups could be invited for a third booster dose as soon as September.
The over-80s, clinically extremely vulnerable, health and social care staff and care home workers were the first to be vaccinated against coronavirus in December and the first weeks of this year.
They were offered the Pfizer-BioNTech or the Oxford-AstraZeneca jab, but Mr Zahawi says he expects eight different vaccines to be available by the autumn.
The government has ordered 40 million doses of the Valneva jab for 2022, "should we need to revaccinate any of the UK population", its vaccine task orce said earlier this year.
In the US, health officials are already preparing for booster doses to be issued between nine and twelve months after people are fully vaccinated.
This would mean a third dose for people who have received the Pfizer or Moderna jabs and a second dose for the Johnson & Johnson single-shot vaccine.
President Joe Biden's chief science officer David Kessler told a congressional committee meeting on Thursday that his team are "expecting" to have to administer booster jabs.
He explained: "We don't know everything at this moment.
"We are studying the durability of the antibody response. It seems strong but there is some waning of that and no doubt the variants challenge … they make these vaccines work harder.
"So I think for planning purposes, planning purposes only, I think we should expect that we may have to boost."
Mr Kessler added that the most vulnerable would be first in line.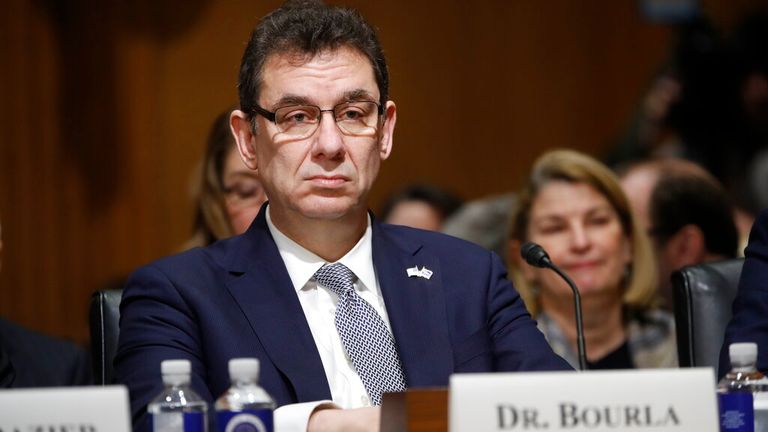 The most recent data, recorded earlier this month, showed the Pfizer-BioNTech vaccine is 91% effective for at least six months, including against some variants.
But beyond the study of 12,000 vaccinated people, exactly how long immunity lasts with two doses "remains to be seen", Dr Bourla said.