Conor McGregor charged with assault over 'bus attack'
UFC fighter Conor McGregor has been charged with three counts of assault over a backstage scuffle in New York.
He is also accused of one count of criminal mischief, New York Police Department said, after trouble erupted at a media event.
The 29-year-old mixed martial arts fighter had just been stripped of his lightweight title.
More follows…
NATO prepares for world's largest cyber war game – with focus on grey zone | Science & Tech News
Military cyber security specialists are preparing for the largest cyber war game in the world, which kicks off tomorrow as the fictional NATO member state of Berylia comes under attack.
The real-time NATO exercise will include defenders practising the protection of critical civilian and military infrastructure, including water treatment facilities and energy plants.
Amid the increasing risk of real international conflict, the exercise will also include legal teams who will need to figure out if and when a particular action is acceptable under international law, as well as strategic communications experts to handle disinformation.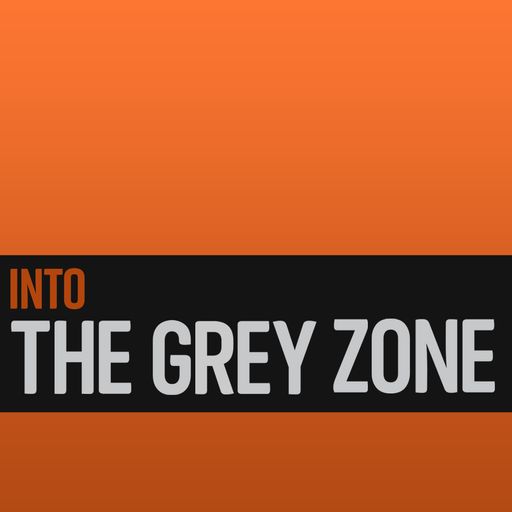 Into The Grey Zone: Episode One
An invisible enemy is on the rise in a grey zone between war and peace. The weapons of choice include disinformation, intimidation and cyber hacks.
How does it work?
Organised by the NATO Cooperative Cyber Defence Centre of Excellence (CCDCOE) based in Tallinn, Estonia, the Locked Shields exercise is an annual network defence drill using real-world skills.
The scenario is based on an attack on the fictional country of Berylia – hypothetically situated in the northern Atlantic – and an adversary called Crimsonia that is creating some artificial islands.
Although the adversary is not mapped to a specific NATO adversary, Crimsonia has traits of both Russia and China in its ambitions and conduct.
The idea is to test multiple teams' skills just as they would be tested if they were forced to remotely come to the aid of NATO ally Berylia as it is targeted by "a sophisticated and intense series of cyber attacks".
Participants include specialists working for NATO member states through to the CCDCOE's private sector partners that develop the operating technology that supports critical national infrastructure.
The defenders are scored on how effective they are not only in securing complex IT systems, but also in reporting incidents, making strategic decisions, and solving forensic, legal, media and information operations challenges.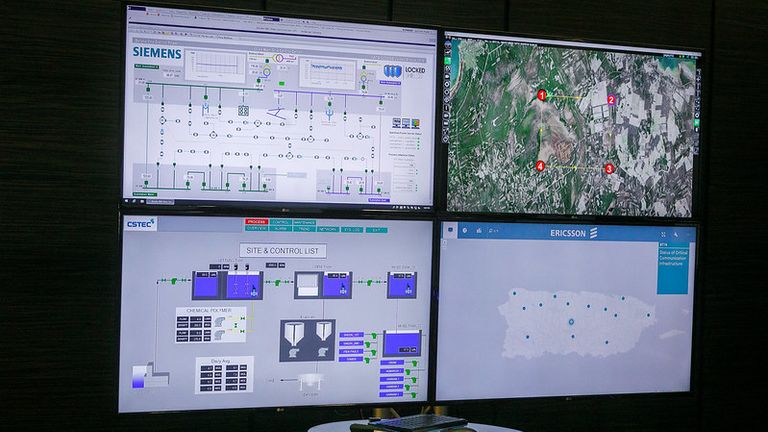 What role does information warfare play?
Dr Adrian Venables, a British academic who has been involved in the exercise for the past seven years, explained to Sky News that the information warfare aspects were a new twist added in for 2021.
"This year for the first time, we've got added realism, a more complicated scenario, bringing with it some of the information warfare aspects, which NATO's adversaries are extremely proficient at," Dr Venables said.
"The information battle is in many respects, as important as the more conventional cyber battle," he said, noting how during wartime an adversary could attempt to convince a civilian population that NATO was the aggressor and painting itself as a liberating force.
"What we're trying to do is to give the teams a more rounded and comprehensive experience where they have to think about more things," he said.
One scenario could be convincing the target population that the water supply has failed due to government mismanagement, rather than a cyber attack, potentially turning the population against the government rather than recognising the threat.
"We've got a simulated social media, where we've got disinformation being produced – we've got continuing intelligence reports for the teams, we've got a simulated news service," Dr Venables added.
"So the teams have to monitor lots of different aspects of the exercise – we've even got some deep fakes, to play video that we've produced in house – and all of these things give the teams a very realistic and genuine experience.
"And after seeing this, they should be able to interpret the passage of events and be able to anticipate where they're going to be attacked, and how they're going to respond," he said.
US nuclear agency targeted in cyber attack

How important are the laywers?
The legal aspect of the exercise was a "vital part" he added, noting that there was a large legal team involved to simulate the decisions that would need to be made during a real-world conflict.
Back in 2018, the UK became one of the first countries to set out its legal approach to applying international law in cyberspace – amid growing tensions with Russia – but the topic is far from settled.
"At some point, each nation may trigger what it regards as a hostile act, or perhaps an act of war," Dr Venables said, "and so there's this continuous communication between cyber defenders, who are quite often computer geeks – for whom communication doesn't necessarily come overly easily.
"They need to talk and explain in straightforward terms to non-technical experts, such as the lawyers, what they've seen, for the lawyers to interpret events in the context of international law, and also national policy."
"We are reflecting reality," Dr Venables told Sky News, adding: "The key point is that because we're not focused on one particular adversary, we can actually focus on everything our adversaries might try to do against us."
US climate envoy John Kerry calls on China to 'assume responsibility' for its part in global warming | Climate News
John Kerry has described the global climate crisis as an "unbelievable monument to the need for multilateralism" and urged China to "assume responsibility" for its part.
Mr Kerry, America's first ever climate envoy, signed the Paris Agreement in 2016 on behalf of the US, and has said that "failure is not an option" when it comes to fulfilling its aims.
The accord is a legally-binding international treaty, then adopted by 197 countries at a summit in the French capital, which has a goal of limiting global warming to well below 2C, and preferably 1.5C, compared to pre-industrial levels.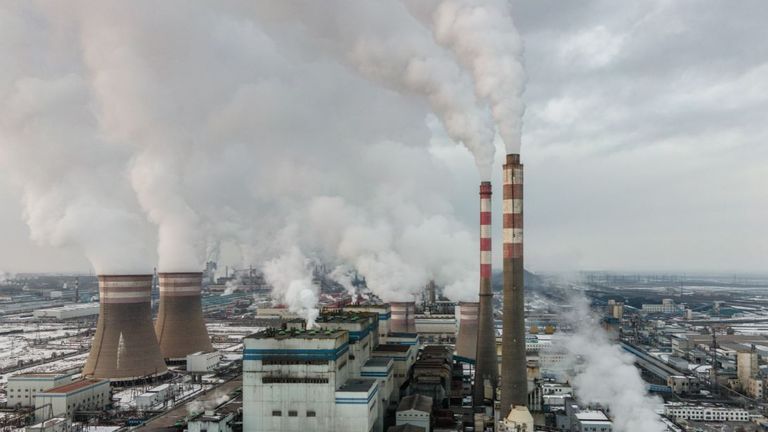 Donald Trump pulled America out of the agreement when he was president but current commander-in-chief, Joe Biden, re-signed as one of his first acts in office earlier this year.
Speaking to Sky News ahead of a visit to China, Mr Kerry said bluntly: "This is not a moment where any nation cannot step up to raise the ambition that Paris envisioned."
He said he had regular talks with his Chinese counterpart on the issue.
"We recognise that China, with nearly 30% of the world's emissions, is essential to resolving this crisis and our hopes are that China is prepared to assume responsibly – as we are, and as other nations are."
He added: "No one country, no one entity, like the EU, can solve the problem
"This is an unbelievable monument – the climate crisis – to the need for multilateralism."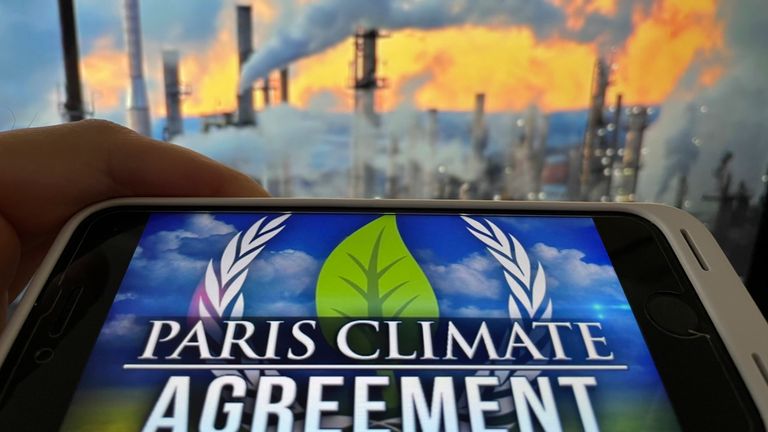 The already-postponed COP26 climate conference is being hosted by the UK in Glasgow in November and Mr Kerry described the event as the world's "last, best opportunity to get real" on the climate.
Globally, there needs to be a 45% reduction in emissions over the next 10 years to limit global warming to 1.5 degrees above pre-industrial levels but the world is not currently on track to meet that.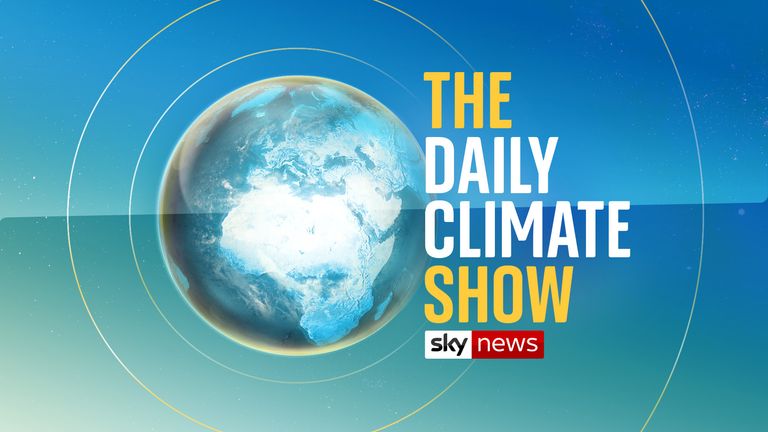 Sky News has the first daily prime time news show dedicated to climate change.
Hosted by Anna Jones, The Daily Climate Show is following Sky News correspondents as they investigate how global warming is changing our landscape and how we all live our lives.
The show will also highlight solutions to the crisis and show how small changes can make a big difference.
Fukushima 'failings' add fuel to fire of world's anti-nuclear movement | Climate News
A fifth of the UK's energy comes from nuclear but opposition to the power source persists.
Environmentalists say the best argument against nuclear energy are Fukushima and Chernobyl.
They say whilst the risks of accidents are tiny, the impact if something goes wrong can be devastating – and the fall-out over what to do with millions of tonnes of water used to cool the power station at Fukushima illustrates that global public confidence in nuclear energy still needs repair.
There are always going to be bigger safety concerns about nuclear energy compared to say wind or solar.
That coupled mainly with cost issues means environmental groups like Greenpeace are opposed to the building of new nuclear power stations.
Nuclear energy is expensive, largely due to the safety systems needed, while the cost of renewables like solar fall year on year.
The world is being urged to turn its back on fossil fuels like coal and favour low carbon solutions to tackle climate change.
Wind and solar can be built much more quickly than nuclear.
But the argument for nuclear power is that it delivers 24 hours a day, seven days a week whatever the weather.
It's a low carbon choice because it doesn't emit greenhouse gases like carbon dioxide and methane.
The government says it supports nuclear in the energy mix because of its reliability – nuclear power plants don't require a daily supply of new fuel to operate, unlike gas, coal and biomass plants.
A new power plant at Hinkley Point C shows intent to invest in nuclear for the future – in spite of the pros and cons.
But the continuing problems at Fukushima – which went into meltdown in 2011 crippled by an earthquake and tsunami – tells its own story.
For years Japan has debated over what to do with the more than a million tonnes of water used to cool the power station.
The government insists most of the radioactive isotopes have been removed using a complex filtration process but one isotope, tritium, cannot be removed.
The company that runs the power plant has promised to dilute the water within regulatory limits before pumping it into the ocean.
But the public and campaign groups are not satisfied.
Residents in Fukushima remain concerned and fishing groups believe consumers will refuse to buy produce from the region.
It's left the Japanese government once again being accused of "failing" the people of Fukushima.
And it adds further fuel to the fire of the world's anti-nuclear movement.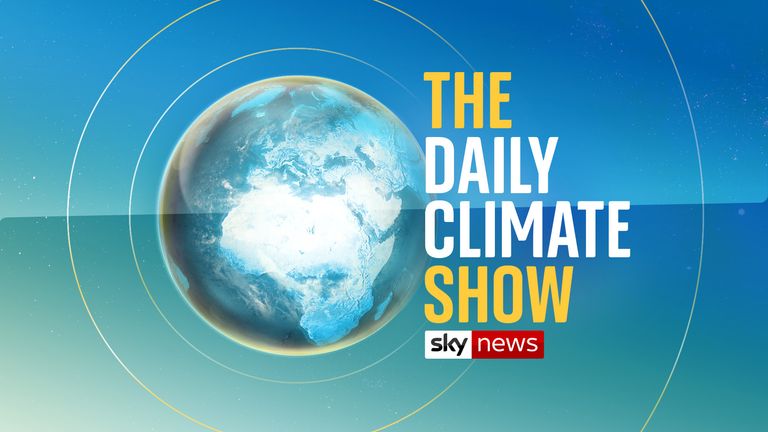 Watch: The Daily Climate Show
Sky News has launched the first daily prime time news show dedicated to climate change.
Hosted by Anna Jones, The Daily Climate Show will follow Sky News correspondents as they investigate how global warming is changing our landscape and how we all live our lives.
The show will also highlight solutions to the crisis and show how small changes can make a big difference.