Facebook data harvesting scandal widens to 87 million people
"In total, we believe the Facebook information of up to 87 million people — mostly in the US — may have been improperly shared with Cambridge Analytica," wrote Mike Schroepfer, chief technology officer of Facebook, in a blog post announcing new rules for how the company plans to handle user data.
The data was harvested by Cambridge University researchers through a quiz app that users downloaded and then used their Facebook accounts to access. Cambridge Analytica, a private company not affiliated with the university, was allegedly then able to build a system off that data to target U.S. citizens with political ads based on personality traits.
In addition to changing how it works with connected apps, Facebook has also changed how its "search account and recovery" feature works, which lets people search for users by phone number or email address. Schroepfer wrote that this allowed for accounts to be found and then have their public info "scraped" — an issue that could have affected all of Facebook's 2.13 billion users. The feature has now been disabled.
"Given the scale and sophistication of the activity we've seen, we believe most people on Facebook could have had their public profile scraped in this way," Schroepfer wrote. "So we have now disabled this feature. We're also making changes to account recovery to reduce the risk of scraping as well.
Facebook said it will begin notifying users at the top of their News Feeds on Monday, April 9, if their information may have been improperly shared with Cambridge Analytica. Facebook's 2.13 billion users will also be provided with a link at the top of their feeds to see the apps they use, review the information they share with those apps and steps to remove them, if they choose.
In a statement on Wednesday, Cambridge Analytica said it "licensed data for no more than 30 million people" from GSR, a research company. They said that data was not used to target voters in the 2016 presidential election.
"Our contract with GSR stated that all data must be obtained legally, and this contract is now a matter of public record," the statement said. "We took legal action against GSR when we found out they had breached this contract."
When Facebook contacted Cambridge Analytica to say the data was improperly gathered, the company said it "immediately deleted the raw data from our file server, and began the process of searching for and removing any of its derivatives in our system."
"When Facebook sought further assurances a year ago, we carried out an internal audit to make sure that all the data, all derivatives, and all backups had been deleted, and gave Facebook a certificate to this effect," the statement said. "We are now undertaking an independent third-party audit to demonstrate that no GSR data remains in our systems."
The disclosure comes one week before Facebook CEO Mark Zuckerberg is set to testify for the first time before Congress. The billionaire CEO is set to testify before the House Energy and Commerce Committee on April 11, where he'll discuss how the company protects user data.
During a rare hour-long call with reporters, Zuckerberg answered questions about the latest disclosures and how Facebook plans to correct course after the biggest scandal of its 14-year existence.
Throughout the call, Zuckerberg acknowledged several times that he has made mistakes, but when asked by NBC News whether he was the best person to continue running Facebook, he said: "Yes."
"I think life is about learning from mistakes and figuring out what to do to move forward. A lot of people ask what I'd do differently," he said. "The reality of this is when you're building something like Facebook, there are going to be things you mess up. I don't think anyone is going to be perfect, but I think everyone should learn from mistakes and continuing to be better."
Zuckerberg said that includes "building things people like and make their lives better."
"I'm the first to admit I didn't take a broad enough view," he said. "Billions of people do love our service, build relationships on a day to day basis. I'm proud of our company."
With strict data privacy regulations taking effect in Europe next month, Zuckerberg pledged that the same settings will be available to everyone around the world – but said the settings pages may look different.
He also said it is "not enough to just give people a voice" and that Facebook has a duty to make sure "people aren't using that voice to hurt or spread misinformation."
Zuckerberg also said he wanted to clear up any misperceptions about what Facebook actually does with user data.
"People put the information there themselves," he said. "We haven't been able to quit this notion for years that we sell data to advertisers. We don't."
"Even if we wanted to, it wouldn't make sense to," he said. "[We] could do a better job to make these things understandable: The way we run this service, we share information and use that to help people connect and we run ads to make it a service that everyone can afford."
Fukushima 'failings' add fuel to fire of world's anti-nuclear movement | Climate News
A fifth of the UK's energy comes from nuclear but opposition to the power source persists.
Environmentalists say the best argument against nuclear energy are Fukushima and Chernobyl.
They say whilst the risks of accidents are tiny, the impact if something goes wrong can be devastating – and the fall-out over what to do with millions of tonnes of water used to cool the power station at Fukushima illustrates that global public confidence in nuclear energy still needs repair.
There are always going to be bigger safety concerns about nuclear energy compared to say wind or solar.
That coupled mainly with cost issues means environmental groups like Greenpeace are opposed to the building of new nuclear power stations.
Nuclear energy is expensive, largely due to the safety systems needed, while the cost of renewables like solar fall year on year.
The world is being urged to turn its back on fossil fuels like coal and favour low carbon solutions to tackle climate change.
Wind and solar can be built much more quickly than nuclear.
But the argument for nuclear power is that it delivers 24 hours a day, seven days a week whatever the weather.
It's a low carbon choice because it doesn't emit greenhouse gases like carbon dioxide and methane.
The government says it supports nuclear in the energy mix because of its reliability – nuclear power plants don't require a daily supply of new fuel to operate, unlike gas, coal and biomass plants.
A new power plant at Hinkley Point C shows intent to invest in nuclear for the future – in spite of the pros and cons.
But the continuing problems at Fukushima – which went into meltdown in 2011 crippled by an earthquake and tsunami – tells its own story.
For years Japan has debated over what to do with the more than a million tonnes of water used to cool the power station.
The government insists most of the radioactive isotopes have been removed using a complex filtration process but one isotope, tritium, cannot be removed.
The company that runs the power plant has promised to dilute the water within regulatory limits before pumping it into the ocean.
But the public and campaign groups are not satisfied.
Residents in Fukushima remain concerned and fishing groups believe consumers will refuse to buy produce from the region.
It's left the Japanese government once again being accused of "failing" the people of Fukushima.
And it adds further fuel to the fire of the world's anti-nuclear movement.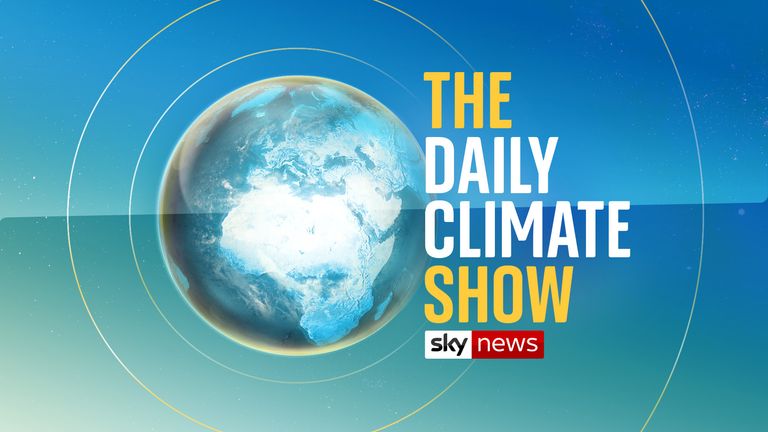 Watch: The Daily Climate Show
Sky News has launched the first daily prime time news show dedicated to climate change.
Hosted by Anna Jones, The Daily Climate Show will follow Sky News correspondents as they investigate how global warming is changing our landscape and how we all live our lives.
The show will also highlight solutions to the crisis and show how small changes can make a big difference.
Taiwan invasion unlikely for now – but there are other ways China can turn the screw | World News
The good news is that there are only five months when weather conditions are good enough to mount an invasion of Taiwan, according to Ian Easton, the author of The Chinese Invasion Threat. 
The bad news is that two of them are April and May.
So when Taiwan reported that 25 Chinese air force aircraft, including nuclear-capable bombers, entered its air defence identification zone (ADIZ) this week, fears of attack are front of mind.
It was the largest incursion by the Chinese military to date.
US Admiral Philip Davidson – Washington's top military officer in the Asia-Pacific region – recently said he was worried China could invade Taiwan in the next six years.
Chiu Kuo-cheng, Taiwan's new defence minister, responded: "His evaluation says six years, but my concerns include six hours."
The foreign minister, Joseph Wu, said this month that in the event of an attack Taiwan would fight "to the very last day".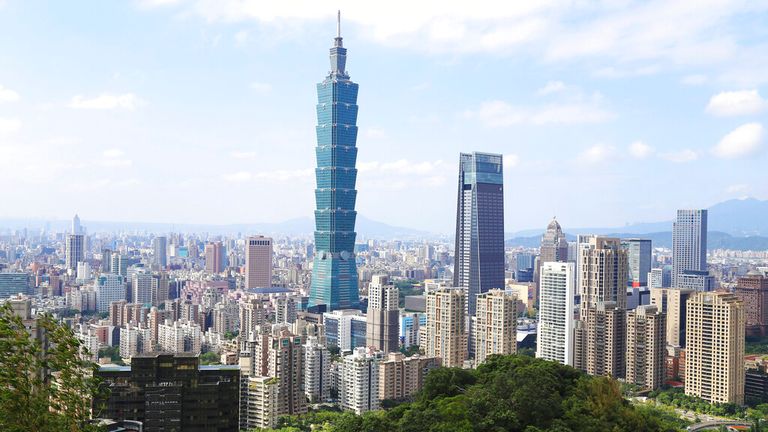 There is belligerence from the Chinese side. A defence ministry spokesperson said that a declaration by Taiwan of independence "means war".
Hu Xijin, the editor of a nationalistic Chinese tabloid, said that the Chinese military could fly directly over the island of Taiwan itself, and if Taiwan fired at those planes, China would attack.
Hu's attention-seeking provocations should always be taken with a pinch of salt but they show how the conversation around Taiwan is evolving.
But although the intensity is increasing, in many ways we are still in the status quo that has existed for decades.
China's constitution, adopted in 1949, says Taiwan is part of its "sacred territory" and details the "inviolable duty" of "reunifying the motherland".
:: Subscribe to Into The Grey Zone on Apple Podcasts, Spotify, Spreaker
On the question of "Taiwan independence", China as far back as 2005 passed a law that formally authorised military force if Taiwan was "separated" from China.
Taiwan has its own constitution and a highly functioning democracy – rated above Japan and South Korea by the Economist Intelligence Unit.
The election of President Tsai Ing-wen in 2016 led to an escalation in pressure from China. What we're seeing now is best viewed as the latest development in that continuous period.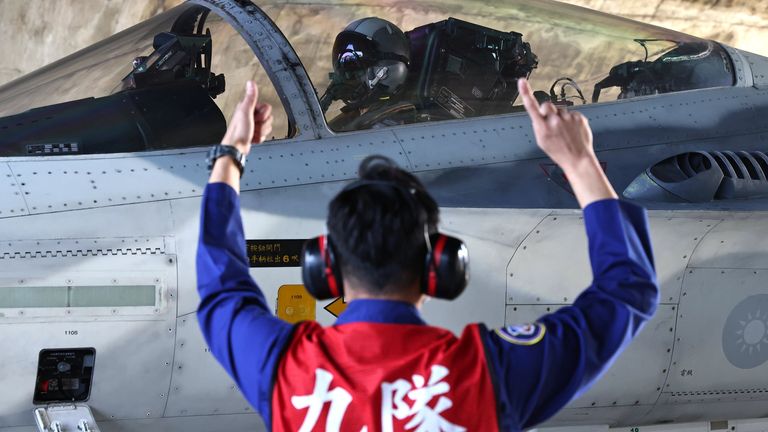 And as China has increased its attrition strategy, the US has increased its ties with the island, which in turn leads to more Chinese pressure.
That pressure is designed to take a psychological and logistical toll on Taiwan.
In 2020, Taiwan spent some $900m scrambling fighters to meet Chinese sorties and said it would no longer dispatch jets to meet every incursion, instead tracking Chinese aircraft with land-based missiles. Expect that pressure to continue.
But a full-scale invasion by China remains unlikely in the short term. That would require a massive build up of forces, easily detectable by US and Taiwanese monitoring.
There are options short of invasion that are still worrying.
China could blockade the island economically, or seize some of its outlying territory. The Kinmen Islands, administered by Taiwan, are barely a mile from China.
Any such move would be a test of the US resolve to defend Taiwan, perhaps analogous to Russia's seizing of the Crimean Peninsula.
Would an aggressive Chinese move, short of full invasion, prompt the US to respond militarily?
Right now, no one knows. That means it would be hugely destabilising.
For all the pressures of the current moment, it at least fits a known, established pattern – and is far preferable to an escalation, the consequences of which would be difficult to predict.
COVID-19: World Health Organisation calls for ban on sale of live wild mammals in food markets | World News
The sale of live wild mammals at food markets should be suspended as an emergency measure, the World Health Organisation has said.
The statement comes after a WHO team visited Wuhan in China to investigate the origins of COVID-19.
The most likely scenario is that the virus originated in bats, was spread to another unidentified animal, and then passed on to humans, a WHO report said in March.
Live COVID updates from across the UK and around the world
The organisation said in a separate report on Tuesday that animals, "particularly wild animals", are the source of more than 70% of emerging infectious diseases in humans.
They added many of these are caused by novel viruses – a virus that has not previously been recorded.
The report states: "Wild mammals, in particular, pose a risk for the emergence of new diseases. They come into markets without any way to check if they carry dangerous viruses.
"There is a risk of direct transmission to humans from coming into contact with the saliva, blood, urine, mucus, faeces, or other body fluids of an infected animal, and an additional risk of picking up the infection from contact with areas where animals are housed in markets or objects or surfaces that could have been contaminated with such viruses."
The WHO said "traditional markets play a central role in providing food and livelihoods " around the world.
It added that banning the sale of live wild animals would help to protect the health of both shoppers and workers.
WHO: Lab leak COVID origin 'unlikely'

The closest-related viruses to COVID-19 have been found in bats in southwest China.
The intermediate host is more elusive: mink, pangolins, rabbits, raccoon dogs and domesticated cats have all been cited as a possibility.
The WHO team said that a theory the virus was leaked from a lab was "extremely unlikely" but it has not been ruled out.
The call for a ban of the sale of wild animals comes as the the WHO said the global coronavirus pandemic is at a "critical point".
It added that people need a "reality check" as restrictions are eased.
Follow the Daily podcast on Apple Podcasts, Google Podcasts, Spotify, Spreaker
Dr Maria van Kerkhove, head of the WHO's technical response, told a news conference vaccinations alone are not enough to combat COVID-19.
Coronavirus restrictions were eased in parts of the UK on Monday, with shoppers returning to high streets and drinkers visiting pub gardens in England, and non-essential retailers reopening in Wales.
Dr van Kerkhove, speaking on Monday afternoon, urged caution, saying: "We need headlines around these public health and social measures, we need headlines around the tools that we have right now that can prevent infections and save lives.
"We are in a critical point of the pandemic right now, the trajectory of this pandemic is growing."