YouTube shooter repeatedly posted grievances about the video platform
Get breaking news alerts and special reports. The news and stories that matter, delivered weekday mornings.
Nasim Aghdam repeatedly aired her frustration with YouTube on online accounts and on a website linked to her, before she allegedly opened fire on the company' headquarters in San Bruno, California on Tuesday.
Aghdam, 38, was found dead on Tuesday from a self-inflicted gunshot wound after injuring four people during her shooting rampage, according to local police officials. On Wednesday, the police said they believed Aghdam was motivated by her anger with YouTube.
YouTube policy changes in recent years have made it harder for video creators to earn money on the platform. YouTube has also narrowed what is considered acceptable — and monetizable — content, moves that have sparked heated criticism from some video creators.
"We know that she was upset with YouTube, and we've determined that right now that's the motivation we've identified," San Bruno Police Chief Ed Barberini said, adding that it has not been determined whether her actions were related to terrorism.
The Mountain View Police Department released a statement saying that Aghdam's father informed them his daughter was in the area after "she made a series of vegan videos for her channel on YouTube and that the company had recently done something to her videos that had caused her to become upset."
According to a review NBC News conducted of Aghdam's online account history, she posted videos to four YouTube channels, with most of her work focused on veganism and animal rights. Other videos featured bizarre parodies or exercise videos set to strange music. Her four channels collectively earned more than 9.2 million views on YouTube since she joined the site in 2010.
Aghdam's grievances with YouTube stemmed from changes made by the company to how it pays video creators for ads shown before or alongside their videos. Those changes, some of which occurred less than three months ago, included making it harder for video creators with smaller followings and view counts to make any money from their videos. Some in the YouTube community have criticized those changes.
Aghdam's issues with YouTube appeared to have swelled last year. A file in an image folder on Aghdam's personal website showed what purported to be an email she received that appeared to come from an email account associated with YouTube's legal support team in response to a complaint she levied on June 16, 2017. The picture is not displayed on Aghdam's website, but was uploaded to an index folder containing all images hosted on the site.
In the email, which was added to her website June 27, 2017, Aghdam complains of "discrimination and hatred problems against me," alleging a "huge drop in views" after she began uploading videos in Farsi and Turkish.
Aghdam appended a message in a red font atop a screenshot of her purported interaction with a YouTube support account.
"My email to youtube legal team. Subject is discrimination, but their response is about account activation!"
YouTube did not respond to requests for comment from NBC News.
Aghdam's family confirmed her YouTube usage to NBC News on Tuesday. In a brief phone interview, her father, Ismail Aghdam, said the platform had "stopped everything and now she has no income."
Ismail Aghdam later told the San Jose Mercury News that his daughter "was angry" and "hated" YouTube.
Charts on the analytics site SocialBlade show that Aghdam suffered a substantial decline in viewers and subscribers on her main YouTube channel in June of 2016. Aghdam opened several other YouTube accounts over the course of 2016 and 2017, all of which received noticeable drops in viewership within months of their creation.
It's unclear how much money Aghdam was making for her views, but SocialBlade estimated that she was making between $661 and $10,614 a year between her four YouTube accounts.
"On YouTube, a creator can estimate that they'll get somewhere between 25 cents and $4 per 1,000 views. These data points change from time to time and are not an exact science, but generally hold true for most channels," SocialBlade CEO Jason Urgo told NBC News.
A website registered in Aghdam's name and a hub for her now deleted YouTube accounts, NasimSabz.com, prominently features several videos about YouTube demonetization under the heading "Youtube filtered my channels to keep them from getting views!"
The section includes three active YouTube videos, one by vlogger Casey Neistat, another from a channel called "Bite Size Vegan," and another by InfoWars writer Paul Joseph Watson.
Watson and InfoWars, a website known to frequently spread conspiracy theories that was founded by Alex Jones, have posted dozens of YouTube videos and articles decrying what they deem to be "censorship" at YouTube. One of InfoWars' videos on YouTube from last month is titled "These are the videos they want banned from YouTube" and has the "Internet censorship is here and it's time to fight back."
InfoWars has amped up attacks against the tech giant since receiving two "strikes" against YouTube's community standards. YouTube has said that it would ban InfoWars from YouTube if it has to issue a third "strike."
YouTube currently allows its users to monetize their videos through the YouTube Partner Program. The program now requires a channel to reach 4,000 watch hours over the course of the past 12 months and 1,000 subscribers to be eligible for partnership, according to YouTube's help center.
Those rules were put in place on Jan.16, 2018 as part of an effort to to weed out "bad actors" like spammers and impersonators, according to Variety. The prior threshold for a channel to qualify for monetization was 10,000 views.
"This is part of an effort to strengthen our requirements for monetization so spammers, impersonators, and other bad actors can't hurt our ecosystem or take advantage of creators, while continuing to reward those who make our platform great," YouTube says in the post.
Once a user meets the requirements, they must agree to the terms of service, sign up for AdSense, a Google program that allows publishers to run advertisements, and set their monetization preferences before submitting videos for review by the site. If approved, the channel can begin to make money.
But YouTube's monetization process was not always this rigorous.
The "Adpocalypse," what many major YouTubers refer to as the beginning of the site cracking down on who is and isn't monetized, began in early 2017.
Many content creators say the rules have been nebulous and some claim they often have videos demonetized that do not violate the company standards. Because of this, many YouTubers have turned to Patreon, a subscription service for content creators, or YouTube Red, a Google subscription service that costs its users $9.99 a month.
Taiwan invasion unlikely for now – but there are other ways China can turn the screw | World News
The good news is that there are only five months when weather conditions are good enough to mount an invasion of Taiwan, according to Ian Easton, the author of The Chinese Invasion Threat. 
The bad news is that two of them are April and May.
So when Taiwan reported that 25 Chinese air force aircraft, including nuclear-capable bombers, entered its air defence identification zone (ADIZ) this week, fears of attack are front of mind.
It was the largest incursion by the Chinese military to date.
US Admiral Philip Davidson – Washington's top military officer in the Asia-Pacific region – recently said he was worried China could invade Taiwan in the next six years.
Chiu Kuo-cheng, Taiwan's new defence minister, responded: "His evaluation says six years, but my concerns include six hours."
The foreign minister, Joseph Wu, said this month that in the event of an attack Taiwan would fight "to the very last day".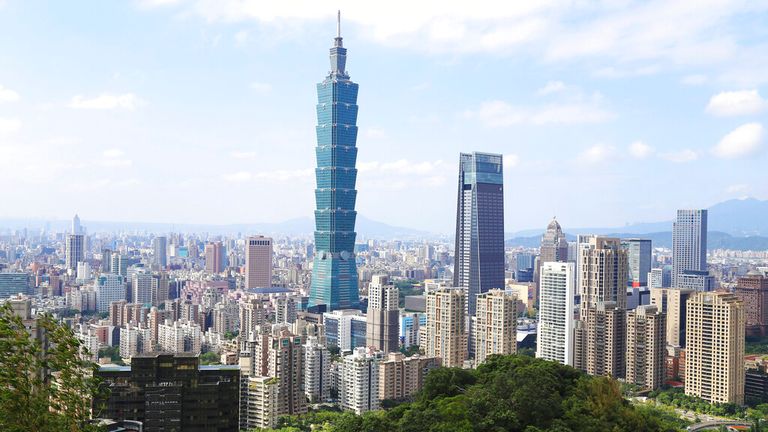 There is belligerence from the Chinese side. A defence ministry spokesperson said that a declaration by Taiwan of independence "means war".
Hu Xijin, the editor of a nationalistic Chinese tabloid, said that the Chinese military could fly directly over the island of Taiwan itself, and if Taiwan fired at those planes, China would attack.
Hu's attention-seeking provocations should always be taken with a pinch of salt but they show how the conversation around Taiwan is evolving.
But although the intensity is increasing, in many ways we are still in the status quo that has existed for decades.
China's constitution, adopted in 1949, says Taiwan is part of its "sacred territory" and details the "inviolable duty" of "reunifying the motherland".
:: Subscribe to Into The Grey Zone on Apple Podcasts, Spotify, Spreaker
On the question of "Taiwan independence", China as far back as 2005 passed a law that formally authorised military force if Taiwan was "separated" from China.
Taiwan has its own constitution and a highly functioning democracy – rated above Japan and South Korea by the Economist Intelligence Unit.
The election of President Tsai Ing-wen in 2016 led to an escalation in pressure from China. What we're seeing now is best viewed as the latest development in that continuous period.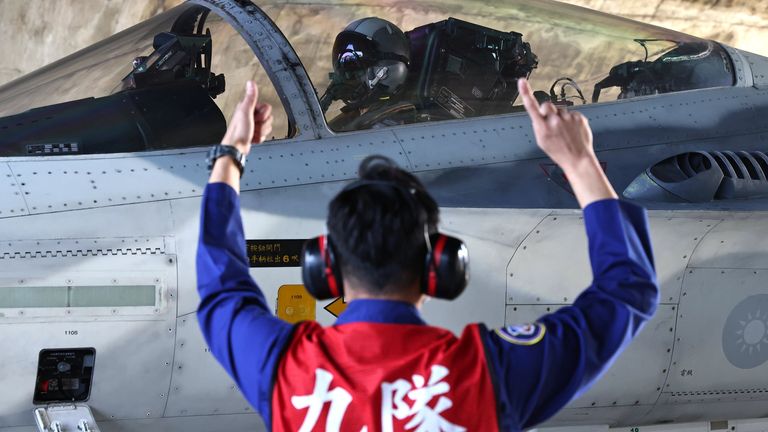 And as China has increased its attrition strategy, the US has increased its ties with the island, which in turn leads to more Chinese pressure.
That pressure is designed to take a psychological and logistical toll on Taiwan.
In 2020, Taiwan spent some $900m scrambling fighters to meet Chinese sorties and said it would no longer dispatch jets to meet every incursion, instead tracking Chinese aircraft with land-based missiles. Expect that pressure to continue.
But a full-scale invasion by China remains unlikely in the short term. That would require a massive build up of forces, easily detectable by US and Taiwanese monitoring.
There are options short of invasion that are still worrying.
China could blockade the island economically, or seize some of its outlying territory. The Kinmen Islands, administered by Taiwan, are barely a mile from China.
Any such move would be a test of the US resolve to defend Taiwan, perhaps analogous to Russia's seizing of the Crimean Peninsula.
Would an aggressive Chinese move, short of full invasion, prompt the US to respond militarily?
Right now, no one knows. That means it would be hugely destabilising.
For all the pressures of the current moment, it at least fits a known, established pattern – and is far preferable to an escalation, the consequences of which would be difficult to predict.
COVID-19: World Health Organisation calls for ban on sale of live wild mammals in food markets | World News
The sale of live wild mammals at food markets should be suspended as an emergency measure, the World Health Organisation has said.
The statement comes after a WHO team visited Wuhan in China to investigate the origins of COVID-19.
The most likely scenario is that the virus originated in bats, was spread to another unidentified animal, and then passed on to humans, a WHO report said in March.
Live COVID updates from across the UK and around the world
The organisation said in a separate report on Tuesday that animals, "particularly wild animals", are the source of more than 70% of emerging infectious diseases in humans.
They added many of these are caused by novel viruses – a virus that has not previously been recorded.
The report states: "Wild mammals, in particular, pose a risk for the emergence of new diseases. They come into markets without any way to check if they carry dangerous viruses.
"There is a risk of direct transmission to humans from coming into contact with the saliva, blood, urine, mucus, faeces, or other body fluids of an infected animal, and an additional risk of picking up the infection from contact with areas where animals are housed in markets or objects or surfaces that could have been contaminated with such viruses."
The WHO said "traditional markets play a central role in providing food and livelihoods " around the world.
It added that banning the sale of live wild animals would help to protect the health of both shoppers and workers.
WHO: Lab leak COVID origin 'unlikely'

The closest-related viruses to COVID-19 have been found in bats in southwest China.
The intermediate host is more elusive: mink, pangolins, rabbits, raccoon dogs and domesticated cats have all been cited as a possibility.
The WHO team said that a theory the virus was leaked from a lab was "extremely unlikely" but it has not been ruled out.
The call for a ban of the sale of wild animals comes as the the WHO said the global coronavirus pandemic is at a "critical point".
It added that people need a "reality check" as restrictions are eased.
Follow the Daily podcast on Apple Podcasts, Google Podcasts, Spotify, Spreaker
Dr Maria van Kerkhove, head of the WHO's technical response, told a news conference vaccinations alone are not enough to combat COVID-19.
Coronavirus restrictions were eased in parts of the UK on Monday, with shoppers returning to high streets and drinkers visiting pub gardens in England, and non-essential retailers reopening in Wales.
Dr van Kerkhove, speaking on Monday afternoon, urged caution, saying: "We need headlines around these public health and social measures, we need headlines around the tools that we have right now that can prevent infections and save lives.
"We are in a critical point of the pandemic right now, the trajectory of this pandemic is growing."
Facebook takes down official page for French town called Bitche | Science & Tech News

Facebook has been criticised after taking down the official page for the French town of Bitche.
Local broadcaster Radio Melodie reported that the page was taken down, forcing the municipal communications officer to create a new one under another name.
Ms Valerie Degouy said the new page was named after the town's post code, Mairie 57230, as reported by Politico.
Ms Degouy said: "I tried to reach out to Facebook in every possible way, through different forms, but there's nothing [I could] do," she said, adding she had "already had issues when I first created the page".
Another of the commune's towns, Rohrbach-les-Bitches, renamed its page Ville de Rohrbach out of caution.
In a post explaining the change, the account holder said: "Far from us the idea of denying the name of our beautiful village… [but] Facebook seems to be hunting the term associated with Rohrbach…
"We let you imagine the reason," they added with a winking and laughing emoji.
As Politico reports, this is not the first time that the town's name has caused upset for Americans.
Back in 1881, the US embassy was located on the Place de Bitche in Paris, named in honour of the town.
The then ambassador, Levi Parsons Morton, complained about the name as it appeared to be embarrassing on the embassy's letterhead and Parisian authorities renamed the square Place des Etats-Unis.
A spokesperson for Facebook confirmed to Sky News that the page was removed in error, and had since been "swiftly restored this morning, when we because aware of the issue".