Spotify (SPOT) makes its unconventional trading debut
Get breaking news alerts and special reports. The news and stories that matter, delivered weekday mornings.
Spotify's unusual path to going public on the New York Stock Exchange sparked curiosity among tech watchers and traders keen to see how the popular streaming service would fare on its first official day of trading.
The answer came swiftly, with shares in the newly created SPOT soaring 26 percent on Tuesday morning.
But don't call it an initial public offering. Spotify left the ranks of other unicorns — the nickname for privately held companies valued at more than $1 billion — and followed an unconventional route to become a publicly traded company, opting for a direct listing.
What a direct listing means for Spotify
A typical path for tech companies going public includes raising capital through millions of new shares and working with a large Wall Street bank to serve as a stabilizer by underwriting the IPO.
With Spotify's public debut, there are no new shares, meaning there are only the existing shares held by private investors and employees. The direct listing is good news for them, since their share values aren't being diluted.
For potential investors, it will be a case of whether the limited number of shares available will meet the demand of a hot new tech listing.
"A direct listing is a pretty unconventional way for a company to go public, in that they are not necessarily issuing new shares and having a traditional IPO that is underwritten," Caleb Silver, senior vice president and editor-in-chief of Investopedia told NBC News. "Basically, it's a chance for existing shareholders to sell their shares to the public through the exchange."
Spotify CEO Daniel Ek said he opted for the untraditional route because "Spotify has never been a normal kind of company."
"Spotify is not raising capital, and our shareholders and employees have been free to buy and sell our stock for years,"he said in a letter posted on Monday. "So while tomorrow puts us on a bigger stage, it doesn't change who we are, what we are about, or how we operate. This is why we are doing things a little differently."
Spotify is valued at an estimated $19 billion.
The company's decision to bypass the big investment banks is saving millions of dollars in fees. Silver said the banks will be watching to see how Spotify performs without their help. If it's a success, he said the unorthodox listing could inspire other unicorns to follow suit.
Tech stocks slump amid controversies
If timing is everything, Spotify could be in for a tough ride. The company made its public debut as tech stocks continue to take a nosedive.
Amid fallout over its privacy practices, Facebook has lost nearly 20 percent of its value in the past month, shaving billions of dollars off embattled CEO Mark Zuckerberg's net worth. Amazon stock has also slid amid worries of regulation as President Donald Trump continues to target the company on Twitter.
Perhaps the closest comparison for how Spotify might fare is Netflix. The two companies have drawn comparisons for their streaming subscription models.
Netflix shares closed below the short term average on Monday for the first time this year, a barometer used to measure the momentum of a company and the attitudes of investors.
"This is a test by Spotify to see how much the public thinks this company is worth," Silver said. "If its IPO is successful today, it is a good sign for Spotify and technology — but a rough sign for traditional banks."
COVID-19: China's post-pandemic rebound levels off as GDP growth slows to 0.6% | Business News
China's economic growth slowed at the start of this year as its post-pandemic rebound began to level off, official figures showed.
GDP grew by just 0.6% in the first quarter, missing expectations of a 1.5% increase and down from 3.2% in the last three months of 2020.
Live COVID updates from the UK and around the world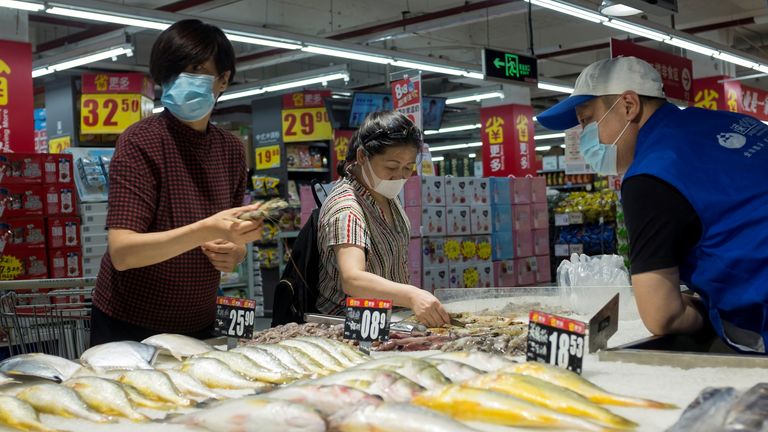 But the figures also showed that the world's second biggest economy was 18.3% larger compared with the same period a year ago when it was in the grip of the coronavirus crisis.
China fell into its deepest contraction in decades at the start of 2020 as the pandemic took hold but it was also quick to recover.
Beijing allowed factories and stores to reopen in March last year and since then manufacturing, car sales and other consumer activity have already returned to pre-COVID levels.
China's overall growth of 2.3% for 2020 meant it was the only major economy to avoid shrinking last year, but it was still the weakest performance in more than four decades.
Now, some experts warn that recovery remains uncertain with global demand for its exports hampered by continued COVID restrictions in some parts of the world.
There are also signs of Beijing trying to rein in financial risks in overheating parts of the economy.
The latest quarterly figures pointed to continued strength in China's consumer economy, with better than expected growth in retail sales but a slowdown in manufacturing growth.
New evidence of strict controls that Uighur Muslims face

Liu Ahua, spokeswoman for the National Bureau of Statistics, said the momentum of economic recovery had continued and "positive factors have increased" – but that with the pandemic still spreading overseas, the "international environment is still complex".
Julian Evans-Pritchard, senior China economist at Capital Economics, said: "With the economy already above its pre-virus trend and policy support being withdrawn, China's post-COVID rebound is levelling off.
"We expect quarter-on-quarter growth to remain modest during the rest of this year as the recent boom in construction and exports unwinds."
Olympics 'must be urgently reconsidered' as Japan braces for fourth COVID wave, experts warn | World News
The Olympics in Tokyo this summer "must be urgently reconsidered", health experts have warned.
The 2020 Games, already delayed by one year, are due to begin in fewer than 100 days, but Japan's inability to contain the COVID-19 pandemic has prompted scientists to urge organisers to call it off.
Japan has exhibited "poor performance" in containing virus transmission, along with limited testing capacity and a slow vaccination rollout, according to an article in the British Medical Journal (BMJ).
Tokyo Olympics rings and mascots unveiled

"Plans to hold the Olympic and Paralympic Games this summer must be reconsidered as a matter of urgency," wrote lead author Kazuki Shimizu, of the London School of Economics.
"Holding Tokyo 2020 for domestic political and economic purposes – ignoring scientific and moral imperatives – is contradictory to Japan's commitment to global health and human security."
The warning comes after a poll showed 70% of Japanese people do not want the Games to go ahead, even though organisers remain committed to holding them – only without foreign spectators.
Japan is currently ramping up measures to halt a fourth wave of coronavirus infections, with government officials considering adding 10 more regions to a list of six already under increased restrictions.
Daily cases in Osaka reached a record 1,208 on Thursday, driven by the virulent UK variant of the virus first found in Kent late last year.
And new infections rose to 729 in the capital Tokyo, the highest since early February – and when when most of the nation was under a state of emergency.
Lord Coe: 'I think Olympics will take place'

A senior ruling party official has said cancelling this year's Olympics remains an option if the coronavirus situation becomes too dire, but a scaled-back torch relay is already under way.
The event's two mascots have also been unveiled as organisers try to generate excitement for a second time.
Last year saw weeks of speculation before it was finally confirmed in late March that the 2020 Olympics would not happen as planned, and doubters will likely be drawing parallels to the current situation.
At the time, the International Olympics Committee insisted the event would be held "not later than summer 2021", suggesting that a further delay could be the end of efforts to hold the 2020 Games.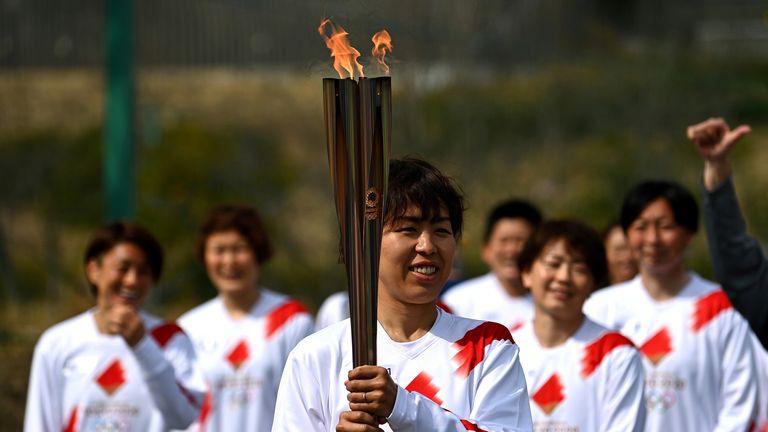 Japan began its vaccination rollout in February, later than most major economies. Only 0.9% of the Japanese public have received their first shot so far, compared with 2.5% in nearby South Korea, and 48% in the UK.
The BMJ article adds more pressure to the Games organisers after a survey of more than 1,000 Japanese doctors last month showed that 75% believed it was better to postpone them.
And Kyoto University professor Hiroshi Nishiura, an advisor to the government's pandemic response, urged in a magazine feature earlier this week that authorities postpone the Olympics one more year to allow extra time to vaccinate the public.
Prime Minister Yoshihide Suga said on Thursday the government would do "everything possible" to prevent further contagion ahead of the Games, after a ruling party official said cancelling the event remained an option.
Batches of 50 to 100 Uighur workers are being advertised on the Chinese internet | World News
Uighur people from Xinjiang working in other parts of China are subject to "political" checks and work under strict "half-military" style management, according to new evidence discovered by Sky News.
The Xinjiang government runs an official "labour transfer programme", according to its 2019 Five Year Plan, "so as to provide more employment opportunities for the surplus rural labour force."
Workers are "transferred to employment" in other provinces of China.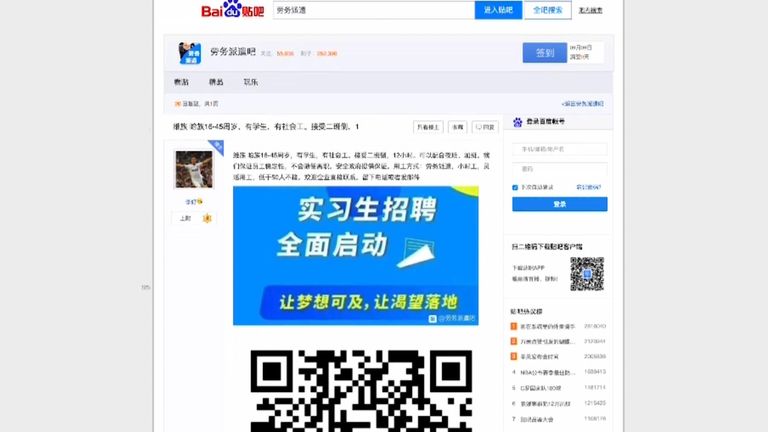 A report from the Australian Strategic Policy Institute estimated that at least 80,000 Uighur workers were transferred out of Xinjiang between 2017 and 2019, although it said the actual figure was likely to be far higher.
Human rights groups have warned that such strict controls could amount to forced labour.
The Chinese government has previously described such claims as "the lie of the century". It did not respond to our request for comment on this story.
Facilitating labour transfers relies on a network of private agents.
On Chinese websites, there are dozens of postings advertising Uighur labour, in batches of 50 to 100 workers.
Baidu, the company hosting the job postings, did not respond to a request for comment.
Those adverts suggest tight political and social controls. One states that the "security of workers will be guaranteed by the government".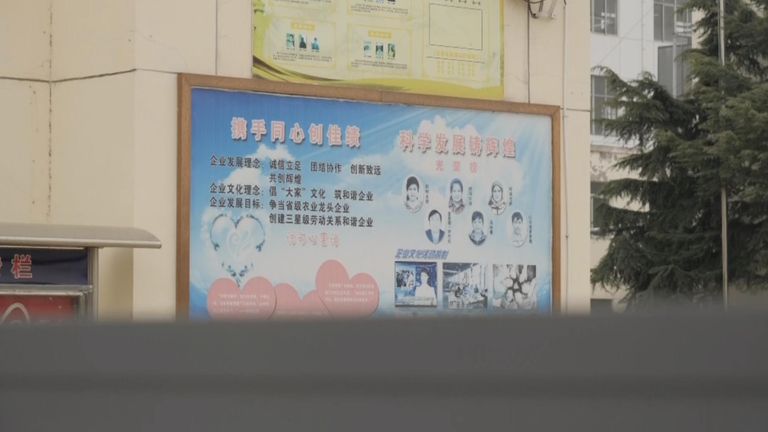 We contacted numbers left on the labour adverts.
One agent told us that workers from Xinjiang needed to be "examined politically" before they could be transferred.
The local government of the receiving province would also do a "political examination".
All workers would be accompanied by "supervisors", the agent said, and "under half-military management".
Another said that without local government approval, workers could not be arranged because "the ethnic minority issue is a severe problem".
A third said the salary of the "supervisors" was paid by the Personnel Bureau of the Xinjiang government.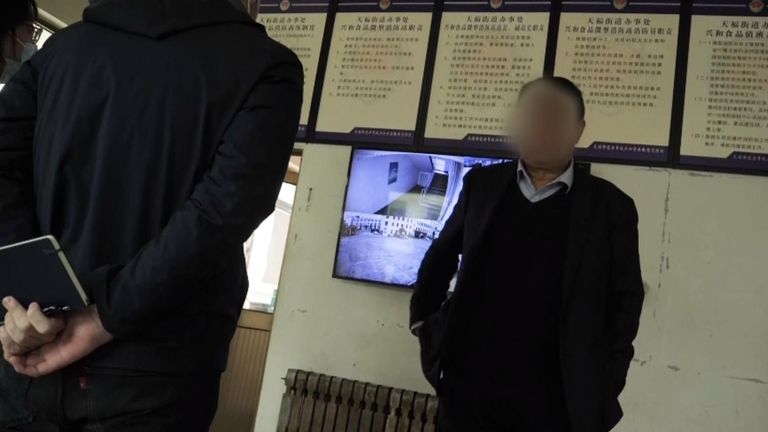 State media often celebrates the working conditions of Uighur workers in other parts of China.
One local news video describes 200 Uighur workers at a factory in Shandong, a coastal province in east China, saying: "Supported by all relevant government departments, the company develops well.
"They will continue creating a harmonious work environment for our Uighur compatriots."
The owner of the factory, a seafood processing plant, said that all the Uighur workers had returned home to Xinjiang because of the pandemic and that reports of forced labour was "nonsense".
He said that workers went there because they chose to, earned at least £300 per month, and had air conditioners in their on-site dormitories.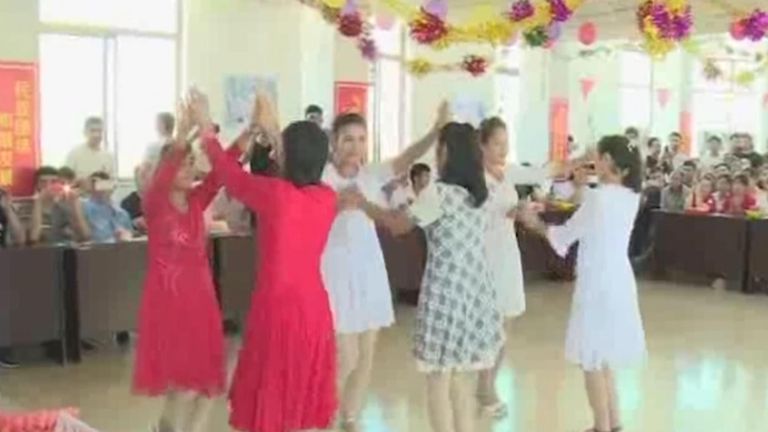 Those dormitories were monitored by CCTV in a front office which also contained riot control gear.
If workers wished to leave the factory, the owner told us, the company would take them in two buses.
Twelve police officers and Communist Party officials then arrived.
They questioned us for two hours, before ordering us to leave town.
At another seafood processing factory in the same province, which until recently had a UK subsidiary, according to Companies House filings, a manager waiting at the entrance said there were no Uighur workers, nor had there been in the several years he had worked there.
But an article on the company's own website, posted on 18 March 2020, shows Uighur workers arriving from Xinjiang.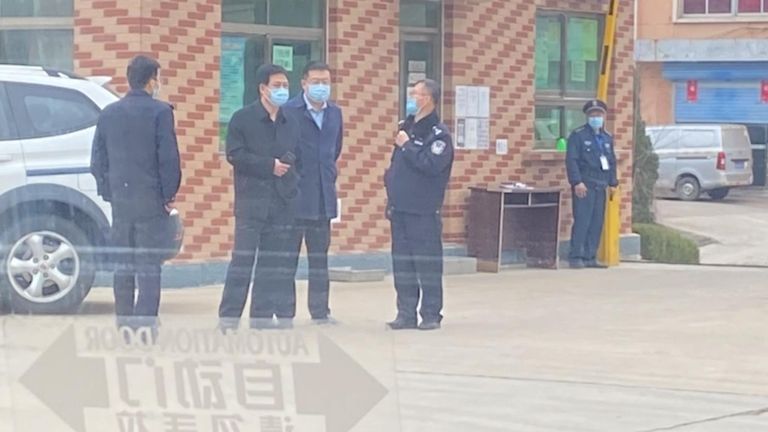 The accompanying announcement says that their arrival will help alleviate poverty and the "integration of the national family".
The post has since been deleted.