Deputies search home of family in California cliff plunge for clues about motive, missing kids
Three other children — Devonte, 15, Hannah, 16, and Sierra, 12 — haven't been found, but they are presumed dead, officials said.
Authorities said Sunday that the crash might have been intentional.
The affidavit says police were alerted to the crash just before 4 p.m. (7 p.m. ET) on March 26 when a German tourist reported a brown vehicle that was on its roof down an embankment.
Almost two hours later, according to the report, California Highway Patrol officers arrived and found Sarah Hart trapped between the roof and the rear seats of the family's GMC Yukon. Jennifer Hart was still in the driver's seat, with the speedometer "pinned" at 90 mph.
Officers said that meant the SUV was running and in motion before impact, but they said it was unclear how fast the vehicle was going when it crashed.
A Highway Patrol spokesman told reporters that the Yukon's on-board computer indicated that the vehicle stopped and then suddenly accelerated off the highway — plunging about 70 feet down to the rocky shoreline of the Pacific Ocean.
Three children were found ejected from the vehicle when police arrived, but as of Monday, Devonte, Hannah and Sierra still hadn't been found.
Devonte, a young black boy, was photographed in 2014 crying in the arms of a white police officer during a protest in Oregon over the police shooting of unarmed black teenager Michael Brown in Ferguson, Missouri. The image went viral and has been called the "hug that was felt around the world."
"Three children are still missing and could be in the ocean," Greg Baarts, acting assistant chief of the Highway Patrol, said Sunday. "We are trying to determine a timeline, path of travel, and if there were any stops."
He said California authorities were "tirelessly searching for the missing children along the coastline," while authorities in California and Washington were "conducting interviews and attempting to establish a timeline and routes of travel in an effort to rule out any other possibilities."
The family had a troubled past, according to neighbors and court records. Sarah Hart was charged with misdemeanor domestic assault against her daughter Abigail in 2011, and Child Protective Services had visited the household.
Neighbors have said Devonte would ask them for food, saying his parents had withheld it as a punishment.
Two people shot, one dead, outside hospital in Paris – reports | World News

Two people have been shot outside a hospital in Paris, one of them fatally, according to reports.
The incident happened in front of the Henry Dunant hospital in the 16th arrondissement of the French capital, and the attacker fled on a motorcycle, a police source told Reuters news agency.
One of those shot has died, the source said, while the other is being treated at the hospital.
A police spokesman said the gunman fired several shots before fleeing.
COVID-19: Top Chinese official admits efficacy of China's vaccines is low | World News
China's top disease control official has admitted that the efficacy of the country's coronavirus vaccines is low – and mixing them is among the strategies being considered to boost their effectiveness.
Gao Fu, the director of the Chinese Center for Disease Control and Prevention, said efficacy rates needed improving, in the rare admission.
Giving people doses of different vaccines is one way to improve vaccines that "don't have very high rates of protection", he said.
Live COVID updates from across the UK and around the world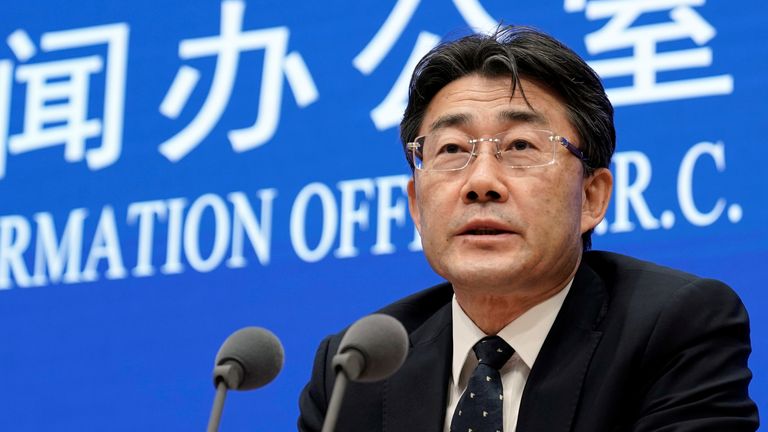 "Inoculation using vaccines of different technical lines is being considered," he added, during a conference in the Chinese city of Chengdu.
China has been at the forefront of COVID-19 vaccine development.
It started vaccinating some citizens as far back as last summer under emergency use approval.
Five vaccines have been developed in China, four of which require two shots and a fifth which is only a single dose.
It includes one from privately owned company Sinovac, two from the state-owned Sinopharm, one developed as a partnership between Mr Gao's team and Anhui Zhifei Longcom, and a single shot vaccine from a company called CanSino.
The effectiveness of the vaccines range from as low as around 50% to 79%, based on what the companies have said.
Mr Gao later released a statement through the state-owned Global Times saying that he had been misunderstood and had in fact been talking about global vaccines in general.
No externally developed vaccines are authorised for use in the country.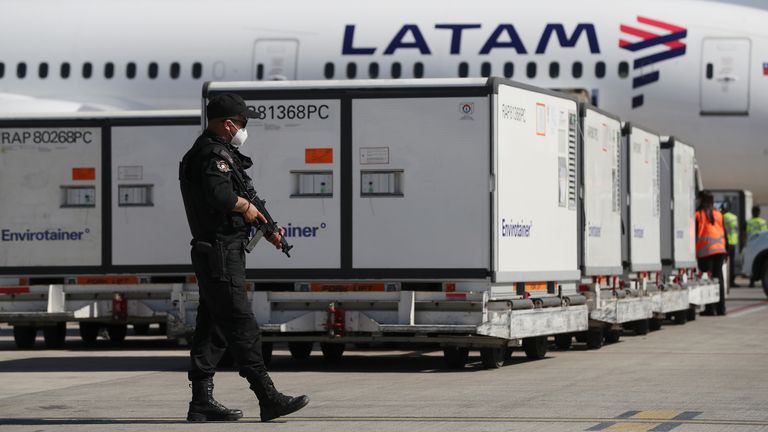 A study released on Sunday on the Sinovac vaccine, when given shorter than three weeks apart, showed that the jab had a 49.1% efficacy in Phase III trials in Brazil, below the World Health Organisation's threshold.
However, increasing the gap between jabs over three weeks boosted the efficacy to 62.3%.
A real-world study at the University of Chile suggested last week the vaccine was 54% effective in reducing infection.
Chile has used the Chinese vaccine on a large scale, vaccinating millions of people, although it is still in the grip of a spike of cases – seeing as many as 8,000 daily diagnoses in recent weeks.
The Chinese developers – including Sinopharm – have not published any peer reviewed data for Phase III medical trials.
The jab developed by Mr Gao's team was given emergency approval a month ago, despite data about its efficacy not being publicly disclosed.
Pfizer, AstraZeneca and Moderna have all reported they are around 90% effective in late stage trials.
Both of the coronavirus vaccines developed by Pfizer and Moderna use mRNA to send genetic instructions to the body's cells that result in them producing antibodies for the coronavirus without the virus actually being introduced to their body.
Earlier in the pandemic, Mr Gao had questioned the safety of mRNA jabs, but at the weekend he said: "Everyone should consider the benefits mRNA vaccines can bring for humanity."
China has exported a large number of vaccines around the world, including to Europe, South America and Africa.
According to Mr Gao, as of 2 April, 34 million people in China had received two doses of a Chinese vaccine, and 65 million had received one.
Natanz attack: Iran blames Israel for power outage at nuclear facility | World News
Iran has blamed Israel for a sabotage attack on one of its underground nuclear facilities.
Iranian officials warned that they would take revenge over the attack, which damaged centrifuges at the Natanz nuclear facility.
A blackout on 9 April was initially blamed on a power failure but officials later said it was an act of "nuclear terrorism".
"The answer for Natanz is avenging Israel," said Saeed Khatibzadeh, spokesperson for Iran's foreign minister.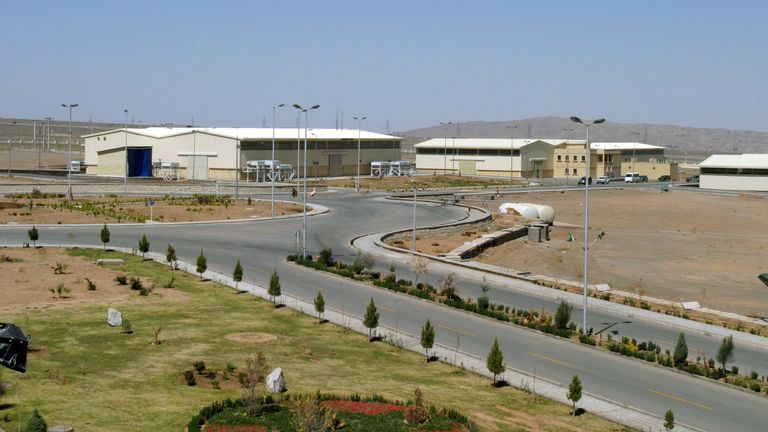 "Israel will receive its answer through its own path."
The facility, which is 125 miles (200km) south of Tehran, had just fired up advanced centrifuges which can enrich uranium more quickly.
Mr Khatibzadeh's remarks represent the first official accusation levelled against Israel over the incident on Sunday that cut power across the facility.
:: Subscribe to Into The Grey Zone podcast on Apple Podcasts, Spotify, Spreaker
Israel has not claimed responsibility for the sabotage, though Israeli media said that it was the result of a cyber attack.
Iranian foreign minister Mohammad Javad Zarif warned Natanz would be reconstructed with more advanced machines – that could risk ongoing talks in Vienna with world powers about saving the Iranian nuclear deal.
The accusations will heighten tensions between Iran and Israel, already engaged in a shadow conflict across the wider Middle East.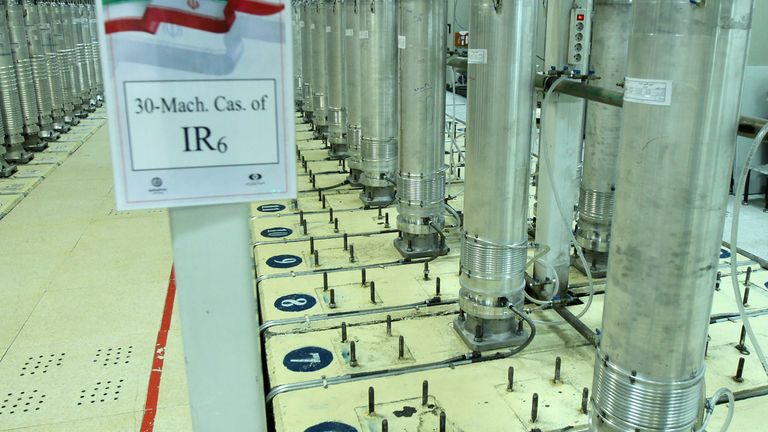 Israeli Prime Minister Benjamin Netanyahu has vowed to do everything in his power to stop the faltering 2015 international nuclear deal with Iran.
This is not the first time the site has been subject to attacks, which is Iran's main centre for uranium enrichment.
There was an explosion at its centrifuge assembly plant last July that authorities later described as sabotage.
Natanz was also targeted with the Stuxnet computer virus in 2010.
The plant is now being rebuilt inside a nearby mountain, to help withstand enemy airstrikes.
Since former US president Donald Trump withdrew from the Iran nuclear deal in 2018, Tehran has begun enriching uranium at up to 20% purity.
That is a technical step away from weapons-grade levels of 90%.
The US has recently taken steps towards re-joining the accord.
Iran has previously said its nuclear programme is for peaceful purposes, but world powers remain concerned about its potential ability to make an atomic weapon.