Insurance premiums could present hurdle in arming teachers
"We are making this underwriting decision simply to protect the financial security of our company," they concluded.
But the desire to arm teachers remains.
After the shooting in Parkland, Florida, killed 17 at Marjory Stoneman Douglas High School on Feb. 14, lawmakers in seven states quickly introduced bills that would legalize arming teachers. Yet of those, so far only Florida Gov. Rick Scott, a Republican, has signed a bill that permits school districts to arm trained school workers with handguns.
The shooting also renewed the issue in Kansas, where the statehouse is debating a new law that would make schools liable if they didn't arm teachers.
The proposed legislation would make it so that insurance companies could not pull coverage, as some Kansas lawmakers hope to overcome the insurance hurdle that has stymied many districts across the country from pursuing the policy.
I think it is a situation where legislators who didn't know anything about insurance are making rules that won't work.
I think it is a situation where legislators who didn't know anything about insurance are making rules that won't work.
"That's what worries me about this year's bill," said Kansas Sen. Lynn Rogers, who was a school board member of Wichita School Districts for more than 16 years. "I don't know if you can make insurance companies provide coverage, or they might just leave the state entirely. I think it is a situation where legislators who didn't know anything about insurance are making rules that won't work."
And there are examples of schools taking on rising insurance premiums because of similar laws.
In 2013, the Oregon School Board Association, which provides insurance coverage for most of the state's schools, announced a new pricing structure for K-12 schools that decided to use armed personnel on their campuses.
It costs schools an additional $1,500 for each armed individual who has military training or equivalent experience, is a member of a city or county law enforcement agency and is certified by the Department of Public Safety Standards. For those with just the department's certification, coverage is $2,500 more per person.
The new plan was not an opinion on arming school staff, the association said in the structure's explanation. "Rather our intent is to help reduce the liability exposure to the Pool arising out of the use of armed personnel."
Will arming teachers be possible in Florida?
The board of the Lake County School District in Florida met last week to discuss the results of a survey that asked teachers how they felt about being armed. Fifty-three percent of the staff supported the idea while 47 percent were opposed, according to school district chairwoman Stephanie Luke.
The board has spoken to the county sheriff and debated the issue in public hearings that lasted more than five hours, with the speakers about evenly split on the issue. Next, they plan to organize a student committee to represent the more than 42,000 members of its student body.
"Nobody wants to make the wrong decision," Luke said. "If we decide that we want to have guns on campus and something tragic does happen, then you feel like you made the wrong decision. But if someone was stopped who was trying to harm your children then it's the right one."
But all of those conversations may be moot depending on what their insurance company tells them.
"It's a discussion we're having with our lawyer and our insurance company," Luke said, emphasizing that those talks are only at early stages, as the board does not want to appear that it has come to any conclusions on a new policy. "But it would be more liability," she conceded.
Insurance and safety experts see risk
School safety and insurance experts agree that adding a firearm to a classroom only increases the risk of gun violence — whether intentional or otherwise.
"Granted, [school shootings] are becoming more frequent, but it still is a rare occurrence," said Tory Brownyard, the president of the Brownyard Group, an agency that insures security companies. "Putting a firearm in a school every day of the year, I feel, increases the exposure and potential risk of something happening."
And two incidents that occurred last month would suggest Brownyard might have a point.
In early March, a Georgia teacher was arrested after he fired a gun at a high school and barricaded himself in a classroom for nearly an hour. Two weeks later, a California high school teacher injured three students when he fired a gun inside a classroom during a firearm safety course.
Kenneth Trump (no relations to President Trump) heads the National School Safety and Security Services and is a frequent expert witness in litigation focused on school security. The common theme, he said, is typically human error. And adding a gun to that equation could lead to a troubling outcome.
"While a lot of these approaches from arming teachers and having kids engage heavily armed gunman to many other knee jerk unproven practices meet emotional security needs, the devil is always in the details of implementation and many of these approaches bring great risk or unintended consequences," Kenneth Trump said.
Normal in some schools
Many smaller school districts across the country, however, say that arming their staff is the best way to insure safety at schools that don't have nearby law enforcement officers.
Callisburg Independent School District, which is about 90 miles north of Dallas, successfully implemented a so-called guardian program in their schools about four years ago. Notably, though, the entire district is only responsible for slightly more than 1,100 students during the 2016-17 school year, according to the Texas Tribune.
Taiwan invasion unlikely for now – but there are other ways China can turn the screw | World News
The good news is that there are only five months when weather conditions are good enough to mount an invasion of Taiwan, according to Ian Easton, the author of The Chinese Invasion Threat. 
The bad news is that two of them are April and May.
So when Taiwan reported that 25 Chinese air force aircraft, including nuclear-capable bombers, entered its air defence identification zone (ADIZ) this week, fears of attack are front of mind.
It was the largest incursion by the Chinese military to date.
US Admiral Philip Davidson – Washington's top military officer in the Asia-Pacific region – recently said he was worried China could invade Taiwan in the next six years.
Chiu Kuo-cheng, Taiwan's new defence minister, responded: "His evaluation says six years, but my concerns include six hours."
The foreign minister, Joseph Wu, said this month that in the event of an attack Taiwan would fight "to the very last day".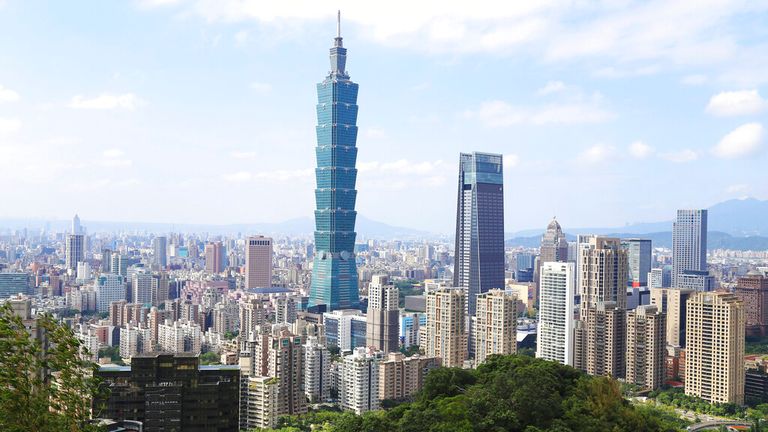 There is belligerence from the Chinese side. A defence ministry spokesperson said that a declaration by Taiwan of independence "means war".
Hu Xijin, the editor of a nationalistic Chinese tabloid, said that the Chinese military could fly directly over the island of Taiwan itself, and if Taiwan fired at those planes, China would attack.
Hu's attention-seeking provocations should always be taken with a pinch of salt but they show how the conversation around Taiwan is evolving.
But although the intensity is increasing, in many ways we are still in the status quo that has existed for decades.
China's constitution, adopted in 1949, says Taiwan is part of its "sacred territory" and details the "inviolable duty" of "reunifying the motherland".
:: Subscribe to Into The Grey Zone on Apple Podcasts, Spotify, Spreaker
On the question of "Taiwan independence", China as far back as 2005 passed a law that formally authorised military force if Taiwan was "separated" from China.
Taiwan has its own constitution and a highly functioning democracy – rated above Japan and South Korea by the Economist Intelligence Unit.
The election of President Tsai Ing-wen in 2016 led to an escalation in pressure from China. What we're seeing now is best viewed as the latest development in that continuous period.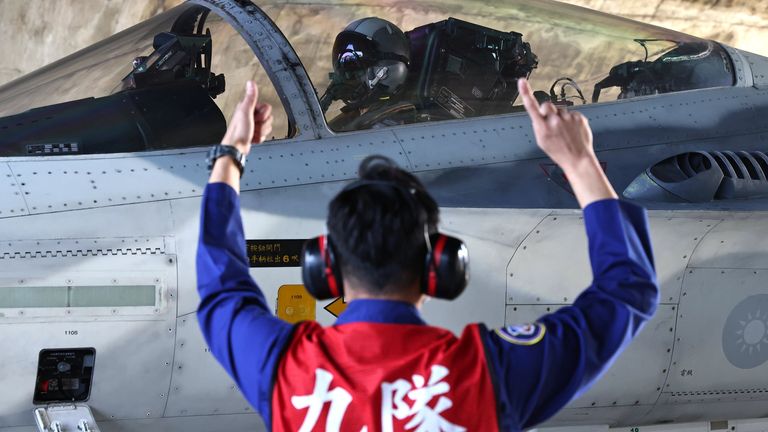 And as China has increased its attrition strategy, the US has increased its ties with the island, which in turn leads to more Chinese pressure.
That pressure is designed to take a psychological and logistical toll on Taiwan.
In 2020, Taiwan spent some $900m scrambling fighters to meet Chinese sorties and said it would no longer dispatch jets to meet every incursion, instead tracking Chinese aircraft with land-based missiles. Expect that pressure to continue.
But a full-scale invasion by China remains unlikely in the short term. That would require a massive build up of forces, easily detectable by US and Taiwanese monitoring.
There are options short of invasion that are still worrying.
China could blockade the island economically, or seize some of its outlying territory. The Kinmen Islands, administered by Taiwan, are barely a mile from China.
Any such move would be a test of the US resolve to defend Taiwan, perhaps analogous to Russia's seizing of the Crimean Peninsula.
Would an aggressive Chinese move, short of full invasion, prompt the US to respond militarily?
Right now, no one knows. That means it would be hugely destabilising.
For all the pressures of the current moment, it at least fits a known, established pattern – and is far preferable to an escalation, the consequences of which would be difficult to predict.
COVID-19: World Health Organisation calls for ban on sale of live wild mammals in food markets | World News
The sale of live wild mammals at food markets should be suspended as an emergency measure, the World Health Organisation has said.
The statement comes after a WHO team visited Wuhan in China to investigate the origins of COVID-19.
The most likely scenario is that the virus originated in bats, was spread to another unidentified animal, and then passed on to humans, a WHO report said in March.
Live COVID updates from across the UK and around the world
The organisation said in a separate report on Tuesday that animals, "particularly wild animals", are the source of more than 70% of emerging infectious diseases in humans.
They added many of these are caused by novel viruses – a virus that has not previously been recorded.
The report states: "Wild mammals, in particular, pose a risk for the emergence of new diseases. They come into markets without any way to check if they carry dangerous viruses.
"There is a risk of direct transmission to humans from coming into contact with the saliva, blood, urine, mucus, faeces, or other body fluids of an infected animal, and an additional risk of picking up the infection from contact with areas where animals are housed in markets or objects or surfaces that could have been contaminated with such viruses."
The WHO said "traditional markets play a central role in providing food and livelihoods " around the world.
It added that banning the sale of live wild animals would help to protect the health of both shoppers and workers.
WHO: Lab leak COVID origin 'unlikely'

The closest-related viruses to COVID-19 have been found in bats in southwest China.
The intermediate host is more elusive: mink, pangolins, rabbits, raccoon dogs and domesticated cats have all been cited as a possibility.
The WHO team said that a theory the virus was leaked from a lab was "extremely unlikely" but it has not been ruled out.
The call for a ban of the sale of wild animals comes as the the WHO said the global coronavirus pandemic is at a "critical point".
It added that people need a "reality check" as restrictions are eased.
Follow the Daily podcast on Apple Podcasts, Google Podcasts, Spotify, Spreaker
Dr Maria van Kerkhove, head of the WHO's technical response, told a news conference vaccinations alone are not enough to combat COVID-19.
Coronavirus restrictions were eased in parts of the UK on Monday, with shoppers returning to high streets and drinkers visiting pub gardens in England, and non-essential retailers reopening in Wales.
Dr van Kerkhove, speaking on Monday afternoon, urged caution, saying: "We need headlines around these public health and social measures, we need headlines around the tools that we have right now that can prevent infections and save lives.
"We are in a critical point of the pandemic right now, the trajectory of this pandemic is growing."
Facebook takes down official page for French town called Bitche | Science & Tech News

Facebook has been criticised after taking down the official page for the French town of Bitche.
Local broadcaster Radio Melodie reported that the page was taken down, forcing the municipal communications officer to create a new one under another name.
Ms Valerie Degouy said the new page was named after the town's post code, Mairie 57230, as reported by Politico.
Ms Degouy said: "I tried to reach out to Facebook in every possible way, through different forms, but there's nothing [I could] do," she said, adding she had "already had issues when I first created the page".
Another of the commune's towns, Rohrbach-les-Bitches, renamed its page Ville de Rohrbach out of caution.
In a post explaining the change, the account holder said: "Far from us the idea of denying the name of our beautiful village… [but] Facebook seems to be hunting the term associated with Rohrbach…
"We let you imagine the reason," they added with a winking and laughing emoji.
As Politico reports, this is not the first time that the town's name has caused upset for Americans.
Back in 1881, the US embassy was located on the Place de Bitche in Paris, named in honour of the town.
The then ambassador, Levi Parsons Morton, complained about the name as it appeared to be embarrassing on the embassy's letterhead and Parisian authorities renamed the square Place des Etats-Unis.
A spokesperson for Facebook confirmed to Sky News that the page was removed in error, and had since been "swiftly restored this morning, when we because aware of the issue".