Are you a citizen? Here's what happens if you lie on the census.
Federal law provides that anyone who refuses to answer or willfully neglects to answer any of the questions in connection with any census or survey shall be fined a maximum of $100, or a maximum of $500 if the person gives false information.
In theory, noncitizens should not fear answering census questions. Surveys are mailed to addresses, rather than to specific individuals. Not including individual names on the address label is meant to protect the confidentiality of the participating households.
Additionally, federal law provides immunity for persons who give answers to census questions. Information furnished cannot be "used to the detriment of the persons to whom such information relates." Census reports may not be admitted as evidence or used in any action or proceeding, without consent.
These laws are designed to deter someone from refusing to answer questions on the census claiming a Fifth Amendment privilege against self-incrimination.
Practically speaking, though, anyone who is concerned about their legal status may not want to volunteer this to the same federal government that could deport them. It's hardly a sentiment limited only to noncitizens. In past enumerations, some Republican leaders have all but encouraged open defiance of the law.
Then-Sen. Trent Lott, a Mississippi Republican, once advised constituents to fill out "the basic census information" but added that if they felt "their privacy is being invaded by those (additional) questions, they (could) choose not to answer those questions."
And George W. Bush, then a candidate for president, said he "(understood) why people don't want to give over that information to the government."
Prosecutions for failure to participate in the census are rare; most significant court cases dealing with these crimes date back to the 1970s.
The perceived risk of answering remains greater than the virtually nonexistent risk of not answering because the Justice Department is not likely to start prosecuting offenders for refusing to answer.
Attorney General Jeff Sessions has indicated that illegal immigration will be a priority for the DOJ under his command, but going after noncitizens who refuse to answer census questions, motivated by fear of being removed from the country, would contradict the overall message the census is trying to send: It is here to count you, not to hurt you. Plus, courts have indicated in the past that purposeful discrimination by census authorities can give rise to a defense of selective prosecution.
Ultimately, the refusal to answer census questions is a federal crime, but not really.
Some categories of federal criminal statutes are heavily enforced. Drug crimes and immigration crimes make up over 50 percent of the federal prosecution caseload.
Then there are those federal crimes that are technically crimes, but not really. For example, it's a federal crime for a peanut dealer to refuse to tell the government how many peanuts he has. It's also a federal crime to mail a package of dead bees without writing "DEAD BEES" on every side of the box, using black letters at least an inch tall.
There are a lot of federal crimes. Not all of them are enforced. Refusing to answer the census or lying on it will likely remain in that second category — a crime, but not really.
Danny Cevallos is an MSNBC legal analyst. Follow @CevallosLaw on Twitter.
'Malign' Russian spies blamed for major cyber attack on US and UK as Biden imposes sanctions | Politics News
The Foreign Office has summoned the Russian ambassador over concerns of "a pattern of malign behaviour", as the US announced sanctions against Moscow.
Cyber intrusions, interference in democratic processes and the build-up of military forces near the Ukrainian border and in illegally annexed Crimea were among the reasons the Foreign Office said it had summoned Andrei Kelin.
On Thursday, Joe Biden said he was imposing sanctions on Russia for interference in the 2020 presidential election and a cyberattack on the American government and corporate networks.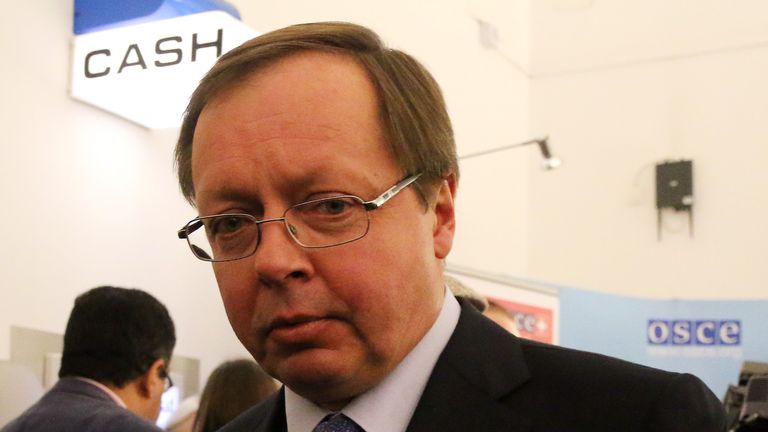 The US formally named Russia's foreign intelligence service as the perpetrator of the SolarWinds cyberattack last year in which more than 40 US government organisations, including federal agencies, and those with government contracts were hacked.
Some of the victims were outside the US, including in the UK, Belgium, Canada, Israel, Mexico, Spain and the UAE.
Today, Sir Philip Barton, permanent under-secretary at the Foreign, Commonwealth and Development Office (FCDO), "made clear" to Mr Kelin the UK supports those sanctions, a spokesman said.
"The UK government is deeply concerned about a pattern of malign behaviour by the Russian state," he added.
Sir Philip told the Russian ambassador the UK has also assessed the Russian Intelligence Services "were behind the SolarWinds compromise".
The FCDO said the impact in the UK had been assessed by the National Cyber Security Centre (NCSC) – part of GCHQ – as "low" with a "low single-digit number" of public sector bodies having been targeted.
It said the government had been working with the affected organisations to ensure they were "rapidly mitigated".
Russia's military building up on Ukraine border

Sir Philip also told Mr Kelin the UK will "continue to work with our allies to call out and counter malign operations by the Russian Intelligence Services".
"Sir Philip also stated the UK's concern at the build-up of Russian military forces near the Ukrainian border and illegally-annexed Crimea," the FCDO spokesman said.
"These activities are threatening and destabilising. Russia needs to cease its provocations and de-escalate tensions in line with its international obligations."
Foreign Secretary Dominic Raab said the UK and US were determined to stand together against Russia's "malign behaviour".
"We see what Russia is doing to undermine our democracies," he said.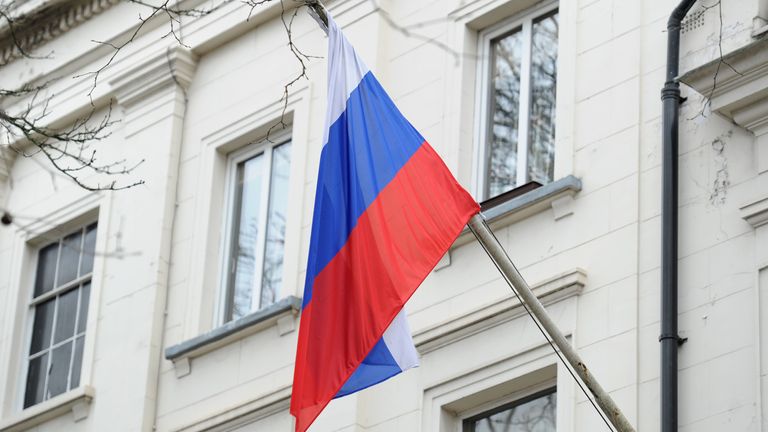 Ten Russian embassy staff are being expelled by the US as part of the executive order, including Russian intelligence members.
Thirty-two entities and individuals were also sanctioned for "carrying out Russian government-directed attempts to influence the 2020 US presidential elections, and other acts of disinformation and interference", the US Treasury said.
Mr Biden's administration said it is also "responding to reports that Russia encouraged Taliban attacks against US and coalition personnel in Afghanistan".
An official said US intelligence agencies had "low to moderate confidence" in reports Russia offered to pay bounties for dead American troops.
Russia's foreign ministry summoned US ambassador John Sullivan to its Moscow offices less than an hour after the sanctions were announced.
Maria Zakharova, the Russian foreign ministry's spokeswoman, said Russia would give "a decisive rebuff" to the "aggressive behaviour" by the US.
George Floyd killing: Ex-cop Derek Chauvin refuses to testify in murder trial as defence rests case | US News
Former police officer Derek Chauvin has refused to testify in court over the killing of George Floyd as the defence rested its case and the murder trial was adjourned.
At the start of Thursday's proceedings Chauvin informed the court that he would not testify, invoking his 5th Amendment right not to take the stand.
"Is this your decision not to testify?" Judge Peter Cahill asked.
"It is, your honour," Chauvin said.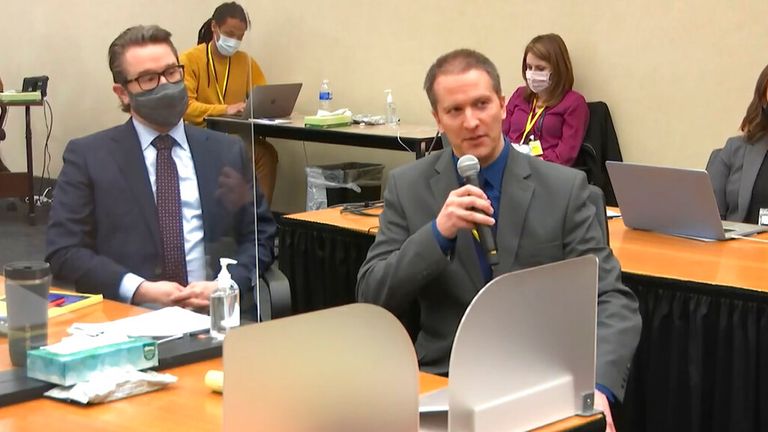 The question of whether Chauvin would testify in his own defence has been the subject of speculation since the trial began 14 days ago.
Chauvin confirmed to Judge Cahill that he had chosen not to address the jury and that he had not been threatened or promised anything in return for this decision.
Under the constitution in US law, everyone has the right to invoke the 5th Amendment and the right not to incriminate themself.
The prosecution briefly recalled pulmonologist Dr Martin Tobin to debunk claims that carbon monoxide contributed to Mr Floyd's death.
The idea was brought up by retired forensic pathologist Dr David Fowler in his testimony on Wednesday for the defence case – which came as a shock to the prosecution.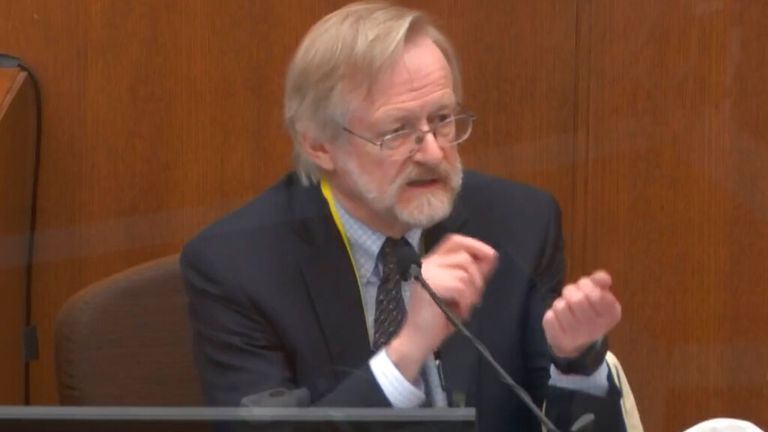 Dr Tobin told the court that hospital tests on Mr Floyd on the day of his death showed that his blood was 98% saturated in oxygen, meaning the "maximum amount of carbon monoxide would be 2%".
Following that, both sides finished presenting their cases.
Judge Cahill told the court that the closing arguments are set for Monday, after which the jury will begin deliberating.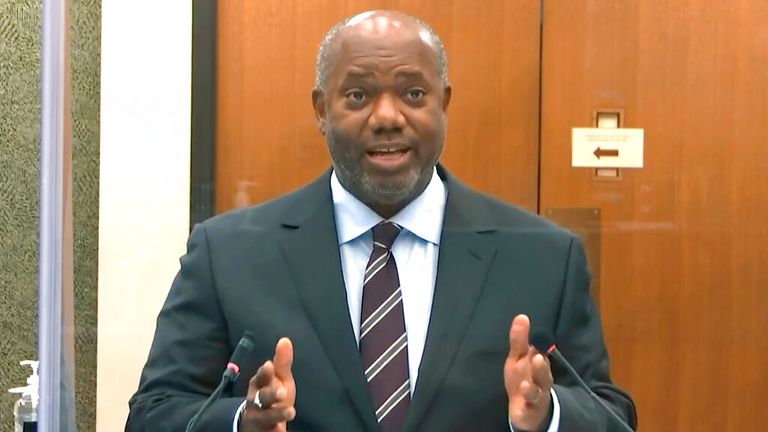 Testifying for the defence on Wednesday, Dr Fowler claimed that Mr Floyd died of a sudden heart rhythm disturbance as a result of his heart disease.
He said his death was the result of a multitude of factors.
Dr Fowler told jurors that the stress of his arrest and the release of adrenaline from a tumour in his abdomen contributed, as did possible carbon monoxide from the police car exhaust as he was restrained nearby, along with drugs fentanyl and methamphetamine being in his system.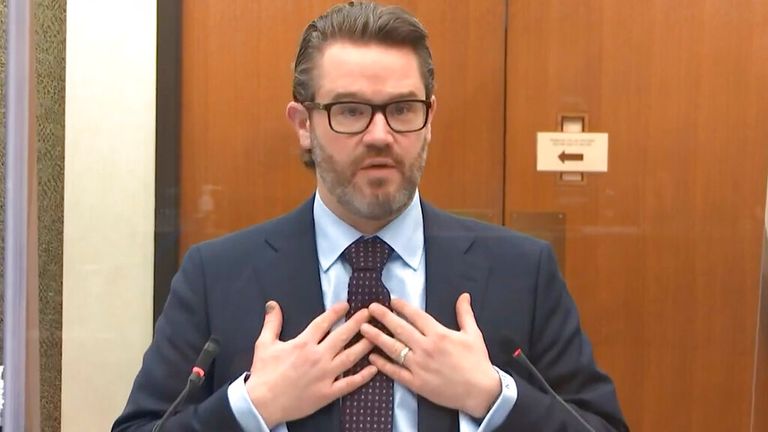 That contradicted prosecution experts who said Mr Floyd died from lack of oxygen from the way Chauvin pressed his knee on his neck for nine and a half minutes.
However, on cross-examination by the prosecution, Dr Fowler had to concede that the evidence did not support some of his conclusions.
He accepted there was no carbon monoxide found in Mr Floyd's system after his death. The police car was a hybrid and he was unable to say that for certain that the engine was running, making his judgement because of liquid dripping from the exhaust pipe.
Dr Fowler also told the court that he would classify the manner of death "undetermined" because it had too many conflicting factors, rather than homicide, as the county's chief medical examiner ruled.
Chauvin, 45, is charged with murder and manslaughter over Mr Floyd's death after his arrest in May 2020 on suspicion of passing a counterfeit 20-dollar note at a neighbourhood market.
Biden issues new Russia sanctions and expels 10 diplomats for election interference and hacking | US News
US President Joe Biden has announced new sanctions on the Russian government and the expulsion of 10 diplomats in retaliation for hacking and election interference.
Mr Biden said Russia's efforts to undermine free elections in the US were an "unusual and extraordinary" threat to security.
The actions represent the first retaliatory measures announced against the Kremlin for both interference in last year's presidential election and the hacking of federal agencies, familiarly known as the SolarWinds breach.
In that intrusion, Russian cyber criminals are believed to have infected widely-used software with malicious code, enabling them to access the networks of at least nine agencies in what US officials believe was an intelligence-gathering operation aimed at mining government secrets.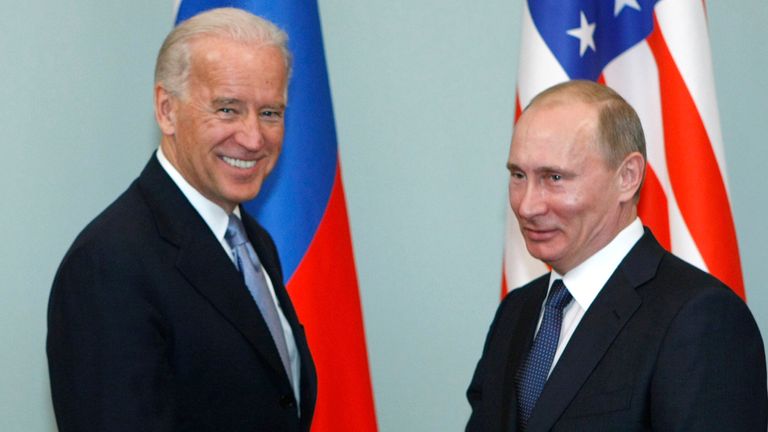 Besides that hack, US officials last month alleged that Russian President Vladimir Putin authorised influence operations to help Donald Trump in his unsuccessful bid for re-election as president, though there is no evidence Russia or anyone else changed votes or manipulated the outcome.
Analysis: Russia sanction necessary but will hardly force Putin to change tack
The White House said Mr Biden was also using diplomatic, military and intelligence channels to respond to reports that Russia encouraged the Taliban to attack US and allied troops in Afghanistan based on the "best assessments" of the intelligence community.
Reports of alleged "bounties" surfaced last year, with the Trump administration coming under fire for not raising the issue directly with Russia.
The measures announced on Thursday include sanctions on six Russian companies that support the country's cyber activities, in addition to sanctions on 32 individuals and entities accused of attempting to interfere in last year's presidential election, including by spreading disinformation.
The 10 diplomats being expelled include representatives of Russian intelligence services, the White House said.