World Cup-linked oligarch Ziyavudin Magomedov held over 'corruption'
A Russian oligarch who is one of the country's richest men has been arrested on suspicion of embezzlement.
Ziyavudin Magomedov co-owns Russia's Summa investment group and is worth $1.4bn (almost £1bn).
He was ranked last year in Forbes as Russia's 63rd richest man and, in January, was listed by the US Treasury Department as one of 96 "oligarchs" close to President Vladimir Putin.
Magomedov has been held over claims he misappropriated $35m (£25m) from the state, Russian state prosecutors said as he appeared in a cage in court.
Also detained were his business partner and brother Magomed Magomedov, and Artur Maksidov, the head of a company in the Summa group which has been involved in construction of a World Cup football venue in the Russian exclave of Kaliningrad.
The stadium, on part of the Russian territory that is separated from the country's mainland by Lithuania and Poland, is the closest to Europe out of all the venues due to be used in the summer event.
England is due to play Belgium at the 35,000 capacity stadium on 28 June.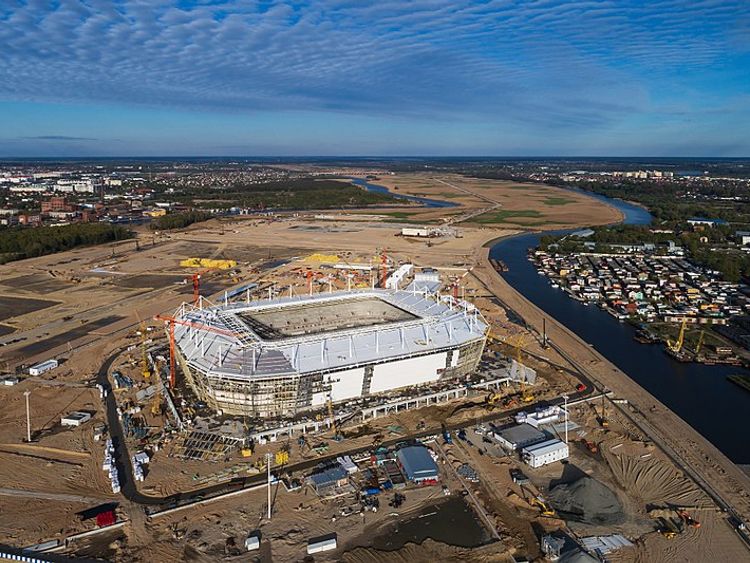 Several other group stage matches involving European teams will also be played at the venue, which is only a few dozen miles from the EU border.
Russia's interior ministry said it had conducted searches in 25 Russian locations, including Moscow, in connection with the case and documents relating to it were expected to be sent to Moscow's Tverskoy District on Saturday.
Magomedov denied embezzlement when he appeared in court in Moscow on Saturday.
The judge, Maria Sizintseva, said the Magomedov brothers and Maksidov acted as part of an organised crime group and had tried to put pressure on witnesses.
At the pre-trial hearing, the 49-year-old said: "I categorically disagree with the charges presented… The prosecution case does not stand up to scrutiny."
He was remanded in custody until 30 May ahead of a trial after the judge refused to allow bail but his legal team said they planned to appeal.
Originally from the restive Russian province of Dagestan, Ziyavudin Magomedov is co-executive chairman of Los Angeles-based tech firm Virgin Hyperloop One, chaired by Richard Branson.
:: Who's winning battle of space race billionaires?
His Caspian Venture Capital fund also has investments in app-based taxi service Uber.
Although publicly loyal to the Kremlin, Magomedov is part of a group of multi-millionaire Russians who are not in President Vladimir Putin's inner circle.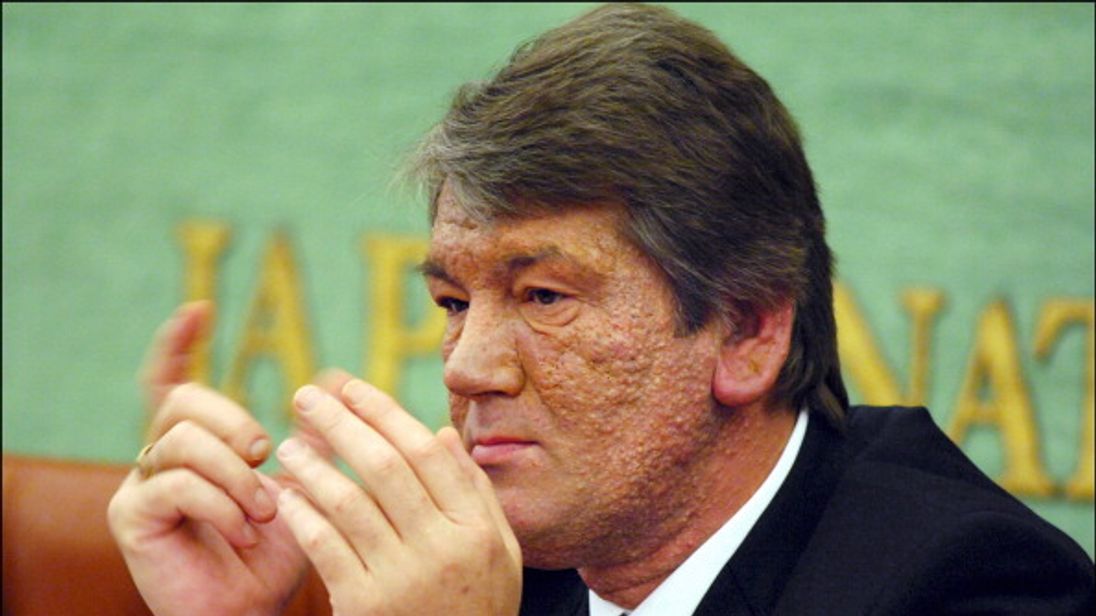 According to Stadium Database, the Kaliningrad island on which Summa's $300m Baltic Arena is built has proved "problematic and also expensive to deliver large buildings there due to wetland ground basis".
Project costs mounted from an initial 10bn rubles (£124m) to 17.5bn rubles (£217m), it adds.
Russian website Meduza said construction of the stadium has led to a 750m-ruble (£10m) embezzlement case.
Russia's Futbolgrad.com, meanwhile, said last week the venue, which was scheduled to be finished last December, is yet to open, despite the start of the tournament being in two-and-a-half months' time.
COVID-19: Millions of Indians travel to celebrate Maha Kumbh Mela despite rising coronavirus rates | World News
They have gathered in their millions in the temple town of Haridwar, in Uttarakhand.
Hindu pilgrims have come to celebrate Maha Kumbh Mela, a religious festival that happens once every 12 years.
And today is a very auspicious day in the religious calendar to take a dip in India's River Ganges.
Live COVID updates from across the UK and around the world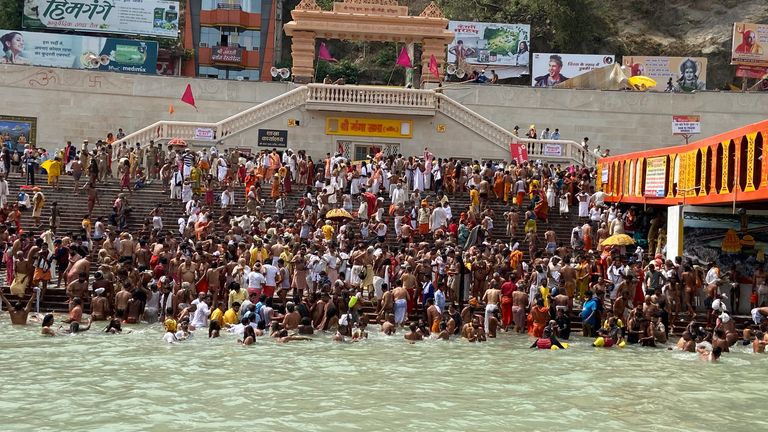 All this amid a raging pandemic.
The festival has been been flagged as a super spreader as more than 50 million people are expected to attend this month-long event.
The country registered almost 170,000 new cases in the last 24 hours, the highest number of COVID-19 cases anywhere in the world.
With more than 13.5 million cases, India is second only to the United States.
In the same period, 839 people died, taking the total number of COVID-19 related deaths to 170,209.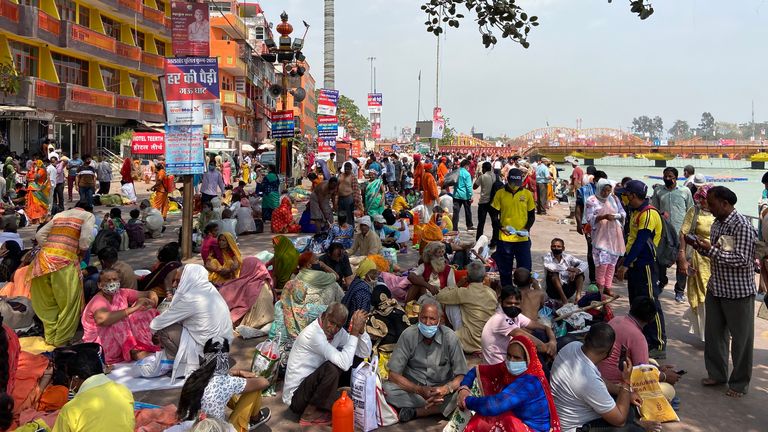 Sarasswati Dattani, 56, has travelled over 400 miles (644km) from Rajasthan with her husband.
She tells Sky News: "Our children had tried to stop us because of coronavirus.
"I am not afraid, Mother Ganga is with us all the time.
"People are getting the virus sitting at home. We have to die once, it's all in God's hands."
Raghav, 25, from Jalandhar in Punjab, says "coronavirus could not stop me from my belief in God, our faith is far stronger than anything at the moment.
"I have also come to pray that this pandemic gets over soon."
The devotees come from every part of the country and a majority are from smaller towns and villages.
The fear among health activists is that rural India will be exposed to the virus.
Speaking to Sky News, Dr Atulya Mishra, who is the medical officer in charge of a section of the banks, said: "People are very irresponsible, they do not follow any of the COVID-19 behaviour protocols.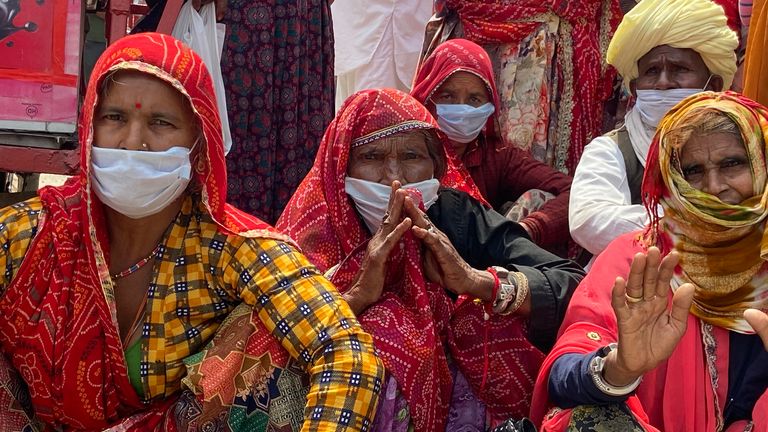 "We provide them with face masks but people don't wear them.
"We put our lives on the line while the public takes the virus very lightly. It is very frustrating for us health workers."
The administration has enforced COVID-19 protocols – pilgrims must wear face masks and are only allowed to attend with a negative PCR test result.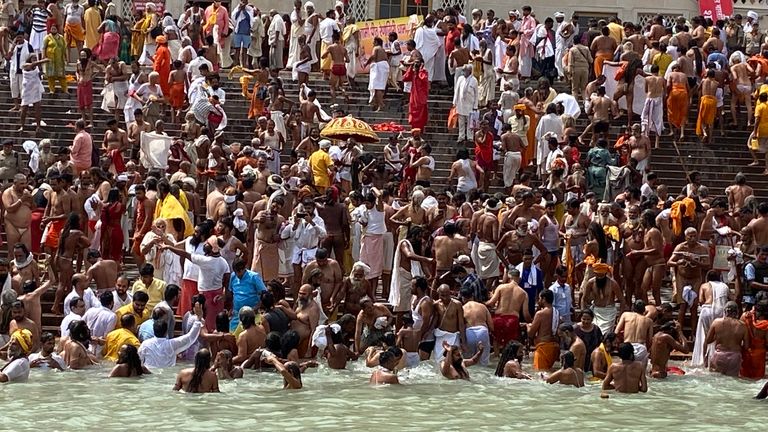 But in reality, social distancing is almost impossible to enforce.
India is in the midst of a second wave.
The low number of cases in the winter months had lulled people into believing it's over.
Opening up society, a low fatality rate and vaccinations have led to Indians letting their guard down.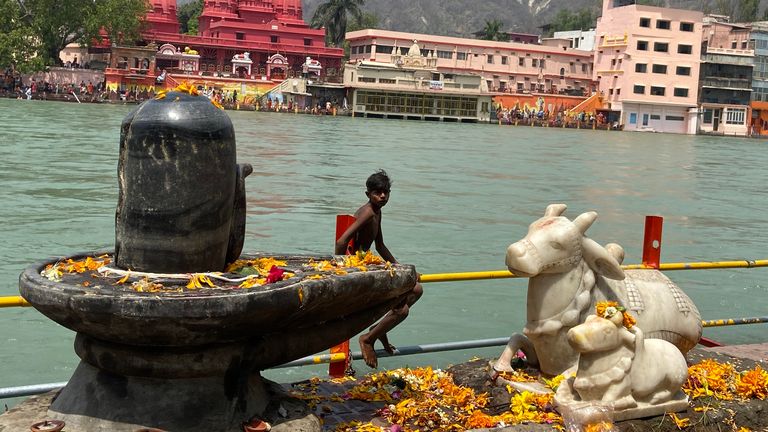 For many weeks the country has been immersed in state elections.
The prime minister, his cabinet and leaders of all political parties are campaigning at rallies with thousands in attendance.
Roadshows expose every nook and corner.
Experts have also said the new variants of the virus are far more infectious but less lethal.
Genome sequencing of all cases in Punjab show around 80% of them are due to the UK variant.
While millions will make their way to the Maha Kumbh over the next few weeks, the rising number of cases are sure of grave concern for the government.
India began its vaccination programme on 16 January but less than 1% of the population have been fully vaccinated.
Though the process had a slow start it has picked up pace over the last few weeks.
India may have one of the lowest fatality rates in the world, but it can ill afford a severe burden on its already inadequate and creaking public health care system.
For decades successive governments have spent just over 1.2% of the GDP on healthcare.
Over 70% of its citizens rely on expensive private health care and one illness can push a family into poverty.
China deploys jets and bombers into Taiwanese airspace in 'biggest incursion to date' | World News
Twenty-five Chinese military aircraft have entered Taiwanese airspace in the largest reported incursion to date, according to officials.
Taiwan's government has complained in recent months after repeated missions by China's air force near the island.
The incursions have been concentrated in the southwestern part of Taiwan's air defence zone.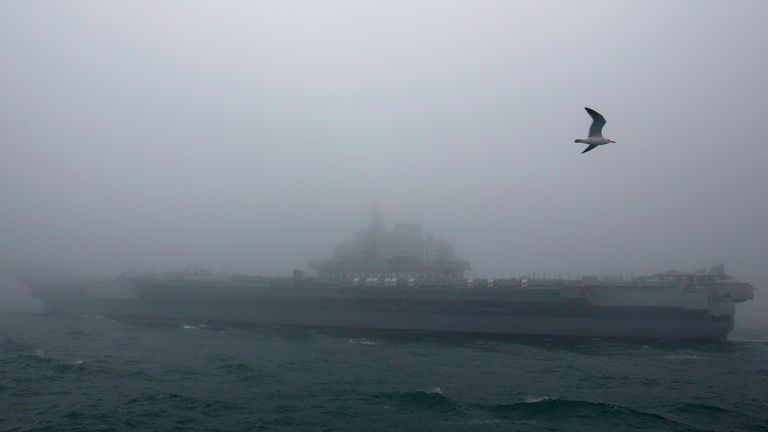 The latest mission on Monday involved 14 J-16 and four J-10 fighter jets – and four H-6K bombers, which can carry nuclear weapons.
Two anti-submarine aircraft and an early warning aircraft also took part, Taiwan's defence minister said.
It is believed to be the largest incursion by the Chinese air force into Taiwanese airspace, and officials said combat aircraft were dispatched to intercept and warn the intruders away.
Missile systems were also deployed to monitor the Chinese vessels as the aircraft flew in an area close to Thailand's Pratas Islands, according to the defence ministry.
It came just three days after the US issued new guidelines that will deepen its ties with Taiwan.
The latest guidelines from the US State Department will mean American officials can meet more freely with their Taiwanese counterparts.
America, like most countries, has no formal diplomatic ties with Taiwan, but it has watched on as tensions between Beijing and the island nation have stepped up in recent years.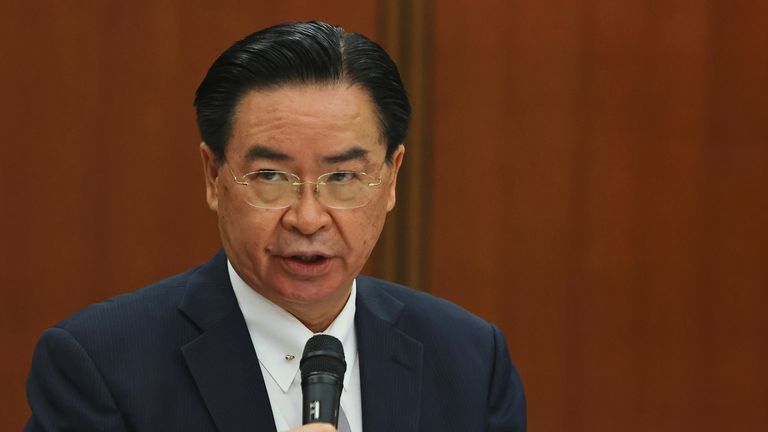 Washington's Secretary of State Antony Blinken said last Friday that the US is concerned about China's aggressive actions against Taiwan – and warned it would be a "serious mistake" for anyone to try to change the status quo in the Western Pacific by force.
Mr Blinken's statement came after Taiwan scrambled an aircraft to broadcast a warning message after 12 Chinese jets flew over its airspace on 7 April.
The tense start to 2021 comes after a report released by a government-backed think tank found that China made a record 380 incursions into Taiwan's defence zone last year.
China describes Taiwan as its most sensitive territorial issue and a red line the US should not cross.
Beijing sees the island as a breakaway province that will one day become part of the country again. It has never renounced the possible use of force to bring about eventual unification.
However, Taiwanese people see themselves an independent state and the dispute with their giant neighbour has left relations frayed with the constant threat of violence.
January 2021: Taiwan military simulates China attack

China has in the past described its missions as being to protect the country's sovereignty and deal with "collusion" between Taipei and Washington.
Taiwan's foreign minister Joseph Wu has previously said the country will fight "to the very last day" if China attacks.
More widely, China continues to exercise its muscle in the South China Sea.
Over the weekend, military activity near the Philippines spiked as a Chinese aircraft carrier entered the region, and the US military is preparing joint drills with the Philippine military nearby.
Off-duty Italian police officers find stolen Roman statue in Belgium – a decade after it vanished | World News
A first-century Roman statue has been recovered by two off-duty Italian police officers almost a decade after it was stolen.
The statue was stolen from the Villa Marini Dettina, an archaeological site on the outskirts of Rome, in November 2011 and has now been found in an antique shop in Belgium.
It was discovered by the off-duty officers from the Italian police's archaeological unit.
The Togatus statue, featuring a headless Roman wearing a draped toga, is valued at €100,000 (£86,000).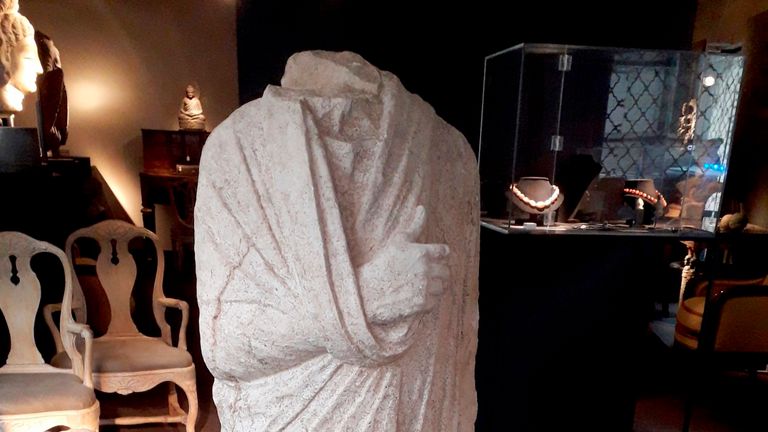 The two officers were on assignment in Brussels when they took a walk after work in the Sablon neighbourhood, known for its antique shops.
They spotted a statue that they suspected was from Italy and confirmed their suspicions when they cross-referenced it with their stolen antique database.
An Italian businessman, who used a Spanish alias, has been referred to prosecutors for further investigation. He is alleged to have received and exported the statue abroad, police said.
Italian authorities have been attempting to recover stolen antiques for years.
In 2019, a dozen pieces of artwork were returned to Italy by private auction house Christie's. The items featured a marble fragment from the sarcophagus in Rome's catacombs of St Callixtus, a piece worth £50,000.
In June 2020, officials found a stolen Banksy mural in Italy that was taken from the Bataclan concert hall in Paris.
The image was created in memory of the victims of the 2015 terrorist attack in the French capital. It was cut out and removed from the concert hall in 2019.