Mo Wagner, Michigan end Loyola-Chicago's miracle run – CollegeBasketballTalk
SAN ANTONIO — It was only going to be a matter of time before Flexing Mo Wagner upstaged Sister Jean.
Michigan's German import finished with 24 points and 15 boards, hitting a massive three with 6:52 left in the second half to tie a game that Loyola-Chicago had total control of as the Wolverines. That three came in a 12-0 game-changing run that turned a 47-42 deficit into a 54-47 lead. Fittingly, Wagner capped the run with his sixth offensive rebound, a put-back plus the foul that spanned three minutes of game-time.
In reality, it was Michigan's defense that once again made the difference. The Wolverines forced turnovers on five straight Loyola-Chicago possessions during that stretch, keeping the Ramblers from even attempting a shot for more than three minutes of game-time.
And with that, John Beilein is off to his second national title game in six seasons with a 69-57 win, and in a game where the Wolverines looked dreadful for 20 minutes, it's fitting that a team that is built around their ability to defend won because they found a way to score.
The first half on Saturday night was a slugfest that only too predictable for a pair of teams that slow the ball down and grind you with their defense while playing under the pressure of the Final Four for the first time.
Michigan jumped out to a 12-4 lead and led 15-10 before the Loyola surge started. The Ramblers would score the next nine points and close the half on a 19-7 surge to head into the break with a 29-22 lead. Mo Wagner and Charles Matthews combined for 19 of those 22 points, and the only other Wolverine to make a shot in the first half was center Jon Teske.
Zavier Simpson was terrible. Muhammad-Ali Abdur-Rahkman might have been worse. They combined to shoot 0-for-10 from the floor with four turnovers. Things did not get much better early in the second half, not until Beilein made those adjustments.
Michigan scored 47 points in the second half. They shot 57 percent from the floor after shooting just 9-for-31 in the first 20 minutes. They made five threes, all of which came during a second-half surge that saw Loyola get outscored 24-6.
And therein lies the brilliance of Beilein.
He is, unquestionably, one of the brightest offensive minds in college basketball. Anyone that knows anything about basketball can tell you as much. If the fact that he is winning these basketball games with players that no one else wanted doesn't tell you that, look at the success that his best players — Trey Burke, Nik Stauskas, Glenn Robinsin III — had with his program and then had in the NBA.
He knows how to get the best out of his best players.
And he did again on Saturday.
The changes weren't that complicated. He went to a more offensive-minded lineup. He started Duncan Robinson in the second half. He put Jordan Poole on the floor, who scored six points during that Michigan surge. He let Charles Matthews get isolations. He found a way to beat Loyola's switching defense — a defense that makes it very, very difficult to get shots out of offensive sets — and got his players to execute it.
The 'it'?
It was actually pretty simple.
"We stopped running so many sets with ball-screens," Robinson said, but in reality, the adjustment itself was less important than what it led to: A couple of threes going down. First it was Jaaron Simmons getting one to go. Then Robinson got one to drop, pounding on his chest and letting out a scream as he returned to the defensive end of the floor.
"It felt like a lid came off," he said, and to a man, everyone in the Michigan locker room agreed. Once they saw a few shots go down, the entire energy changed. Suddenly they were playing with confidence and purpose and momentum and every other cliché that you can think of.
"When the shots were falling the defensive intensity picked up," Simpson said.
He did that on a team that he has, with the help of his defensive coordinator Luke Yaklich, turned into one of the best defensive teams in college basketball.
Beilein is one of the best coaches in the sport, and within coaching circles he is respected as such.
But he doesn't have a national title to his name, and now, on Monday night, he'll have a chance to put one on his résumé.
And if he does, the question then becomes just how long he'll have to wait until the Hall of Fame talk starts.
Fukushima 'failings' add fuel to fire of world's anti-nuclear movement | Climate News
A fifth of the UK's energy comes from nuclear but opposition to the power source persists.
Environmentalists say the best argument against nuclear energy are Fukushima and Chernobyl.
They say whilst the risks of accidents are tiny, the impact if something goes wrong can be devastating – and the fall-out over what to do with millions of tonnes of water used to cool the power station at Fukushima illustrates that global public confidence in nuclear energy still needs repair.
There are always going to be bigger safety concerns about nuclear energy compared to say wind or solar.
That coupled mainly with cost issues means environmental groups like Greenpeace are opposed to the building of new nuclear power stations.
Nuclear energy is expensive, largely due to the safety systems needed, while the cost of renewables like solar fall year on year.
The world is being urged to turn its back on fossil fuels like coal and favour low carbon solutions to tackle climate change.
Wind and solar can be built much more quickly than nuclear.
But the argument for nuclear power is that it delivers 24 hours a day, seven days a week whatever the weather.
It's a low carbon choice because it doesn't emit greenhouse gases like carbon dioxide and methane.
The government says it supports nuclear in the energy mix because of its reliability – nuclear power plants don't require a daily supply of new fuel to operate, unlike gas, coal and biomass plants.
A new power plant at Hinkley Point C shows intent to invest in nuclear for the future – in spite of the pros and cons.
But the continuing problems at Fukushima – which went into meltdown in 2011 crippled by an earthquake and tsunami – tells its own story.
For years Japan has debated over what to do with the more than a million tonnes of water used to cool the power station.
The government insists most of the radioactive isotopes have been removed using a complex filtration process but one isotope, tritium, cannot be removed.
The company that runs the power plant has promised to dilute the water within regulatory limits before pumping it into the ocean.
But the public and campaign groups are not satisfied.
Residents in Fukushima remain concerned and fishing groups believe consumers will refuse to buy produce from the region.
It's left the Japanese government once again being accused of "failing" the people of Fukushima.
And it adds further fuel to the fire of the world's anti-nuclear movement.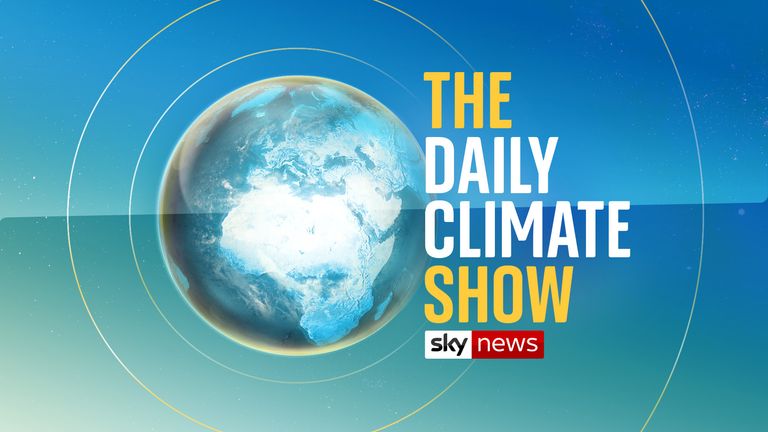 Watch: The Daily Climate Show
Sky News has launched the first daily prime time news show dedicated to climate change.
Hosted by Anna Jones, The Daily Climate Show will follow Sky News correspondents as they investigate how global warming is changing our landscape and how we all live our lives.
The show will also highlight solutions to the crisis and show how small changes can make a big difference.
Taiwan invasion unlikely for now – but there are other ways China can turn the screw | World News
The good news is that there are only five months when weather conditions are good enough to mount an invasion of Taiwan, according to Ian Easton, the author of The Chinese Invasion Threat. 
The bad news is that two of them are April and May.
So when Taiwan reported that 25 Chinese air force aircraft, including nuclear-capable bombers, entered its air defence identification zone (ADIZ) this week, fears of attack are front of mind.
It was the largest incursion by the Chinese military to date.
US Admiral Philip Davidson – Washington's top military officer in the Asia-Pacific region – recently said he was worried China could invade Taiwan in the next six years.
Chiu Kuo-cheng, Taiwan's new defence minister, responded: "His evaluation says six years, but my concerns include six hours."
The foreign minister, Joseph Wu, said this month that in the event of an attack Taiwan would fight "to the very last day".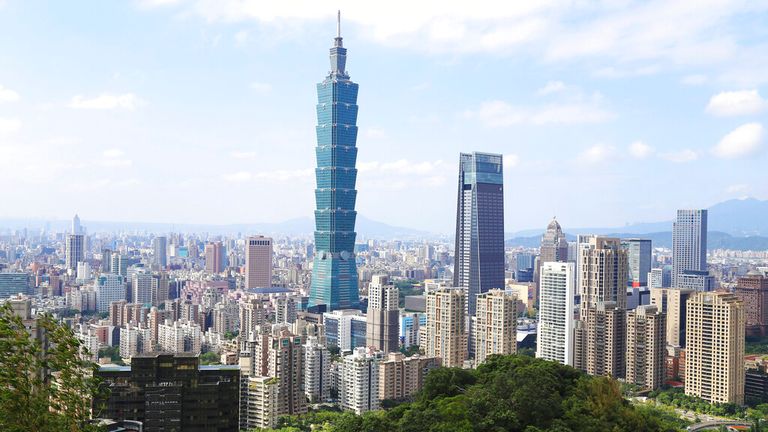 There is belligerence from the Chinese side. A defence ministry spokesperson said that a declaration by Taiwan of independence "means war".
Hu Xijin, the editor of a nationalistic Chinese tabloid, said that the Chinese military could fly directly over the island of Taiwan itself, and if Taiwan fired at those planes, China would attack.
Hu's attention-seeking provocations should always be taken with a pinch of salt but they show how the conversation around Taiwan is evolving.
But although the intensity is increasing, in many ways we are still in the status quo that has existed for decades.
China's constitution, adopted in 1949, says Taiwan is part of its "sacred territory" and details the "inviolable duty" of "reunifying the motherland".
:: Subscribe to Into The Grey Zone on Apple Podcasts, Spotify, Spreaker
On the question of "Taiwan independence", China as far back as 2005 passed a law that formally authorised military force if Taiwan was "separated" from China.
Taiwan has its own constitution and a highly functioning democracy – rated above Japan and South Korea by the Economist Intelligence Unit.
The election of President Tsai Ing-wen in 2016 led to an escalation in pressure from China. What we're seeing now is best viewed as the latest development in that continuous period.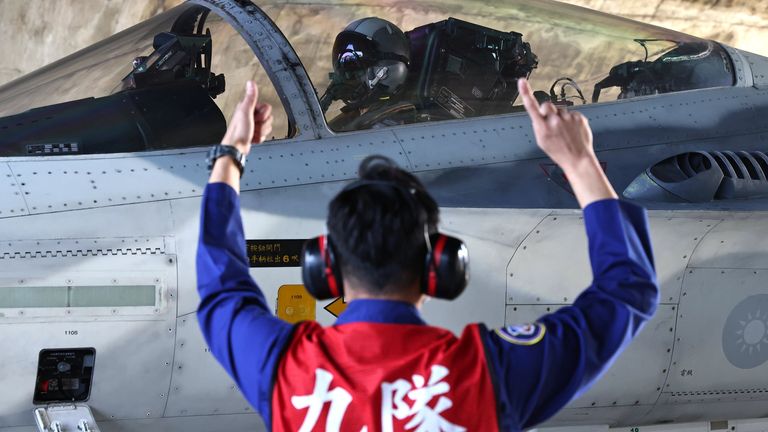 And as China has increased its attrition strategy, the US has increased its ties with the island, which in turn leads to more Chinese pressure.
That pressure is designed to take a psychological and logistical toll on Taiwan.
In 2020, Taiwan spent some $900m scrambling fighters to meet Chinese sorties and said it would no longer dispatch jets to meet every incursion, instead tracking Chinese aircraft with land-based missiles. Expect that pressure to continue.
But a full-scale invasion by China remains unlikely in the short term. That would require a massive build up of forces, easily detectable by US and Taiwanese monitoring.
There are options short of invasion that are still worrying.
China could blockade the island economically, or seize some of its outlying territory. The Kinmen Islands, administered by Taiwan, are barely a mile from China.
Any such move would be a test of the US resolve to defend Taiwan, perhaps analogous to Russia's seizing of the Crimean Peninsula.
Would an aggressive Chinese move, short of full invasion, prompt the US to respond militarily?
Right now, no one knows. That means it would be hugely destabilising.
For all the pressures of the current moment, it at least fits a known, established pattern – and is far preferable to an escalation, the consequences of which would be difficult to predict.
COVID-19: World Health Organisation calls for ban on sale of live wild mammals in food markets | World News
The sale of live wild mammals at food markets should be suspended as an emergency measure, the World Health Organisation has said.
The statement comes after a WHO team visited Wuhan in China to investigate the origins of COVID-19.
The most likely scenario is that the virus originated in bats, was spread to another unidentified animal, and then passed on to humans, a WHO report said in March.
Live COVID updates from across the UK and around the world
The organisation said in a separate report on Tuesday that animals, "particularly wild animals", are the source of more than 70% of emerging infectious diseases in humans.
They added many of these are caused by novel viruses – a virus that has not previously been recorded.
The report states: "Wild mammals, in particular, pose a risk for the emergence of new diseases. They come into markets without any way to check if they carry dangerous viruses.
"There is a risk of direct transmission to humans from coming into contact with the saliva, blood, urine, mucus, faeces, or other body fluids of an infected animal, and an additional risk of picking up the infection from contact with areas where animals are housed in markets or objects or surfaces that could have been contaminated with such viruses."
The WHO said "traditional markets play a central role in providing food and livelihoods " around the world.
It added that banning the sale of live wild animals would help to protect the health of both shoppers and workers.
WHO: Lab leak COVID origin 'unlikely'

The closest-related viruses to COVID-19 have been found in bats in southwest China.
The intermediate host is more elusive: mink, pangolins, rabbits, raccoon dogs and domesticated cats have all been cited as a possibility.
The WHO team said that a theory the virus was leaked from a lab was "extremely unlikely" but it has not been ruled out.
The call for a ban of the sale of wild animals comes as the the WHO said the global coronavirus pandemic is at a "critical point".
It added that people need a "reality check" as restrictions are eased.
Follow the Daily podcast on Apple Podcasts, Google Podcasts, Spotify, Spreaker
Dr Maria van Kerkhove, head of the WHO's technical response, told a news conference vaccinations alone are not enough to combat COVID-19.
Coronavirus restrictions were eased in parts of the UK on Monday, with shoppers returning to high streets and drinkers visiting pub gardens in England, and non-essential retailers reopening in Wales.
Dr van Kerkhove, speaking on Monday afternoon, urged caution, saying: "We need headlines around these public health and social measures, we need headlines around the tools that we have right now that can prevent infections and save lives.
"We are in a critical point of the pandemic right now, the trajectory of this pandemic is growing."